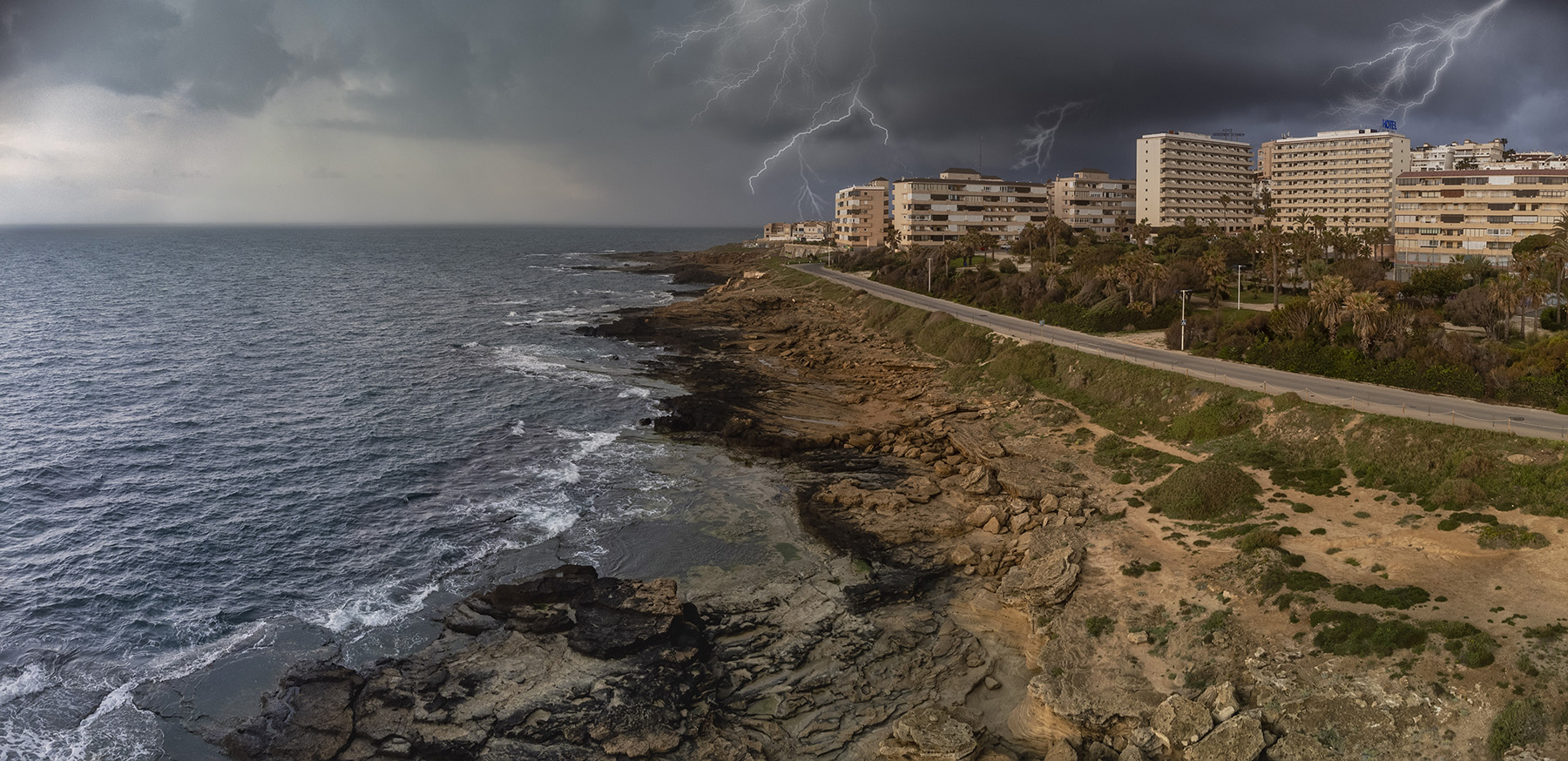 By Stephen Blair, Jennifer Brunton, Ian Chaney, Atri Sen, and Nigel Temple
Intense storm seasons along the U.S. Gulf Coast, underscored by the devastation wrought by hurricanes through the years, serve as grim reminders to the region's vulnerable coastal communities that protection and restoration remain paramount objectives.
The issues involved in coastal erosion and ecological degradation, specifically in the Gulf of Mexico regions, are substantial. In Louisiana, for instance, coastal protection and restoration have been priorities for the state since the destruction caused by Hurricane Katrina in 2005.
The fight to protect the Louisiana coast is led by the Coastal Protection and Restoration Authority in partnership with the private sector, not-for-profit organizations, and numerous state, local, and federal entities. The coastal parishes and the U.S. Army Corps of Engineers in New Orleans have also played pivotal roles in the battle to protect natural systems and mitigate the impacts of intensifying weather events driven by climate change.
The historic activities in Louisiana to control the Mississippi River, which empties into the Gulf of Mexico, and provide flood protection as well as dredge channels for navigation and energy exploration have benefited the region. However, these same activities came with a cost: an altered wetland hydrology, the deprivation of the broader ecosystem of freshwater and nutrients, and the loss of coastal land.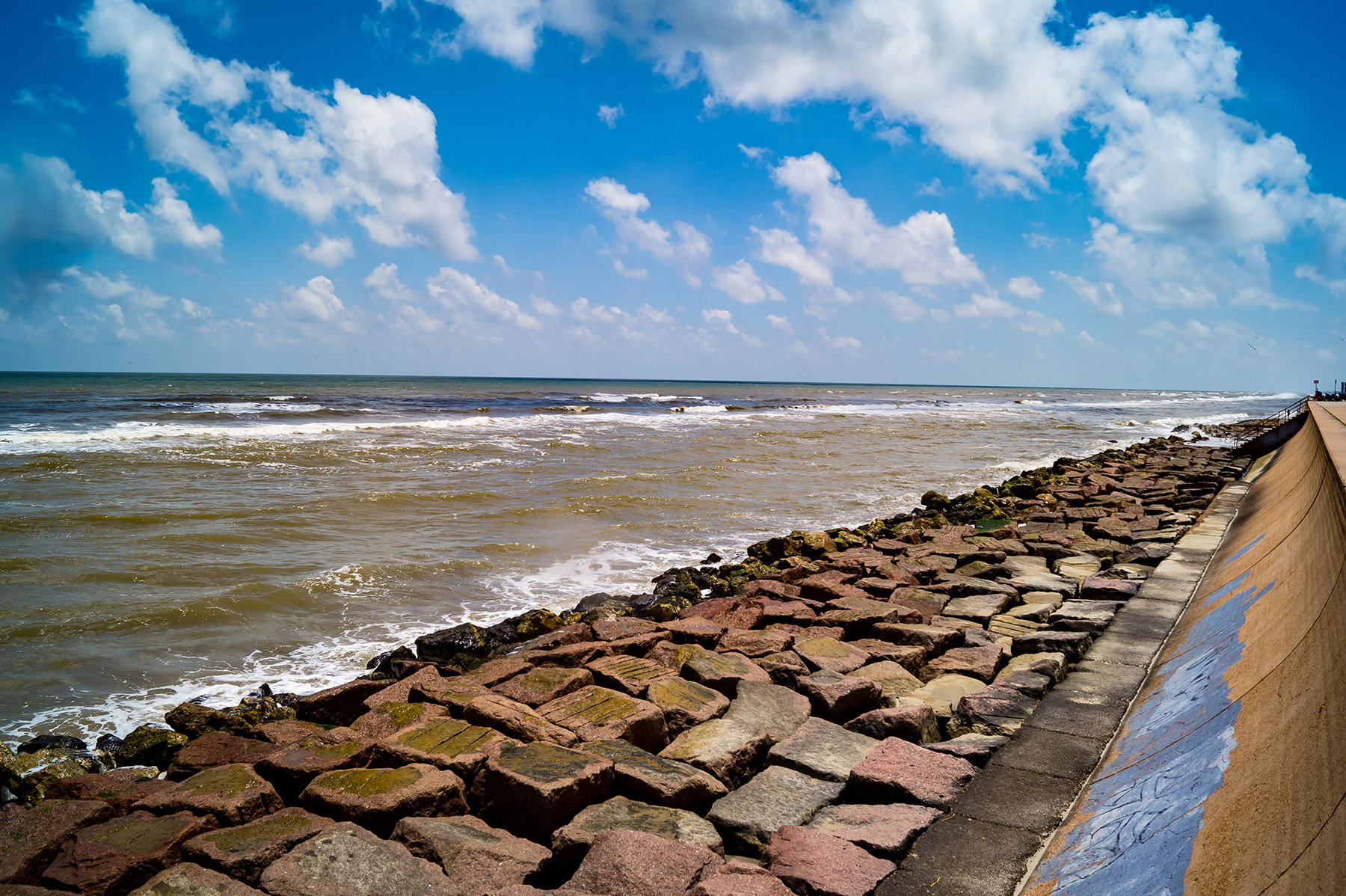 The Louisiana coastline experiences high-impact, battering storms; sea level rise; and, due to the soft and compressible nature of the soils that underlie much of the area, subsidence of the coastal landmass — factors that add significant costs to projects. This combination of conditions has both short- and long-term consequences when it comes to the planning, design, and construction of solutions meant to protect these communities from storm surges and flooding from hurricanes.
Traditional gray infrastructure options (engineered solutions), consisting of revetments, levees, and sea walls, have been augmented with a wide range of green infrastructure options (building with nature), such as artificial marshes and reefs. Although these green options may not be as robust from a coastal protection point of view, they enhance the ecological value of the shoreline, are more resilient, and adjust to sea level rise.
To address the evolving coastal conditions, in 2012 CPRA developed Louisiana's Comprehensive Master Plan for a Sustainable Coast. Master planning is a five-year cycle with an annual plan developed every year within the five-year window. The plan provides a blueprint of nature-based coastal restoration and hard-infrastructure solutions that work in tandem to protect the coastal communities.
Updated in 2017, the plan identified a wide range of green restoration projects, including barrier island restoration, marsh creation, oyster barrier reef restoration, ridge restoration, bank stabilization, shore-line protection, hydrologic restoration, and diversions. Coupled with these green protective measures are a number of gray structural projects, including earthen levees, T-walls, and floodgates. Nonstructural risk-reduction projects, such as nonresidential floodproofing, residential elevation, and residential voluntary acquisition, complement the structural projects.
The 2023 Coastal Master Plan "will build upon previous master plan efforts and strive to ensure that the collective effects of project investments reduce storm surge-based flood risk to communities, provide habitats to support an array of commercial and recreational activities, and support infrastructure critical to the working coast," according to CPRA's website about the project.
WSP USA is leading or collaborating on many coastal restoration projects, including two in Louisiana that are poised to demonstrate how blending nature-based and hard-infrastructure solutions will be effective in protecting the coastline itself as well as those who depend on it for their well-being.
Mid-Barataria Sediment Diversion
The Mid-Barataria Basin, located in Plaquemines Parish south of New Orleans and along the west bank of the Mississippi River, is eroding due to hydrologic alteration, sediment deprivation, subsidence, sea level rise, and saltwater intrusion.
To reverse these trends, the $1.4 billion Mid-Barataria Sediment Diversion intake structure will be built. It will be located north of the town of Ironton and south of the Phillips 66 Alliance Refinery near mile 61 of the Mississippi River. WSP is serving as a subconsultant to AECOM on behalf of CPRA for the project.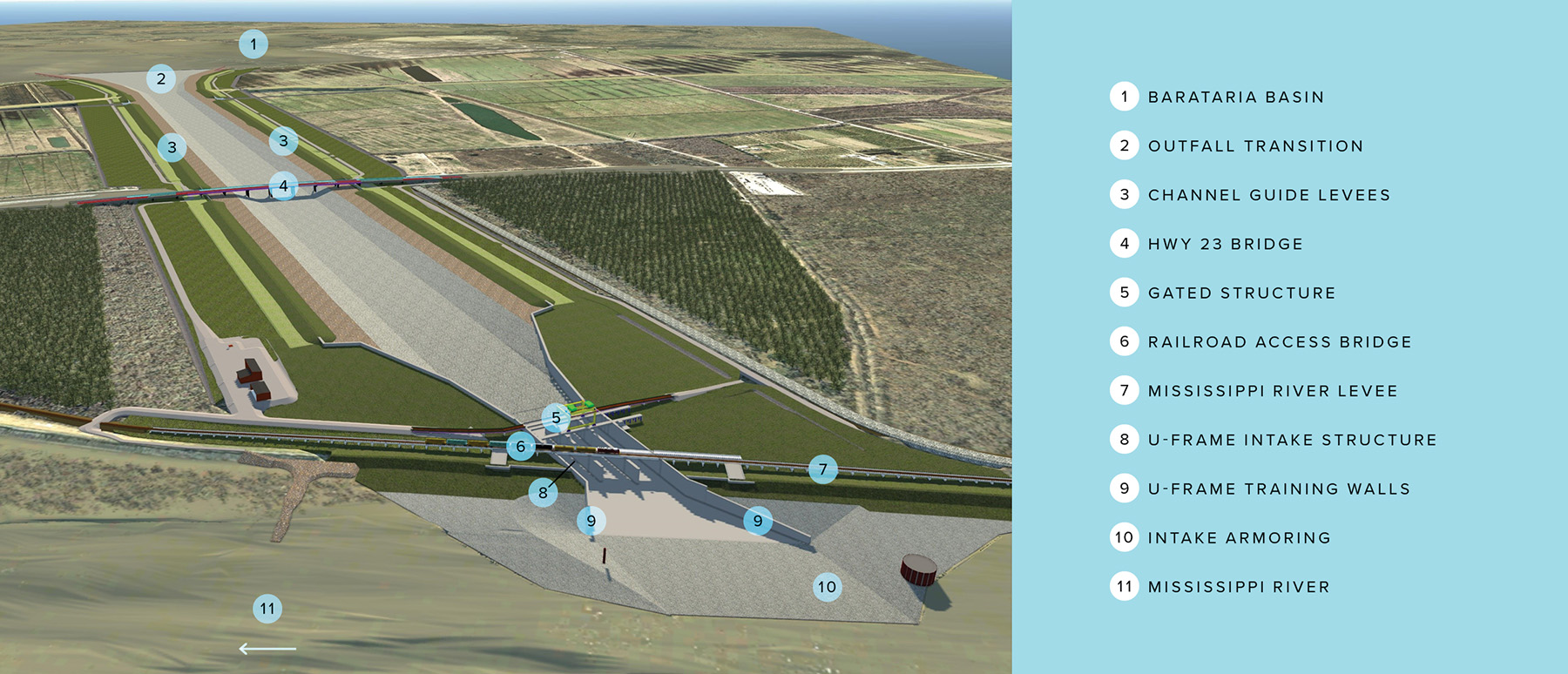 At approximately 300 ft wide, 50 ft high, and 800 ft long, the intake structure will divert more than 75,000 cfs of sediment-laden freshwater via a 2 mi long conveyance channel that will connect the Mississippi River to the Barataria Bay. This sediment will be deposited for the creation of previously lost land and help restore and preserve critical coastal ecosystems. By reestablishing a connection between the Mississippi River and the outfall area of the basin, the MBSD project will restore a riverine/estuarine connection and mimic historic deltaic sediment deposition.
During preliminary design, WSP evaluated various options for the diversion — including float-in structures, bored tunnels, and cast-in-place concrete structures — that would be built within a cofferdam that would temporarily tie into the 2,000 mi long Mississippi River levee system. This levee system runs along the bank of the river and protects the city of New Orleans and the low-lying towns and parishes adjacent to the river from coastal and riverine flooding.
Due to its critical nature in the levee system, the intake structure will be designed to withstand human-made and natural hazards, such as ship impacts, riverine flooding, and tidal surge flooding from hurricanes in the Gulf of Mexico.
Because of the nature and urgency of this project and a strict funding budget, CPRA chose the construction management at-risk delivery method, retaining a contractor and engineer to design and construct the project using a strict value-engineering process.
The project is in design. CPRA is working with the designer, contractor, and various stakeholders to develop the most efficient and economical solutions for the project.
Jean Lafitte National Historical Park protection
Another effort devised to protect the Barataria Basin is underway at Jean Lafitte National Historical Park and Preserve, or JELA, an expanse of coastal marshes south of New Orleans. The project has several goals. The primary goal is to protect the nearshore environment from wave energy in order to create habitat conditions suitable for submerged aquatic vegetation to naturally reestablish itself. A secondary goal is to protect the shoreline from further erosion.
In 2018, the National Park Service contracted WSP for predesign and design services to help restore 50 acres of submerged aquatic vegetation lost in the Barataria Preserve unit of JELA as a result of the 2010 oil spill caused by the explosion of the Deepwater Horizon offshore drilling rig. In response to the spill, which is the largest in history, water from the Davis Pond Freshwater Diversion structure was continuously released into lakes Cataouatche and Salvador, resulting in the loss of submerged aquatic vegetation within the preserve.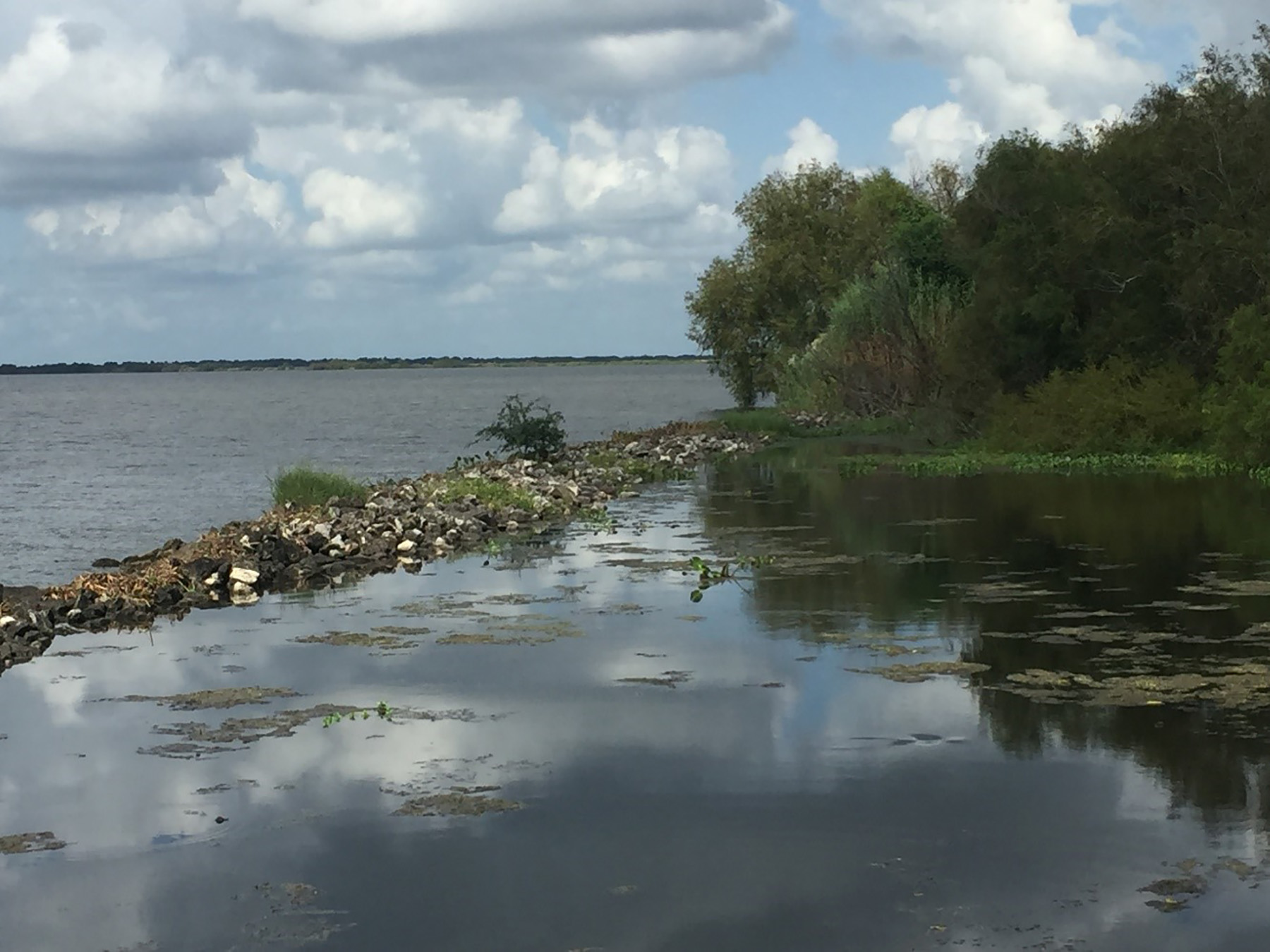 WSP and its subcontractors collaborated with JELA park officials, the NPS Denver Service Center, the U.S. Department of the Interior, and environmental experts from Louisiana State University to develop three schematic design alternatives for a breakwater that would meet the project budget and objectives.
To identify potential alternative breakwater structures, the WSP team established screening criteria and performed a viability analysis. The team also conducted bathymetric and geotechnical surveys and hydrodynamic modeling within the project area to inform the alignment as well as choose the construction materials and methods.
Afterward, the team facilitated an intensive, three-day value analysis and value engineering workshop, selecting the optimal schematic design, design development, construction documents, and cost estimates. The final design consists of rock breakwater with a lightweight aggregate core that will have several openings protected by "elbows" for water to pass in and out, improving fish passage and water quality behind the breakwater structures.
Additionally, WSP prepared a comprehensive monitoring and adaptive management plan for the project to identify key uncertainties that could influence the success of the project. These include hydrologic and water-quality conditions with the breakwater in place, relative sea level rise, presence of floating aquatic vegetation, frequency/intensity of future tropical storms, identification and development of monitoring parameters and methodologies, and development of adaptive management strategies to ensure the success of the project.
The JELA restoration project is expected to be completed in August 2023.
Nature-based benefits
Balancing the best features from nature-based and hard-structure strategies depends heavily on a set of environmental conditions: salinity, wave and current climate, elevation relative to various flood levels, slope of the shoreline, and aesthetics. Clearly, traditional hard structures are required for the protection of critical infrastructure and public safety. However, nature-based approaches are also valuable tools in the quest to protect the coast and, if properly designed in the appropriate setting with the right conditions, can be a lower-cost solution with significant advantages.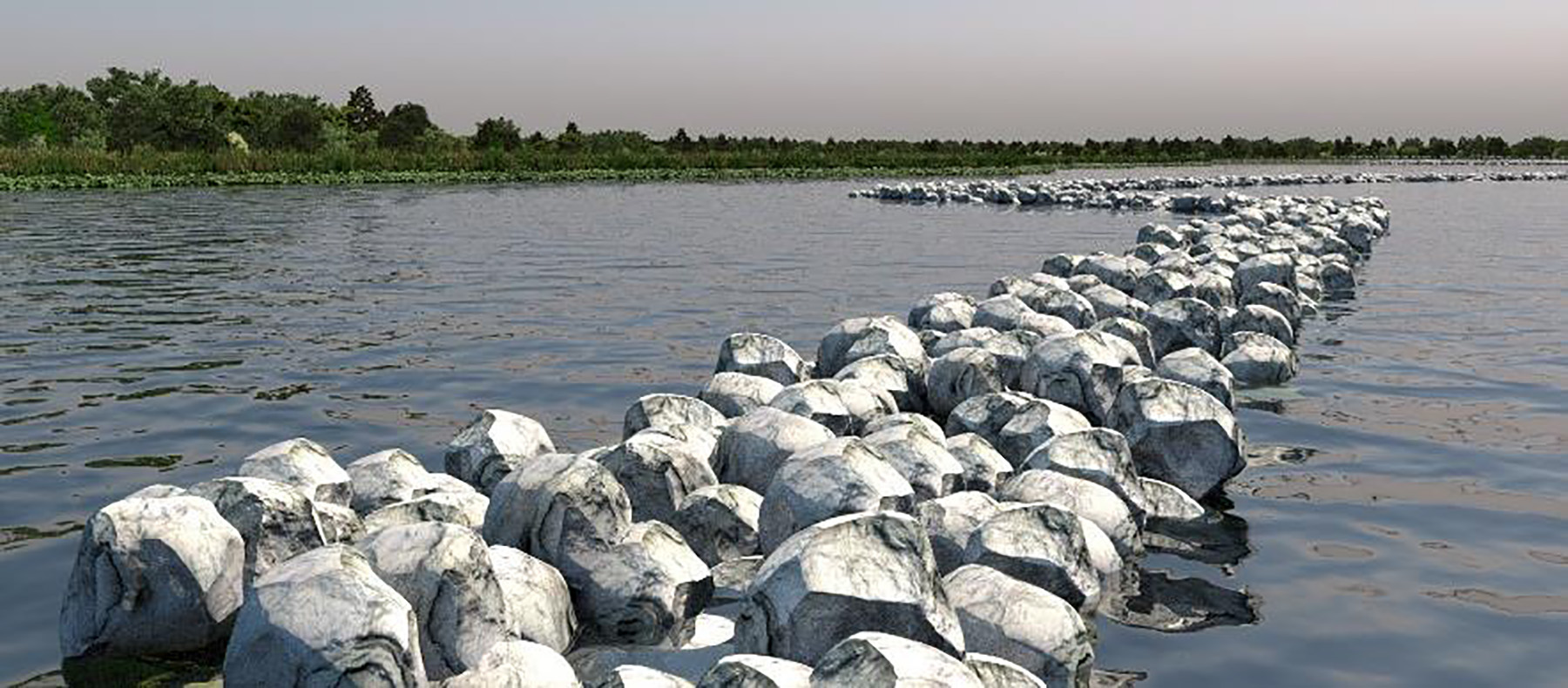 In general, nature-based approaches are suitable in low-energy environments with shallow, gently sloping seabeds. As a living habitat, the approach must be tailored to local water-quality conditions with species that are known to thrive. This is best done through the identification of ecological reference areas or areas where similar indigenous species have been established and are having the same desired effect. Although nature-based solutions can be adapted to most environments, they are often limited by the amount of suitable habitat space available as well as community acceptance.
What's more, these projects compete for some of the most desirable waterfront land available. Keeping the project aesthetically pleasing helps in this regard.
Since flooding and erosion are major considerations for communities interested in enhancing resilience, any project adjacent to water should consider nature-based ecosystem restoration methods to reduce the risk of these impacts.
By considering the right solutions for long-term resilience rather than the short-term need, engineers can effectively develop future-ready projects that address localized impacts and the broader implications of public health and well-being, ecological uplift and biodiversity, and economic vitality.
SIDEBAR
Franklin-98 Shoreline Stabilization and Restoration
By Stephen Blair, Jennifer Brunton, Ian Chaney, Atri Sen, and Nigel Temple
Concerns along the Gulf Coast extend beyond the Louisiana coastline and include other at-risk locations that demand equally dynamic stabilization and restoration strategies.
Where critical infrastructure meets the coast, state transportation departments have often focused solely on hard, gray infrastructure shoreline-stabilization methods, such as concrete and rocks. However, unlike natural habitats, such as oyster reefs and salt marshes, human-made shoreline armoring is unable to repair itself after being damaged by waves. Because of this, more agencies are blending nature-based and hard-infrastructure solutions to achieve their engineering goals.
One such example of this is WSP USA's Franklin-98 project that runs along the Gulf Coast of Florida, located between the Apalachicola Bay towns of Eastpoint and Carrabelle in Franklin County.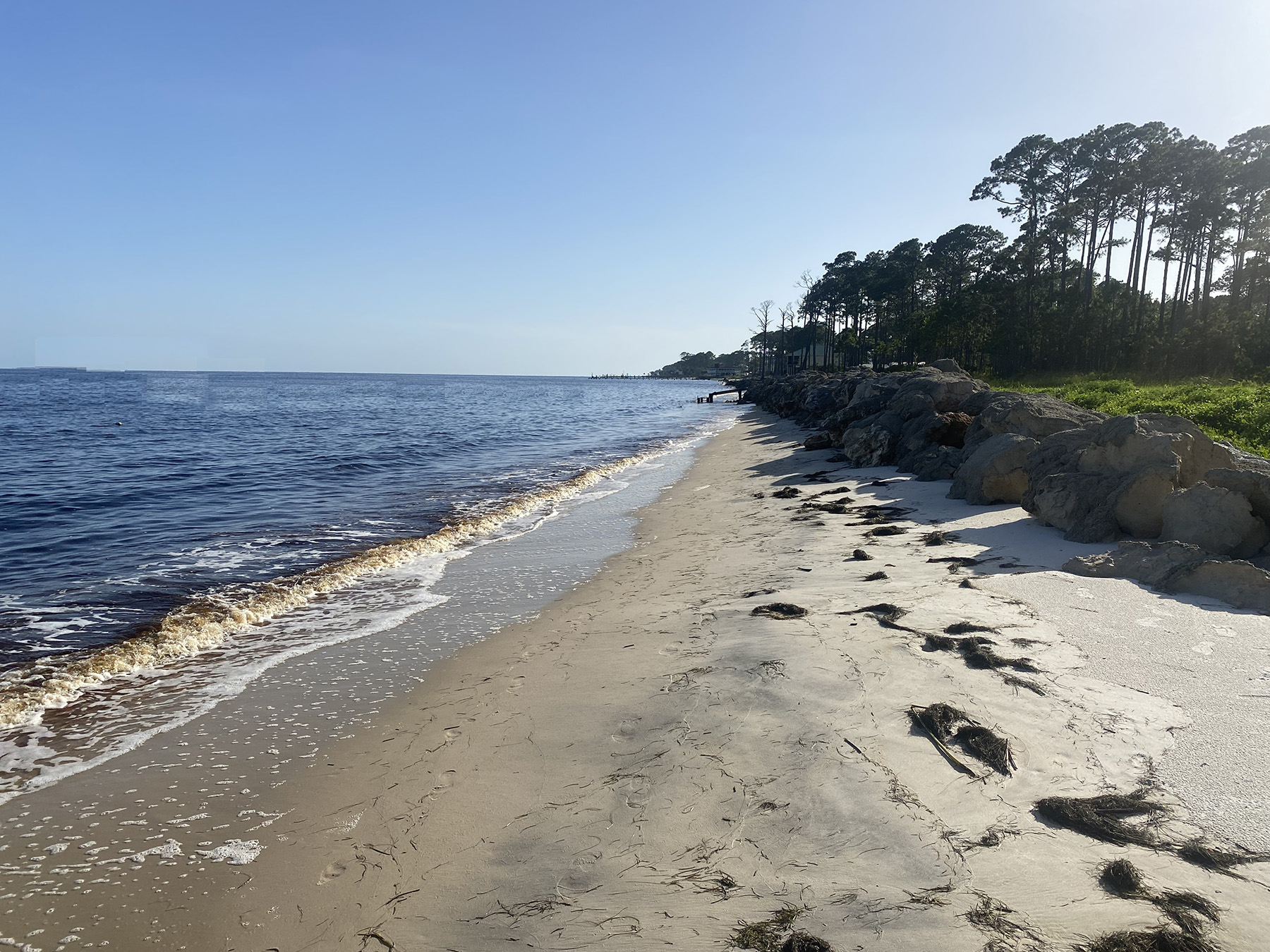 Apalachicola Bay once held the largest oyster fishery in the United States, and its economy and ecology were closely intertwined. However, the oyster fishery experienced significant decline, culminating in the Florida Fish and Wildlife Conservation Commission voting in December 2020 to close the fishery through 2025 in an effort to help replenish the bay's oyster population.
The Franklin-98 project will create 20 acres of oyster reefs and 30 acres of salt marshes, transforming the shoreline along a 12 mi stretch of U.S. Route 98 damaged by erosion into a living, vibrant coastline that provides important ecological enhancements to the bay and nearby communities. The highway is a critical piece of infrastructure connecting the region to other parts of Florida and serves as a designated hurricane evacuation route.
Oysters and other filter feeders that colonize the reefs help clean the water and serve as food sources for other marine organisms, while the marshes provide important habitat for birds, crabs, fish, and other species. In turn, the ecological restoration supports commercial fisheries and recreational activities and improves water quality.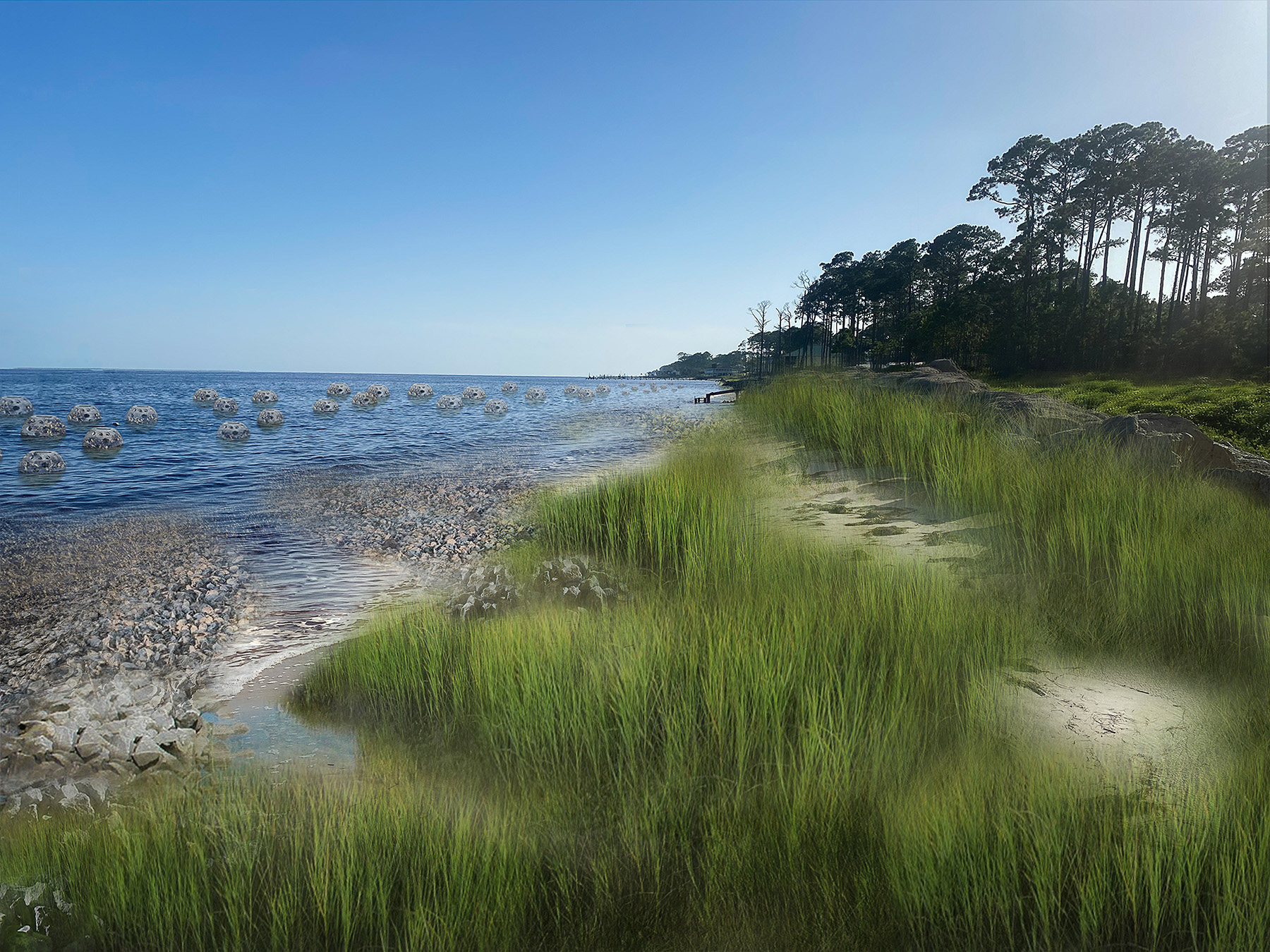 WSP's innovative design approach involves the creation of intertidal oyster reefs, using a variety of contemporary and novel substrates: riprap rocks, precast concrete domes, and concrete-soaked natural materials. These materials will be placed at various depths and configurations and are intended to blend in with native seagrasses and extend up to 300 m seaward.
The scale and combined effects of these mixed-reef and seagrass habitats will reduce wave velocity and impact just enough for planted salt marshes to establish and flourish onshore, thereby further enhancing the total wave attenuation provided by the project.
Throughout the design process, WSP worked to avoid impacts to existing submerged seagrass communities within the project area. This required mapping the seagrasses and creating safe buffers around every seagrass bed. To ensure the proposed reefs would calm the waves enough to support the planted marshes, the team used 3D coastal modeling software (FLOW 3-D, Version 12.0) to simulate the effects the reefs would have in attenuating wave energy.
The software allowed the team to estimate wave transmission through various reef structures using comparable 3D structures within the model domain, which could then be related to the wave attenuation provided by each (e.g., transmission coefficients).
A previous study conducted by the Florida Department of Environmental Protection as part of the Deepwater Horizon Natural Resource Damage Assessment Early Restoration project led to the construction of a shallow sill to reduce wave energy in an area adjacent to and west of the project area at Millender Park. The Deepwater Horizon project, led by the Apalachicola National Estuarine Research Reserve, has provided key insights to the Franklin-98 project. As such, WSP looks to re-create several of the environmental conditions present at Millender Park in the Franklin-98 design.
A feasibility study was completed in spring 2020, and WSP is developing the engineering and design plans. Construction will begin in late 2022 and will conclude by early 2024.
Stephen Blair is the national practice lead for ecosystem restoration and coastal engineering at WSP USA, based in Wellington, Florida. Jennifer Brunton is the New York district water business line leader at WSP, based in New York City. Ian Chaney is the national director for the geotechnical and tunneling national business line at WSP, based in Virginia Beach, Virginia. Atri Sen is the Texas water business line leader at WSP, based in Houston. Nigel Temple is an environmental consultant and coastal restoration specialist at WSP, based in Mobile, Alabama.
Project credits
Mid-Barataria
Owner: Coastal Protection and Restoration Authority, Baton Rouge, Louisiana
Prime design firm: AECOM, New Orleans
Construction manager at-risk: A joint venture of Archer Western, Atlanta, and Alberici, St. Louis
Jean Lafitte
Client: National Park Service, Denver Service Center, Denver
Prime contractor, permitting, environmental compliance, and monitoring: WSP USA, New York City
Design: Stantec Consulting Services Inc., Edmonton, Alberta
Cost estimating: Hanscomb Consulting (Axias), Alexandria, Virginia
Value analysis/value engineering workshop: Kirk Associates, Goodyear, Arizona
Bathymetric survey: Fenstermaker, Lafayette, Louisiana
Geotechnical survey: Thompson Engineering, Mobile, Alabama
Franklin-98
Client: Apalachee Regional Planning Council, Tallahassee, Florida
Surveying: WGI Inc., West Palm Beach, Florida
This article first appeared in the September/October issue of Civil Engineering as "Redefining the Coast."