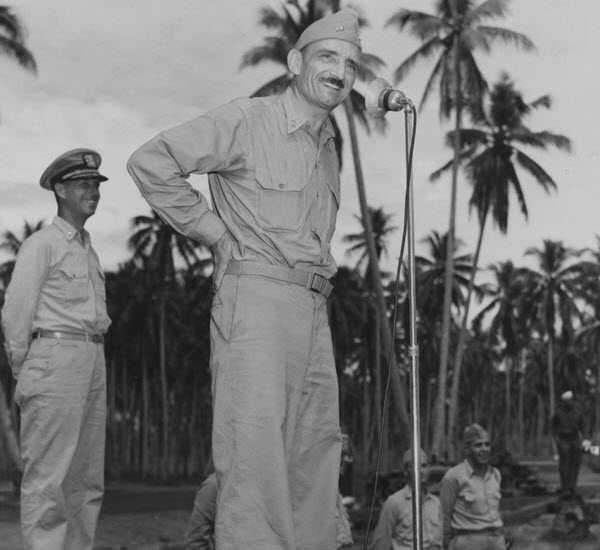 This week in civil engineering history: Lewis B. Combs, civil engineer, naval officer, and co-founder of the U.S. Naval Construction Battalions is born in Manchester Center, Vermont, April 7, 1895.
After America's entry into World War I, Lewis B. Combs, a 1916 civil engineering graduate of Rensselaer Polytechnic Institute in Troy, New York, received an appointment as an assistant civil engineer in the Navy on Dec. 27, 1917. Seven weeks later he reported to the Washington Navy Yard for duty as assistant civil engineer in charge of field construction, an assignment that he served for the duration of the war. During peacetime between World Wars, Combs' assignments included developing construction programs in Haiti and experimenting with concrete construction in sea water in Portsmouth, New Hampshire.
In 1938, Combs became assistant chief at Bureau of Yards and Docks and by the time that the United States entered World War II, Adm. Combs had spent four years under Adm. Ben Moreell conceiving, planning, and laying the groundwork for a mobile quick-response construction force, capable of performing under enemy fire. The United States Naval Construction Battalions were envisioned as combat-zone military replacements for civilian construction companies. Better known as the Navy Seabees (from the initials "C B" in Construction Battalion) the battalions were flexible and adaptable and could be used in every theater of operations. For nearly 80 years, Seabees have been the Navy's construction force, building bases and airfields, conducting underwater construction, and building roads, bridges, and other support facilities, today with 7,000 active personnel and a similar number of reservists.
Following World War II, Combs served as a technical advisor on two John Wayne movies: The Fighting Seabees and Sands of Iwo Jima. After retiring from the military, Combs returned to RPI as head of the civil engineering department until stepping down in 1962. Combs died in 1996 at 101 in Red Hook, New York, where he is interred in the Saint Paul's Lutheran Cemetery.
Reuben Hull, P.E., PMP, M.ASCE, is civil regional manager for LaBella Associates in Albany, New York, and a self-made historian who has penned numerous articles on civil engineering history. An active ASCE member, Hull is a corresponding member and former chair of the History and Heritage Committee, serves as vice president of the Mohawk-Hudson Section, served as president of the New Hampshire Section, 1999-2000, and was named New Hampshire Young Engineer of the Year in 1997.
Follow his daily Civil Engineering Almanac series on Twitter: @ThisDayInCEHist.