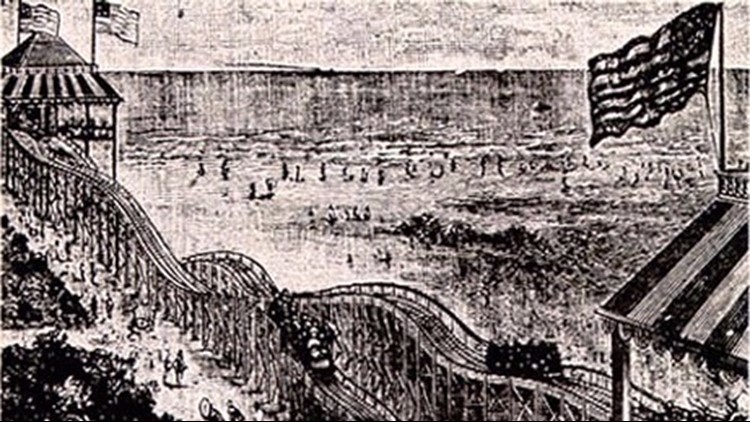 This week in civil engineering history: On June 16, 1884, the first roller coaster in the United States was opened at Coney Island in Brooklyn, New York.
The Mauch Chunk and Summit Railroad was a coal-hauling railroad in the mountains of Pennsylvania that operated between 1828 and 1932. Using gravity, the railway would send groups of coal cars down an 18-mile sawtooth course that featured a 2,300-foot-long, 665-foot-high drop at the end. Cars were returned to the top by mules, which were sent down in the special mule cars. The railway became a stirring attraction for tourists who visited by the thousands to ride every year. The railway operated for paying tourists for over a half century after it was abandoned as a freight railroad.
LaMarcus Thompson (1848-1919) was an inventor and businessman who made his fortune by producing specialized machinery for the hosiery industry but left the business due to failing health. It's said that Thompson was inspired by a trip to the hills in eastern Pennsylvania where he witnessed the Mauch Chunk Switch Back Railway. Thompson developed the idea to capture the essence of Mauch Chunk in a smaller package for amusement.
While not the first to conceive of the idea, Thompson applied his own ideas to an earlier patent for an "Inclined Railway" and developed the first authentic American roller coaster. In 1884, Thompson applied for a patent for his "Roller Coasting Structure," and was granted patent No. 310,966 the following year.
On June 16, 1884, his "Gravity Pleasure Switchback Railway," implementing his design, opened at Coney Island and was an immediate success. At five cents per ride, Thompson's six-miles-per-hour thrill cleared $600 per day in profits. Passengers climbed up stairs and rode a gravity-powered cart down tracks faced outward instead of forward so that they could take in the surrounding scenery.
Almost immediately, competitors aimed to make rides higher, faster, and steeper. Within months two rival coasters appeared at Coney Island and by the turn of the century, there were hundreds of roller coasters around the country. Although not credited as being the inventor of the roller coaster, LaMarcus Thompson, through his Switchback Railway, introduced the technology to the masses and created the ride that would become the epitome of amusement thrills.
Reuben Hull, P.E., PMP, M.ASCE, is civil regional manager for LaBella Associates in Albany, New York, and a self-made historian who has penned numerous articles on civil engineering history. An active ASCE member, Hull is a corresponding member and former chair of the History and Heritage Committee, serves as vice president of the Mohawk-Hudson Section, served as president of the New Hampshire Section, 1999-2000, and was named New Hampshire Young Engineer of the Year in 1997.
Follow his daily Civil Engineering Almanac series on Twitter: @ThisDayInCEHist.