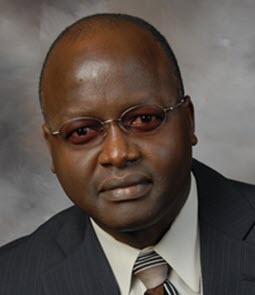 Kipkoech Kiporos Chepkoit, Ph.D., P.E., F.ASCE, an assistant vice president and the chief geotechnical engineer at Hanson Professional Services, St. Louis office, has been named a fellow by the ASCE Board of Direction.
Chepkoit's career progression has taken him from his native Kenya to his current role as one of the leaders of a well-established U.S. civil engineering firm. Overseas, he got his start as a structural and foundation engineer. Then, in May 1999, he worked for TSi Engineering and was soon hired by Jacob Engineering. His current professional phase, with industry leader Hanson, was nurtured by leaders and mentors at the firm.
His 20-plus years as a practicing engineer has resulted in the significant acquisition of technical skills, knowledge, abilities, and solutions-providing in complex civil engineering projects. Another significant achievement has been in leadership of geotechnical operations, including preparing field manuals, safety manuals, and quality controls manuals. Much of Chepkoit's success has been in mentoring and developing staff by guiding them in career paths and continued education.
Chepkoit is also accomplished in managing geotechnical projects, to include those in planning, design, and engineering during construction, meeting and exceeding project targets for budget and time duration. These management skills are reflected in the success of the various projects at Hanson, among them signature projects that have been recognized by institutions such as ASCE and ACEC.
He is a member of Hanson's risk management committee, an important role of which is to guide project managers and principals when evaluating the risks associated with projects and/or clients and to make appropriate adjustments in contracts.
Hanson encourages the participation and interaction of professional engineers with the community and the civil engineering departments of local universities to mentor and develop engineers of tomorrow. To promote this cause, Chepkoit instructs seniors and graduate-level civil engineering students at Southern Illinois University at Edwardsville, where he gives them opportunities to be involved in actual projects. Additionally, he volunteers on the NCEES Exam Committee and is an active member of ASCE, the Geo-Institute, SAME, and ASDSO.
Chepkoit earned his bachelor degree in civil engineering from the University of Nairobi, and his master's and doctoral degrees from the University of Maryland, College Park.