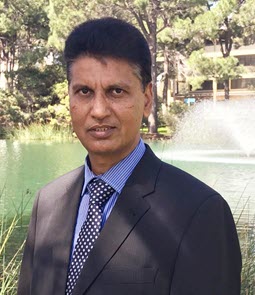 Sanjay Kumar Shukla, Ph.D., F.ASCE, founding research group leader of the Geotechnical and Geoenvironmental Engineering Research Group at the School of Engineering, Edith Cowan University (ECU), in Perth, Australia, has been named a fellow by the ASCE Board of Direction.
Shukla is also the founding editor-in-chief of International Journal of Geosynthetics and Ground Engineering. Additionally, he holds the distinguished professorship of civil engineering at six universities, including Delhi Technological University, Delhi, India. He has over 25 years of experience in teaching, research, consultancy, administration/management, and professional engagement.
His primary areas of research expertise include geosynthetics and fibres for sustainable developments, ground improvement methods, earth pressure and slope stability, soil-structure interaction, and environmental, mining, and pavement geotechnics. He has authored over 275 research papers and technical articles, including over 170 refereed journal publications with several articles published in ASCE's Journal of Geotechnical and Geoenvironmental Engineering, International Journal of Geomechanics, and Journal of Materials in Civil Engineering.
He is also author/editor of 24 books, including seven textbooks. His Core Principles of Soil Mechanics and Core Concepts of Geotechnical Engineering, published by ICE Publishing, London, were Amazon Bestsellers in 2020 and 2021. Shukla's generalized expression for active thrust (2015) and his generalized expression for passive resistance (2013) are being used by practicing engineers worldwide for designing retaining structures. His wraparound geosynthetic reinforcement technique, developed during 2007-08 for strengthening foundation soil, is in routine field practice.
Shukla has been a WA (Western Australia) Brightest Mind, and was the 2021 ECU Aspire Award Winner announced by the Business Events Perth, Australia. He has been honored with the IGS Award (2018) from the International Geosynthetics Society in recognition of outstanding contributions to development and use of geosynthetics, and the Executive Dean's Award (2011) from ECU for establishing teaching and research infrastructure in civil engineering. He also received ECU's Outstanding Researcher Award (2010) and the Vishwakarma Award (2007) from Akhil Bharatiya Vidhwat Parishad, India, for the best technical contribution in the form of a book at the global level. In 1995, 2015, and 2016, he won the Best Paper Awards from the Indian Geotechnical Society, New Delhi.
Presently, Shukla is a book series editor of Lecture Notes in Civil Engineering (Springer), a senior editor (Civil and Environmental Engineering) of Cogent Engineering (Taylor and Francis), and a regional editor (Australia) of the Soil Mechanics and Foundation Engineering (Moscow). He serves on the editorial boards of several international journals.
He is a fellow of Engineers Australia, a life fellow of the Institution of Engineers (India) and Indian Geotechnical Society, and member of the International Geosynthetics Society.
Shukla graduated in 1988 with a first-class degree with distinction in civil engineering from BIT Sindri (Ranchi University, Ranchi), India. He earned his MTech in civil engineering (Engineering Geology) in 1992 and doctoral degree in civil engineering (Geotechnical Engineering) in 1995 from the Indian Institute of Technology Kanpur, India.