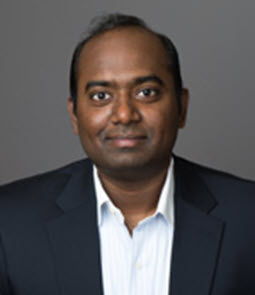 Satish V. Ukkusuri, Ph.D., F.ASCE, a Reilly Professor of civil engineering at Purdue University and director of the Urban Mobility Networks and Intelligence (UMNI) Lab, has been named a fellow by the ASCE Board of Direction.
Ukkusuri's research is in the area of interdisciplinary transportation networks, with current interests in data-driven mobility solutions, disaster management, resilience of interdependent networks, connected and autonomous traffic systems, shared mobility platforms, and smart logistics. He is a University Faculty Scholar (2017-present), Fulbright Fellow (2015-16), Discovery Park Fellow (2013-15), a selectee of the National Academy of Engineering (NAE) JAFOE conference (2016), and a selectee of the National Academy of Science (NAS) Arab American Frontiers of Science, Engineering and Medicine in 2017.
Ukkusuri is the recipient of a CUTC/ARTBA Faculty Award (2011), among others. He has published more than 320 peer-reviewed journal and conference articles. He is a member of the editorial boards of several journals and serves on national and international committees, including the Transportation Research Board (TRB) of the U.S. National Academies, ASCE, and IEEE.