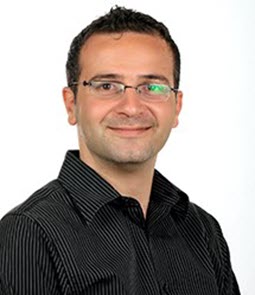 Rami Hawileh, Ph.D., P.E., F.ASCE, professor of civil engineering at the American University of Sharjah (AUS), United Arab Emirates, has been named a fellow by the ASCE Board of Direction.
Hawileh has been with AUS since August 2007. Before joining the university, he was a structural analyst at AREVA NP Inc., an AREVA and Siemens Company in Lynchburg, Virginia (2006-07). He was a lecturer at the University of Wisconsin–Milwaukee (2005-06) and Milwaukee School of Engineering (2003-06), both in Milwaukee. Before this, he was a structural engineer at the Austin Company, Schaumburg, Illinois, from 2000 to 2001.
His research interests include strengthening and computational modeling of reinforced concrete structures subjected to static, fire, and cyclic loading. He has published more than 100 peer-reviewed papers in international journals. He has also published more than 70 articles in international conference proceedings and given numerous presentations on experimental and finite element modeling of structural concrete members strengthened with FRP laminates when subjected to static, cyclic, and fire loading. In 2014, he was awarded a scholarship by the Distinguished Scholar Award of the Arab Fund Fellowships Program for a sabbatical leave at Michigan State University.

Academically, Hawileh has served since 2008 as the faculty advisor of the ASCE Student Chapter at AUS. He was strongly involved with the Club's activities, and organized several annual civil engineering competition events in which several local universities participated. He was able to register the Club as an "ASCE International Student Group (ISG)" by ASCE in April 2012. He also organized the Big Precast Beam Competition with the PCI Chapter in UAE.
Hawileh received the 2013-14 AUS College of Engineering Research Excellence Award. He was also awarded the Certificate of Appreciation 2012-2013 by the office of Student Affairs at AUS in recognition of support to student extracurricular activities.
He has a doctoral degree from the University of Wisconsin–Milwaukee (2005), a master's from Bradley University (2000), and a bachelor of science from Birzeit University (1998), all in civil engineering with emphasis on structures. He is a registered professional engineer in the state of Virginia.