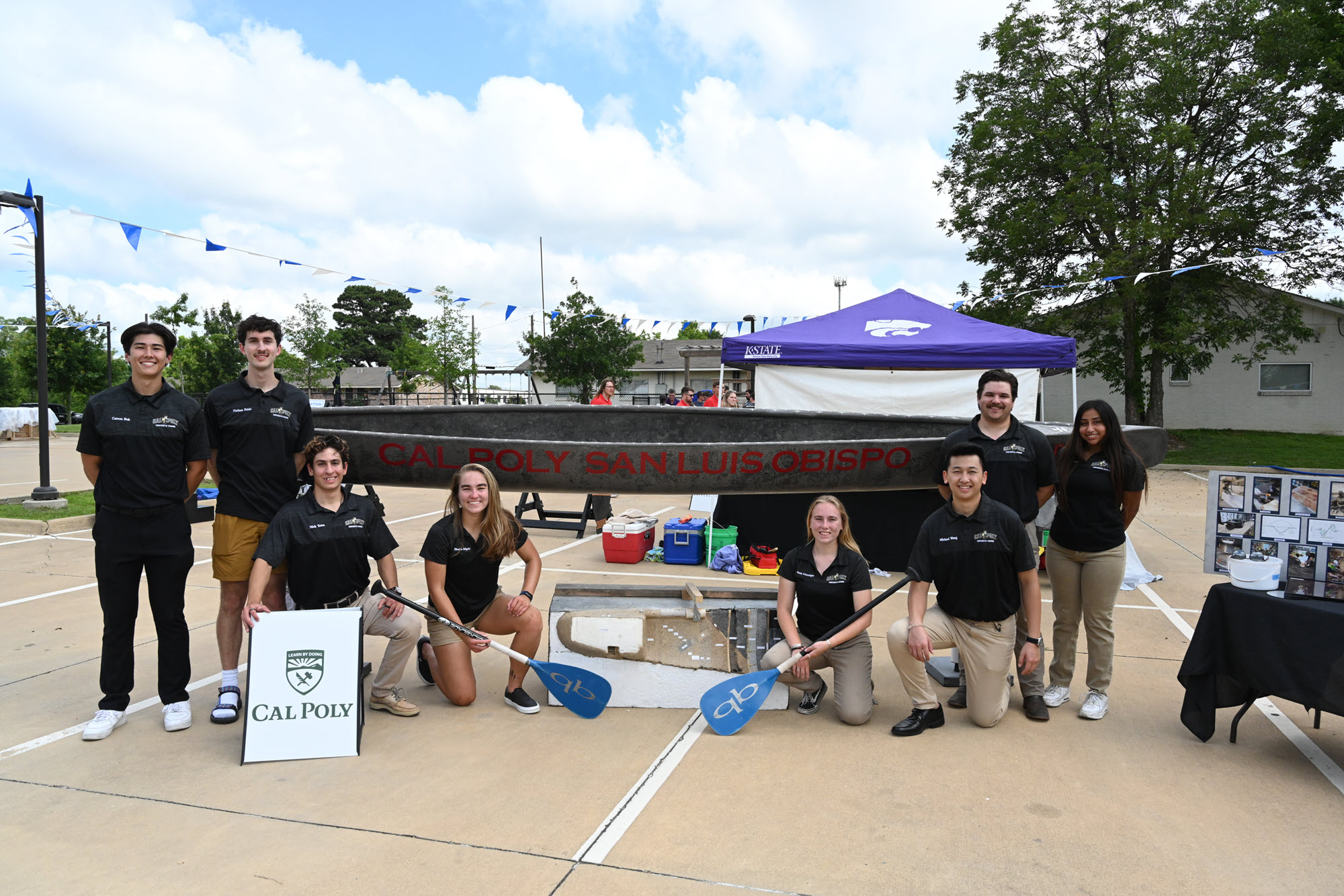 The California Polytechnic State University, San Luis Obispo concrete canoe team returned to the water this weekend and rowed right into the history books.
The student team from Cal Poly SLO earned first place overall in the 2022 ASCE Society-Wide Concrete Canoe Competition, June 3-5, at Louisiana Tech University.
The victory marks the school's sixth championship in the 35-year history of the competition, snapping what had been a four-way tie for most titles with the University of Alabama in Huntsville, the University of California, Berkeley, and the University of Wisconsin–Madison, each of whom have won five.
"It's indescribable. It's one of the best days ever. I'm so happy. And I'm so proud of our team for being able to break this record and have the most all-time wins," said Heather Migdal, Cal Poly SLO senior construction manager and paddler, who happened to be celebrating her birthday Sunday.
"We have such a small team. We only have seven people on our team this year. And other schools are coming in with like 30 people on their roster. We're such a small team, but we're so tight knit."
It was a momentous weekend in Ruston, Louisiana, as ASCE student members returned to Society-wide competition for the first time since 2019. COVID forced the 2021 competitions online as virtual events, while the 2020 edition was canceled outright.
"Everyone was so happy to be here," Migdal said. "It was just a bunch of friends getting together, basically, and making it super fun."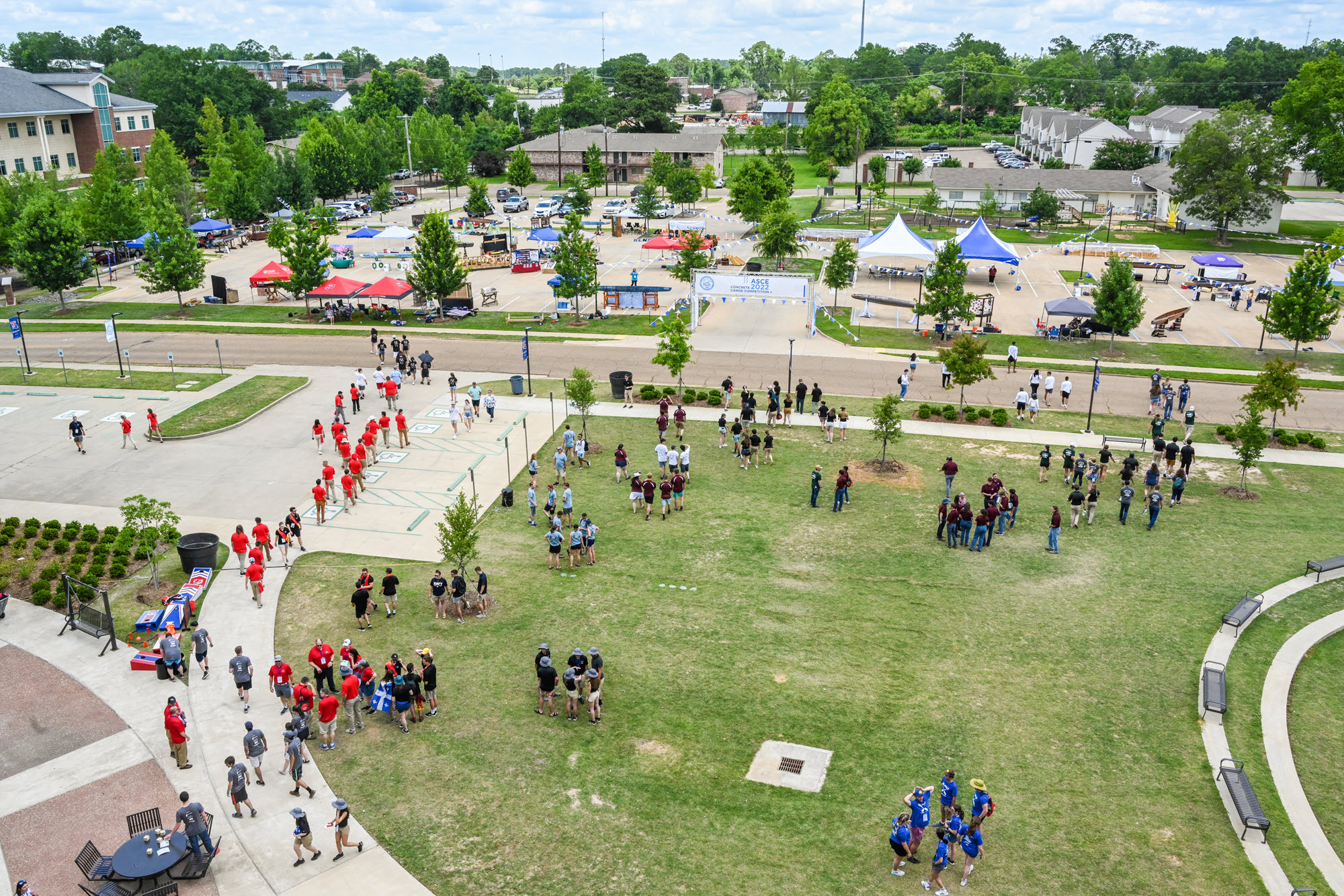 The Cal Poly SLO canoe, named "Europa," was built around a theme of space exploration. "Exploring new possibilities when it comes to concrete canoe," said Cal Poly SLO project manager Michael Wang.
"Europa" was followed in the overall concrete canoe standings by Universite Laval in second place, Western Kentucky University in third, Youngstown State University in fourth, and New York University–Tandon in fifth.
The Cal Poly SLO students knew they were in decent shape after sweeping the races on Sunday. But they also won the technical proposal and technical presentation categories, while claiming the R. John Craig Legacy Award. NYU–Tandon earned first for the final product, and Western Kentucky was recognized with the award for enhanced focus areas.
Lipscomb University, which was among the first-time qualifying schools, won the Spirit of the Competition Award – to a standing ovation at the awards banquet.
In addition to the annual concrete canoe competition, the weekend featured the ASCE Sustainable Solutions Competition – Tiny House Challenge and the debut of the ASCE Utility Engineering and Surveying Institute Surveying Competition as a Society-wide event. (Read more about these competition winners next week on the Civil Engineering Source website.)
The Universidad Nacional Autonoma de Mexico earned first place in the Sustainable Solutions Competition, followed by UCLA in second and Zhejiang University in third.
Colorado School of Mines earned the overall title in the Surveying Competition, with Cal Poly Pomona in second and George Mason University in third.
As for the concrete canoe history books, the Cal Poly SLO accomplishment was not lost on its student leaders. The school has now won concrete canoe championships in 2022, 2018, 2017, 2012, 2011, and 2010.
"It comes from that knowledge being transferred down," Migdal said. "We're still in contact with past alumni. They started that legacy.
"The team is amazing. We all love to be here. We're dedicated. We want to show up to the Shed – our workspace – maybe 30 hours a week, maybe more on the weekends, because it's something we care about.
"And we were able to continue that legacy and win first place again."