The centerpiece of the annual ASCE Construction Institute Student Days event is the challenge project. Student teams must develop written and oral real-world construction project proposals that account for everything from local laws and regulations to impact on local traffic and residential areas – all in less than three days.
In short, it's not for the faint of heart.
"I would use the term 'brutal,'" laughed recent Rowan University graduate Kayla King, captain of the SheBuilds team at the 2023 Student Days this month in Denver.
"Not a vacation by any means," she continued, laughing. "I thought I was going to get out to hike and explore the mountains in Colorado. That was not the case.
"But it was definitely worth it – everything that went into it."
King's SheBuilds team earned first place in the competition, validating all their hard work.
"Our team was very excited," King said. "Very happy, relieved, and grateful. It was a lot of work."
Hard work is certainly part of the point of Student Days. It's a weekend-long crash course in construction industry fundamentals.
This year's event welcomed 42 students – split into seven six-person teams – for a full slate of learning and networking. This year boasted the most students and most contributing sponsors in the event's history. The competition is central to the weekend, but the program also includes a series of professional presentations about different aspects of construction projects (such as estimating, scheduling, and risk management), networking with young professionals, project site tours, and even a scavenger hunt at the Denver Aquarium. Procore sponsored the event's technology, challenging students to learn construction management software tools before submitting their proposals for the competition, which this year centered around the Denver International Airport expansion.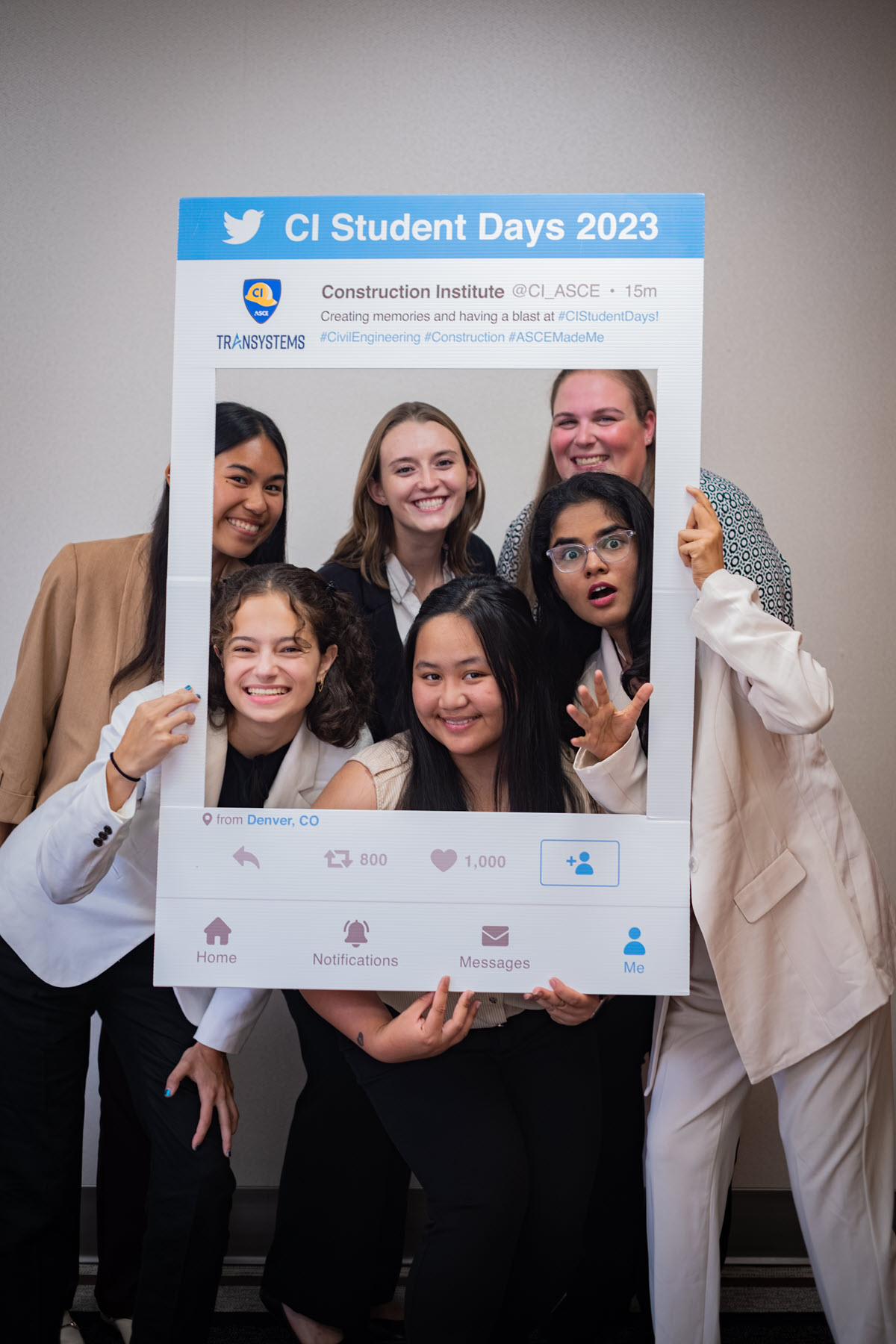 "It's a fast-paced and challenging weekend," said Emma Herr, E.I.T., A.M.ASCE, an attendee at Student Days in 2018 who now chairs the Construction Institute Young Professionals Council and served as the program chair for this year's Student Days event.
"The best part is having the students dive in and excel and come up with unique solutions that we as young professionals didn't even think about. That's the part I like to see – the growth of the students just over the course of a weekend."
The winning SheBuilds team was the first all-female Student Days champion. Team members included: King, Tanusha Chankhore (University of Texas at Arlington), Juls Enriquez (San Francisco State University), Emma Fisher (University of Toledo), Zoe Sperduto (Swarthmore College), and Aryanna Valerio (UC-Irvine).
King didn't necessarily intend to put together an all-female team when she, as team captain, started going through the attendee profiles to assemble a group.
"I started picking out of a lot of girls first, and I started thinking, 'You know what? I'm going to make an all-women team," King said. "I think it's great. I think that women in construction are definitely a force to be reckoned with, and I hope more women come to enjoy the field as much as we have."
Sperduto, who just finished her first year at Swarthmore, was the youngest member of the team but stepped up big during the presentation portion of the competition, earning the Best Speaker Award. She said the SheBuilds team taught her a ton about construction and the camaraderie carried them to victory.
"I'd say it was very challenging – the most I've ever been pushed academically or career-wise – but it was very rewarding," Sperduto said. "I think the reason our team did so well is that we were so close and supportive of each other. We hit it off right away and worked very well together.
"The friendships I made there made the experience much more enjoyable and allowed us to produce a better product."
King, meanwhile, left Student Days and headed home to the real world. She officially started her civil engineering career in June as a field engineer for Keller North America in Berwyn, Pennsylvania. She said she returns to work with "a bigger perspective" on project management, a better teacher and learner.
She's also happy to get back to a non-Student Days sleep schedule.
"I was so happy to get back and sleep in until 5 a.m.," King laughed.
King and her fellow 2023 attendees join the growing group of Student Days alumni who stand up to the challenge and take the experience with them into their careers.
"It's challenging, and, yes, there are some overwhelming moments," said Herr, one such alum, now working as a project engineer for the Hoffman Construction Co. in Pullman, Washington. "But at the end, the teams are cheering before they go in to do their presentations, and they're leaving with smiles on their faces.
"We're picking students who are high achievers and are able to persist and get the job done. And I think this competition sets them up really well for their future."