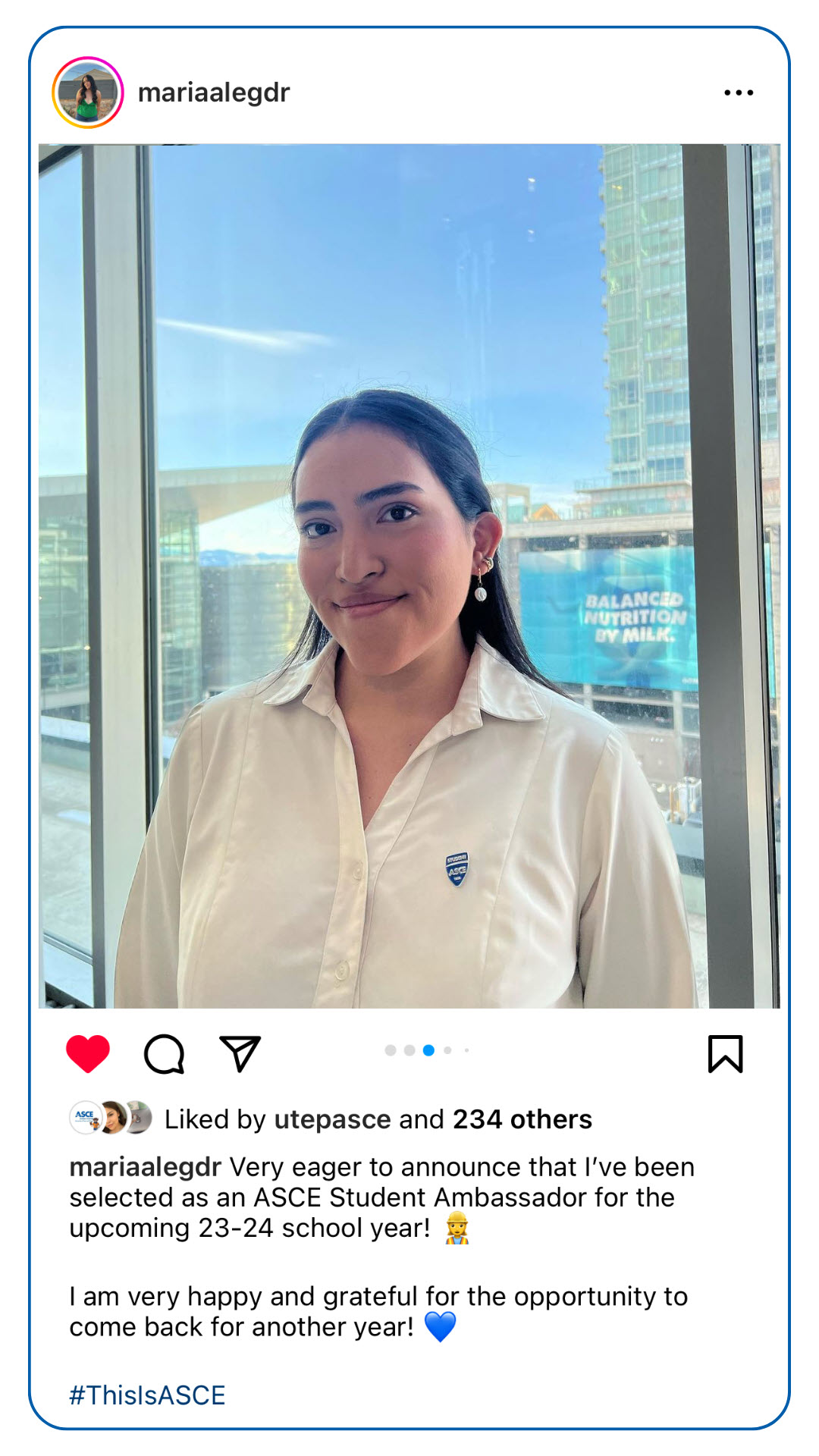 Maria Alejandra Galindo has a gripe to share.
"Civil engineers are not very acknowledged for all the work they do," said Galindo, S.M.ASCE, entering her final year as a civil engineering student at the University of Texas at El Paso.
"You brush your teeth, you just open your faucet and get water. But you don't think about all the work it takes to get water to your house."
Galindo is working to change that public relations situation. She's an active leader in her ASCE student chapter at UTEP and she's a member of the new class of ASCE student ambassadors as the 2023-24 school year kicks off.
Student ambassadors represent ASCE on their campuses and through social media, promoting Society resources with the goal of making students aware that there is an ASCE after graduation by sharing the resources that ASCE has to help them grow as civil engineers. And of course – to Galindo's point – ambassadors shine a spotlight on the entire civil engineering profession.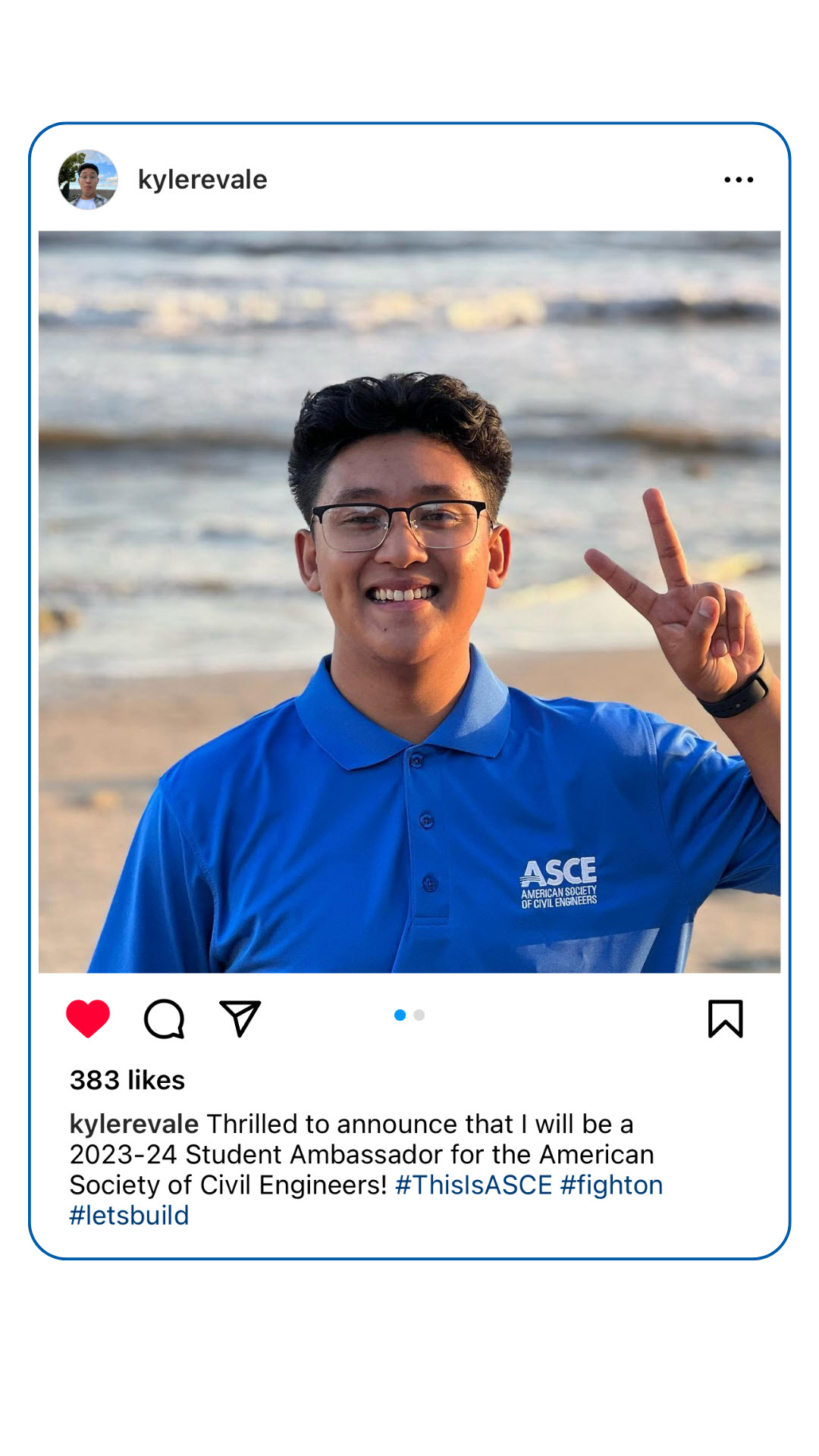 "That's a big thing about why I like being an ambassador," said Galindo, who is beginning her second year as an ASCE student ambassador. "You get to talk to people at your school or in your community, and they might not know about all the things a civil engineer can do. Being an ambassador, you get to put the word out there. You get to talk to other people about what civil engineers do."
Galindo had the advantage of knowing about civil engineering from an early age. Growing up in Juarez, Mexico, she played with dirt and water making mud structures on job sites with her uncle, who owned a construction company.
"That inspired me," Galindo said. "I thought, 'I want to do that. I want to build stuff.'"
She moved across the border to El Paso as a teenager and started at UTEP a few years later, thinking her future was in construction. Soon, though, she took an interest in water resources – doing all those things civil engineers do to help people brush their teeth every morning. Recently, she had an internship at El Paso Water, and she looks forward to graduating next spring.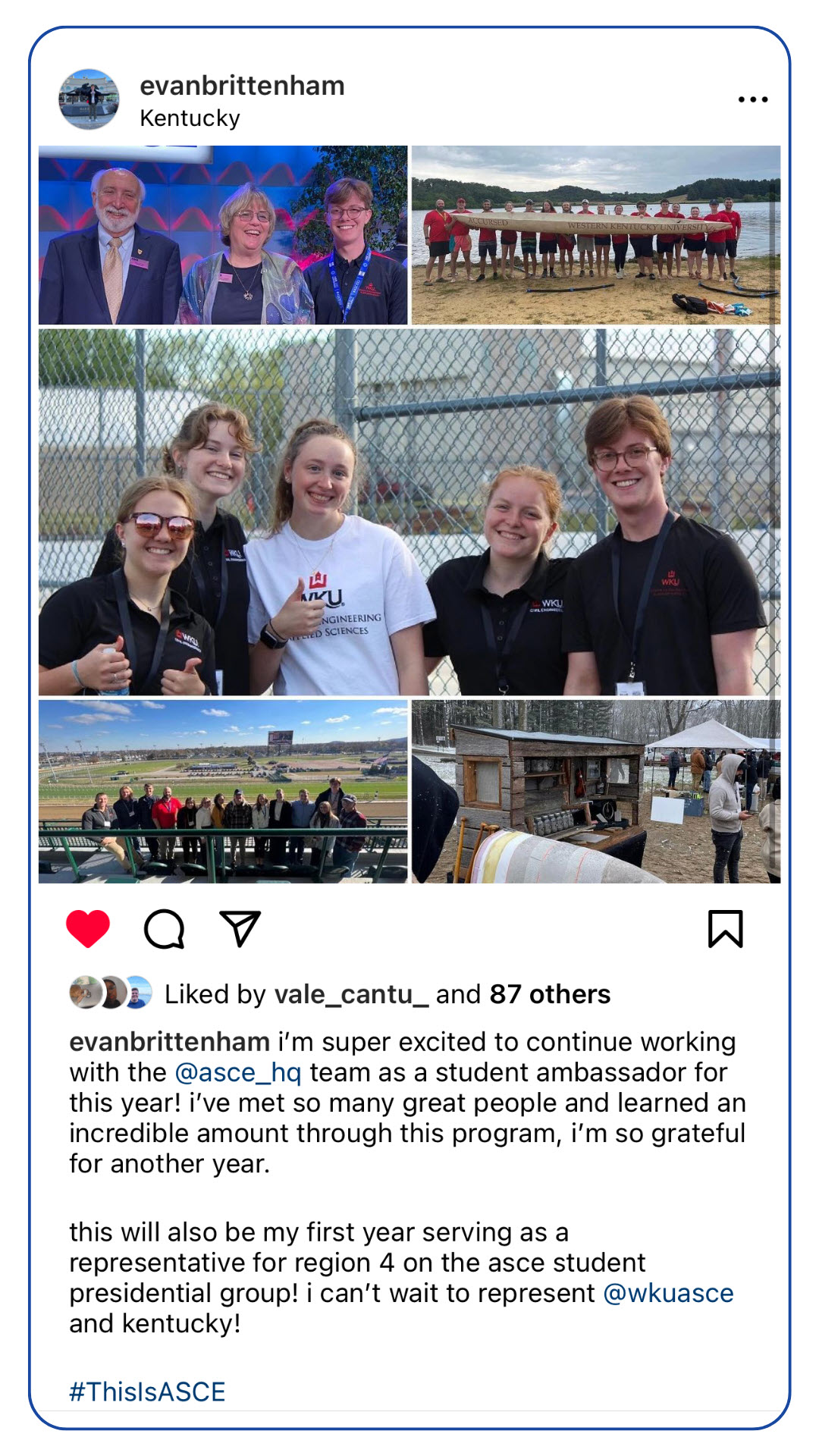 In the meantime, she'll serve as secretary this year of her student chapter. ASCE became a big part of her life during the early days of the COVID pandemic as she looked for community with her fellow students. She went on to work as the chapter's webmaster and internal representative with the university, while also joining the concrete canoe team. And of course, she's ready to represent the profession and ASCE as a student ambassador.
"I'm really passionate about ASCE," Galindo said, adding with a laugh, "Anyone can tell you; I'm always talking about it."
Galindo joins 26 other outstanding young leaders as ASCE student ambassadors in the 2023-24 class. They are:
Maria Alejandra Galindo, senior, University of Texas at El Paso
Evan Brittenham, junior, Western Kentucky University
Breanna Burke, senior, University of Evansville
William Bush, senior, University of Portland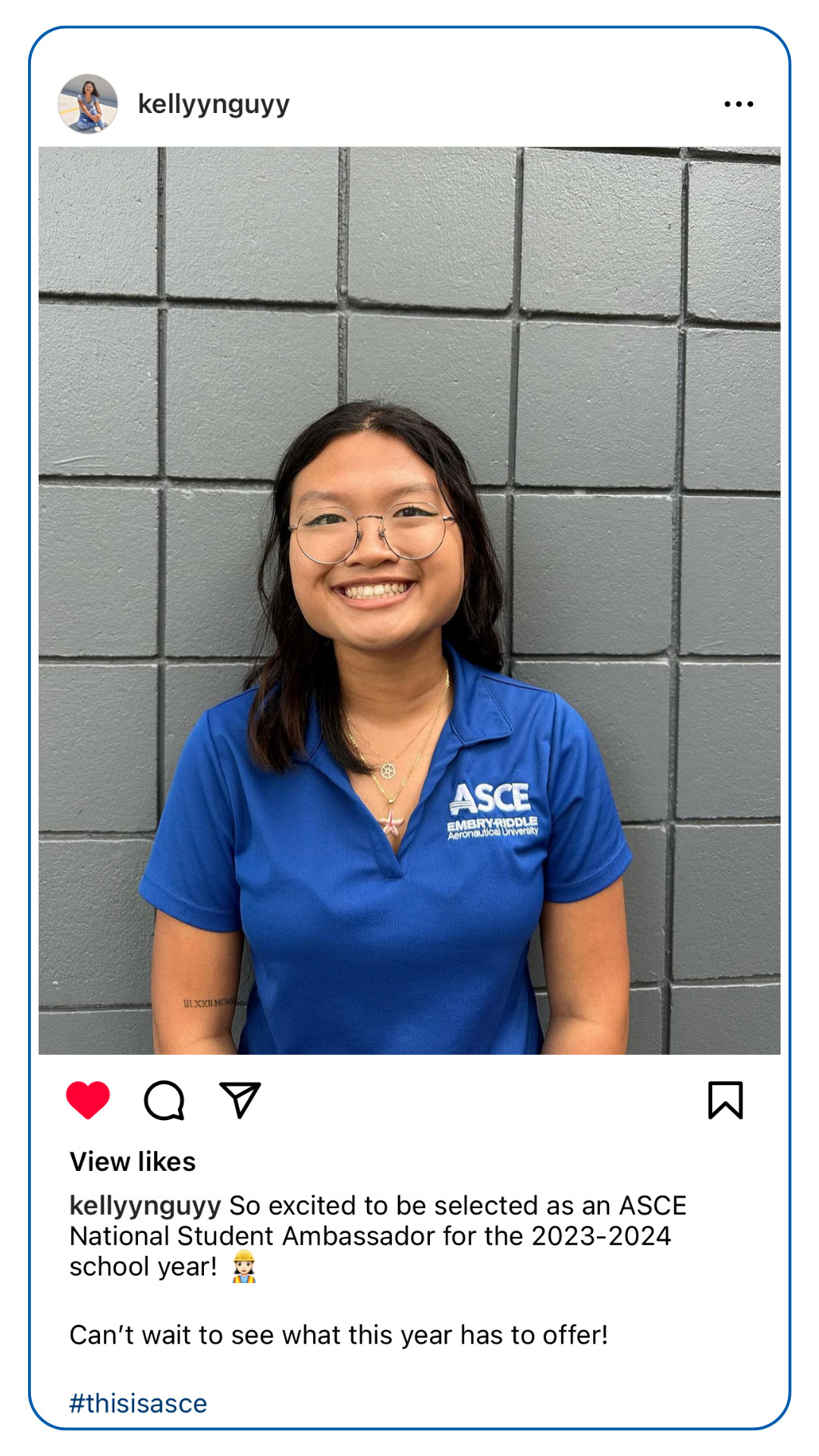 Hannah Butkovich, junior, Missouri University of Science and Technology
Liliana Carrion, senior, Central Connecticut State University
Maxwell Fletcher, sophomore, University of Florida
Kolby Garey, sophomore, University of Arkansas Fayetteville
Alicia Gonzales, senior, New Mexico State University
Gustav Gothberg, junior, University of Akron
Cassidi Harada, senior, UCLA
Iaya Kamber, junior, Lipscomb University
Cing Kim, sophomore, Illinois Institute of Technology
Andrew Kline, senior, Villanova University
Jalisha Littles, senior, University of South Alabama
Alexander Martinez Melendez, sophomore, University of Houston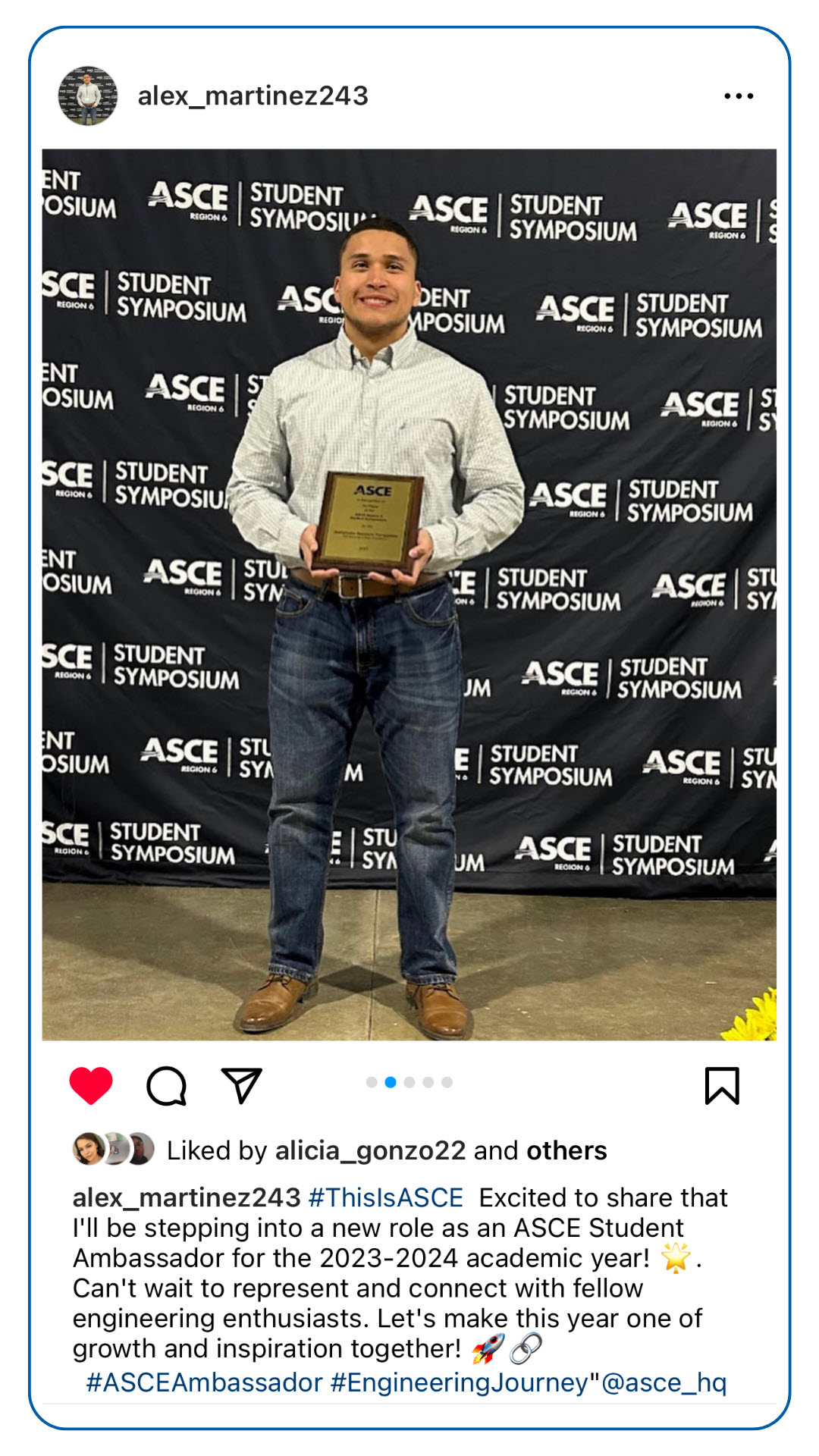 Jocelyn Mata, senior, California State University Northridge
Kelly Nguyen, sophomore, Embry-Riddle Aeronautical University
Valeria Nuñez Cantu, junior, University of California, Berkeley
Kyle Revale, junior, University of Southern California
Dulce Rivera, sophomore, Illinois Institute of Technology
Dani Salinas-Tovar, sophomore, University of Utah
Carly Schiene, senior, Valparaiso University
Emily Styn, senior, University at Buffalo
Mariana Vega, senior, New Mexico State University
Katherine Wang, senior, Cal Poly Pomona
Peter Yu, senior, University of Washington