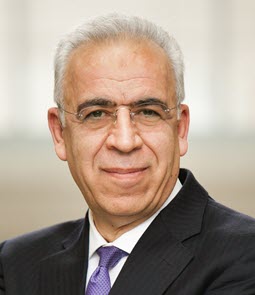 Ahmad Hadavi, Ph.D., P.E., F.ASCE, deputy director of the Master of Science in Project Management program and Clinical Professor in the Department of Civil and Environmental Engineering at Northwestern University, has been named a fellow by the ASCE Board of Direction.
As a practicing professional engineer, Hadavi has developed a strong interest in the diverse problems associated with the repair and upgrade of American infrastructure, as well as the related challenge of preparing qualified professionals to assume project management roles as successors to the rapidly retiring workforce within the built environment sector.
These drivers have propelled him to channel his varied talents into the development and operations of Northwestern's Master of Science in Project Management and Master of Science in Executive Management for design and construction programs. After more than three decades serving the industry in this role, he has had the opportunity to impact more than 1,000 graduates who operate in 50 countries across the world.
In addition to his work in the administration of these programs, Hadavi has maintained an ongoing research program and published several technical papers. His current research interests are focused on disruptive technologies and innovations in construction, and contributing to the framework for the application of virtual reality, augmented reality, mixed reality, and the metaverse in the architecture, engineering, and construction (AEC) industry. His paper "From BIM to Extended Reality in AEC Industry," which was published in 2020, is a top-cited article in the Journal of Automation in Construction.
Hadavi's vision for the implementation of metaverse in design and construction is focused on improving productivity and reducing cost for projects with the added potential to improve safety. He presented his vision at the BuiltWorlds Construction Tech Conference (2022) and the ASCE International Conference on Computing in Civil Engineering (2023).
Committed to service in the industry and academia, Hadavi is a member of the ASCE Construction Research Council, an evaluator for the Accrediting Council for Continuing Education & Training (ACCET), and a program reviewer for ABET. He has also served as a panelist during the review of proposals for the National Science Foundation and has lent his expertise as a peer reviewer for several journals and conference proceedings, including the ASCE Journal of Construction Engineering and Management, the ASCE Journal of Management in Engineering, and the Journal of Construction Management and Economics.
He has a bachelor degree in civil engineering from Iran University of Science and Technology (1978), an MBA from Iran Center for Management Studies (1979), and a doctoral degree in civil engineering with emphasis on construction management from Northwestern University (1991). He is a registered professional engineer in the State of Georgia and an alternate commissioner for ABET ANSAC.