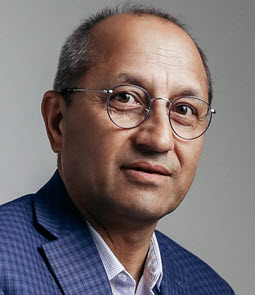 Kamal Prasad Gautam, Ph.D., P.E., F.ASCE, director of engineering with rPlus Hydro LLC, has been named a fellow by the ASCE Board of Direction.
Gautam has 30 years of hydropower industry experience, primarily from consulting engineering practice. He began his professional career in 1993 as a design engineer for a 60 MW Khimti I Hydropower Project located in Nepal, where he played a vital role during the planning phase as well as during construction and became resident engineer. The 60 MW hydroelectric plant has been operating for 23 years with remarkable reliability.
He has spearheaded a multitude of assignments related to dams, hydropower, tunnels, and water projects in the United States, Canada, Austria, the Netherlands, Nepal, Pakistan, Laos, and Uganda. He led multidisciplinary technical teams in delivering project feasibility studies, geotechnical investigations, project planning and permitting, engineering and detailed design, and other phases. Such projects included, among other things, very low-head to very high-head conventional hydropower and pumped storage projects.
Los Vaqueros Energy Recovery Project, commissioned in 2012 by Contra Costa Water District in California, was a unique project where energy was recovered by installing a 1000 kW hydropower plant from within an existing large-diameter water pipeline, and for this Gautam served as owner's technical advisor on behalf of MWH. The project won two ASCE awards: Outstanding Sustainable Project of the Year (2012) awarded by the San Francisco Section, and the same award for 2013 awarded by the Society's California Region.
In recognition of his impactful independent technical audits related to the Karuma (600 MW) and Isimba (180 MW) hydropower projects in Uganda, the International Waterpower and Dam Construction listed Gautam in their April 2019 issue as one of the 70 influential people in the industry.
In 2020, Gautam joined rPlus Hydro, a subsidiary of rPlus Energies; there he provides a strategic leadership role in the engineering of multiple pumped storage projects currently being developed. rPlus is a national leader with more than 8 gigawatts of pumped storage projects currently in development.
Gautam has published about 12 peer-reviewed research papers and technical articles in journals, etc. Currently he serves on the Steering Committee for the annual conference Clean Currents.
He was president of the ASCE Golden Gate Branch during the COVID-19 pandemic and provided a leadership role navigating through the challenging period. During the pandemic's early stage he organized a global professional platform, Khimti Forum – monthly talk programs with volunteering world-class professionals and subject matter experts on the theme of "Energy, Infrastructure, Environment and Economics." He has been an ASCE Member since 2006, and currently serves as a director of the GGB.
Gautam is a licensed professional engineer in California and Hawaii, and a certified PMP. His doctoral degree civil engineering is from the University of Hawai'i (2009), his Master of Science in hydraulic engineering (hydropower and dams engineering) from IHE in Delft (2002), and his bachelor of science (with honors) in civil engineering from the Odessa State Academy of Civil Engineering and Architecture, Ukraine (1992).