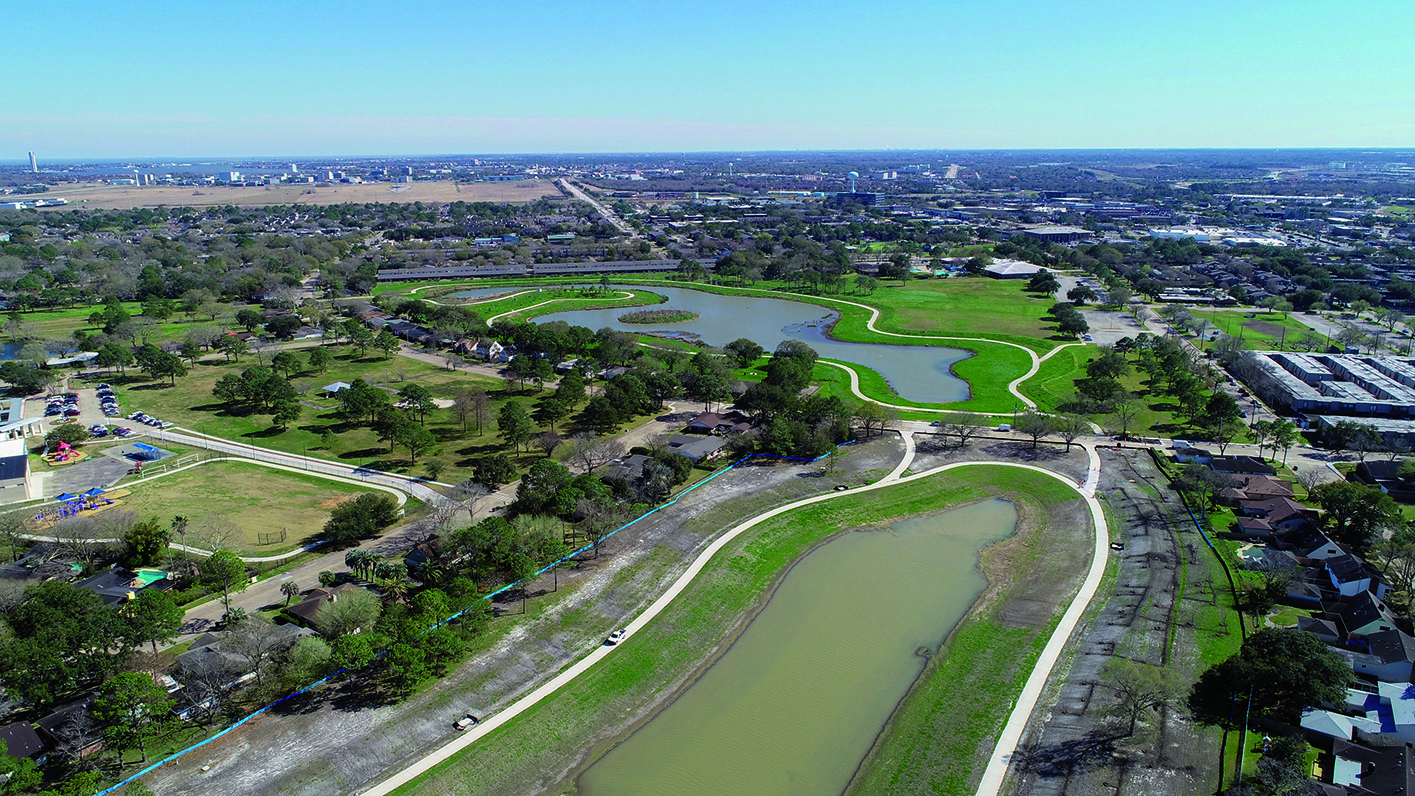 Clear Lake City Water Authority's recent completion of the second phase of a major flood control project in the Houston area has resulted in additional flood protection for Clear Lake City, a master-planned community located in southeast Harris County, Texas. Comprising five phases, Exploration Green — as the project is known — entails the conversion of a former golf course into a 178-acre stormwater management project that also provides natural habitat, walking trails, and other amenities. Upon completion in late 2021, Exploration Green will consist of five linked detention ponds that will protect between 2,000 and 3,000 homes from flooding associated with a 100-year flood event.
"Communities throughout Texas are looking for ways to mitigate major flooding events like (Hurricane) Harvey, (Tropical Storm) Imelda, and (Tropical Storm) Beta," said Wayne Swafford, P.E., the president of Lockwood, Andrews, & Newnam Inc., in a Sept. 30 news release. (LAN is designing and serving as construction administrator for the project).
"Exploration Green is transforming Clear Lake from a flood-prone community into one of the most flood-resilient communities in Texas," Swafford said. "In addition, it is creating a healthy, sustainable neighborhood for its residents."
Completed in September, phase 2 of Exploration Green includes a 26.2-acre detention pond, 18 acres of natural habitat, and 1.3 mi of recreational trails. The new detention pond provides 142 acre-ft of storage, says Kelly Shipley, P.E., M.ASCE, the project manager for LAN. At its 100-year storm elevation, the pond will have a depth of 15 ft. During dry periods, the pond normally will have a depth of 6 ft.
Phase 2 is located immediately upstream of phase 1, which was completed in April 2018 and includes a 23.7-acre detention pond, 15.2 acres of habitat, and 1.25 mi of trails. The ponds constructed as part of the two phases are connected by a series of 3 by 3 ft box culverts that extend beneath the neighborhood street that divides the projects. Water levels in both ponds are controlled by the outfall of the phase 1 pond. "Phase 1 and 2 are now one pond, in a way," Shipley says.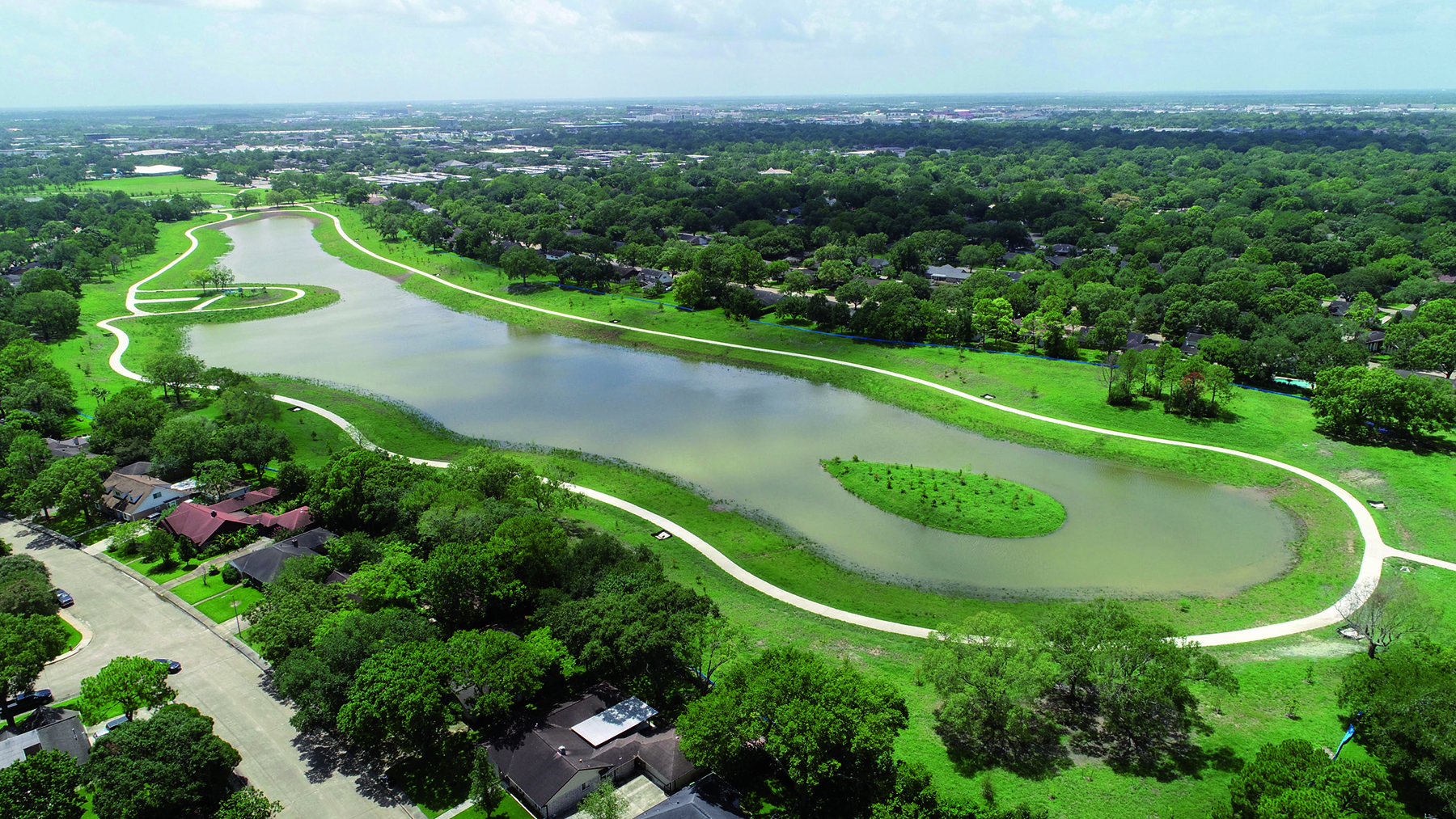 Together, the two ponds provide 250 acre-ft of storage capacity. In September, rainfall associated with Beta offered something of a trial run for the newly linked facilities. "That was our first test to see how phase 1 and phase 2 worked together," says Jennifer Morrow, the general manager of the Clear Lake City Water Authority, which owns the project. "They worked together perfectly as designed, and we were really pleased," Morrow says. "There was less street flooding," she says, explaining that what little ponding did occur on the streets drained more quickly than it previously had done.
The addition of the new pond helped address the problem of sheet flow that used to inundate the area below what is now phase 2. "The water used to sheet down the site and cross over phase 2 to phase 1, and that area would flood," Shipley says. "We've been able to slow (that flow) down."
Natural habitat areas created as part of phase 2 include 3 acres of wetlands, a small island to provide bird habitat, and nearly 15 acres planted in native grasses. Whenever possible, existing native trees were retained on-site. However, site constraints complicated such efforts, Shipley says. "The ultimate goal was detention," she says. Wherever native trees had to be removed to make way for the detention pond, new trees will be planted by the Exploration Green Conservancy Inc., a local nonprofit organization that works with the Clear Lake City Water Authority to develop and maintain the natural areas.
Triple B Services LLP served as the contractor for phase 2, which involved the excavation of 500,000 cu yd of earth. "It was a big endeavor," Shipley says. The long, narrow shape of the pond made for an "interesting excavation," she notes, because it left little room for trucks to maneuver past one another on their way to and from picking up material for disposal.
With change orders, construction of phase 2 is expected to cost about $7 million. Meanwhile, progress is moving apace on the remaining phases of Exploration Green. Phase 3 was split into two parts to accommodate requirements by the Harris County Flood Control District. Construction on phase 3a is expected to wrap up in December. Phase 4 is under construction now and is scheduled to be complete in summer 2021. Construction of phases 3b and 5 is expected to begin next year.