The Structure of Skyscrapers in America 1871-1900: Their History and Preservation, by Donald Friedman. Springfield, Ill.: Association for Preservation Technology International, 2020; 450 pages, $55.

For more than 10 years, the world's tallest skyscraper has been Burj Khalifa in Dubai, United Arab Emirates, which, at 2,717 ft., is more than a half-mile tall. It is as tall as the previous record holder, Taipei 101, and the Chrysler Building, combined. The modern engineering and construction expertise that went into its creation are as staggering as its height — yet it is also indebted to the previous 150 years of skyscraper evolution that began in the United States in the late 19th century, when the tallest buildings did not yet reach 500 ft and anything more than 10 stories was still noteworthy.
The Structure of Skyscrapers in America 1871-1900 is a sprawling, truly comprehensive look at every such building during that crucial three-decade period, as competing construction methods and technologies battled it out. Author Donald Friedman, who has done yeoman's work researching and piecing together the historical and engineering record to make this reference possible, is a New York-based structural engineer with decades of experience specializing in historic preservation, adaptive reuse, and other aspects of existing buildings.
The book cites three linked goals: creating a "uniform set of descriptions of the structure of early tall buildings" (including those since demolished), describing how the various types of building structures came to be, and detailing how the continued presence of these forms affects conservation work in the present.
Like any good researcher, Friedman begins by defining terms and making clear his scope. Noting that 1871 was the beginning of the shift away from wood and masonry structures after two high-profile fires forced reconsideration of building technologies, he also identified 1900 as his endpoint because by that time the steel skeleton framing that would drive the truly iconic structures soon to come had become commonplace. Opting to examine only those buildings 10 stories and higher allowed Friedman to limit his study to "only" about 500 structures.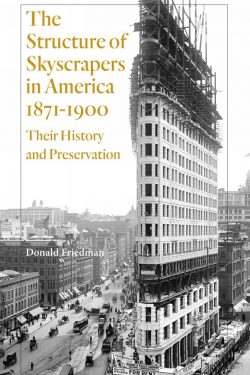 After spending some time defining building frame types and development, the factors driving those changes, and methods for altering and preserving older buildings and a wrap-up on building evolution, the book's primary chapters end. And yet the book has only just begun because still to come is the simply named "Appendix — Individual Buildings."
For the next 220 pages, the reader is treated to a capsule description and, with rare exceptions, a photograph of every building in Friedman's study. Listed chronologically, and secondarily by the city, each entry provides the building's completion date, building and framing type, primary use, height, width, depth, and "slenderness" ratio. Many also include the architect, builder, and total cost.
Amazingly detailed, cogently and effectively written and reasoned, The Structure of Skyscrapers offers an almost overwhelming amount of information, and as a historical compendium and reference it is a monumental work that simply has no equal.