By T.R. Witcher
Virginia Tech's College of Engineering is one of the more comprehensive engineering programs in the country — more than 11,000 students across 18 areas of undergraduate and graduate study, ranging from civil to biological systems to materials science. But some majors — such as mechanical, aerospace, and electrical engineering — have proved more popular than others. As a result, the faculty hoped to build up interest in some majors, especially in the Department of Mining and Minerals Engineering. In a state with a long history of mining, there are typically more mining engineering jobs available than there are graduates to fill them.
Virginia Tech has a general engineering program for its roughly 2,400 first-year students. There they learn engineering fundamentals such as teamwork, problem exploration, and design process. Picking a specific major within the program is another matter, and students must apply to the specific majors once they are in the engineering program.
"We ask them to explore their options," says Ben Chambers, Ph.D., an associate professor of practice and engineering education in the College of Engineering. "Half of the students change their mind about their major during (their) first year."
Typically, the majors within the engineering program host fairs, events, barbecues, or structured information sessions to promote themselves. There is a web tool that allows students to explore engineering majors. And there are also introductory classes where students can take apart common objects like phones or toasters to understand how different engineering disciplines contributed to them. Still, says Chambers, when it comes to mining engineering, there was "a lot of misunderstanding of what mining engineers do. It's more than just digging for coal."
Chambers had already been reading some research on "gamification" in education. At a staff meeting in fall 2020, someone mentioned the Minecraft Education Edition, which was launched in 2016, and the idea hit him: The college could use Minecraft to help students explore engineering majors and —maybe — attract them to programs that were underserved.
Building blocks
Minecraft is an interactive online video game where players build and explore vast online worlds, either on their own or in collaboration with other players. Players "mine" blocks — which can represent physical materials such as stone, ore, wood, and water — to fashion increasingly complex objects, including tools, buildings, cityscapes, and more. It's like playing in a digital sandbox with a series of digital bricks. Created in 2009 in Sweden, the platform has grown to be one of the world's most popular video game platforms. According to the university, there are more than 140 million active Minecraft users globally. The game's low-resolution block architecture gives it a quaint, retro vibe, but its ability to allow users to build just about anything they can imagine — they create the game as much as they play it — has made it hugely popular. Schools have also recognized its potential as a learning tool.
According to researchers H. Chad Lane and Sherry Yi, Minecraft offers "an environment where students can easily pursue academically oriented goals for learning with the help of their instructors, peers, and families." (Cognitive Development in Digital Contexts, edited by Fran C. Blumberg and Patricia J. Brooks. Cambridge, Massachusetts: Academic Press, 2018.)
Chambers did an informal poll of his students after that faculty meeting and found all of them had used Minecraft. A few even considered themselves regular users. So he and a few colleagues applied for a $10,000 university grant for improving the educational experience in large classes. They received the grant at the start of 2021 and hired a team of students to build a museum inside the digital Minecraft realm that would showcase Virginia Tech's engineering program.
That structure, the Minecraft Museum of Engineering, visually appears in the game as a classical building that opens into a long, glass-roofed pavilion space that adjoins several halls or wings devoted to teaching visitors about the various programs and departments the College of Engineering offers. While playing the game, users can walk around these digital halls and learn about the college's programs.
One of the students who built the Minecraft Museum was Brennan George, a senior in the Department of Mining and Minerals Engineering. George remembered a line from one of his classes — "If it's not grown, it's mined," as he remembers it — and, along with his classmates, set out to showcase the different types of mining processes, ranging from quarries to underground mines. One hall shows a mining operation called long-wall mining, where miners can shear off long panels of coal. An animated blasting area demonstrates how dynamite works. And the exhibit also shows off what George describes as "ginormous" haul trucks, whose wheels are often twice the height of people. Throughout all the exhibits are informational signs that provide more details to students.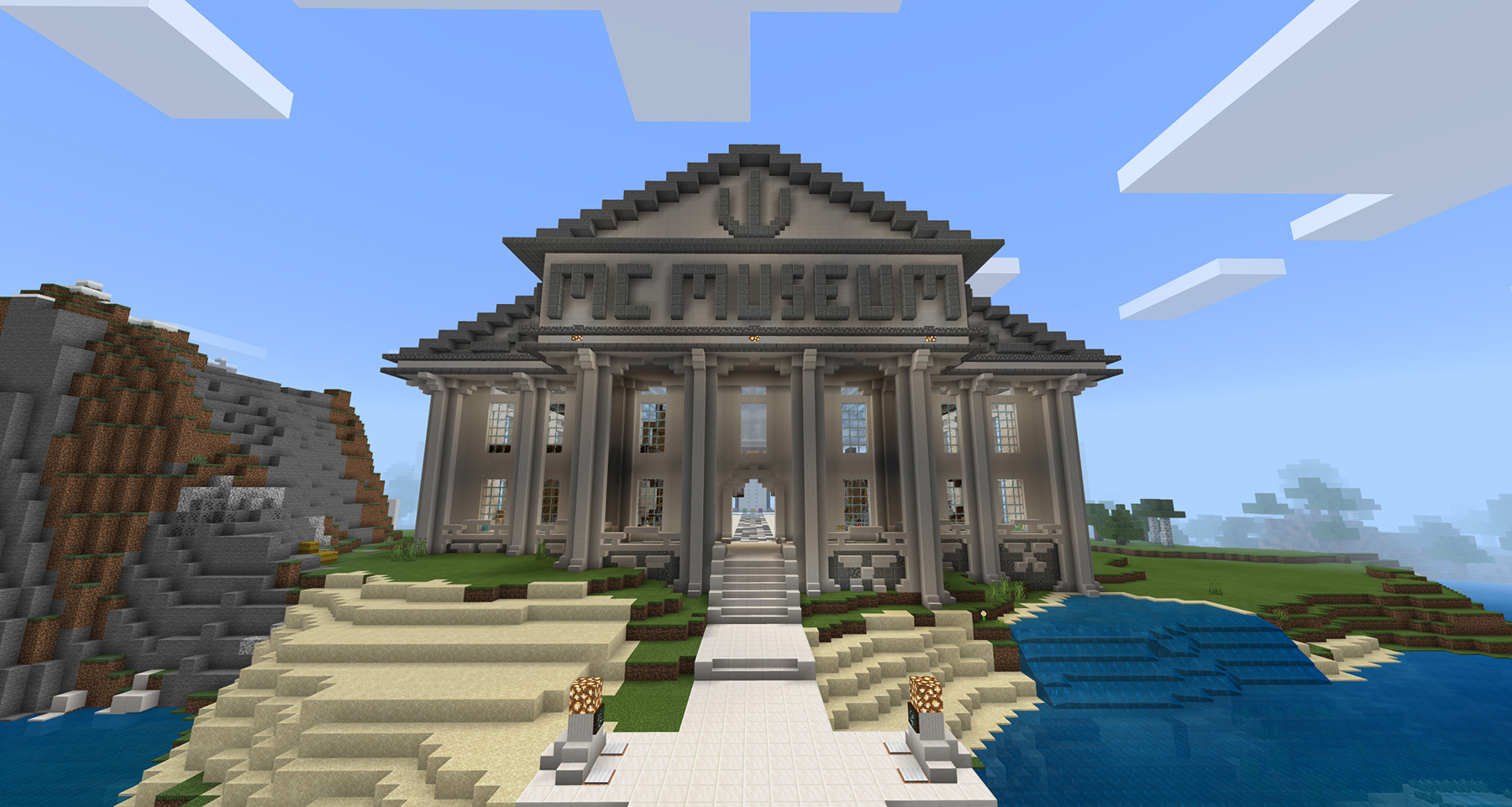 Chambers and his students had planned to create just three explanatory exhibits for each of the school's majors — but the program quickly grew to more than 100 exhibits. They released the program officially at the end of the summer to target incoming students, but Chambers also introduced the Minecraft space to his students during the fall semester. Some of those students are in the second semester of their two-semester introductory sequence of courses and are close to applying for a major. Further, some are beginning to learn computer-aided design, so Minecraft proved a nice conceptual introduction to creating spaces with a computer.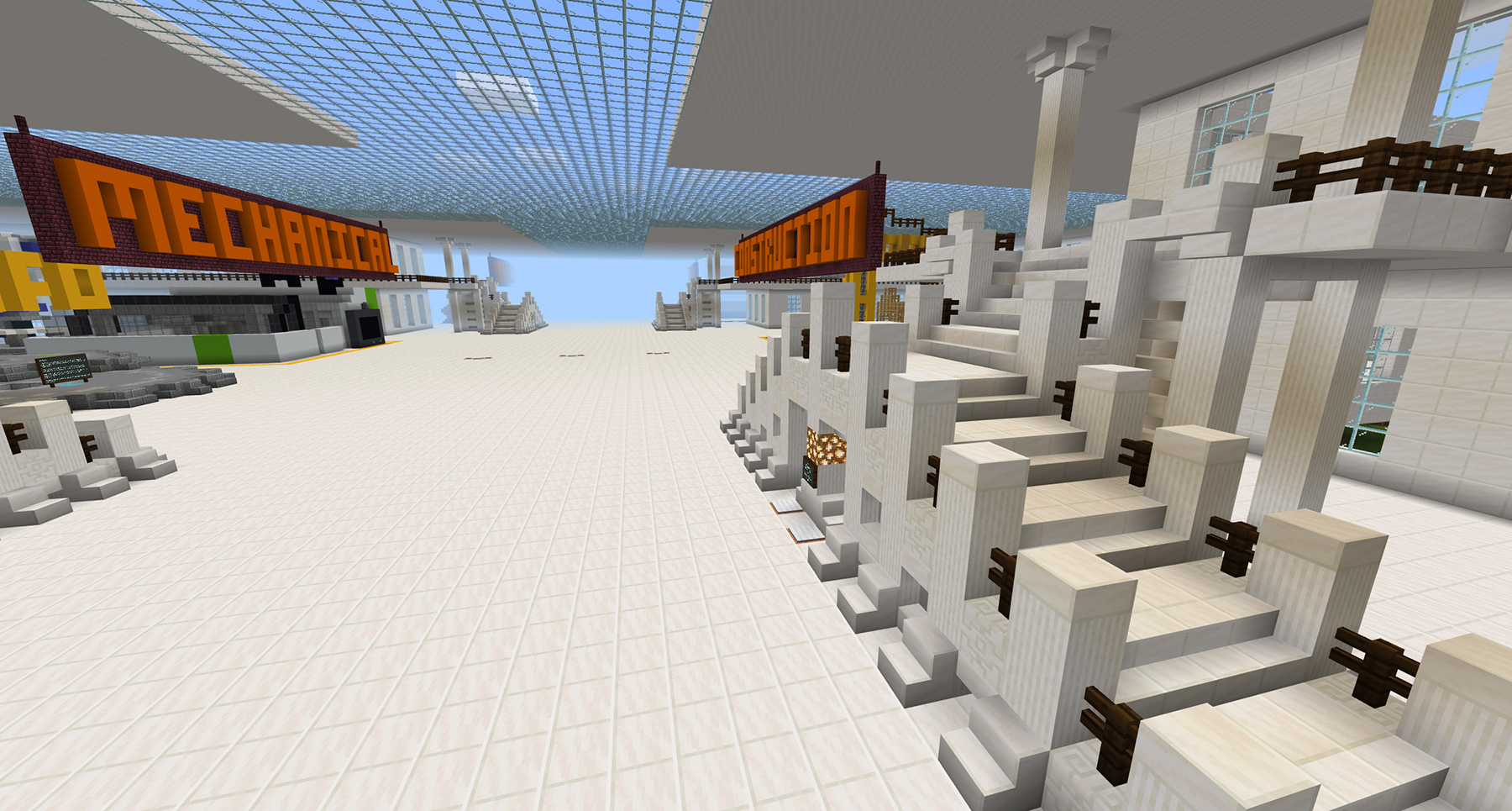 Positive feedback
Chambers says the response has been very positive. Students, he says, "learned and explored a bunch of majors they hadn't really thought about before. For some it reinforced their already existing intent; for others it opened their eyes to new options. More than that, I got the sense the fact that it exists at all was something that they really liked."
George also has heard from a few general engineering students who were impressed by the portal. He has also run into older students who have used it and told him they wished they had had access to the space when they were making decisions about which major to select.
Chambers had initially planned to introduce a design competition for students to create new exhibits but has instead shifted to an open-door approach to allow anyone on campus to contribute. He has also received another grant, of nearly $10,000, from the college's Office of Undergraduate Research Faculty Grant Program to develop research opportunities for first-year students.
When asked what has most impressed him about the students' work, Chambers says, "The most impressive thing is the scale and complexity of some of the exhibits they built. I knew it was possible in Minecraft; that's why we did this in the first place. But to see your students come up with and build this stuff themselves is something else."