By Jay Landers
Efforts to promote an increase in the number and density of electric vehicle charging stations face a conundrum. Prospective EV buyers, particularly those who are unable to charge their vehicles at home or who travel long distances, often have concerns about whether sufficient charging infrastructure exists to support their driving habits. Meanwhile, potential entrepreneurs interested in opening charging stations may hesitate as they try to determine if enough demand is present to justify the investment. It's a classic chicken-and-egg problem.
In the United States, the federal government has stepped in to try to resolve the problem, providing $7.5 billion over five years for EV charging infrastructure through last year's Infrastructure Investment and Jobs Act (see "Electric vehicle charging infrastructure receives federal, state support," Civil Engineering, March 24, 2022). Multiple states also have sought to foster the development of EV charging infrastructure. But governments are not the only ones getting into the act.
Recently, two major corporations — one a maker of EVs, the other the world's largest coffeehouse chain — announced that they were partnering to install EV charging stations at up to 15 locations in the western United States. Although by themselves the planned charging stations will not resolve the charging access problem facing the EV industry, the partnership between the two business interests illustrates a greater willingness on the part of large companies to try to promote broader adoption of EVs.
'Peace of mind'
In mid-March, Volvo Car USA LLC, a subsidiary of the Sweden-based Volvo Car Group, and the Starbucks Coffee Co. announced the launch of a pilot program to create an open, public EV charging network based at select Starbucks locations across five Western states (see map).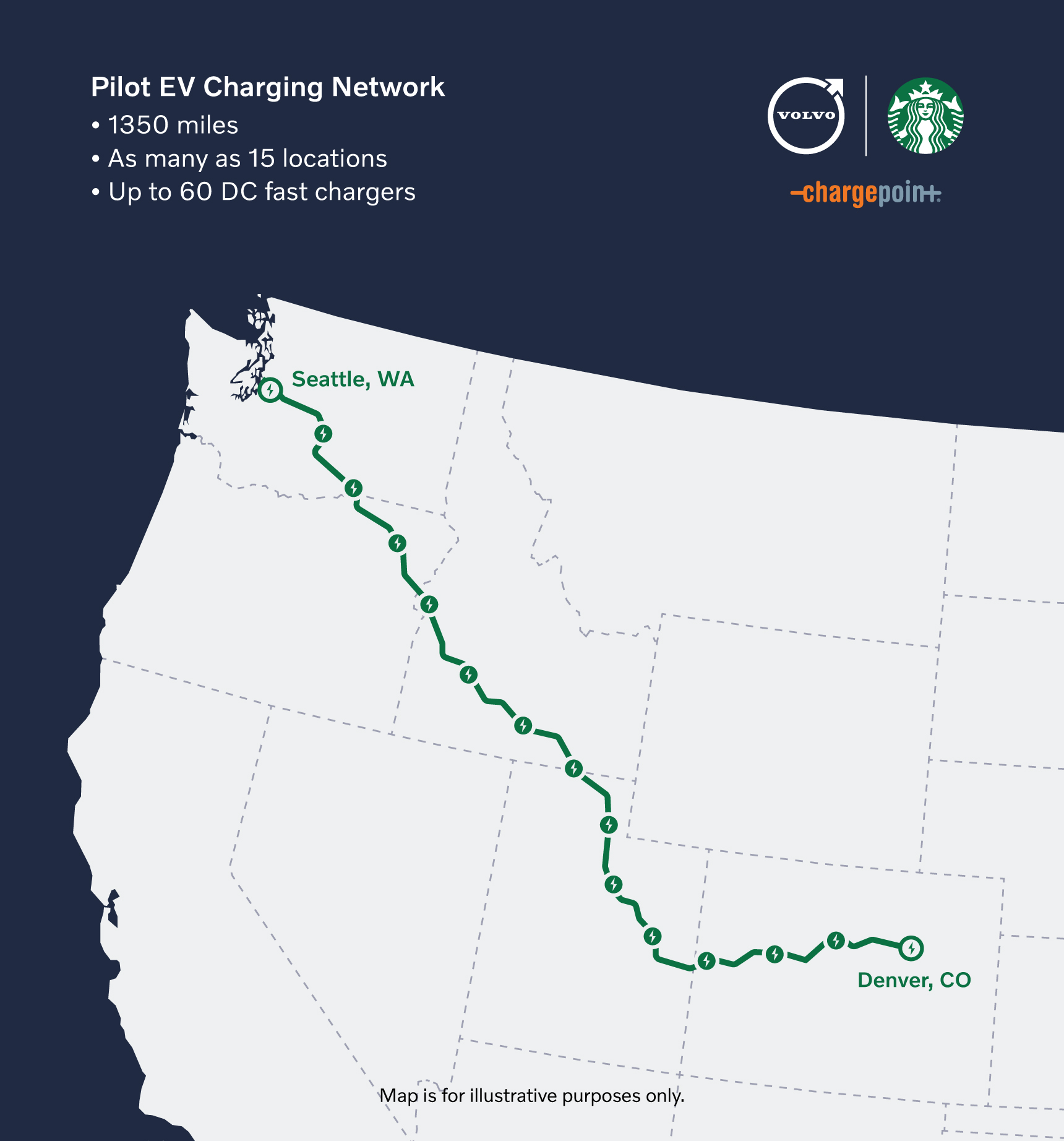 The pilot project aims to "electrify the driving route from the Colorado Rockies to the Starbucks Support Center in Seattle," according to a March 15 news release from Starbucks. The approximately 1,350 mi route will extend from the Denver area to Seattle, where Starbucks has its headquarters.
Volvo, which pledged last year to sell only EVs by 2030, and Starbucks indicated that a key goal of the pilot is to reduce driver anxiety regarding the availability of EV charging stations while traveling. The charging stations "will be placed at Starbucks stores about every 100 miles, adding much needed peace of mind for EV drivers, who we know see today's limited charging infrastructure as a major barrier to purchase," according to the release from Starbucks.
"Volvo Cars wants to give people the freedom to move and lower their impact on the environment," said Anders Gustafsson, senior vice president, Americas, and president and CEO of Volvo Car USA, in a March 15 news release from the company. "Working with Starbucks we can do that by giving them enjoyable places to relax while their cars recharge."
"Seattle and Denver are two fast-growing EV markets," says Russell Datz, head of media relations for Volvo Car USA. "The corridor that connects the cities is underserved when it comes to existing infrastructure, so we saw an opportunity to connect them. We're excited about enabling a common road trip along an incredibly scenic drive."
Fast chargers
The pilot will entail the installation of up to 60 direct current Fast Charger charging stations from ChargePoint Inc., a provider of EV charging equipment and services. Unlike alternating current chargers that may take hours to charge an EV, DC charging stations do so much faster, making them more ideal for drivers in a hurry or traveling long distances.
Any electric vehicle equipped with either a combined charging system receptacle or CHAdeMO receptacle can charge, Datz says. The CCS is a rapid-charging DC standard typically included on vehicles made by U.S. and European manufacturers. CHAdeMO, an abbreviation of the phrase "charge de move," is also a rapid-charging DC standard typically used by Japanese vehicle manufacturers.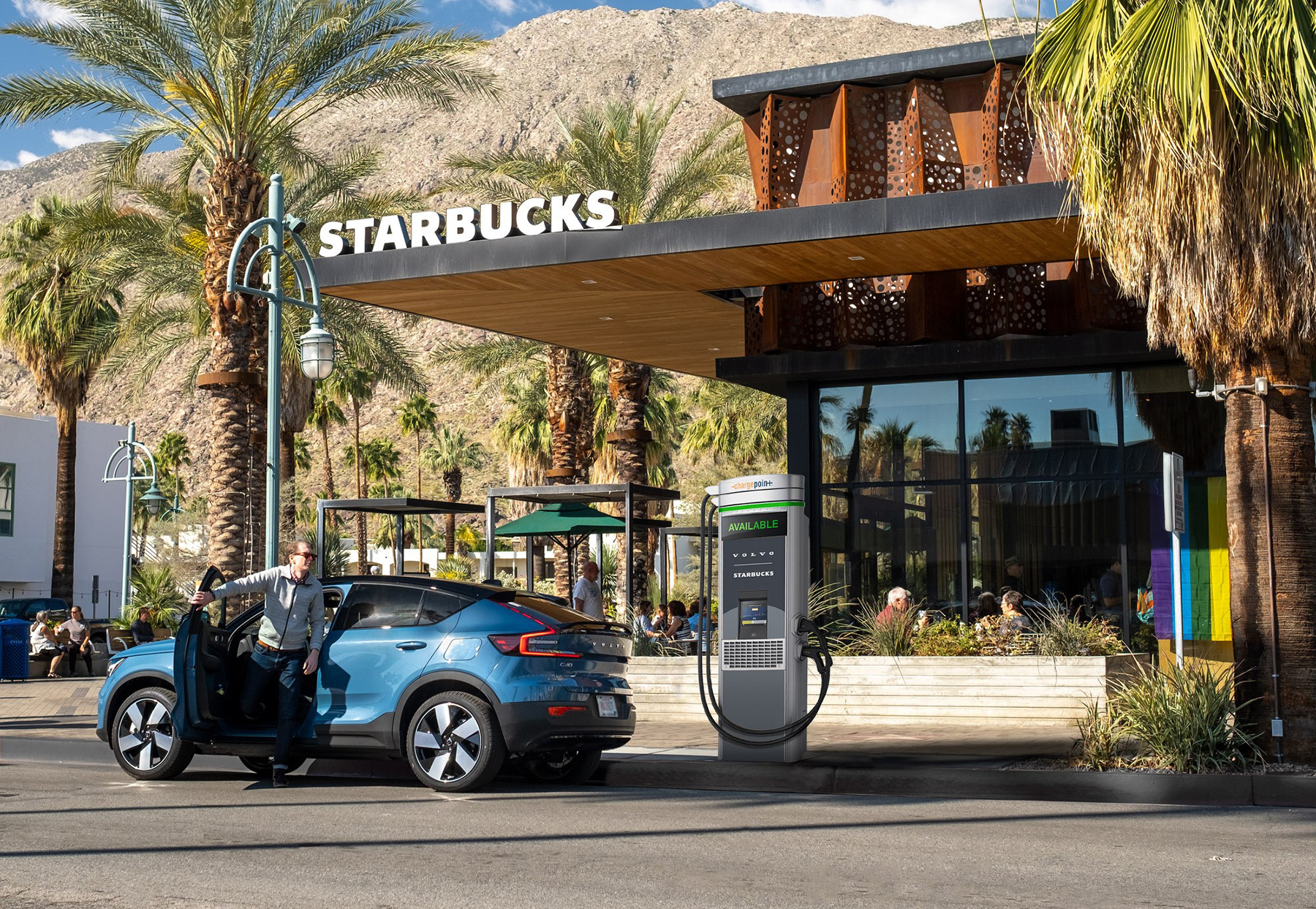 Volvo drivers will be able to use the chargers for free, while owners of other brands will pay fees, according to a Starbucks spokesperson. Users of the chargers do not have to be Starbucks customers, the spokesperson said.
Accelerating EV adoption
Starbucks locations in the following cities are confirmed as participating in the pilot, with the remaining locations to be determined:
Seattle.
Nampa, Idaho.
Twin Falls, Idaho.
Uintah, Utah.
Provo, Utah.
Grand Junction, Colorado.
Glenwood Springs, Colorado.
Silverthorne, Colorado.
Broomfield, Colorado.
Installing the charging stations will require overcoming various site-specific challenges, Datz says. "There is a considerable amount of work that goes into each location, starting with getting support from landlords," he notes. "We've brought in some strong support with ChargePoint to help us navigate this. Every site will have a dedicated new electrical service, which requires site assessments, utility coordination, permitting, and actual construction. Operationally it requires a lot of coordination."
For Starbucks, the pilot offers a means to test whether "we can use our scale to accelerate the global shift to electric vehicle adoption," the spokesperson says. "This pilot will allow us to better understand the scalability of electric vehicle charging at Starbucks stores in service to our Greener Stores (initiative) framework."
As part of this framework, Starbucks has pledged to design, build, and operate 10,000 stores by 2025 that comply with performance criteria aimed at making the company more sustainable. Efforts toward this goal include investing in renewable energy, reducing water consumption, using sustainably sourced materials, improving energy efficiency, and diverting waste materials from landfills.
As for the charging stations, they should be available for EV drivers within the next several months. Construction is underway and will hopefully be completed this summer, according to the Starbucks spokesperson.