By David Jen
A unique form of glamping far below the Snowdonia mountains in Wales is testing the limits of remote infrastructure and how far people will go for some deep sleep.
Operated by Wales-based Go Below Underground Adventures Ltd., the Deep Sleep camp, launched in April, allows guests to stay in either one of four private cabins or a finished grotto within the former Cwmorthin Slate Quarry, 1,375 ft below ground level.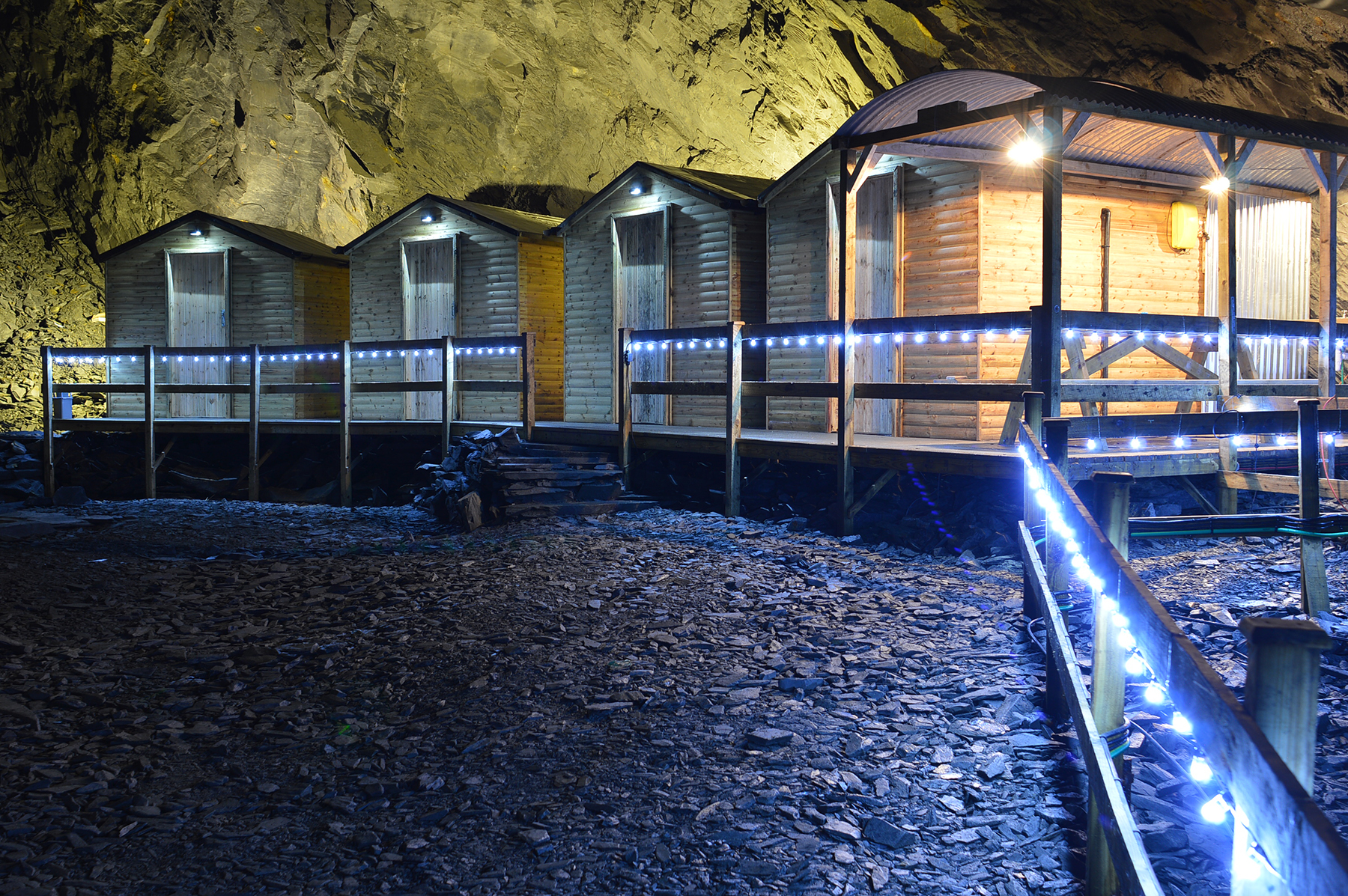 "In caving circles, it's not that unusual for people who are exploring caves and mines to have to camp underground anyway," explains Go Below founder Miles Moulding. "When you're exploring something really quite big, it may be several days' journey to the far end of them. … The idea for Deep Sleep really was to take that concept and turn it into something that is a bit more accessible, or a bit more appealing, to the general public."
Guests willing to walk and scramble for two hours down through the mine are rewarded with the private cabins, meals, and running water at Deep Sleep. The journey crosses one or more of the original underground mining bridges, depending on the route guests take. The bridges, with the longest exceeding 60 ft in length, were constructed largely of American pitch pine toward the end of the 19th century as empty slate ships returning to the United Kingdom required ballast to sit properly in the water, and the straight American logs resisted rot.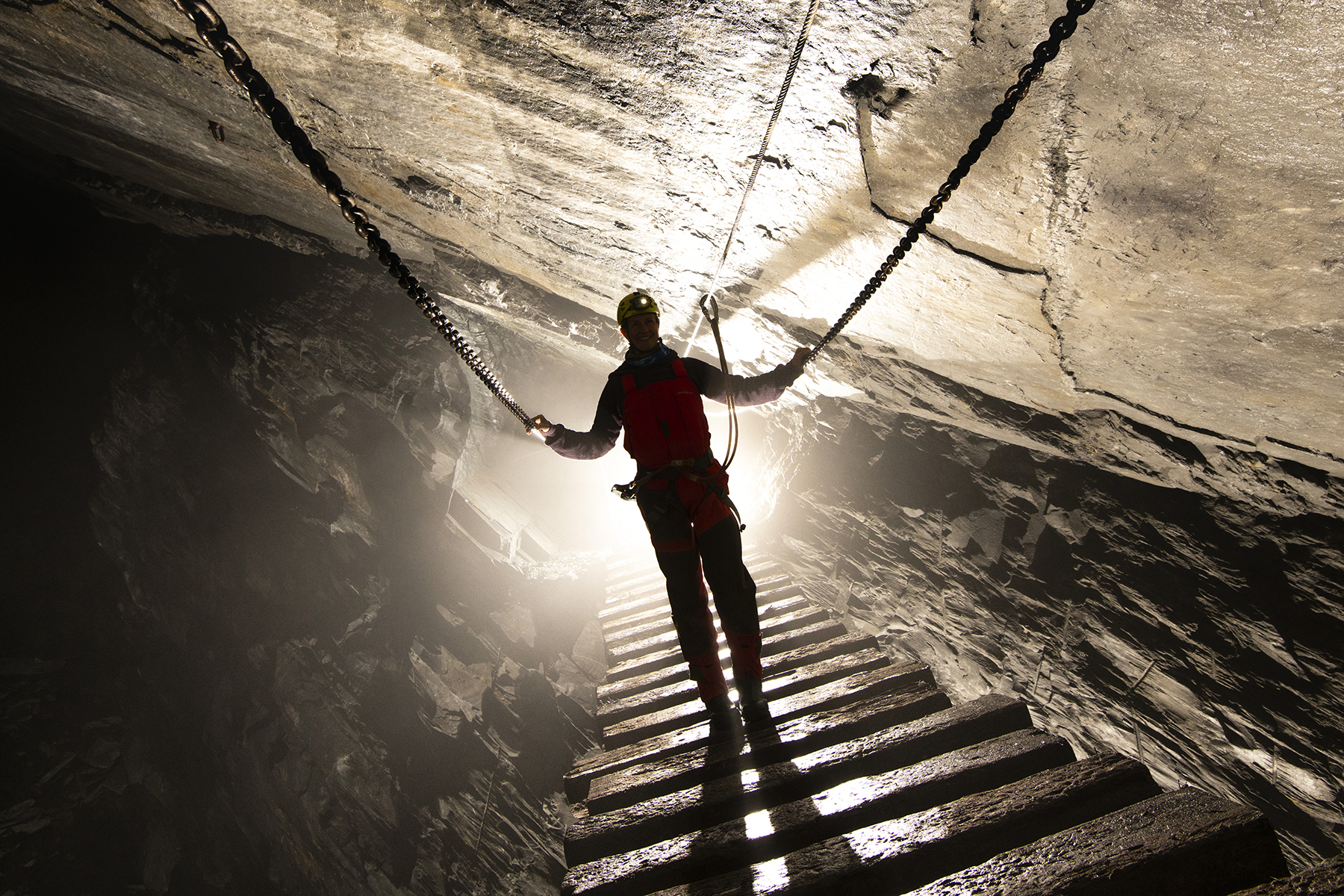 Other amenities of the camp include zip lines, free-fall jumps, and underground boating trips in addition to the newly added overnight stays in an existing cavern measuring about 50 ft wide, 130 ft long, and 50 ft high.
Construction at depth
Nothing, however, enters or leaves the mine chamber unless it is on someone's shoulders, continues Moulding. This includes food, bedding, garbage, and construction materials. "You can't even use wheelbarrows or anything."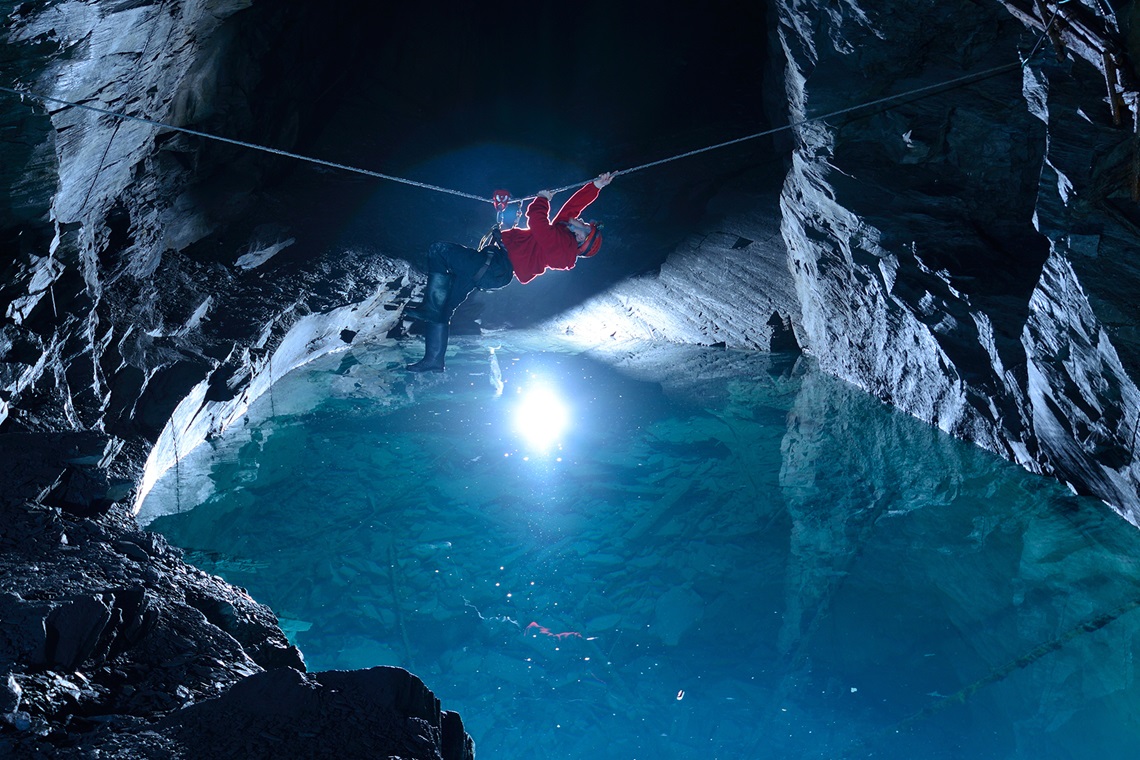 Wood to construct the 8 ft by 7ft timber double-occupancy cabins was carried down by hand, along with small tools, such as saws and hammers, for construction. While Moulding says the team experimented with haulage via zip line and custom wagons on the mine's original rail track, these "proved more trouble than they were worth," and the majority of the timbers arrived on-site in bundles of five or six, carried down by two-person teams. The longest of these measured 11.8 ft.
Each windowless cabin rests on a deck of 1 in. thick, pressure-treated timber held about 2 ft off the ground by 4 in. by 4 in. and 5 in. by 5 in. timber posts buried into the rubble of the chamber floor. A 3 ft wide walkway connects the cabins to one another.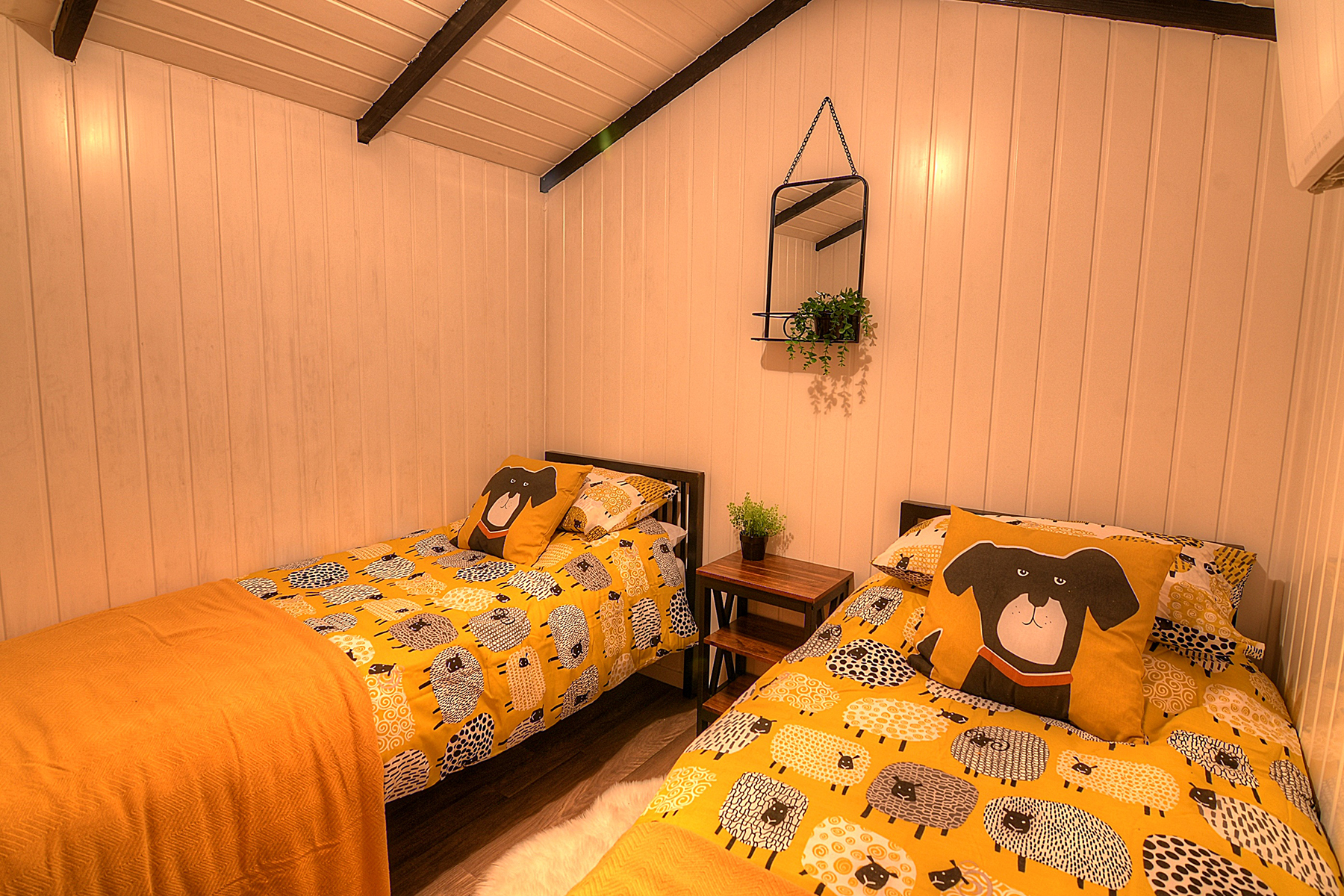 "The cabins were originally made outside, all the sections labeled, and then dismantled for transport down to Deep Sleep," says Moulding. "The exception being the external log-lap cladding, which was cut to size in situ. No single piece was more than two people could carry."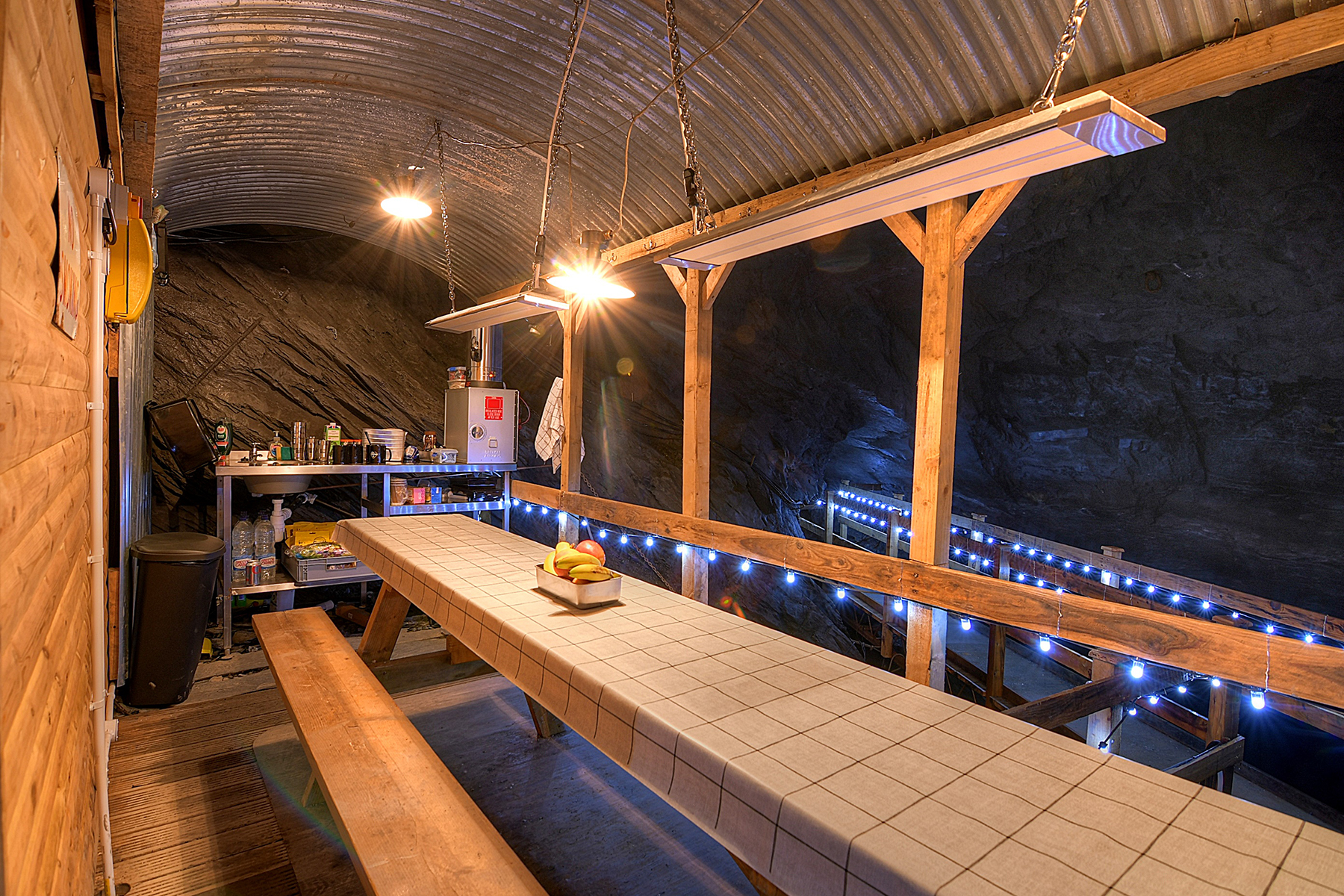 A lucky find of 3/4 in. marine plywood, from a climbing gym going out of business, provided material for the cabin walls and roofs. These also include interior flame-retardant, plastic cladding and 2 in. insulation, while the roofs use an additional PVC sheet on their exteriors to deflect water dripping from the chamber ceiling.
"You can't see (the reclaimed wood) inside the walls, but if you could, you would see texture-paint and M10 sockets for the holds arranged in a grid fashion," says Moulding.
A single irregularly shaped existing grotto, roughly 14 ft by 8 ft, has also been transformed into sleeping quarters. The space, which Go Below's website describes as utterly silent, serves as an artifact of the mining operation — an abandoned plan to tunnel from the chamber that now houses Deep Sleep to an adjacent one. A stone wall and wooden door close off the space to form the private cave.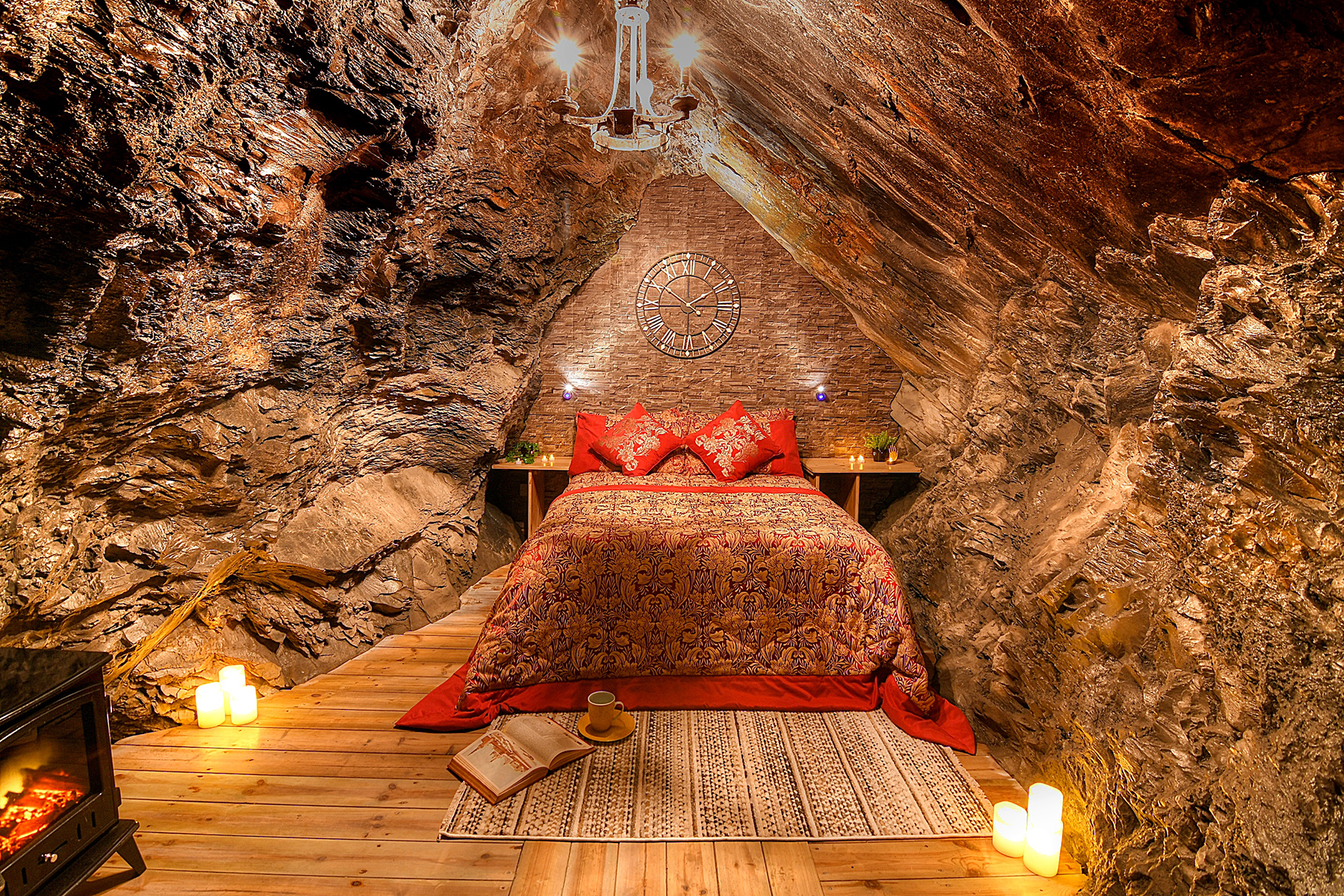 To provide access between the units, a footbridge had to be carefully constructed across a steep rock face that eventually slopes down to a pool of water 30 ft below. The team had to carry two steel struts, each about 27.9 ft long for the crossing, which was finished with a deck of treated scaffold walk-board, two boards thick, between the steel-lattice trusses.
Powering the site
Two small hydroelectric turbines, with a total installed capacity of 600 W, take advantage of the rainwater seeping hundreds of feet down through the rock to power Go Below's subterranean operation. The turbines supply enough power during the week to charge a laboriously constructed battery bank of eight deep-cycle, absorbed glass mat batteries, which then power the lights and heaters of the cabins when guests arrive on Saturdays for a once-per-week overnight stay. Two additional batteries stand by disconnected in case of emergencies.
"The heaviest things (that had to be transported) were probably the batteries," says Moulding.
Each cabin draws about 360 W from this supply, three-quarters of which is used for heat, when in operation.
A 3.5 kW diesel generator on the surface, connected to the cabins via a 1 km long cable, serves as a backup power source to round out the power supply.
"If we have a long spell with hardly any rain, then we might well need (the generator)," says Moulding. "But if it's been really wet, then we don't need it."
Cables for internet and telephone service also travel down from the surface, through underwater tunnels, to provide communications in case of emergencies. At ground level, this cable traverses another 300 m to where a 4G modem receives enough signal through the mountains.
"We get about 70 megabits of internet, which is fairly respectable for that particular area," says Moulding.
Fresh air and water
A natural spring several hundred feet above the chamber provides water, and natural ventilation courtesy of openings on both sides of the mountain constantly refreshes the air inside. While the overnight stays have yet to require forced ventilation, the team did set up a fume-extraction system while varnishing the grotto.
At 50 ft high, Moulding says the Deep Sleep chamber underwent a complete geotechnical survey "foot by foot," detailing the space's joints and faults and establishing its structural integrity. Telltales, designed to shatter white glass across the floor if disturbed, have been installed across key joints in the slate rock to alert staff of movement within the chamber's ceiling or walls.
Mining operations began at the quarry on the surface in 1810 and then moved underground, eventually resulting in five underground floors by 1900, when ownership of the mine changed hands, according to the National Monuments Record of Wales.
The 20th century then saw sporadic attempts to continue operations, but the rising costs of power and labor, along with the falling value of slate, rendered the venture unprofitable, according to Moulding. Work ceased in 1939, and the quarry was shut down in 1970.
Moulding began offering underground adventure tours of the mine in 2010.
This article is published by Civil Engineering Online.