By David Jen
A sustainable office tower in Singapore, distinguished by a sweeping environmental veil at its base, broke ground in 2021, continuing the country's next-generation integrations of urban and natural spaces.
Designed by architecture and design firm NBBJ, the new Keppel South Central tower will provide 33 stories of office and commercial space, including traditional offices, flexible workspaces, health and well-being facilities, an outdoor pool, and public amenities such as retail spaces, cafes, and a rooftop restaurant and bar, according to NBBJ press material. (Keppel is a global asset manager).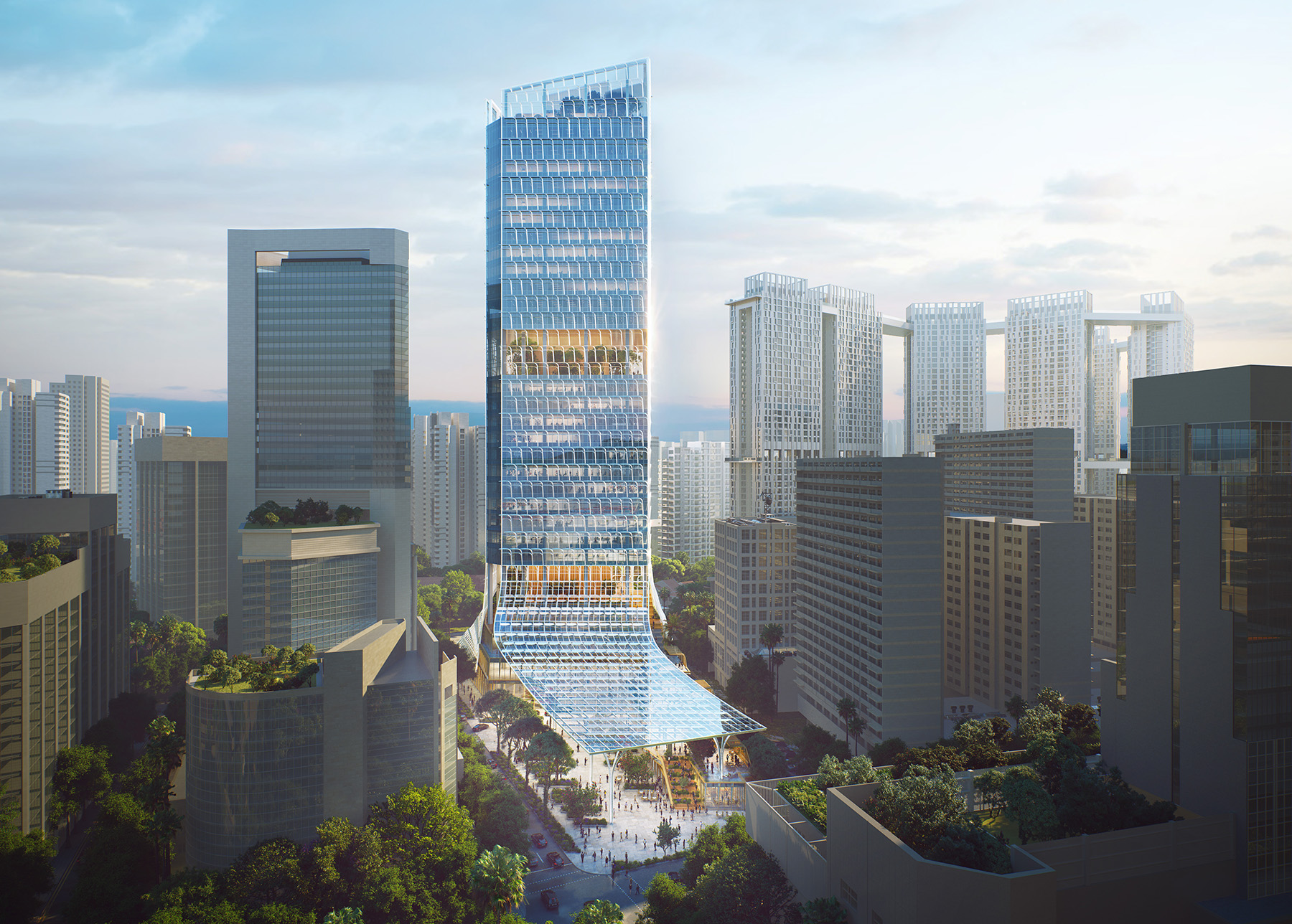 "Embracing the future of the built environment with sustainable design and incorporating a large public plaza as the social heart of the project, we aim to add vibrancy to the neighborhood, advance Singapore's strategic sustainability efforts, and reinforce Keppel's position as innovation leader in the real estate market," says Timothy Johnson, FAIA, a partner at NBBJ, in the press material.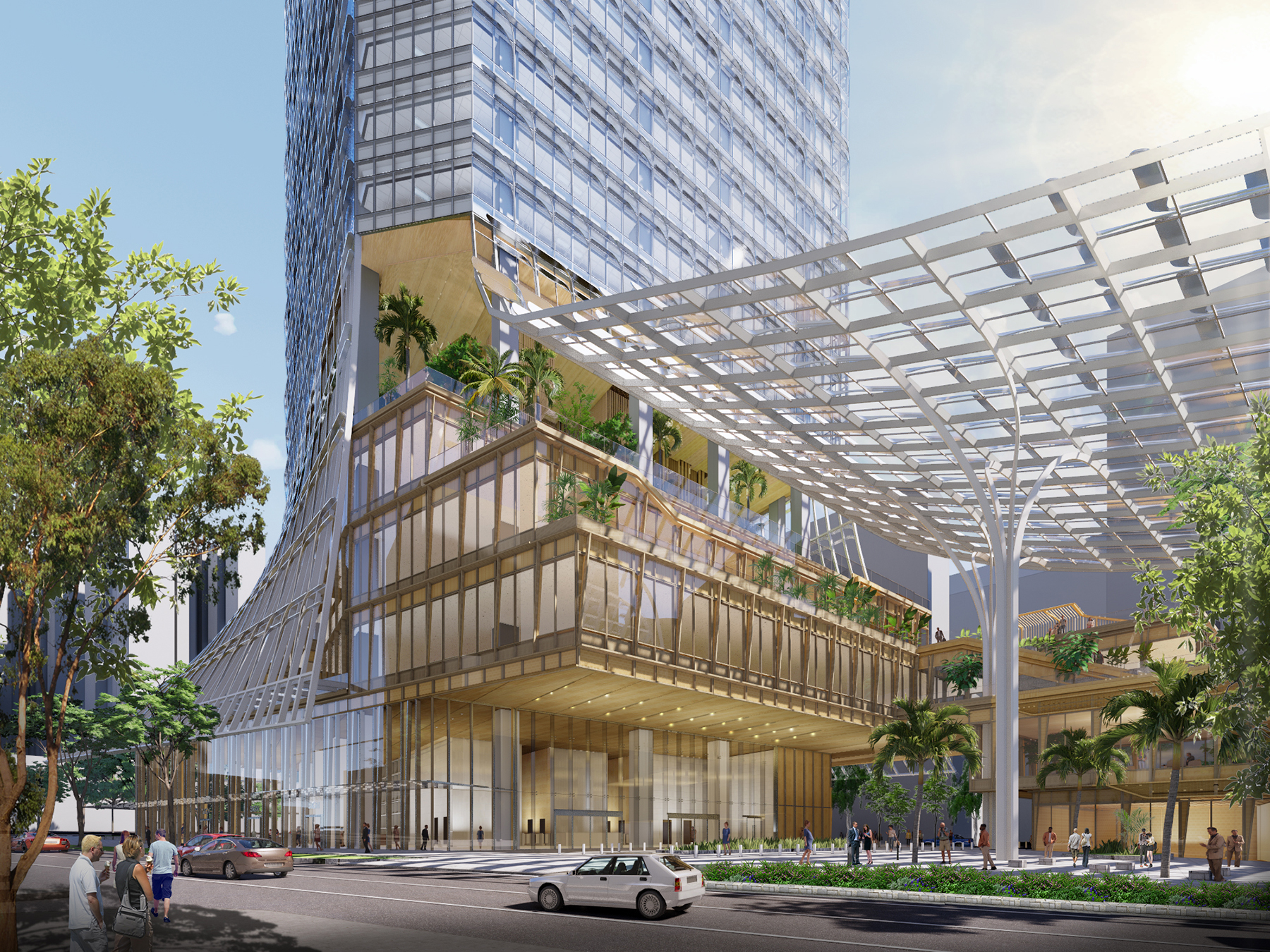 When the project is complete near the end of 2024, the distinctive environmental veil will capture rainwater for landscaping uses and help shield the building from direct sunlight, reducing its cooling loads. At ground level, the veil will curve outward to create a sheltered, open-air plaza that extends naturally from the building. Roof-mounted photovoltaics will power public-space lighting and the plaza's air-circulation fans.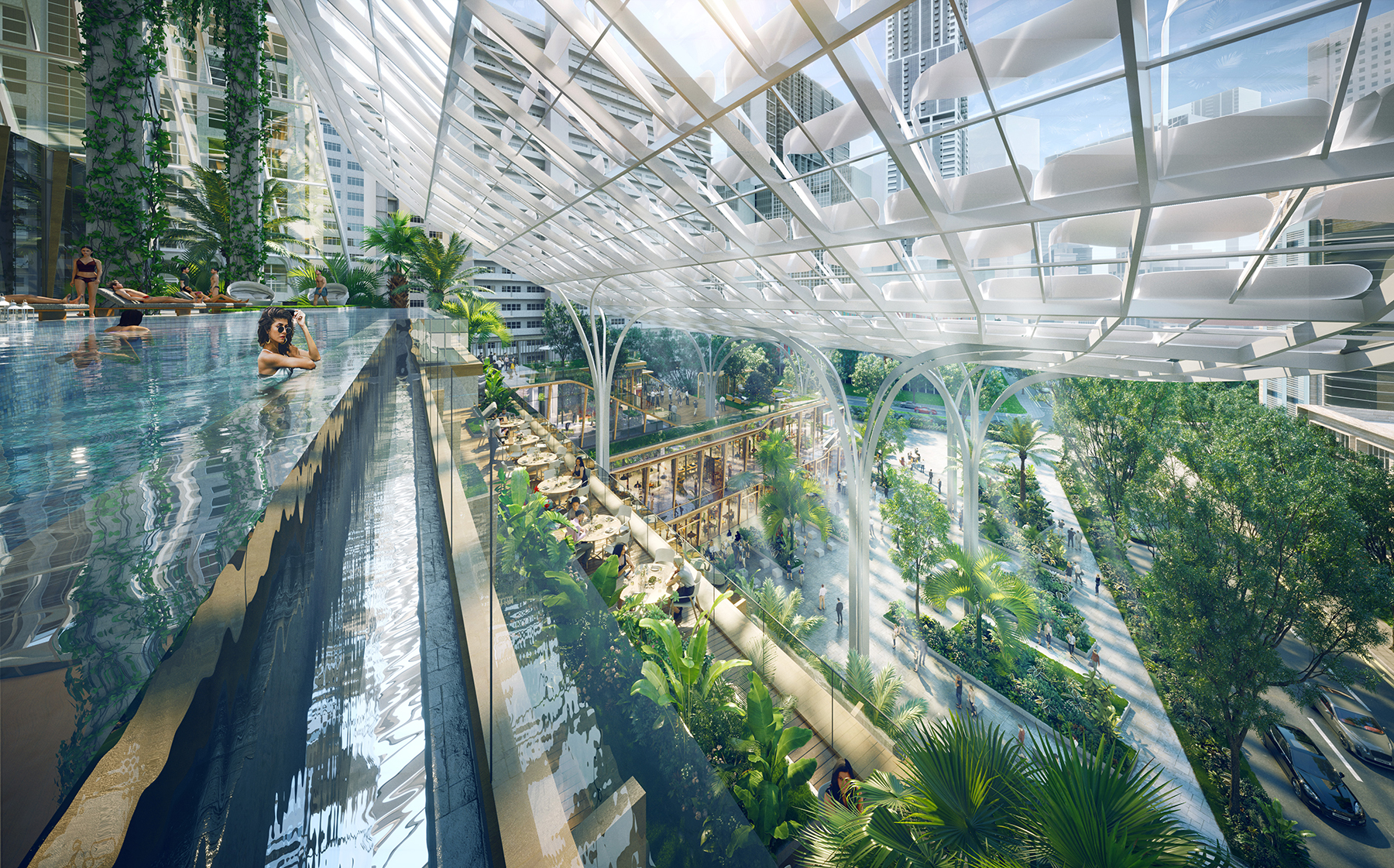 "Rising approximately 18 meters from the ground, the canopy extending from the building's unique architectural form invigorates those under its cover with feelings of being outdoors yet protected from the elements," writes NBBJ.
The integrated natural plaza continues Singapore's larger development strategy to become the world's first "City in Nature."
The 275 sq mi island city state, about a fifth the size of Rhode Island, manages to maintain a population of about 5.5 million people while still setting aside almost half its land as green space, often ranking highly in livability indexes alongside less densely populated cities.
"When we think about high density, we tend to imagine concrete jungles," said Khoo Teng Chye, the executive director of Singapore's Centre for Liveable Cities, during a 2017 Architecture as Urban Ecosystem symposium. "In the case of Singapore, our approach to greenery is not about planting lots of trees, but how greening is in tandem with urban planning and development."
Chye went on to describe a top-down, systematic approach comprising a parks hierarchy, greenery standards, and a set of policies and incentives to promote green buffers and skyrise greenery.
Apart from the new Keppel project, the country's efforts can be seen, for example, in Jewel Changi Airport, which opened in 2019 with the world's tallest indoor waterfall. Known as the HSBC Rain Vortex, the conical water feature pours water from 40 m high into the Shiseido Forest Valley, an indoor forest complete with its own trail system and the occasional transit of the airport's Skytrain.
In shape and magnitude, the rain vortex somewhat echoes the "supertree" structures in Singapore's Gardens by the Bay, opened in 2012, which serve as humid-air exhaust vents that help control the dry Mediterranean climate inside the garden's two biodomes.
And the Oasia Hotel, designed by architectural firm WOHA, added a skyscraper of living green to downtown Singapore when it opened in 2016.
"This is an exciting area where there are tremendous opportunities and challenges for research," continued Chye. "There will be questions of why we need a City in Nature, whether it is for health, resilience, or aesthetic reasons, hence we need a better understanding in many of these areas."
This article is published by Civil Engineering Online.

Interested in learning more about how the future built environment might work? Register today for the ASCE 2023 Convention (Chicago, Oct. 18-21) and attend the exclusive early screening of ASCE's next IMAX movie: Cities of the Future: Reimagining Our World.