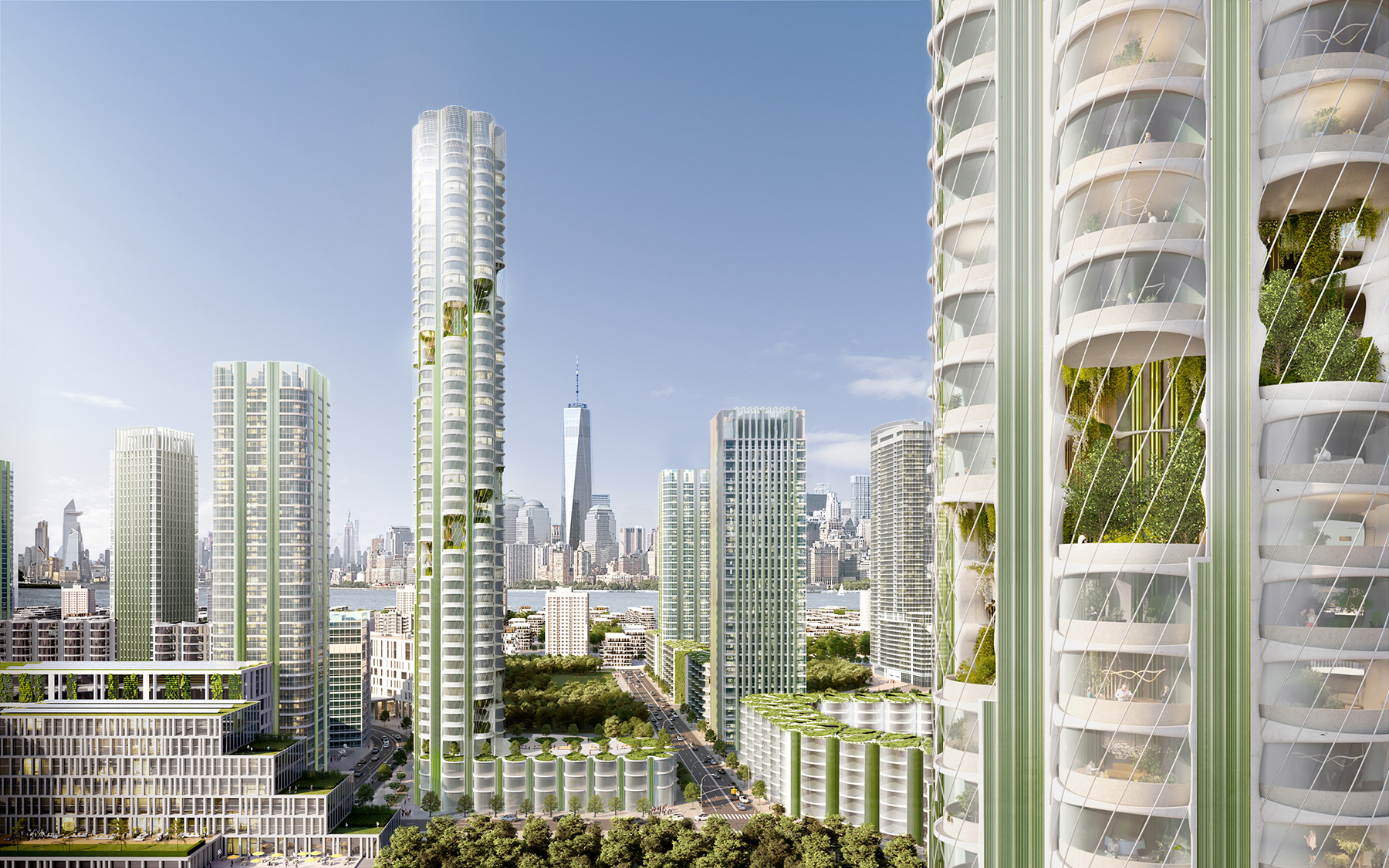 By Catherine A. Cardno, Ph.D.
The building sector is responsible for nearly 40% of the total carbon emissions generated worldwide, according to global architecture, urban planning, and engineering firm Skidmore, Owings & Merrill. To transform the built environment into a more resilient space while increasing the supply of new building stock for the future, the firm has developed a groundbreaking concept — Urban Sequoia.
Under the novel concept, high-rise towers would be built with materials that would absorb carbon at an unprecedented rate. These buildings would act in a manner similar to trees, purifying the air and regenerating the environment. Building multiple towers using such designs would create "urban forests," the company says.
"We are quickly evolving beyond the idea of being carbon neutral. The time has passed to talk about neutrality," said Chris Cooper, a partner of SOM, in press material about the design concept. "Our proposal for Urban Sequoia — and ultimately entire 'forests' of Sequoias — makes buildings, and therefore our cities, part of the solution by designing them to sequester carbon, effectively changing the course of climate change."
The high-rise design calls for the use of natural photosynthesis, direct air capture, and the integration of living materials within the building to sequester carbon. The captured carbon could then be used in building systems or to produce biomaterials for use elsewhere. Used at a large scale, the processes could create a new carbon economy and a resilient urban environment, according to SOM.
The firm released a concept for its high-rise design at the 2021 UN Climate Change Conference in Glasgow, Scotland — referred to colloquially as COP26 — that could be built immediately. The design called for materials such as biobricks, hempcrete, timber, and biocrete to be used wherever possible. These construction materials would have 50% of the carbon load of traditional carbon and steel, the firm says. Overall, the building could potentially sequester as much as 1,000 tons of carbon per year, the equivalent of 48,500 trees, according to SOM.
The expectation is that after 60 years, the prototype would have absorbed up to 400% more carbon than was emitted during construction. And if biomass and algae are integrated into the facade, the building could become a biofuel source for heating systems, cars, and planes or a bioprotein source for industrial use.
The sustainability strategies could also be used to revolutionize the design and construction of streets, parks, and other green spaces. Carbon-absorbing landscapes and carbon-capture technology could be used to produce biomaterials for roads, pavements, and pipes.
If every city around the world erected high-rise Urban Sequoia forests, the built environment could remove up to 1.6 billion tons of carbon from the atmosphere every year, according to SOM.
For more insight into carbon sequestration and other strategies for offsetting carbon emissions in cities, explore Mega City 2070, the latest digital platform within the Future World Vision experience, available for download at futureworldvision.org.
Catherine A. Cardno, Ph.D. is the managing editor of Civil Engineering Online.

This article first appeared in the March/April 2022 issue of Civil Engineering as "Future Forests."