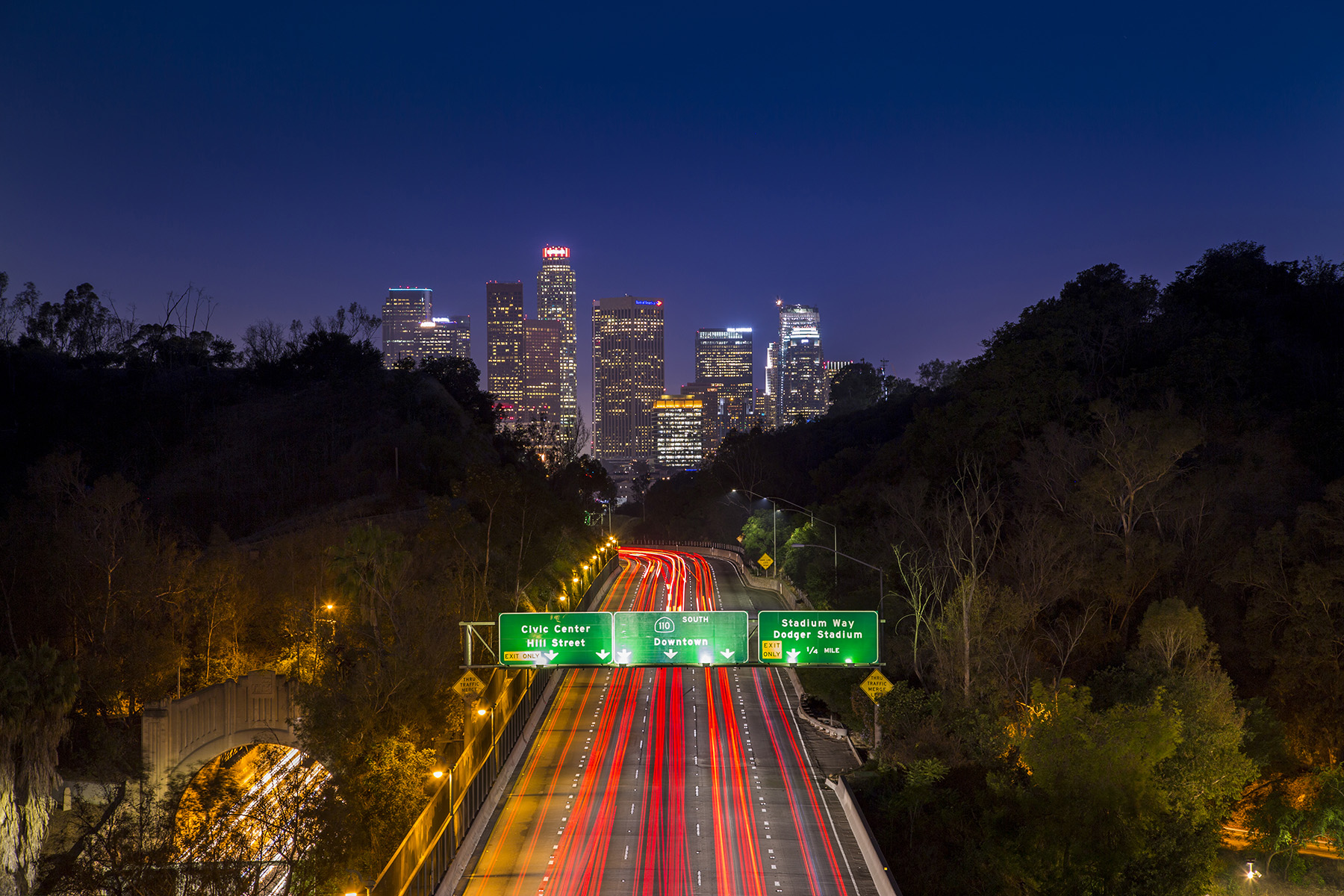 By Laurie A. Shuster
Los Angeles, Denver, and Houston still dominate the top 10 places to practice civil engineering. But two newcomers — Phoenix and Detroit — also made the list this year.
Again this year, Los Angeles, Denver, and Houston topped the list of cities in ASCE's Best Places for Civil Engineers. Although they have exchanged places in the top three slots over the past three years, the three very different cities remain most appealing when considering salaries, job openings, and costs of living.
Los Angeles took the top spot this year for the first time. And two newcomers — Phoenix and Detroit — debuted in the top 10 list.
Each year, ASCE uses its exclusive salary survey data as the starting point for the Best Places report. Salaries are indexed and combined with job opening data, provided this year by Madgex Inc., of Hoboken, New Jersey. From this score we subtract an index indicating the cost of living in that city to arrive at an overall ranking.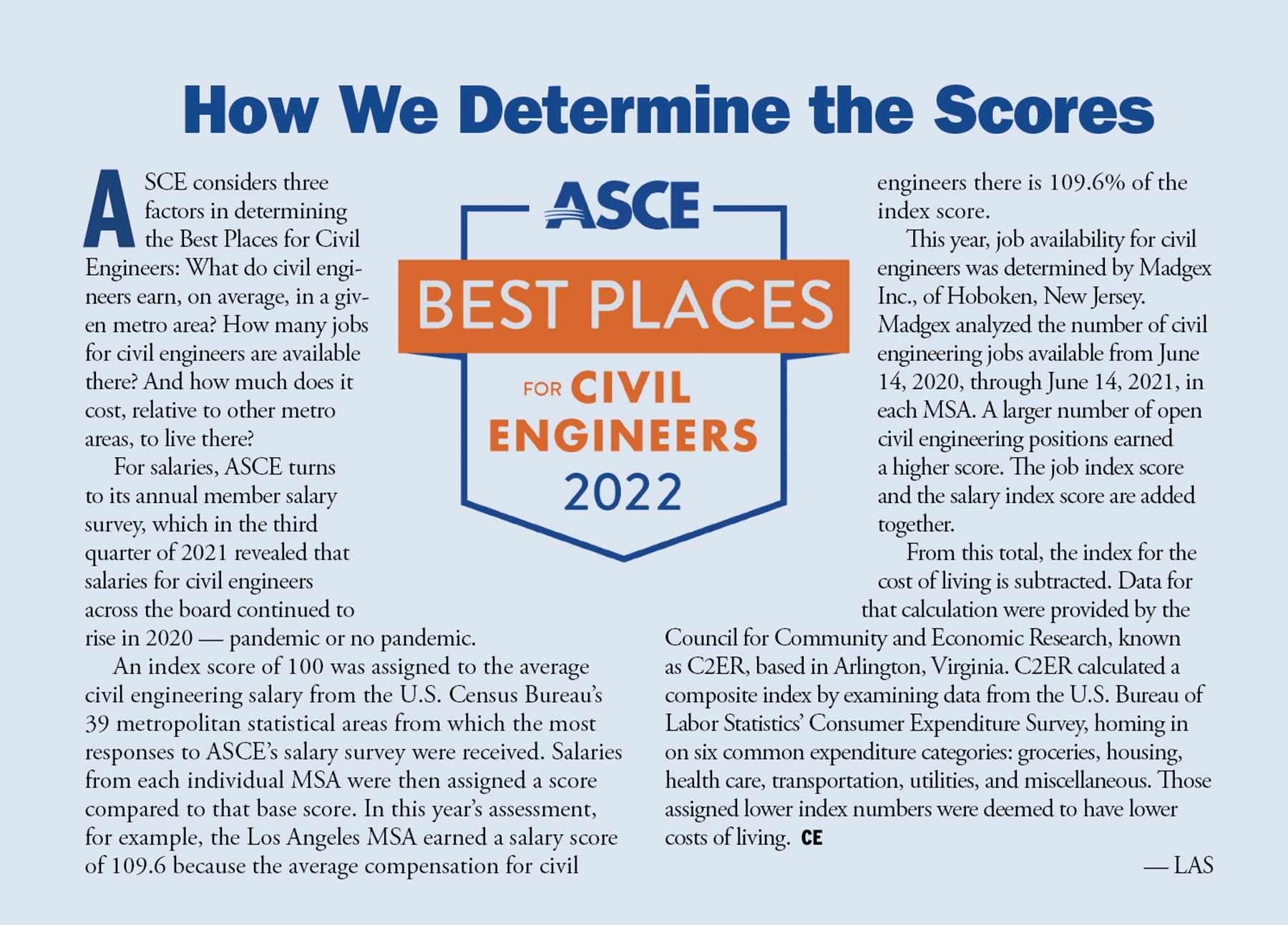 In addition to these metrics, the top cities have much to recommend them, according to engineers who live and work in those cities. Each has a variety of engineering projects underway and in the works in myriad civil engineering subdisciplines — and the Infrastructure Investment and Jobs Act is only likely to increase those levels of activity. (Read "New infrastructure law provides historic federal funding.")
LA takes off
Matthew Melnyk, S.E., M.ASCE, a principal of Nous Engineering, a small structural engineering firm based in Los Angeles, is not surprised to see the city at the top of the list this year. He says there are many large and small projects in the works in the city and surrounding areas that make Los Angeles a great place for civil engineers. Among them are the city's efforts to prepare for the 2028 Summer Olympics, the airport's $14 billion modernization project, a 240-acre Los Angeles River cleanup project, and "a revitalization and sustainable effort that includes housing and mixed-use developments."
Indeed, Los Angeles is engaged in a flurry of work to prepare for the 2028 Summer Olympics. Under the Los Angeles County Metropolitan Transportation Authority's Metro Vision 2028 Plan, Metro, as it is known, will spend tens of millions to ensure that all county residents have access to high-quality mobility options within a 10-minute walk or roll from home, reduce wait times for mass transit to no more than 15 minutes at any time of day, and improve the average speed of the county's bus network by 30%, among other goals. Those are significant goals for a city known more for its congested freeways than its mass transit capacity and walkability.
"We are excited to see the momentum growing as LA gears up to host the 2028 Summer Olympics," says Melnyk. "We were fortunate to work on the Banc of California Stadium with Gensler architects; it will be a part of the Downtown Sports Park and host some of the track and field events and men's and women's soccer. We appreciate the city's old-is-new approach to renovating existing buildings that will host various events across the city."
The city is also preparing for more visitors this year, as the COVID-19 pandemic — it is hoped — finally wanes and business and leisure travel resume. (Indeed, as of press time, ASCE plans to hold its 2022 annual convention in-person in nearby Anaheim in October.) To move more flyers quickly, the Los Angeles International Airport in March 2019 began to construct a 2.25 mi elevated automated people mover with six stations. That project is set to be completed in 2023.
Engineers involved in water supply and pipelines will find plenty of opportunities in LA as well. According to the 2019 Report Card for California's Infrastructure, produced by ASCE's Region 9, aging drinking water pipelines remain an issue for the city. The report states, for example, that "about one-third of the city's 6,780 miles of water pipes were installed before 1938 and will reach the end of their useful life in the next two decades." The Los Angeles Department of Water and Power is therefore prioritizing the replacement of mainline pipes and investing $6.3 billion in water storage and filtration systems by 2024, the report notes.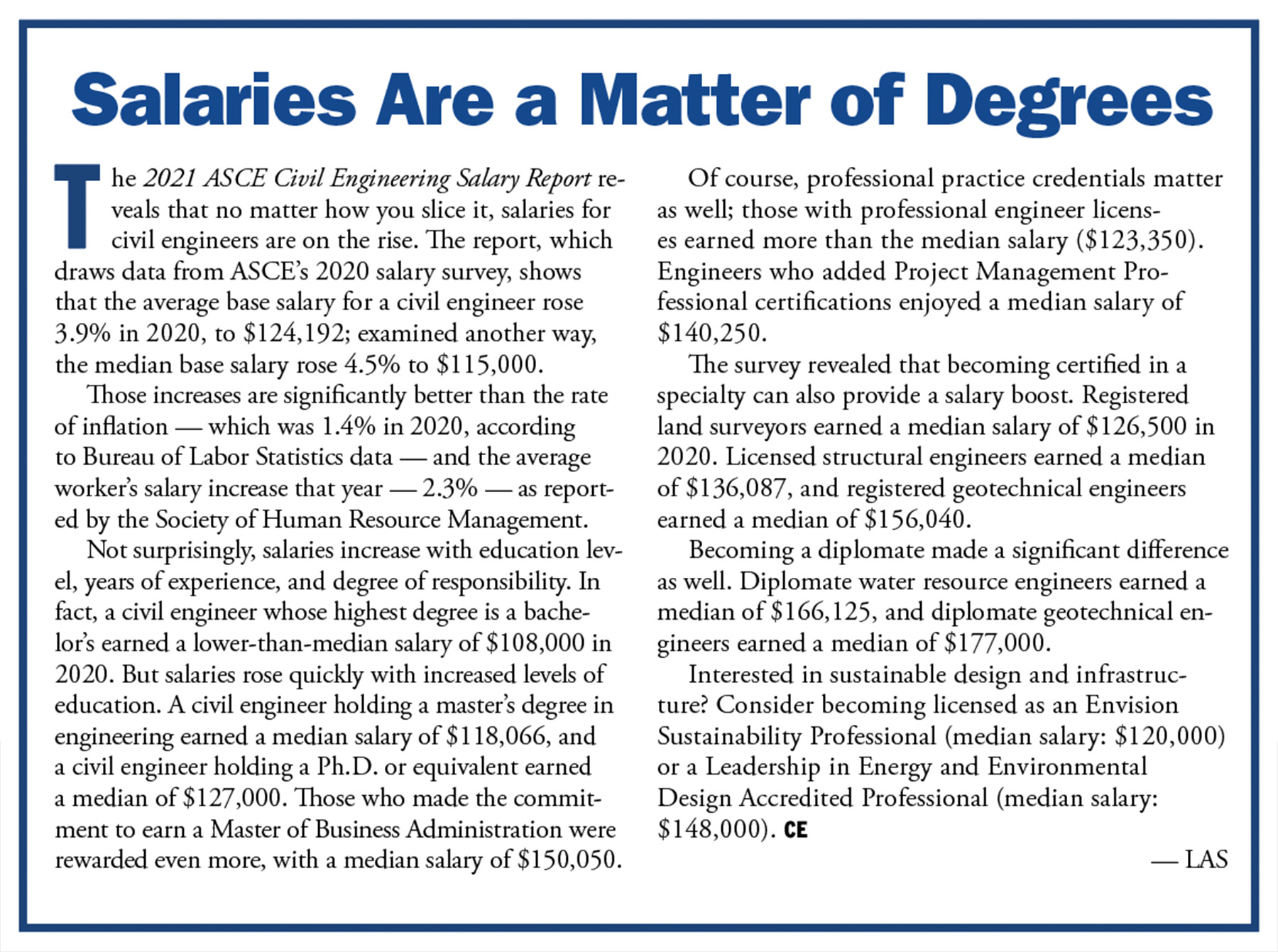 The LADWP is also innovating in its power sector. Its LA100 initiative seeks to help the city move to reliable, 100% renewable electricity by 2045 — or possibly even by 2035. "I am extremely excited to be a part of upcoming and ongoing projects that are part of LA100," says Chloe Gharios, EIT, A.M.ASCE, who is a civil engineering associate with the LADWP, the president of the ASCE Los Angeles Section's Younger Member Forum, and one of ASCE's 2021 New Faces of Civil Engineering-Professional. "The projects, upgrades, and new infrastructure that will go into meeting this goal are extensive, and to get to be a part of that and work on these huge and impactful projects every day is really why I wanted to become a civil engineer in the first place."
What skills might a civil engineer working in Los Angeles need most? A willingness to be creative, Gharios says. "We are innovating and coming up with new solutions for our renewable energy goals, so we are not always working on projects that have been done before. That means learning on the fly and coming up with out-of-the-box solutions for the problems we come across."
Melnyk concurs. "They say that people go to New York to 'make it' but go to Los Angeles to 'make things.' This rings so true," he says. "I think LA is a collective of individuals who embrace a spirit of invention and experimentation, breaking from the status quo and thinking differently."
Denver inspires
Denver moved from the third position to the second this year, which comes as no surprise to Luis Duque, P.E., M.ASCE, a bridge engineer with Foothills Bridge Co., in Boulder, and the president of the Younger Member Group in ASCE's Denver Branch.
"We have nice weather, lots of outdoor activities, and lots of big companies here that hire a lot of people," Duque says. In addition, there are many ways for civil engineers to volunteer in Denver, Duque points out. "Pretty much all of the engineering organizations have teams here. In addition to ASCE, we have chapters of the Society of Women Engineers, the Society of Hispanic Professional Engineers, the Colorado Association of Geotechnical Engineers, and others."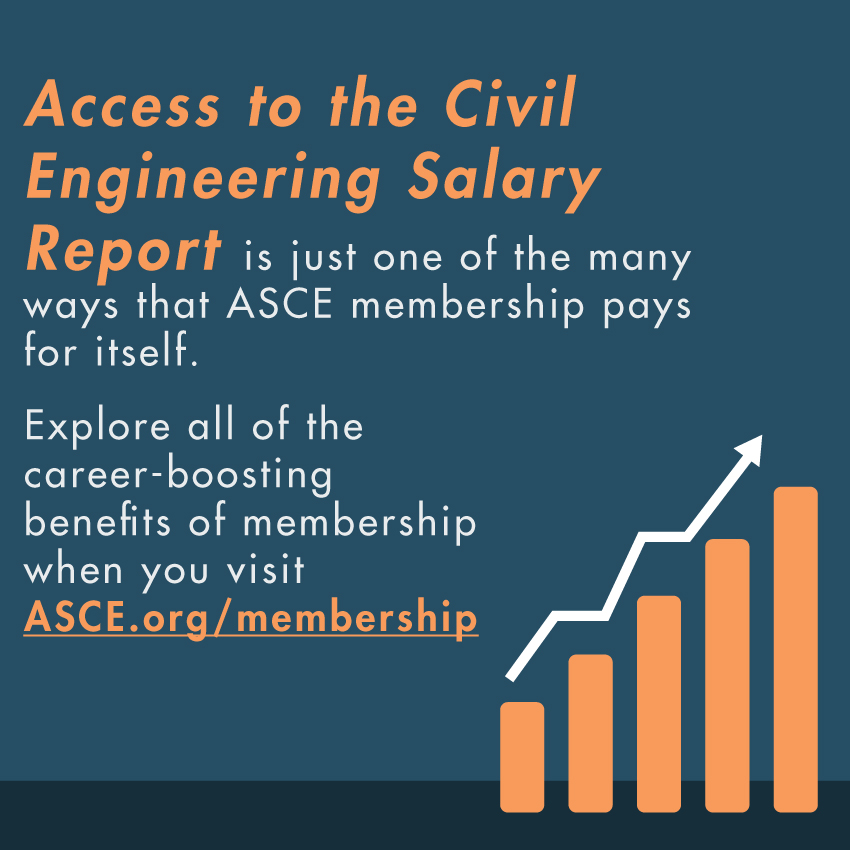 According to the 2020 Report Card for Colorado's Infrastructure, produced by the Colorado Section of ASCE, Denver has a variety of important civil engineering projects in planning or underway, from highways and transit to water supply and delivery. For example, a massive project called Central 70 seeks to address congestion by reconstructing 10 mi of Interstate 70 that serve as Denver's central corridor. According to the project's website, the plan will remove an aging viaduct, lower the highway, and add a 4-acre park over a portion of the lowered interstate, reconnecting previously bisected communities. The $1.2 billion design-build-operate-maintain-finance project is being led by Kiewit. Duque says Foothills Bridge is helping with bridge evaluations on the project.
And the central section is not the only part of I-70 in need of enhancement. The Floyd Hill Project seeks to address a bottleneck along an 8 mi section of the highway west of the city by adding a third westbound travel lane, constructing a missing frontage road connection, adding an eastbound auxiliary lane, and improving interchanges and intersections, among other feats. The project is to be completed by a construction manager-general contractor delivery method, with the general contractor to be chosen sometime this year. "Floyd Hill on I-70 impacts everyone who heads west to take advantage of our mountains," explains Omar Venzor, P.E., M.ASCE, a senior project manager in the Denver office of the consulting firm WSB and the president of the Denver Branch of ASCE. "The interstate takes on a lot of traffic, especially during ski season, so any improvements there are welcomed."
Another project that Venzor is excited to see completed is the revamping of the 16th Street Mall, a walkable commercial center in downtown. In March 2021, the city council approved $149 million to reconstruct the deteriorating plaza, making room for buses down its central corridor while widening its sidewalks.
"The 16th Street Mall is one of our most visited tourist destinations," Venzor says. (Read "Denver rebuilds historical downtown pedestrian hub" on Civil Engineering Online.)
Denver is also a hub for innovation. A recently completed art display/skateboard park doubles as a stormwater storage facility. (Read "Denver art installation promotes flood mitigation efforts" on CE Online.) And the Regional Transportation District — operator of bus, rail, and light-rail services in the region — was "one of the first and largest transit agencies to utilize electric vehicles in its fleet," according to the report card, by purchasing 36 electric buses that serve downtown Denver. "The adoption of more electric buses positions RTD to make progress toward the state's goal of reducing greenhouse gas emissions, while adding to the transit infrastructure," according to the report card.
Eric Hanson, P.E., M.ASCE, the founder and president of Anchor Engineering Inc., in Denver, notes that opportunities have only been increasing for civil engineers in Denver. "Our firm has gone from 38 people or so to 47 in the last 18 months," he says. "And I know other, similar firms have had a similar experience in growth of demand for services."
Houston thrives
Houston bills itself as the smart city of the future, and with good reason. According to the city's website, the metropolitan area uses Wi-Fi on public transit to keep riders connected, intelligent transportation systems to keep traffic moving, digital parking guidance to help drivers park quickly, and dockless bikes and scooters to help people find and use nonmotorized modes of transportation. The city has also deployed an array of monitors to detect floods, predict sanitary sewer overflows, measure air quality, and warn of high water levels on roadways.
"Houston is known as Space City and is upping the game on that front," says Carol Haddock, P.E., M.ASCE, the director of Houston Public Works. "With the only urban spaceport, Houston is a place where you could build infrastructure that will literally help people get out of this world."
And as managing editor of Civil Engineering Online Catherine A. Cardno, Ph.D., reports in this issue's Technology department, Houston Public Works is creating an extensive digital twin of the city's entire water distribution and transmission system to help it ensure maximum efficiency.
According to the 2021 Texas Infrastructure Report Card, produced by the Texas Section of ASCE, after Hurricane Harvey in 2017, Harris County, of which Houston is a part, passed a $2.5 billion bond referendum to help it significantly boost its flood-control infrastructure. And the Build Houston Forward Program is a dedicated, pay-as-you-go fund to invest over $20 billion to rebuild and maintain the city's drainage and street infrastructure.
"Houston has the largest concentration of engineering jobs in Texas, from flooding and drainage to transportation, land development, petroleum and energy, and innovation," Haddock says. "There is something for every interest."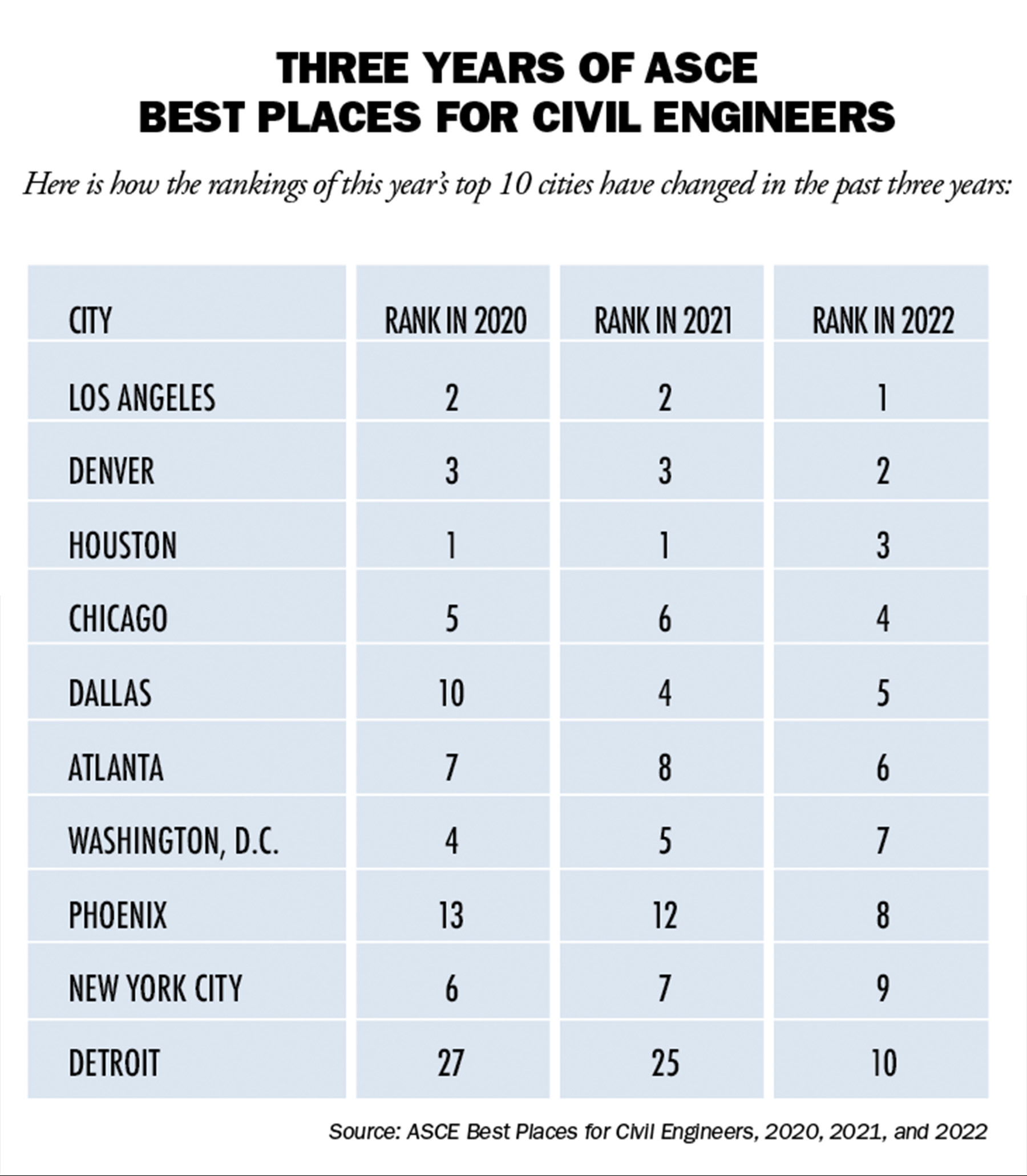 David A. Eastwood, P.E., D.GE, CAPM, F.ASCE, the president of Geotech Engineering and Testing, a 60-person firm based in the city, agrees. "Houston is a great city," he says. "It is beautiful with a low cost of living. Civil engineers here will be exposed to a variety of projects, including land development, public works, ports, petrochemical and renewable energy, water, wastewater, and tunneling — just a huge variety."
Yan Linwood, P.E., M.ASCE, a project manager at WSP in Houston and the president of the Younger Member Forum of ASCE's Houston Branch, is happy to see the work being done on the I-610 loop around the city as well as other transportation projects. "I'm excited to see a lot of discussions and progress around upcoming projects like the North Houston Highway Improvement Project, the Texas high-speed rail project, and the possible Houston tunnel project, which could help tremendously with Houston's floodplains," he says.
Linwood transferred to Houston eight years ago to work on an interstate highway project called the DFW Connector near the Dallas-Fort Worth International Airport. He says he could have chosen to work in Dallas, Salt Lake City, or Tampa, Florida, where he was living at the time. He chose Houston and is happy he did. "I spent some time doing research on these locations and after looking at the pros and cons, Houston seemed like the perfect fit," he says. "Considering the average salary, cost of living, and job availability, I would say that Houston offers the best an engineer could ask for."
Phoenix rises
Phoenix jumped from the 12th spot in 2021 to eighth this year, hitting the top 10 for the first time. A surprise? Not to Frederick Noelke III, P.E., S.E., M.ASCE, a cofounder and partner of Bakkum Noelke Consulting Structural Engineers, a 12-employee firm based in the city. "There is a lot of money already in the city and coming into the city for development," says Noelke. With that comes more complex and interesting buildings to be designed. "The architects have the opportunity to challenge each other, and it's up to us as structural engineers to make that work," he says.
What's more, the city is spreading out, with new neighborhoods sprouting up on the outskirts and highways expanding in tandem. In January, the Arizona Department of Transportation completed its Loop 101 widening project, which added travel lanes and improved crossings across a 13 mi stretch of State Highway 101 to the north of the city. "Civil engineers who design bridges are pretty busy here right now," Noelke says.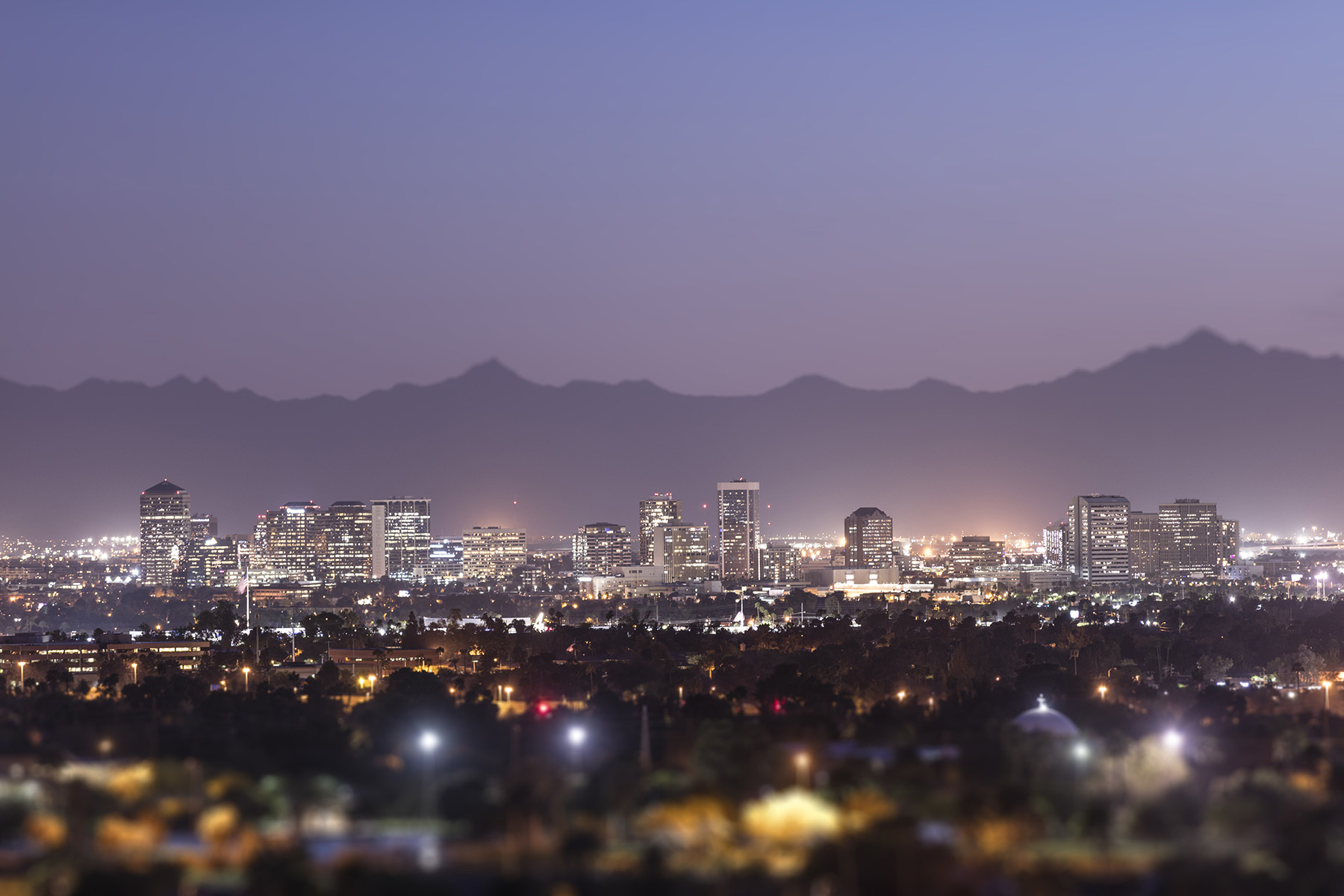 ADOT is also looking at ways to innovate. The department recently tested the application of cool pavements on 36 mi of residential streets in Phoenix. (Read "Cool pavements help relieve urban heat islands" on CE Online.)
And Arizona's population is growing; according to the Report Card for Arizona's Infrastructure 2020, produced by the Arizona Section of ASCE, Arizona's population has grown steadily over the last five years at a rate of roughly 1.5%. "While a growing population has meant an increased demand for water, significant investments in water conservation, infrastructure, and the reuse of water have resulted in total water use essentially remaining the same over the last 50 years," the state report card notes.
In fact, Noelke points out that for a desert city, Phoenix deals with its water issues well. "We benefit from the CAP — the Central Arizona Project — bringing water down from the Colorado (River)," he says. "Phoenix is also fortunate that we are at the bottom of the Salt River watershed, which encompasses a lot of mountains to the north and east, and they bring a lot of rainwater to a series of lakes and reservoirs." (Read about the design and construction of the CAP in this issue's History Lesson.)
Transit engineers will find opportunities in the Phoenix area as well. In 2015, Phoenix voters passed Proposition 104 to infuse $31 billion over 25 years into the city's public transit system, according to the state report card. Four light-rail extensions and a new streetcar line are being planned or are under construction to create an approximately 49 mi system in the Phoenix metropolitan area by 2030.
And Phoenix has embarked on a so-called complete streets program intended to make select streets in the city more walkable and accommodating to all modes of transportation. "Through this policy, the primary focus of street design will no longer be solely on the speed and efficiency of automobile travel, but on the safety and comfort of all users of the public right-of-way," explains the project's website.
Job openings for civil engineers seem plentiful. Noelke says his firm is looking for structural engineers ranging from new graduates to seasoned professionals with five to 10 years of experience but is having difficulty finding candidates. "Everyone is so busy right now," he says. "Firms have no trouble keeping their people.
"We do mostly commercial and industrial work, so for example, we do work for microchip manufacturers. There are some big ones here in town: Intel and Fujifilm," he says. "Then there are a lot of small companies that make products related to that. We also do multistory office buildings and multifamily housing. Senior living facilities are big in Arizona."
Detroit motors on
Detroit has made an encouraging comeback since the city filed for bankruptcy in 2013. In the intervening years, Motor City has begun operating in the black, revitalized its downtown, and attracted new businesses — both related and unrelated to automotive manufacturing, according to the Detroit Free Press.
One of the most enticing projects in the city is the Gordie Howe International Bridge, a mammoth cable-stayed crossing under construction between Detroit and Windsor, Ontario, Canada. The 1.5 mi long bridge is being delivered by a design-build team of Dragados Canada, Fluor, and Aecon, with architecture designed by AECOM. Scheduled for completion in 2024, the $5.7 billion project includes a community benefits plan that emphasizes neighborhood involvement and development projects as well as local workforce training and apprenticeships, according to the project's website.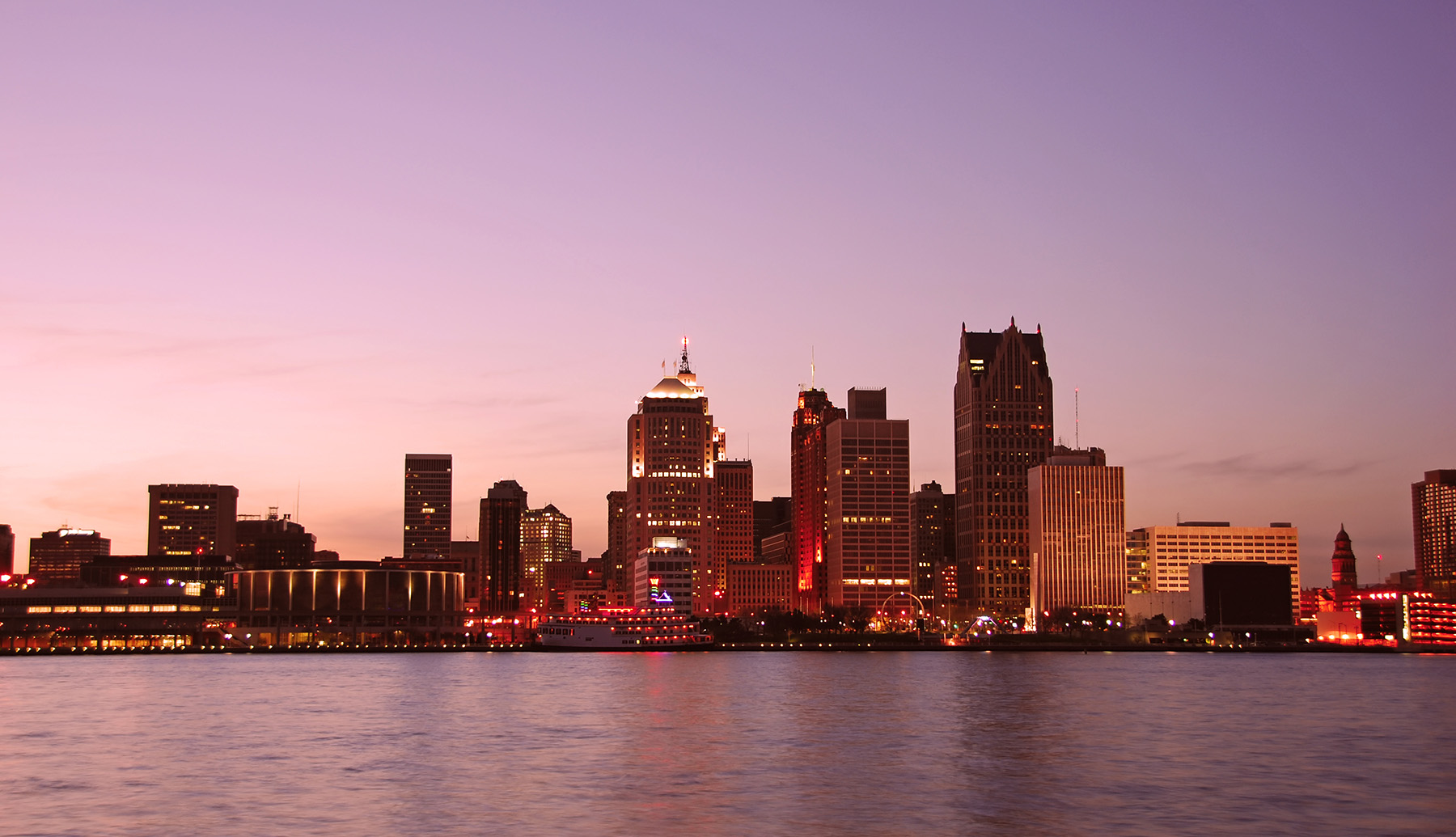 Michael G. Darga, P.E., M.ASCE, a partner of the 100-person firm Giffels Webster, which operates in and around the city, says the bridge project is generating a lot of work and a lot of enthusiasm. "But the one I am going to love to see, though it hasn't been funded yet, is the I-375 daylighting project," he says. "It's a freeway spur that comes up from I-75 into downtown Detroit, and it's below grade. It went through what was historically a Black neighborhood, and the Michigan Department of Transportation wants to bring it to the surface level and make it more of a boulevard."
Perhaps no other project is more emblematic of the city's renaissance than the redeveloped Michigan Central Station, an unused 18-story railway complex that has been transformed into a space for events, commerce, small manufacturing, and mobility testing. (Read "Michigan Central Station project redefines site's link to transportation" on CE Online.) Darga's firm is contributing to the undertaking. "It's a massive project not only in scale but in helping to transform Detroit," he says. "It's in the oldest neighborhood of the city, Corktown, which is hundreds of years old. Seeing that makes a huge statement about where the city can come back.
"We're doing a ton of work in adaptive reuses," Darga says. "We're changing industrial buildings into art campuses, live-work spaces, and maker spaces. We have a lot of great arts and cultural things happening in the city."
Another symbol of the city's turnaround is large-scale construction at the site of a former Hudson's department store that was imploded in 1998, during the chain's waning years. The redevelopment will feature residential units in a tower above a podium that will include commercial and retail spaces.
And despite being known for its automobile industry, the city has made "massive strides" in nonmotorized modes of transportation, Darga says. "Our firm did the Non-Motorized Urban Transportation Master Plan for the city," he says. "Since then the city has gone gangbusters in implementing it. In 2010, there might have been 20 mi of nonmotorized pathways, and by now there are probably more than 300 mi. The redesign of the city of Detroit proper has taken the lead on commercial corridor redevelopments, where they re-envision the road and do two-way cycle tracks. It helps out the local businesses."
Darga points out that as a 320-year-old city, Detroit always has a need for civil engineering projects. "We joke that if we are connecting to sewers from the 1900s, we're in pretty good shape," he notes. "The majority of our standard sewer system in the city is brick."
With a slightly higher median salary in ASCE's survey and a much lower cost of living than many cities, Detroit certainly has its appeal. And business is booming. "My partners and I have done many proposals in the past several months," Darga says. "There is a lot going on."
What does it take to succeed in Detroit as a civil engineer? Darga says that in addition to core technical skills, his firm looks for good communications, a willingness to learn, and dedication to the city's future. "We want someone who has a passion for both engineering and the city," Darga says. "They can work anywhere, so if someone is going to work in our downtown office, we want to make sure they really want to be here and be part of the changes.
"You can make a difference at civil engineering firms in Detroit."
Laurie A. Shuster is the editor in chief of Civil Engineering.
This article first appeared in the March/April 2022 issue of Civil Engineering.