Edited by Margaret M. Mitchell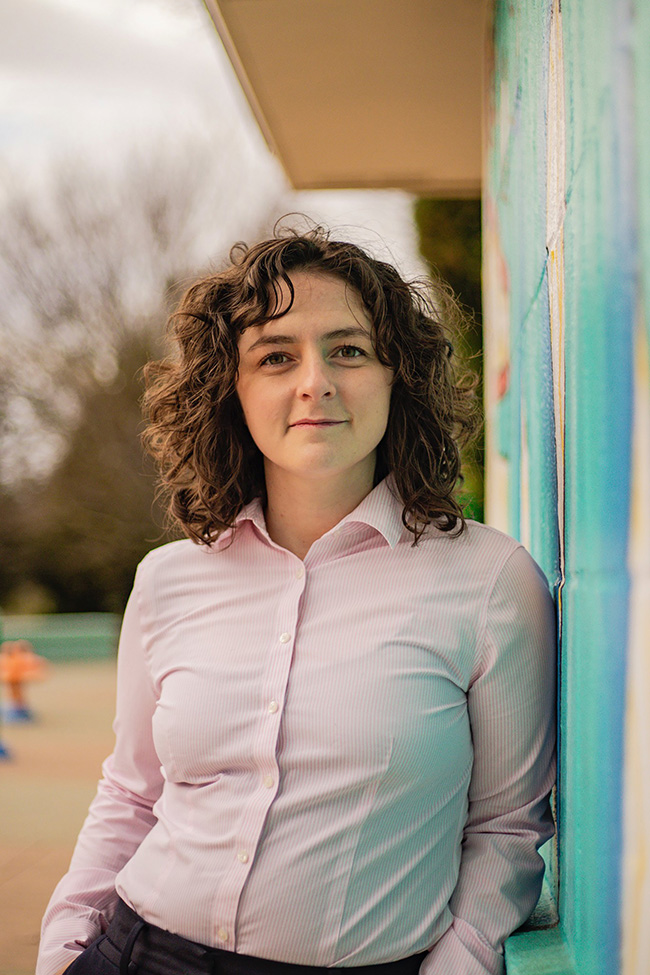 A "windy road" is how Ana Tijerina Esquino, EIT, A.M.ASCE, describes her route to civil engineering. Instead of going straight to college after high school, she went to work, first in banking and credit administration and then in industrial design. Three and a half years in, she decided she needed to earn a bachelor's degree to continue to progress professionally.
Even while in school, first at San Diego Community College and then at Portland State University in Oregon, she continued to work. After a series of odd jobs at an acupuncture clinic, then at a hospital, and finally on campus, she changed her mind, switching from finance to civil engineering.
It was the issues of sustainability — the water crisis, the damages of air pollution, and the vulnerabilities of lifeline infrastructure — that captured Tijerina Esquino's attention, and she decided she wanted to spend her life helping solve these big problems.
"Eventually, I landed my first internship in a civil engineering field, working for a local construction company," she says. After graduating with a Bachelor of Science in civil engineering, she got a job with Mott MacDonald, a global engineering, management, and development firm, and has steadily climbed the engineering grades to Engineer III.
Her unconventional path has played an integral part in shaping who she is today.
"Every job I had taught me valuable life skills that would later be applicable in engineering," she says, "and because of those experiences, I really encourage others to value their 'unrelated' experience. It is never as unrelated as you may feel at the time!"
Tijerina Esquino is a 2022 New Faces of Civil Engineering-Professional.
What does your job as Engineer III entail, and how does it differ from your role before the promotion?
As an Engineer III, I have much more independence and will get to use more of my own engineering judgment in my work. I will also have more control over the goals I set for myself and the project teams I'm on. Other benefits that come with this position are that I get to teach new engineers at Mott MacDonald and lead small teams.
What personal traits or characteristics do you believe helped you win this position?
The No. 1 most useful trait that helped me get promoted is 'leading up,' which is closely followed by initiative and curiosity. Leading up is a term my boss uses to describe how you can be a leader to those within the organization who are 'above' you on the organizational chart; it's about influencing people, even if you're not in a leadership role.
Leading up takes a lot of initiative because it goes beyond just completing your assigned task. It also involves thinking beyond those tasks entirely. For me, this looks like asking about the overall schedule and budget and how we're progressing on deliverables we collaborate on, finding out what the client's bigger priorities are, and thinking of new opportunities to meet more of our clients' needs.
All these leading-up tasks can help you in the present because you become more aware of how one individual deliverable fits into the holistic client relationship, and you can use that to manage your time and expectations.
Beyond that, it's thinking purposefully about all the interfaces between tasks and all the big-picture goals you're trying to meet. It is doing more than is expected, both to better understand what you are working on and to teach you things beyond what your current position requires. These actions showed my superiors that I could take on more and think about more than what was directly in front of me. Basically, I had already proved that I was capable of tasks that might be given to me in my next role.
You did not go straight into an engineering program when you graduated from high school. Why?
A couple reasons. I struggled in high school, not necessarily academically, but I had a hard time integrating to life in the U.S. after moving here during middle school. I needed time and professional help to get to a better place mentally. I had zero motivation and didn't have a vision for my life.High school is so weird, too, because you need to have that vision and motivation by the time you're a junior, and you really have to be set up to succeed for years before then to even compete for the 'good' schools. I was not set up to succeed in that way, and my family could not support me financially, so the traditional university route didn't seem like an option.
The second reason is pretty simple: I had no idea what civil engineering was or what civil engineers did. It wasn't until much later — after I became interested in the sustainability movement — that I came to learn that civil engineers are the ones with the tools to fix what I thought were the world's most pressing problems. So even though I'd been studying finance for some time, I switched to engineering and started the degree process over, and I absolutely loved it. Turns out I'm a better student when I care about the material and have set myself up for success.
What are the benefits of taking a nontraditional path to a career?
I am a huge supporter of nontraditional students and nontraditional engineers. First of all, I think coming into college with real-life experience makes college better. And when I say better, I mean you are more invested in your education. I came to my engineering program prepared to take advantage of every opportunity, and I did! And that was only possible because I'd grown up a little and was emotionally mature, prepared, and motivated.
Also, these nontraditional paths often teach students a lot about different parts of life. I worked in a bank before going back to school, so I learned how our financial system works, which has been absolutely invaluable to me as an engineer. You can have the coolest project in the world, but if there's no viable funding plan, that project will never come to fruition. This, along with just learning some harsh realities of what being an adult entails, makes nontraditional engineers much more well rounded.
I learned finance, but many of my other nontraditional colleagues served in the military, have psychology degrees, or learned a trade. They all had this larger knowledge that we could also share with one another.
You are active in the Portland Younger Member Forum. How have your experiences in this group changed the way you approach your work and life?
With my involvement in Portland YMF came a big shift in one thing for me: how I craft emails. That might sound silly, but I am a person who used to stress so much about what I wrote in my emails. I overthought every word, being super-conscious of my tone and style. In college, the YMF school chapter was very organized, and our initiatives were clearly defined. So, writing the emails was manageable.
But then I took over the presidency of Portland YMF after I graduated, and it was at a time when we had stopped having events and lost most of our engaged members and had to build back up, seemingly from scratch. This meant I was sending out a lot of emails — introducing myself, coordinating tasks, sending out summaries — and it was absolutely overwhelming. Seeing me struggle, someone mentioned that this role was voluntary, and it shifted my perspective. I realized I didn't have to be perfect in my volunteer commitments, nor did I want to ask that of my officers.
So I relaxed a bit and learned some tips to be more efficient, such as sending group emails, and I no longer labored over my word choices and grammar. And I stopped triple-checking my sentences to make sure they were perfect.
You are co-champion of Mott MacDonald's Advancing Race and Culture: Equity, Diversity, and Inclusion group. What is a co-champion?
The company has an Equity, Diversity, and Inclusion Committee in North America that is divided into six Advancing groups, which is the name we use for our employee resource groups. The Advancing Race and Culture group is the employee network focused on advancing matters related to race and culture, but we also work collaboratively with other groups: LGBT+, gender, veterans and active service members, parents and caregivers, and accessibility and inclusion.
As a champion, I am the lead on Advance initiatives, which includes both publishing articles and hosting events. The articles are posted on our intranet to acknowledge culturally significant events and celebrate the diversity of our employees. The events involve putting together webinars and panel discussions aimed at sharing experiences and creating an open dialogue all our employees can learn from.
I've helped prepare presentations on intersectionality (the intersection of social identities such as race, class and gender), panel discussions focusing on the experiences of our BIPOC (Black, Indigenous, people of color) employees, and trivia activities for Black History Month.
Volunteering in your local community is important to you. Where did that spark come from?
Some of my passion for volunteering came from my family. My paternal grandmother fled Austria during World War II, and she eventually came to live in Mexico City. She talked about how when she arrived in Mexico, she was embraced. She jokingly said that either Mexicans were just the kindest people on earth, or they had no idea what Jewish people looked like, so they never thought to treat her differently.
That grandma of mine knitted sweaters and made little bags to hold candy that she would give to kids in her neighborhood every week for essentially the rest of her life. It was important for her to try to pay back all the people who had helped her and all the kids she saw who needed help. I think she and my parents instilled in me this deep respect and care for others. My family all understood and explained to me how much our own fortunes relied on the goodwill of others. And I still believe all that to be so true. It takes a village. No one can truly succeed alone.
I've also been fortunate in my life to have had so many people care about me, go out of their way to help me, and just generally make a big impact in my life. In a way, I feel indebted to those people, and I want to pay them back by helping others. I would love to be a positive influence in someone's life in the same way someone was in mine. I want to show people what is possible if they are focused and supported in their goals.
I often picture all the paths my life could have taken if I hadn't had individuals who believed in me. I know it was in part kindness, grace, and chance that made me who I am today, and I want others to have that same grace, to be given the shot to excel, and to be told that someone believes in them.
What would you like to be remembered for as a civil engineer?
I want to be remembered as an engineer who listened and helped. One who purposefully communicated with stakeholders outside my direct client team. I want to help bridge the understanding gap between engineers and designers and the rest of the world, and I want to help people feel a sense of ownership in the infrastructure they use and pay for. I want to be remembered as someone who always takes the time to bring people in, to invite them to the table, and make sure they're considered.
Margaret M. Mitchell is the managing editor of Civil Engineering.
This article first appeared in the September/October issue of Civil Engineering as "The Path to Engineer Isn't Always a Straight One."