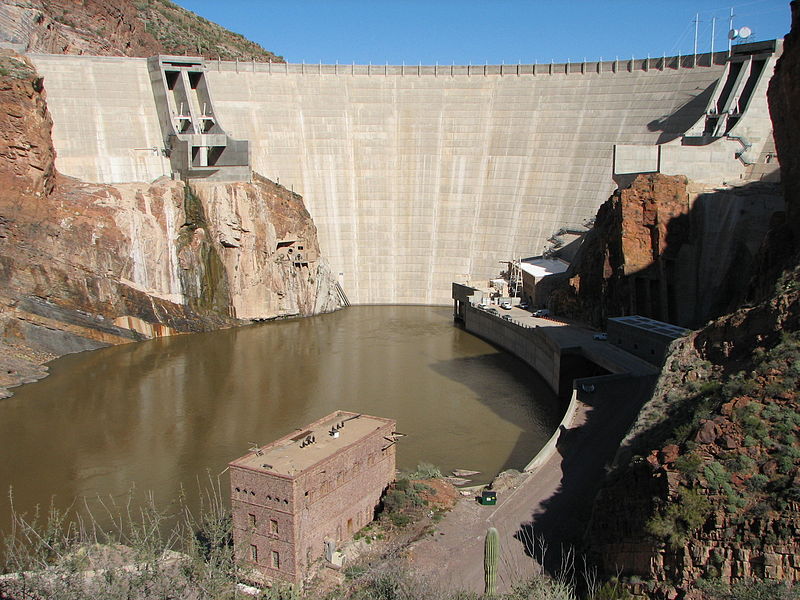 This week in civil engineering history: Theodore Roosevelt Dam, once the world's tallest masonry dam, is dedicated, March 18, 1911, northeast of Phoenix, Arizona.
On March 13, 1903, the Department of Interior announced five federal projects under the Newlands Reclamation Act of 1902. Salt River Dam #1 was among the projects to be completed under the program. The first stone block of the dam, a six-ton cornerstone that lies 32 feet below the river's normal bed, was placed on Sept. 20, 1906.
Also in 1906, Congress authorized the Reclamation Service to develop and sell hydroelectric power at the Salt River Project – the beginning of federal production of electric power. The Salt River Project, including the dam, was the first major public works project in the American West to demonstrate that large-scale reclamation of arid land was both possible and practical.
The final stone of the dam was placed on Feb. 5, 1911. At 280 feet tall and 723 feet long, it was the largest masonry dam in the world at the time. A month later on March 18, Theodore Roosevelt, who had signed the authorization for the project when president, dedicated the dam that was renamed in his honor.
The Salt River Project ultimately led to the irrigation of more than 250,000 acres surrounding metropolitan Phoenix. ASCE designated the Theodore Roosevelt Dam and Salt River Project as an ASCE National Historic Civil Engineering Landmark in 1970.
Reuben Hull, P.E., PMP, M.ASCE, is civil regional manager for LaBella Associates in Albany, New York, and a self-made historian who has penned numerous articles on civil engineering history. An active ASCE member, Hull is a corresponding member and former chair of the History and Heritage Committee, serves as vice president of the Mohawk-Hudson Section, served as president of the New Hampshire Section, 1999-2000, and was named New Hampshire Young Engineer of the Year in 1997.
Follow his daily Civil Engineering Almanac series on Twitter: @ThisDayInCEHist.