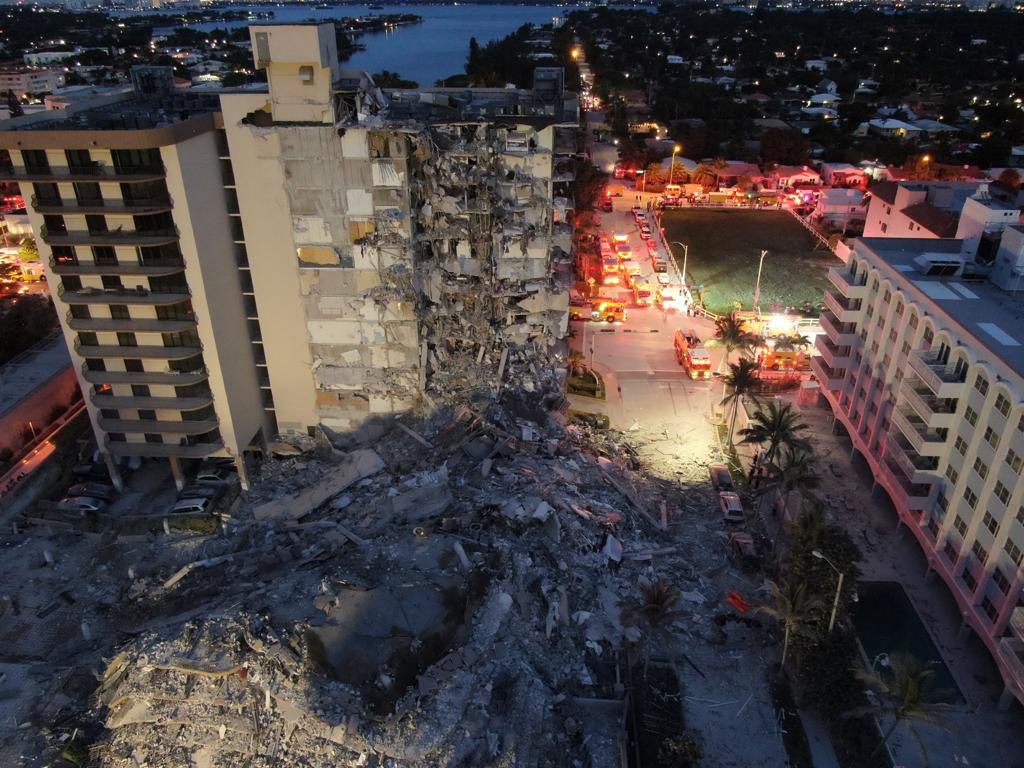 The questions started in the immediate aftermath of a partial building collapse in Surfside, Florida, June 26, that has left more than 100 people unaccounted for. "How could this happen?" "Why?" "What went wrong?"
But those questions will likely take a long time to answer, according to two of ASCE's most prominent forensic structural engineers.
"I think it is way too early to tell," said Roberto Leon, P.E., F.SEI, Dist.M.ASCE, the D.H. Burrows Professor of Construction Engineering in the Charles Edward Via Jr. Department of Civil and Environmental Engineering at Virginia Tech.
"It's going to require a very careful forensic approach here, because I don't think the building collapsed just because of one reason. What we tend to find in forensic investigations is that three or four things have to happen for a collapse to occur that is so catastrophic."
Champlain Towers South, a 12-story condominium building along the Atlantic Ocean just north of Miami Beach, collapsed suddenly in the early morning of Thursday, June 24. Search-and-rescue work continued into the weekend, with forensic investigation set to begin soon thereafter. It's the kind of investigative work that Glenn Bell, P.E., S.E., F.SEI, Dist.M.ASCE, has helped pioneer throughout his career.
"We have to be careful not to speculate too much on the potential causes, but I can say that one of the things I'm sure the investigators will be focusing on is: why, after standing for 40 years, did that structure collapse apparently without warning? That's pretty extraordinary," Bell said.
"Most catastrophic collapses happen either during construction or early in the life of the structure, indicating there were systemic, inherent structural problems. The fact that this happened with the building 40 years out will lead you to potentially different sets of causes and things to think about."
The key questions to ask, Bell said, are:
Did the structure change in any way over 40 years?
Did something extraordinary happen in terms of the forces or the environment imposed on the building in that moment of collapse?
Bell referred to the investigation's "melting ice cubes," the priority evidence to note now before it's gone – the material samples, eyewitness interviews, any video, and of course, the debris pile.
"The investigators will want to look at the debris pile very carefully, how things are piled up, how they're stacked, what's broken where, the juxtapositions of the different pieces," Bell said. "That can help to give you some clues into where the failure might have initiated and how it progressed.
"I tell people training in forensic engineering to think about if you can imagine seeing a video of the structure collapsing in a certain sequence that's along a certain failure hypothesis that you have. Would it wind up in a pile that you're seeing on the ground here? Or is that pile not consistent with your theory?
"You look at the evidence. We like to say, to the trained eye, the structure will talk to you."
The progressive nature of the failure, a so-called pancake collapse, also presents questions. Leon noted the importance of examining the parts of the building that remain standing, as well as examining every detail of the debris.
"As the building is pulled apart, they're going to be looking at anything that is in there, trying to see if, for example, the reinforcing bars are in the correct location," Leon said. "It matters very much in some structures of this type. If you have a 6-inch slab, let's say, and the plans call for the rebar to be 5 inches from the bottom, but the rebar is instead at 3 inches, it actually might impact the strength. You can get a very substantial decrease in the shear capacity of the structure, which is critical to flat-plate structures of this type.
"It boils down to little details. And one has to be so careful."
What is clear is that the investigation will take time.
"They run months at a minimum, often over a year, sometimes two years or more," Bell said. "In this particular case, since it's so complex, there are a lot of things to sort through and a lot of hypotheses to chase down."
And for the people of Surfside, the recovery even longer.
Read ASCE's statement about the building collapse.