By Robert L. Reid
When HBO recently canceled the science fiction TV drama Westworld, the saga about humanoid robots from a high-tech theme park came to an abrupt end. But for civil engineers, the vision of the future presented by Westworld is instructive, especially in the ways that it compares to and contrasts with ASCE's own look ahead: the Future World Vision initiative, especially its Mega City 2070 portion.
David J. Odeh, P.E., S.E., F.SEI, F.ASCE , a principal at Odeh Engineers Inc., now part of WSP, has seen many episodes of Westworld, which ended in August after four seasons (though fans are petitioning HBO to continue the series). Odeh has also been deeply involved in the creation of the Future World Vision project and is a strong advocate of that effort.
Although the first two seasons of Westworld took place primarily in a fictional theme park, seasons 3 and 4 expanded the action to futuristic versions of Los Angeles and New York City. It is in those ultramodern metropolises that the urban designs and infrastructure predictions of the TV show and Mega City 2070 converge and depart, Odeh notes.
First, of course, one must remember that any scenes of life in the futuristic cities of Westworld were driven by the show's action-packed narrative — so while viewers saw autonomous vehicles, presumably electrically powered, zipping around the streets of future Los Angeles, they did not see any charging stations because those were not necessary to the storyline, Odeh says. By contrast, engineers who visit the interactive website of Mega City 2070 can "dive deep into the elements of the city and how people live there," Odeh explains.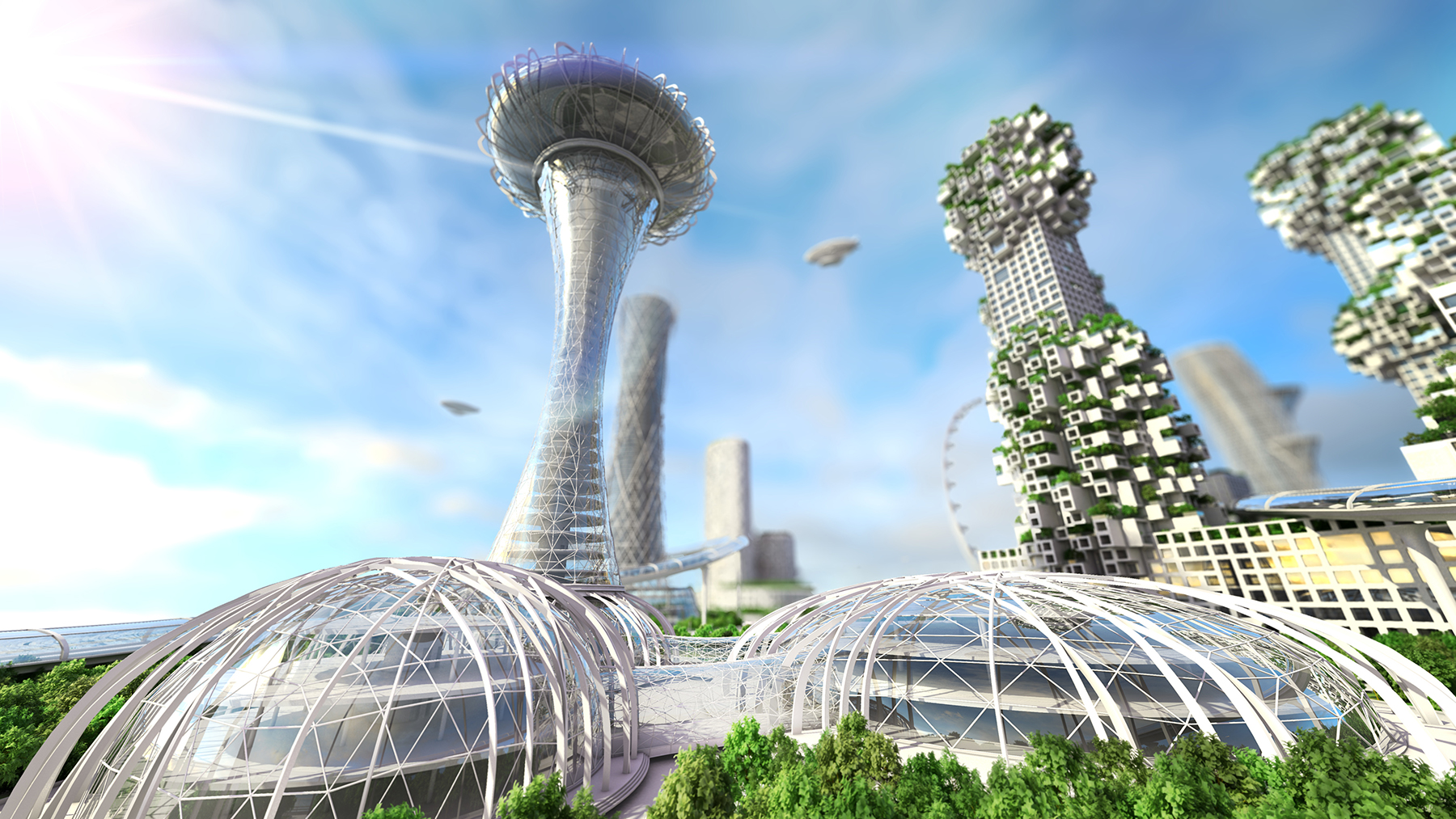 Likewise, various drones and unmanned aerial vehicles can be found in both Westworld and Mega City 2070. But in Westworld's version, the drones play a somewhat sinister role in providing real-time surveillance of just about everybody. Such smart technology, with facial recognition and other capabilities, also features in Mega City 2070, Odeh says, but "rather than a dystopian version, (Mega City 2070) depicts more of a useful, productive application of the technology where people's privacy is protected."
Recognizing risks
Machine learning and artificial intelligence are also key elements in both Westworld and Mega City 2070, Odeh notes. But whereas this technology in Westworld helps the robots try to take over the world from humans, in Mega City 2070 "we envision a more benign use of such technology that improves people's quality of life and allows us to have more effective, cost-effective, and sustainable infrastructure, including transportation, water resources, and energy distribution," Odeh notes.
Still, the possible dangers posed by AI and machine learning can be a useful lesson for civil engineers. "Westworld is a sort of extreme dystopian vision," Odeh notes, "but there are elements of the story and the story's world that are salient to the modern world and to our own real future that help us think about those risks."
One of the fundamental missions of civil engineers is protecting public safety, Odeh notes. So in the future, it will be important for engineers to think about the integration of digital systems and infrastructure. "We need to evaluate what risks that poses and how we can make systems resilient and robust to protect life safety from events such as failure of a critical computer system in a building or transit network that completely depends on information technology and AI systems for its operations."
Such concerns, which both Westworld and Mega City 2070 help raise, "represent new types of risk that we as engineers have to wrap our arms around," Odeh concludes.
Designing a future world
The cities of Westworld feature a variety of futuristic buildings — some based on actual buildings or bridges as well as proposed structures with sci-fi designs.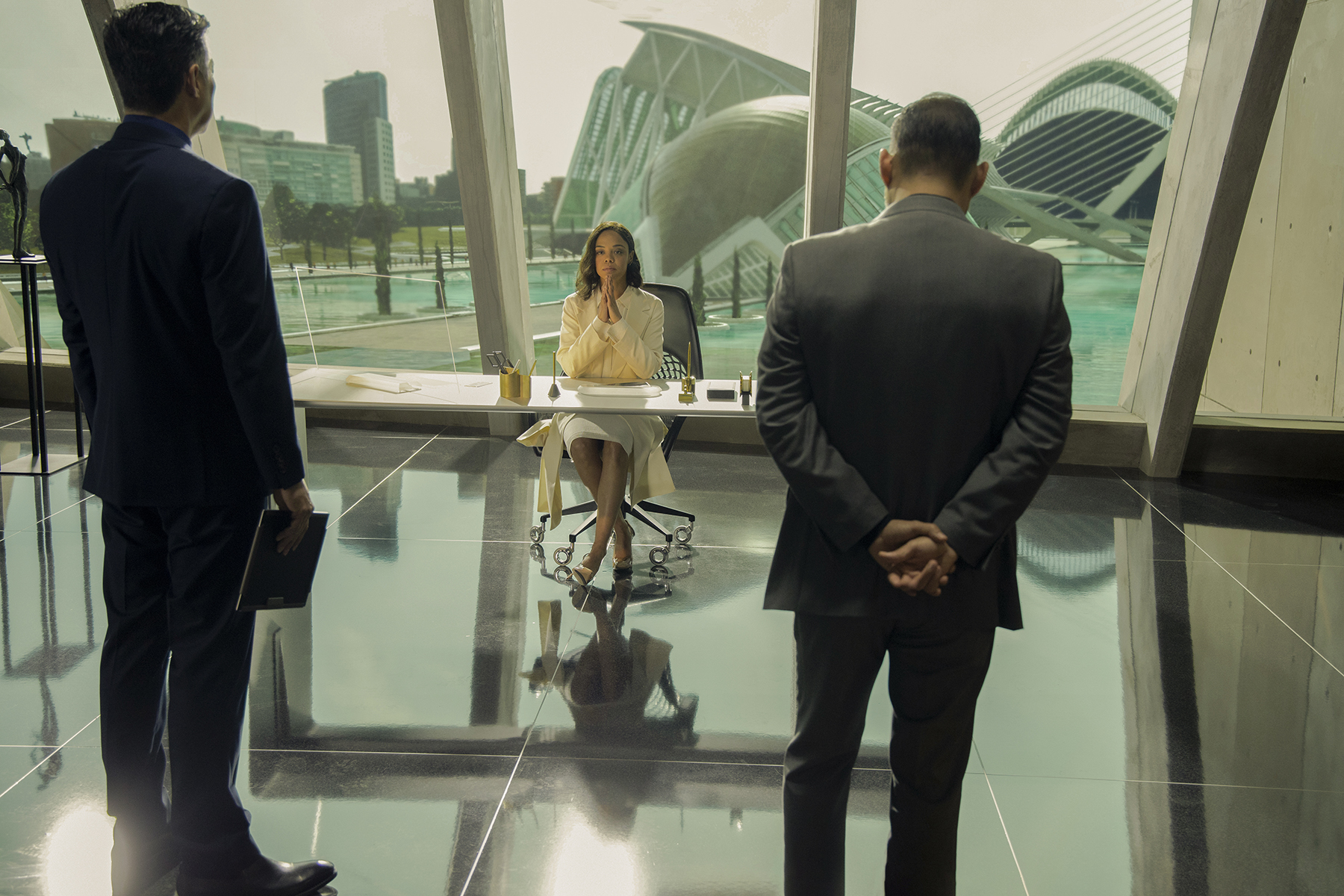 For example, Santiago Calatrava's City of Arts and Sciences in Valencia, Spain, stands in as the headquarters for the evil corporation that runs the theme park. A recently completed biophilic tower, CapitaSpring, in Singapore also makes a cameo appearance.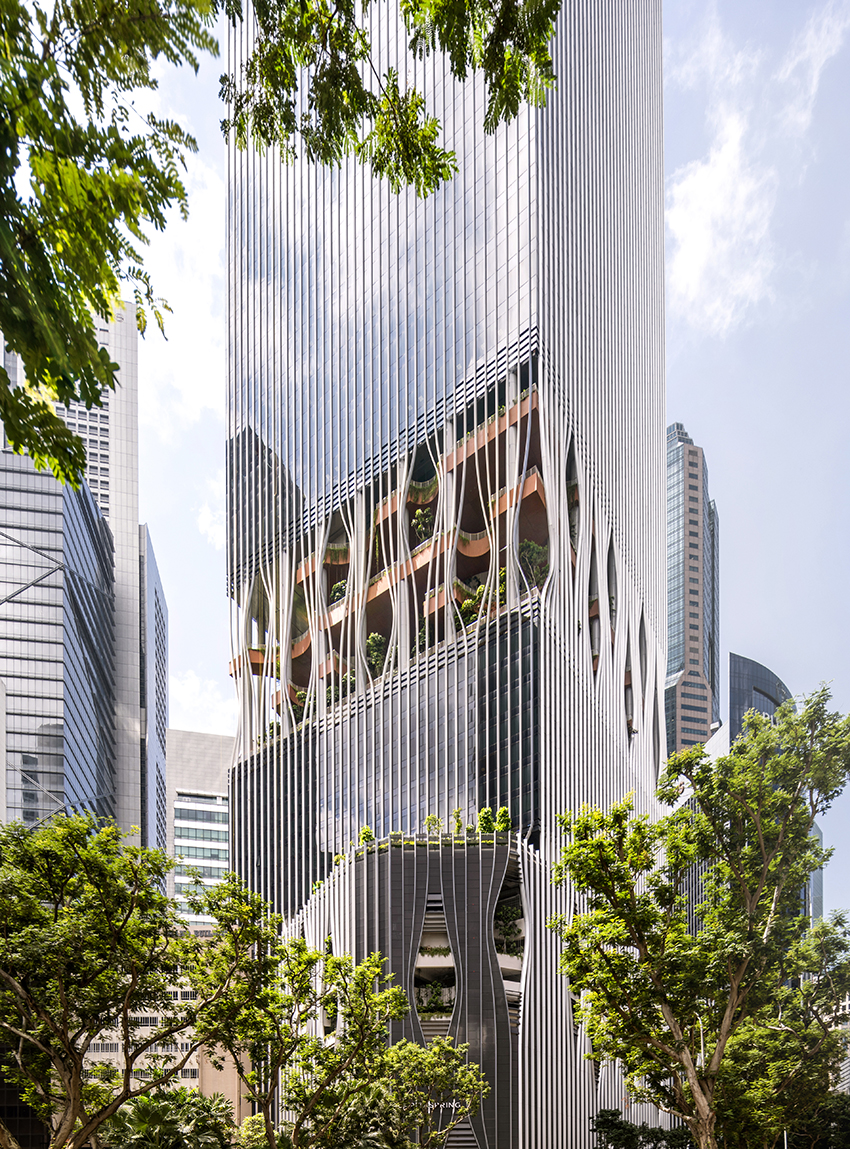 The 900 ft tall structure was designed by structural engineers at Arup working with Copenhagen, Denmark-based BIG-Bjarke Ingels Group, together with Carlo Ratti Associati, of Turin, Italy. An article from New York magazine's Vulture entertainment website, linked to on the BIG website, explains that Bjarke Ingels himself worked with the Westworld team.
During some Westworld chase scenes involving automated vehicles, "you can see very clearly the potholes in the asphalt; you can see the buildings, which are identical to what they are (in) LA today," Odeh notes. What viewers see, in fact, are "conventional reinforced-concrete structures — no imagining of more advanced, sustainable structural systems or pavements," Odeh says. "Instead, it's a superposition of these advanced AI and robotics technologies that may or may not be possible in the future with the same kind of infrastructure that we have today — and I hope that's not what the future is!"
But "we made Mega City 2070 to show that infrastructure can't be stagnant," Odeh explains. "You can't really have effective automated vehicles riding on potholes — you need a better system, a better system of highways and sensors on roads. ... We need better buildings, more sustainable buildings that might generate their own power or construct themselves with smart robots, so we can really harness the technologies of the future for their best purpose."
The goal of Mega City 2070 is that "people, every day, going to work can have a sustainable way to get from their homes to work, have a city that's livable with green spaces — but one that doesn't feel like this dark dystopian place you get in Westworld, which, of course, was done for dramatic effect."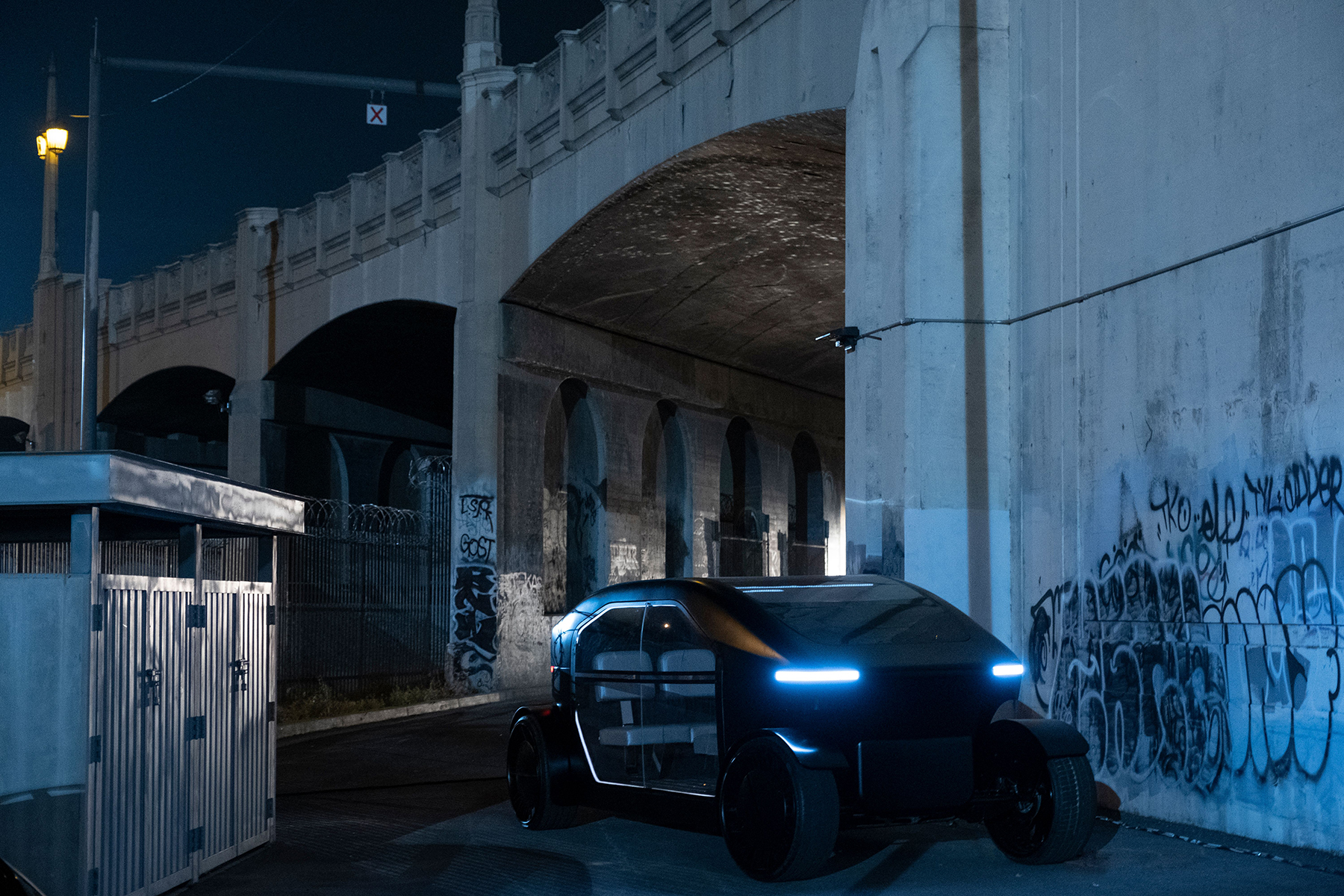 Taking a closer look
While many of the futuristic infrastructure features of Westworld are depicted fleetingly, so as not to slow down the action, Mega City 2070 allows users to "look at the world from various different geographic scales — from a high-level systems scale where you can understand how different elements of infrastructure interact to make the city operate," Odeh says. But users can also zoom down to the neighborhood level to look at portions of the city that can be explored.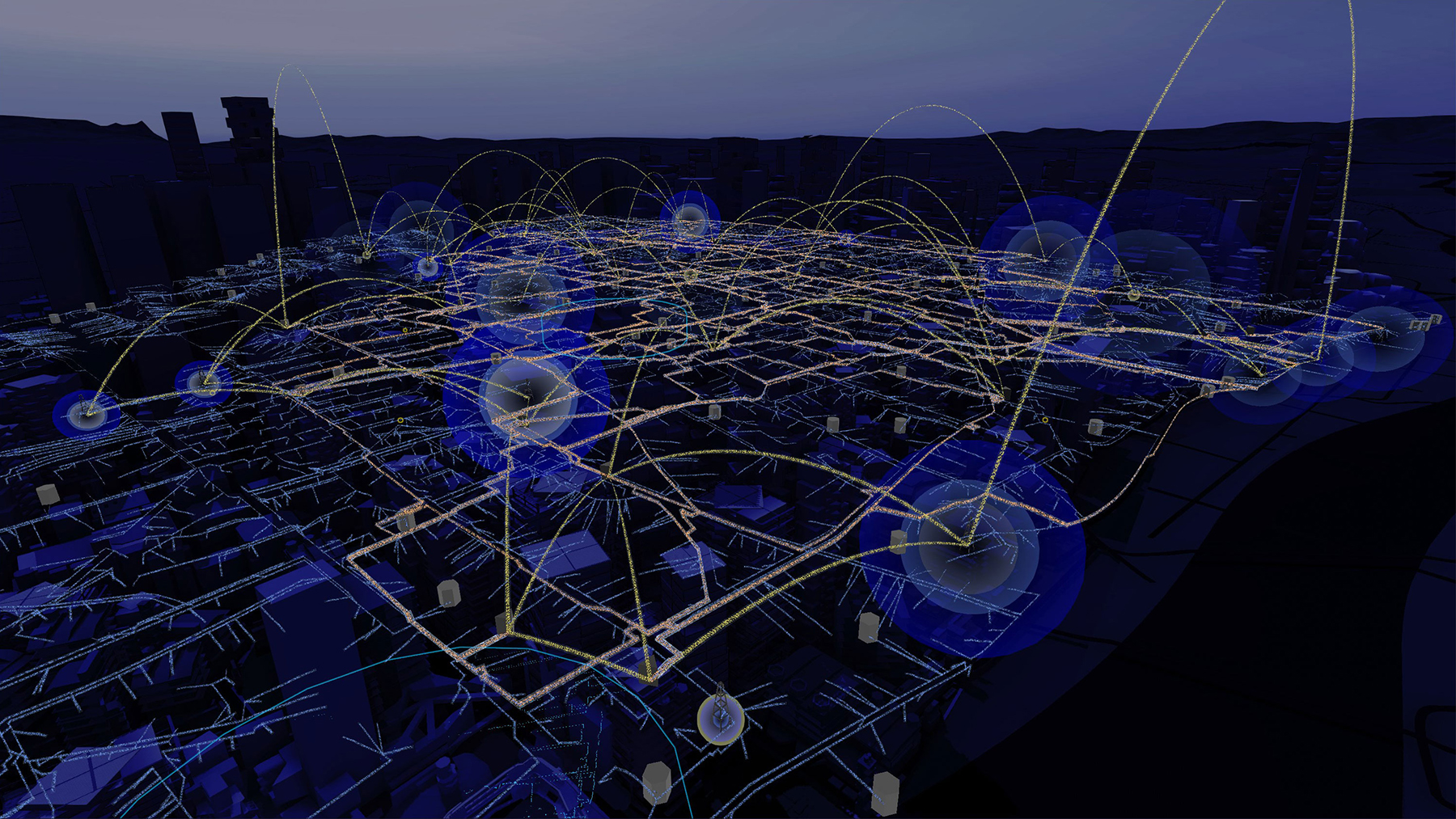 "You can see the infrastructure above ground and below ground and learn about — in narrative form — the technologies that are envisioned in these neighborhoods," Odeh explains. "And finally, you can go right onto the street and can walk around and experience what this city looks like and how it operates, and you see things like how more advanced streets might evolve to better support safe and sustainable driving practices and traffic. You see new technologies on display to build buildings that are more sustainable and resilient to natural disasters or climate change."
Thinking about reality
A critical difference between Westworld and the world of Mega City 2070 is that while both tell stories, the former is essentially a fantasy while the latter "gives us a realistic version of what the future might look like if we, as civil engineers, do our job right," Odeh explains.
If an engineer is a fan of Westworld and wants to help bring to life the non-dystopian aspects of the urban future, Mega City 2070 is a great place to start, Odeh notes. "It takes us engineers a little bit out of our comfort zone, our day-to-day work of designing buildings or infrastructure, and asks us to think outside of the box and about the long-term ramifications of the work we do." To that end, Mega City 2070 can "help engineers change the way that they're thinking or at least question the way they're thinking about the future," Odeh says.
After all, the infrastructure designed today is intended to last decades, maybe even 100 years or more. "So it's our responsibility to think about what society will need in the long term, not just the immediate future," Odeh notes. "We know there are trends — of climate change, smart cities, autonomous vehicles, advanced materials, renewable energy, infrastructure policy and funding — that are going to be disruptive in some way, shape, or form. We can't predict exactly what will happen to them, but it behooves us to think about the boundaries of what can happen and be prepared for those eventualities."
ASCE's vision of future cities will also appear on the big screen in a feature film, Cities of the Future: Reimagining Our World, expected in 2023.