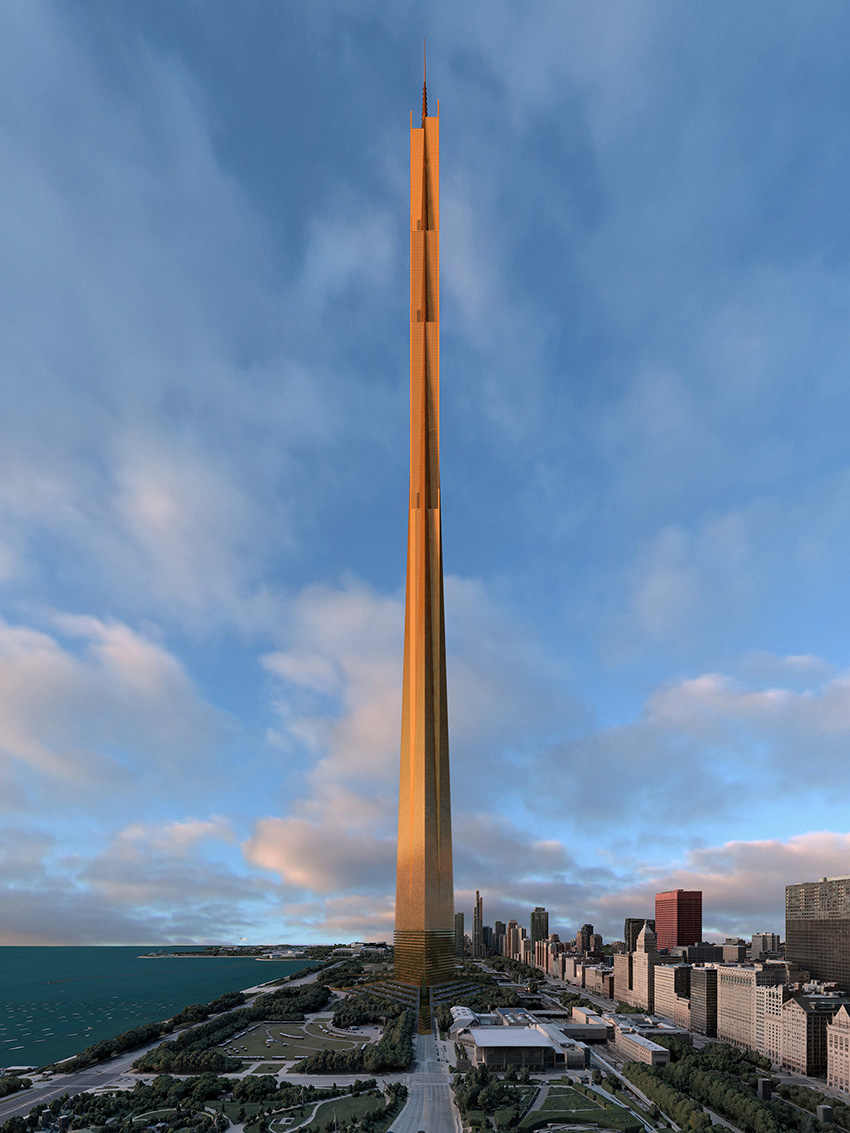 By Catherine A. Cardno, Ph.D.
Famed architect Frank Lloyd Wright created just under 1,200 architectural designs during his lifetime. Of those, more than 600 remain unbuilt. Now, the Frank Lloyd Wright Foundation has partnered with Spanish architect David Romero and released renderings of three of Wright's unbuilt towers.
Although Wright is known for his criticism of skyscrapers, he remained fascinated by the possibilities of taller buildings in novel forms, according to material released by the foundation.
One such design was The Illinois, a mile-high tower planned for the shores of Lake Michigan in Chicago. When it was unveiled at a press conference in 1956, Wright envisioned the tower as the centerpiece to his Broadacre City master plan that he had originally revealed in 1932.
Designed with a deep "taproot" that extended 15 stories underground, much like an upside-down Eiffel Tower, the central concrete-and-steel core of the above-ground portion of the skyscraper would have extended upward from this foundation.
The antennalike central structure would have been a steel frame with four winglike buttresses from which concrete floors would have cantilevered.
Wright believed that such a deeply rooted structure would be able to withstand the wind-induced oscillations that steel towers tend to experience.
At 528 stories, it would have been four times as tall as the world's tallest building at the time, with Wright reported as saying, "The Empire State Building would be a mouse by comparison," according to the foundation.
As a "city in the sky," according to Wright, the design called for 18 million sq ft of workspace for 100,000 people. The structure would have had 76 elevators, with hypothetical five-story-high cabs that served five floors at a time. Wright imagined that the elevators would be powered by atomic energy with a capacity to move up to 1 mi in just a minute, according to the foundation.
Four major highways, parking for 15,000 cars, rail lines, and a heliport with space for 100 aircraft would have provided access to the building.
Catherine A. Cardno, Ph.D., is the editor in chief of Civil Engineering Online.
This article first appeared on Civil Engineering Online as "Visualization unveiled for unbuilt Frank Lloyd Wright tower." It appeared in the March/April 2023 issue of Civil Engineering as "Mile High."