By David Jen
Intended as a reminder of our continued dependence on fossil fuel energy, London-based art studio Paul Cocksedge Studio suspended half a metric ton of coal from the ceiling of Liverpool Cathedral in Liverpool, England, between Feb. 9 and March 12.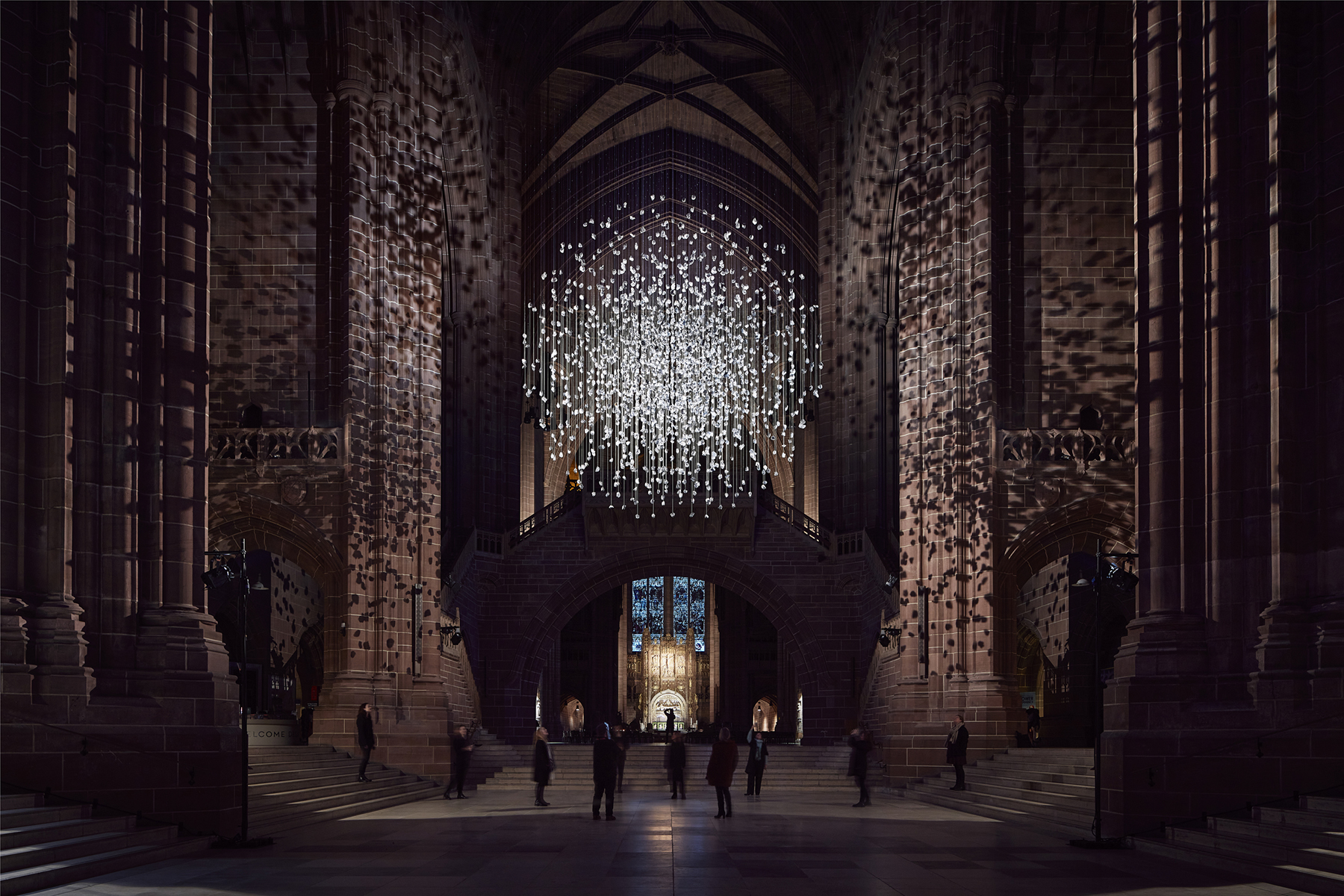 Titled Coalescence, the sculpture involved over 2,000 pieces of anthracite coal positioned, using 16 km of wire, into a spherical burst spanning 6 m across. It aimed to visualize the amount of coal needed to power a 200 W lightbulb for one year, according to written press material.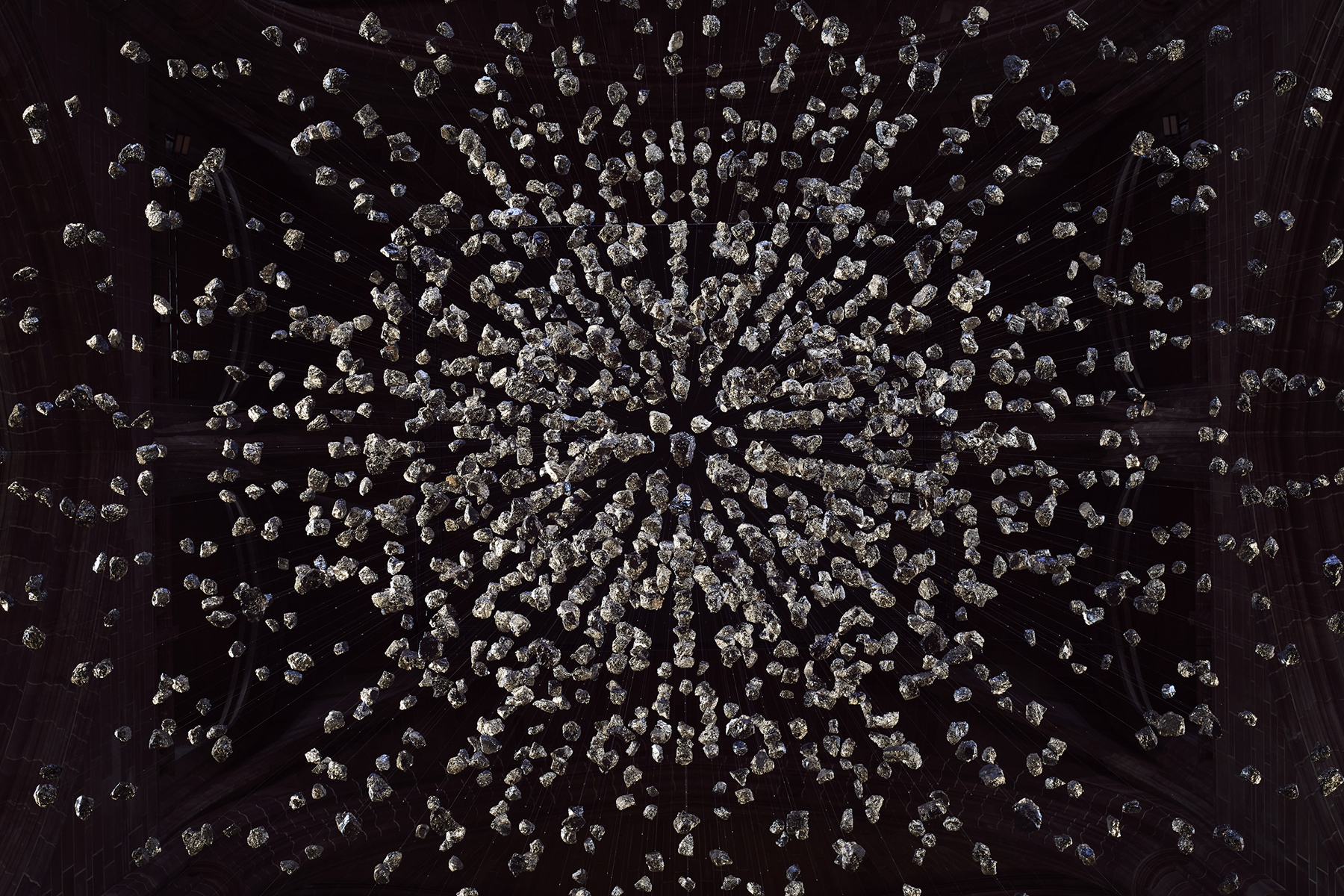 "The very fact that it takes all this coal to power one lightbulb is astonishing, and also a little bit uneasy," says Paul Cocksedge in written press material. "When you think about the amount of material being removed from the ground, that's taken millions of years to form, it gets you wondering."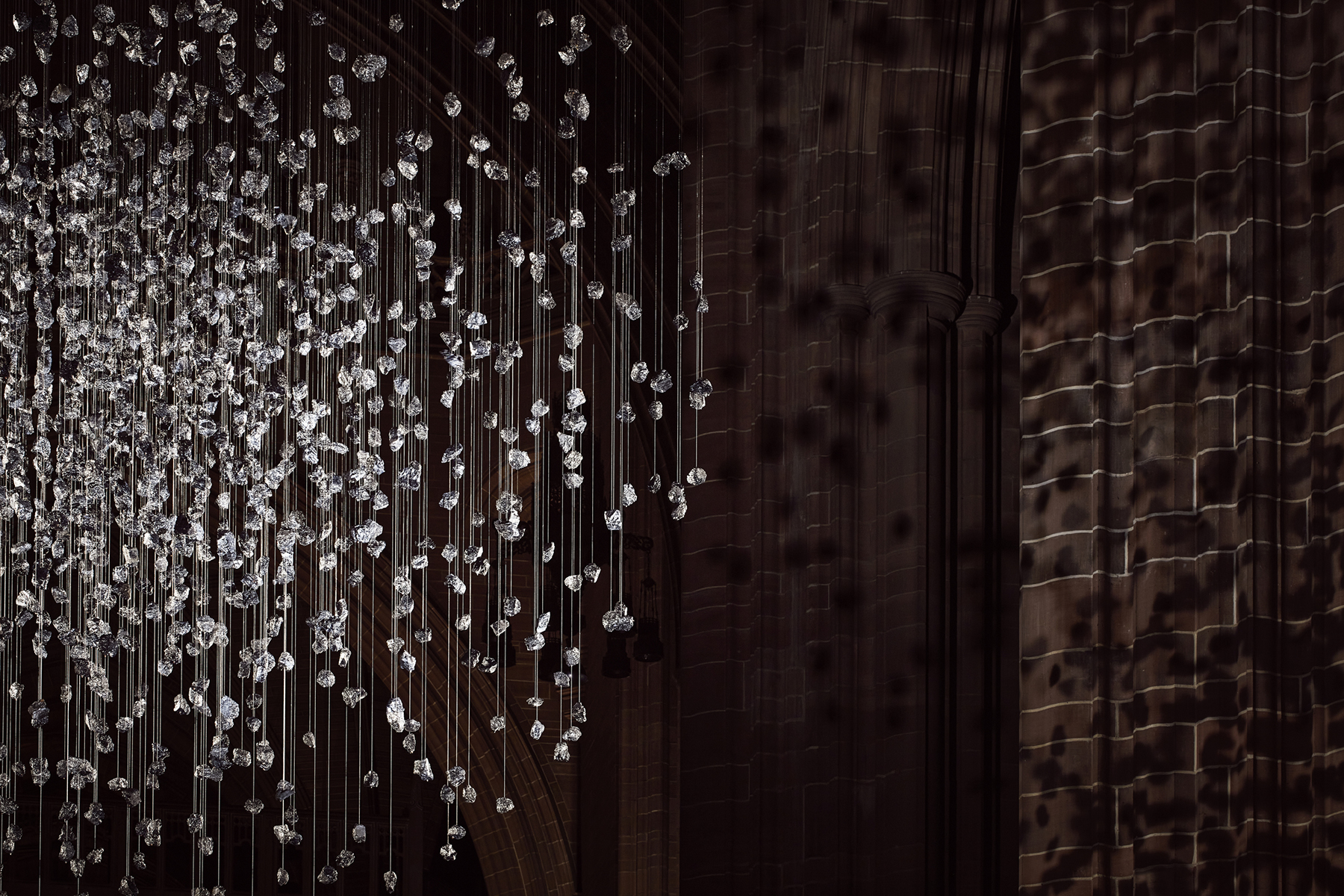 Liverpool Cathedral, designed by architect Sir Giles Gilbert Scott, began construction in 1904 and was consecrated in 1924. Its nave vault boasts a height of 36.5 m, and the cathedral stands as the largest in the United Kingdom, according to the cathedral's website.
The Gothic cathedral is hosting a two-year program of events, exhibitions, and artworks leading up to the building's 100th anniversary next year, in which the Coalescence sculpture participated.
As part of the sculpture's construction, Cocksedge took part personally in the coal excavation before hand-drilling each of the pieces.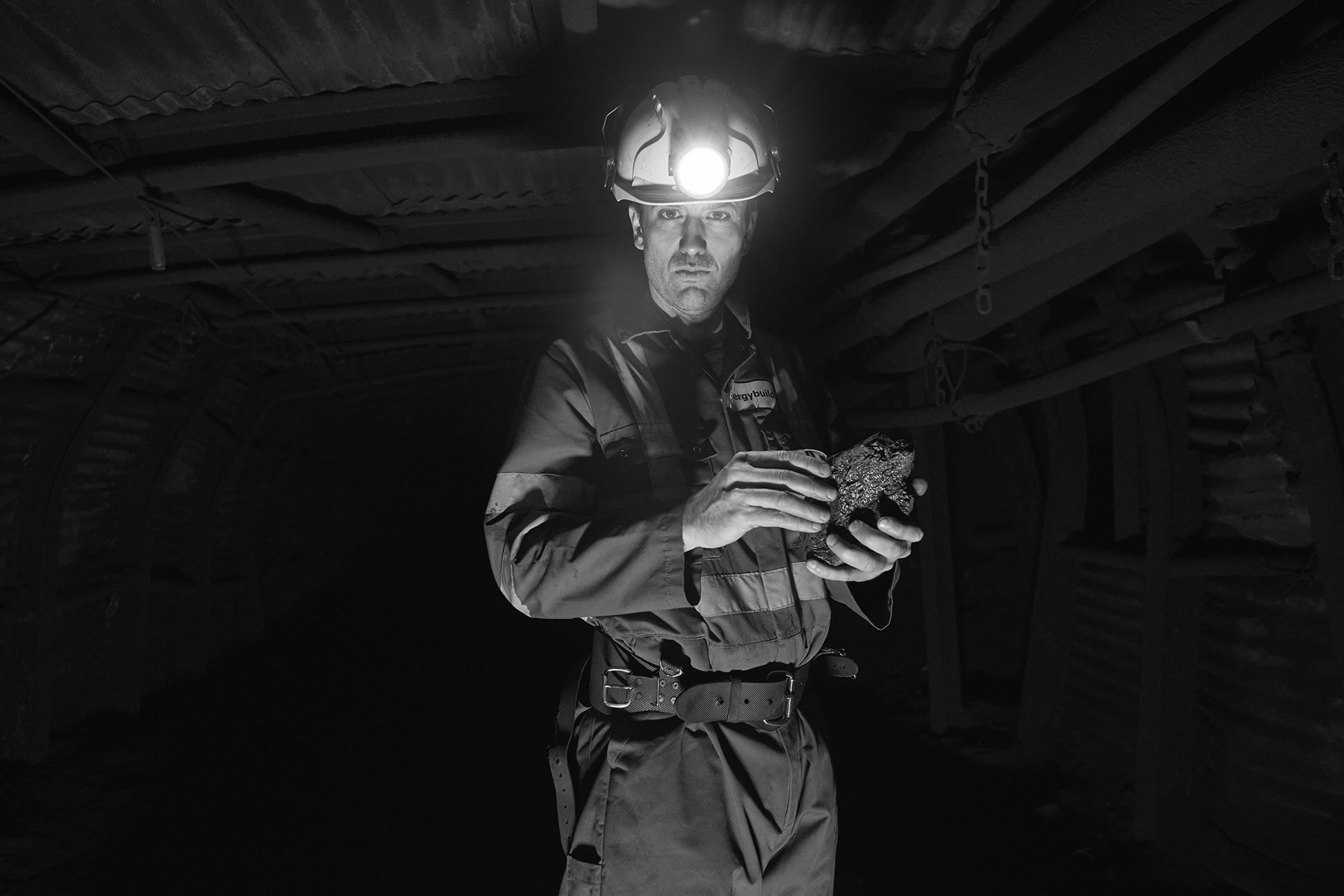 "Personally speaking, this piece was a wake-up call," he says in written press material. "Seeing this material being literally extracted from the earth was an eye-opening experience. Raising it into the public space of Liverpool Cathedral, particularly in a time when all of us are talking about energy consumption, felt apt."
Anthracite, the most energy dense of coal varieties, yields roughly 9.2 kWh of energy per kilogram, according to the British forestry organization Forest Research. Half a metric ton of anthracite would therefore yield about 4,600 kWh of energy.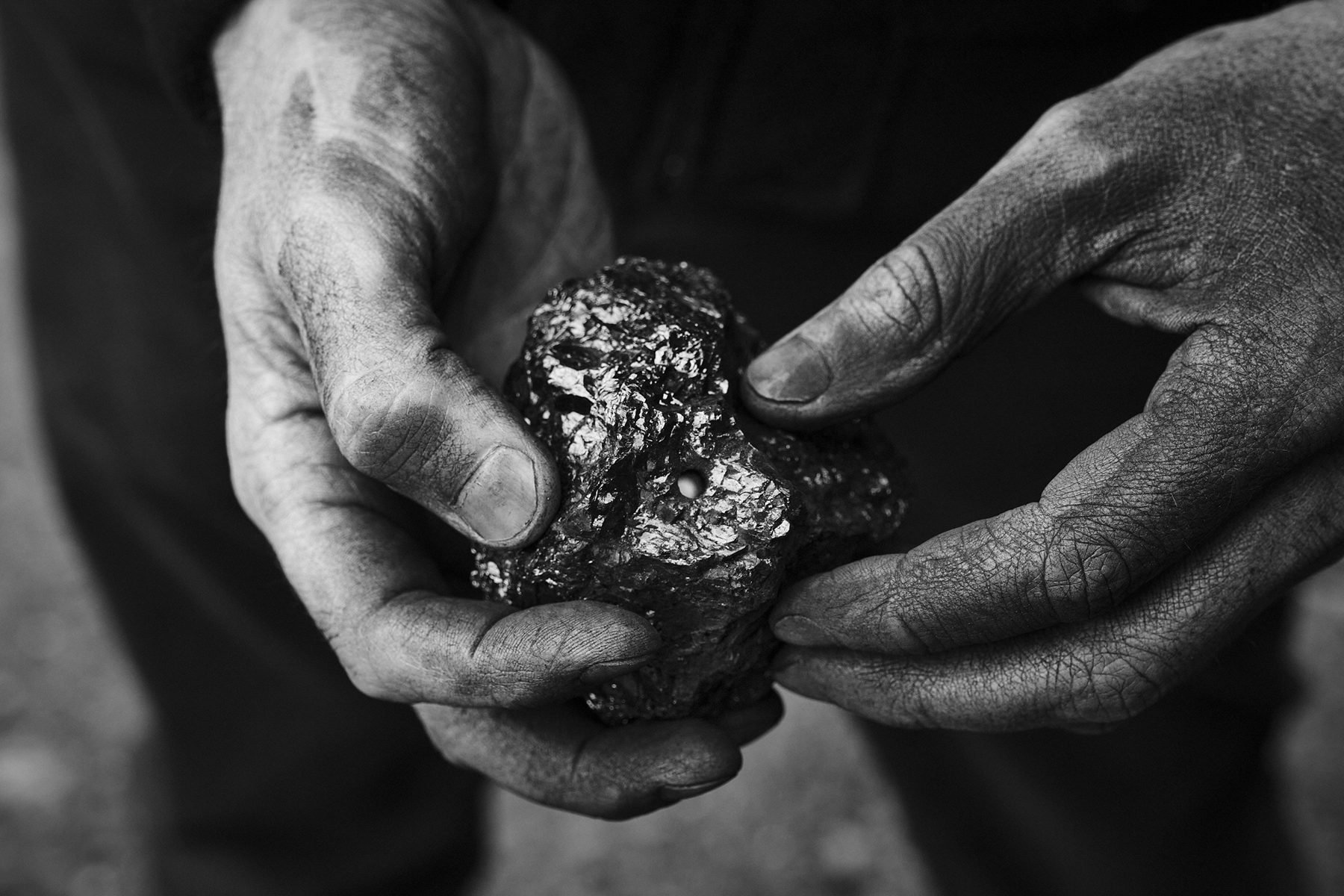 Coal, peat, and oil shale accounted for 44.4% of the world's greenhouse gas emissions in 2020, according to the International Energy Agency.
But electricity generation in the U.K. has shifted away from coal in favor of carbon-free sources in recent years. While coal accounted for 28.4% of the country's electricity mix in 2010, its share had dropped to 2.4% by 2021, based on data from the IEA. Solar and wind power combined rose from 2.7% to 24.8% of the mix over the same time period.
This article first appeared in Civil Engineering Online.