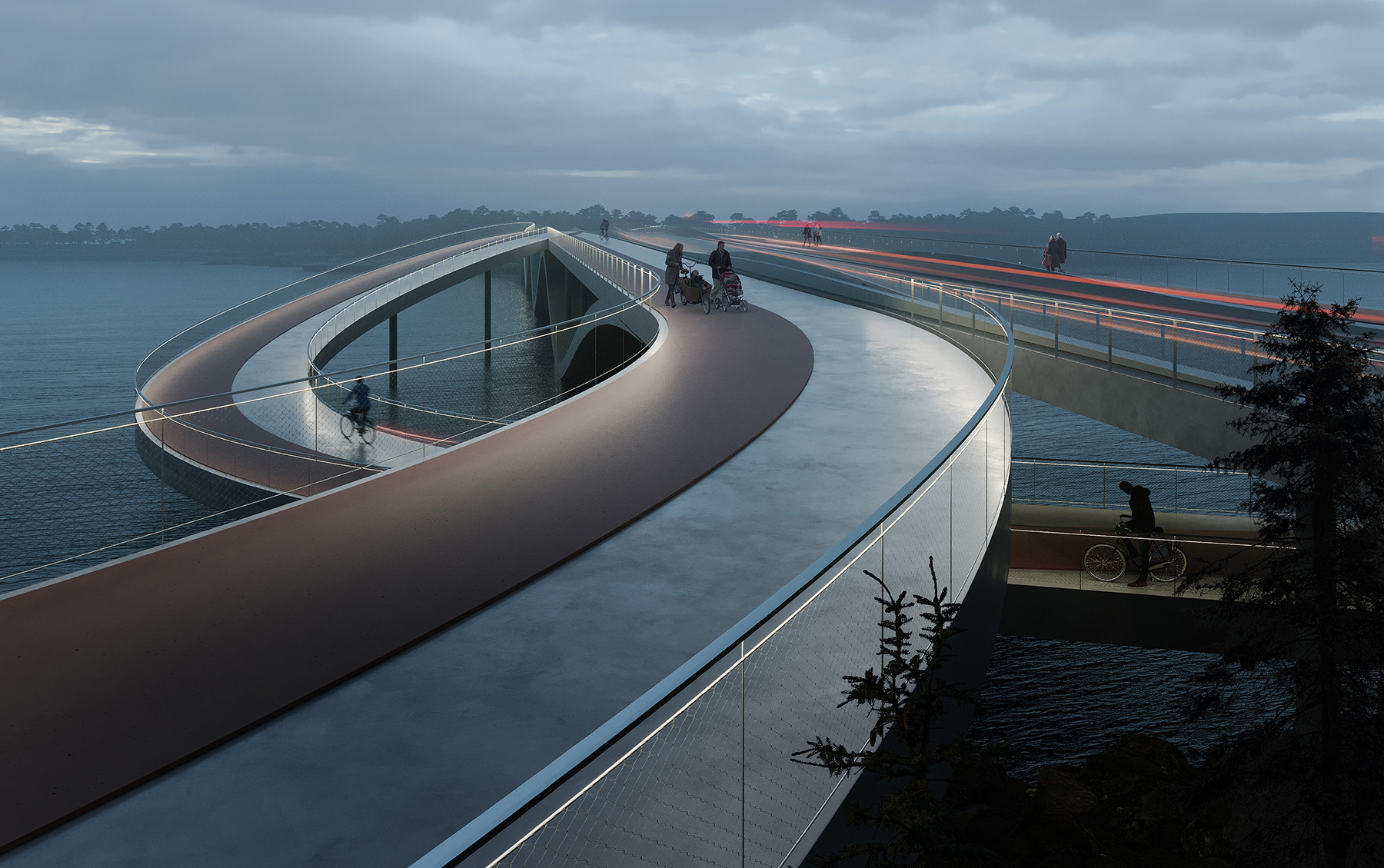 By David Jen
A proposed bridge design by MASSLAB, a studio in Porto, Portugal, envisions curving paths that would bundle together to traverse roughly 400 m of Fossvogur Bay, connecting Reykjavik and Kópavogur, Iceland's two largest cities. As designed, the bridge would play a key role in the area's decarbonization plans.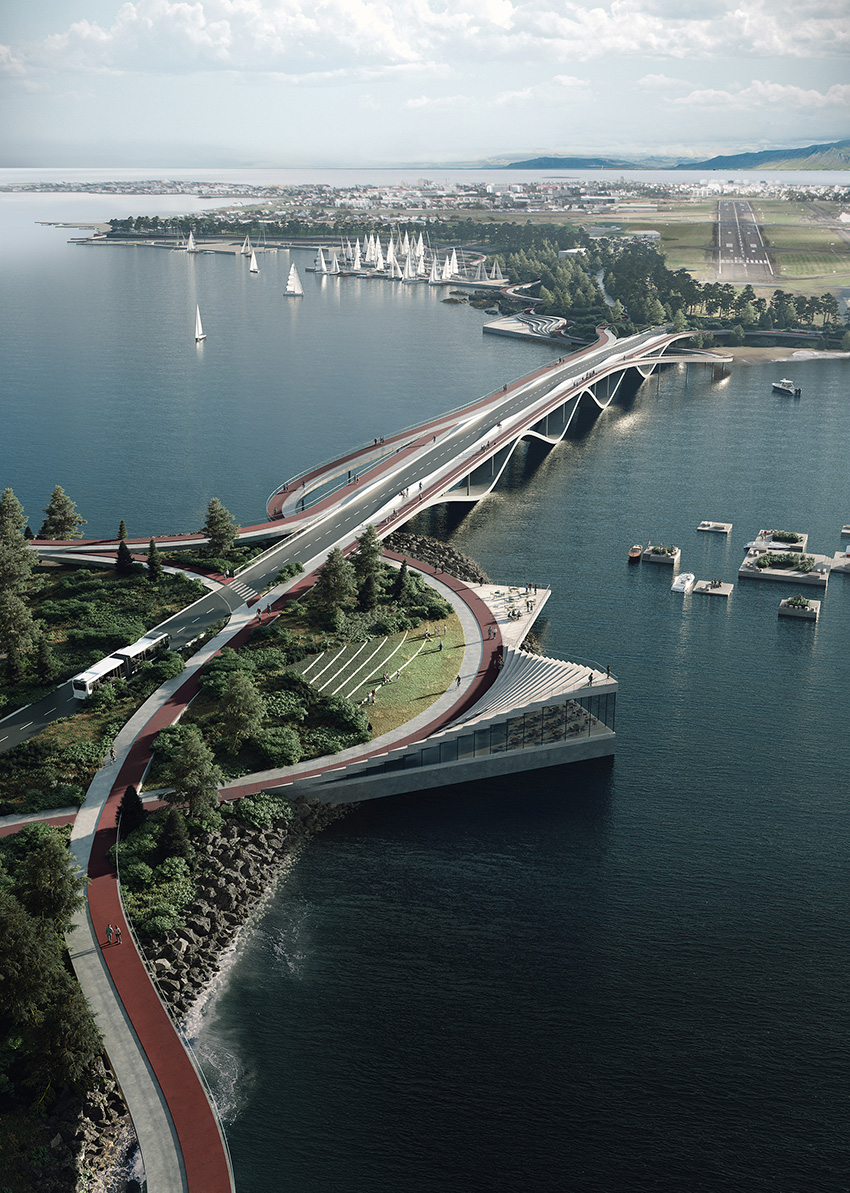 Dubbed the Intertwine Bridge, the structure's design calls for a built area of 48,900 sq m. The bridge would comprise a "continuous composite (steel-concrete) deck resting on a pair of sinusoidal concrete arches," according to a project description from MASSLAB. The arches, in turn, would be "monolithically connected to driven-socket piles."
The design's organic geometry was created to visually resonate with the bay's ever-moving water, per press materials about the design.
Bus, pedestrian, and cycle traffic would each enjoy dedicated lanes across the bay, with no provisions for car or mixed-use traffic on the bridge. These priorities align with the capital area's wider rapid transit plan, named Borgarlína, that seeks to lower the area's carbon emissions by upgrading the speed and reliability of its public transit system.
Borgarlína encompasses a redesigned bus rapid transit network that facilitates free-flowing public transit and adheres to the Institute of Transportation & Development Policy's international BRT Standard. Among other criteria, the standard specifies that bus lanes be fully separated from mixed traffic, placed in the middle of roadways to avoid roadside obstructions, and protected against cross traffic.
A Borgarlína evaluation, released in October 2020 by BRT Planning International LLC, identified Kópavogur as one of the most popular destinations from downtown Reykjavik. The area's new BRT network therefore will require a fast, direct route between the two cities to succeed.
The City of Reykjavik's Climate Policy, created in 2016, set a goal to reach carbon neutrality by 2040. To help accomplish this, the plan aims to increase bus travel to 12% of all trips by 2030 and convert all city-run buses and cars to environmentally friendly energy sources by the same year.
Lighting on the proposed bridge would complement the nearby Reykjavik Airport, as the visibility of arriving and departing aircraft imposed design constraints. Hidden, diffused lights would be used on the undersides of the railing along the paths, while short, vertical light poles would be used sparingly in the bus lane buffer zones, according to material from MASSLAB.
In addition to the bridge, MASSLAB's design also proposes programmatic elements along the shoreline to encourage visitors and anchor future waterfront development. The overall vision includes green spaces and cultural spots, among other features — all to stimulate private investment in the area. MASSLAB intended the resulting financial growth to fund future construction projects that would also promote tourism and bring money back to the city.
The design was submitted as part of the Competition for Fossvogsbru held by the Icelandic Road and Coastal Administration and the cities of Reykjavik and Kópavogur.
This article first appeared in Civil Engineering Online as "Car-free Icelandic bridge design would lower emissions." It appeared in the May/June 2023 print issue of Civil Engineering as "Designed for Decarbonization."