Snøhetta, a global integrated design firm, has been selected as the design architect for the Theodore Roosevelt Presidential Library, which will be set in the Badlands near Medora, North Dakota. Despite its name, the area is picturesque, with a dry terrain shaped by erosion.
Roosevelt was the 26th president of the United States and a renowned conservationist and naturalist. During his presidency, he helped establish 230 million acres of public lands, 150 million of which were set aside as national forests, according to the National Park Service. Theodore Roosevelt National Park is in western North Dakota, encompassing three geographic areas of the Badlands (the North, South, and Elkhorn Ranch units). The library complex will be adjacent to the South unit.
The library will nestle into the landscape, touching it lightly. The design was informed by Roosevelt's personal reflections on the landscape, his commitment to environmental stewardship, and the periods of quiet introspection and civic engagement that marked his life, according to material distributed by the architects.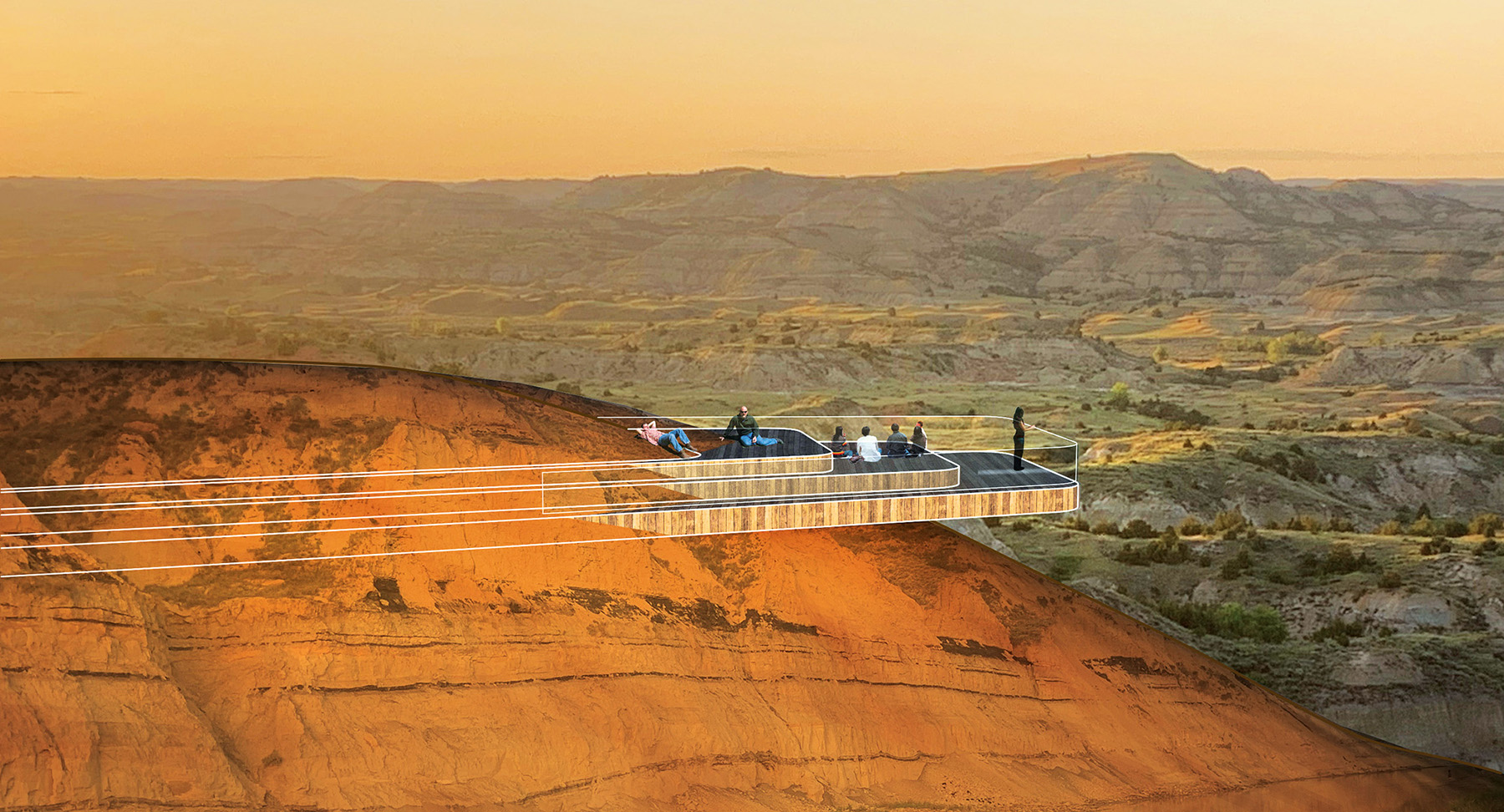 The main building will have a gently sloping, walkable roof that will be covered in grass. There will also be a large plaza that faces northeast, overlooking the park. A walking loop that surrounds the library will have access points to nearby hiking trails, including the state's well-known 144 mi long Maah Daah Hey Trail.
As of now, the loop will also include an enclosed pavilion that will offer views of a nearby wash, a so-called traveler's pavilion that will be located on a rock outcropping, and a sky pavilion that will offer space for gazing at stars and the blue sky — all of which will afford visitors spectacular views of the surrounding landscape.
The library will be built with locally sourced and renewable materials. When completed, it will use sophisticated energy systems that are anticipated to set a new standard for sustainable design in the region, according to the architects.
The Theodore Roosevelt Presidential Library Foundation, a nonprofit organization in charge of the library, chose Snøhetta's winning design from among 40 entries.
This article first appeared in the November 2020 issue of Civil Engineering as "Nestled into Nature."