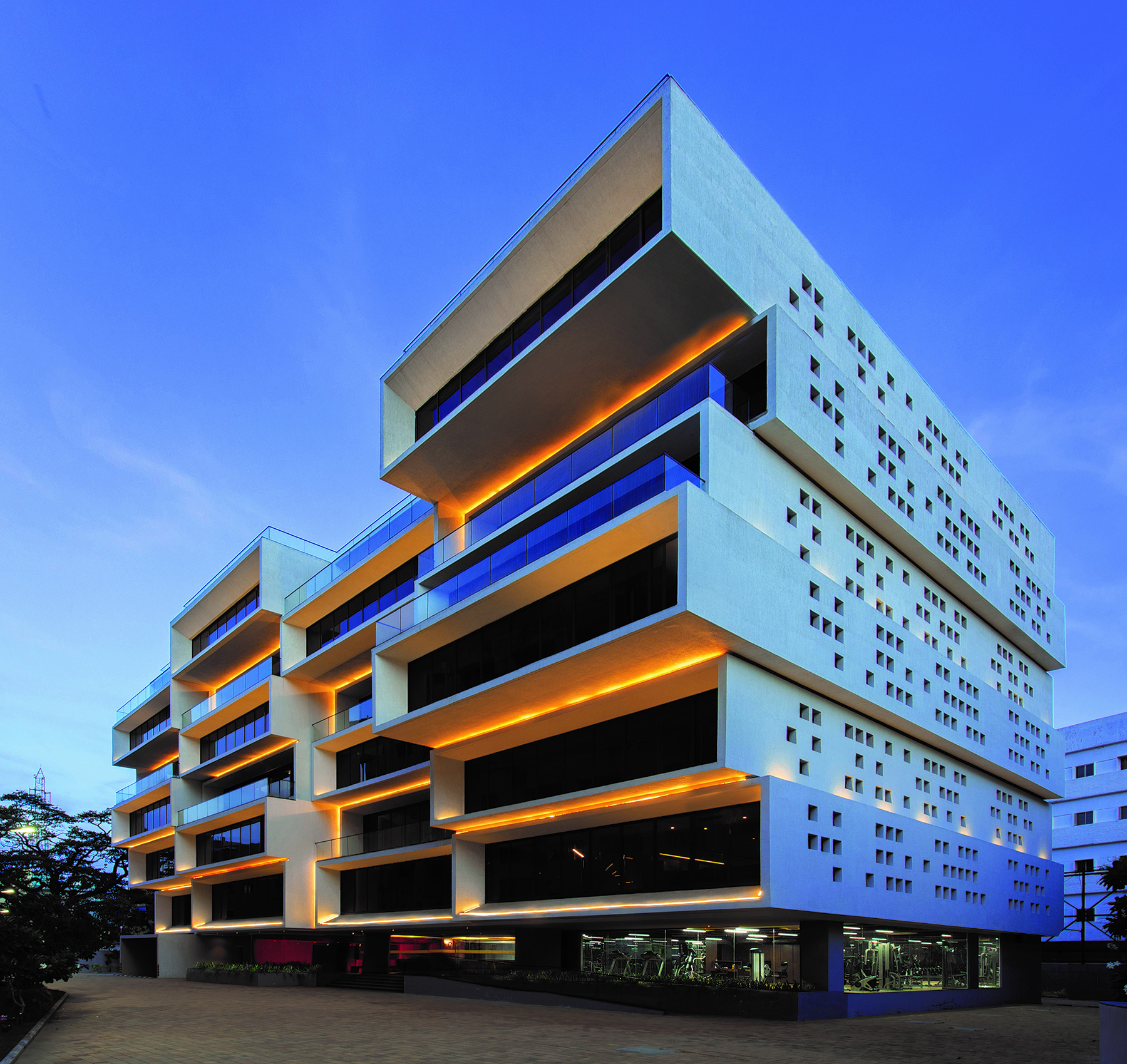 A recently completed office building in the southern Indian city of Chennai features a series of stacked, rectangular volumes, each cantilevering to create a sculptural form with outdoor spaces at every level, according to a press release from the developer, Chennai-based Akshaya Group. The seven-story Akshaya 27 building is located within Chennai's old business district on a challenging site that features narrow access from an arterial road.
The 8,000 sq m building is sandwiched between existing buildings on all sides, has no road frontage, and faced a 27 m height restriction. The ground-floor level features a smaller footprint than the offices rising above it — to facilitate easier vehicular circulation on the 4,098 sq m site — and features the building's lobby as well as a cafeteria and gymnasium. The offices vary in size from 165 to 270 sq m and step back and forth to create terraces at every floor.
The office spaces are all oriented toward the north while the service cores are located on the southern side of the structure as a buffer against heat gain in a city where the sun is always in the southern hemisphere and temperatures can exceed 35 degrees Celsius throughout the year.
The east and west facades also feature patterns of small, square windows to further reduce heat gain and help maintain the building's energy efficiency. The sun's power is harnessed for the building through rooftop solar panels that provide enough energy to illuminate all the public areas.
A rooftop landscaped garden complements the open terraces at each elevated floor. The Akshaya 27 project was designed by Mumbai, India-based Sanjay Puri Architects. AP Engineers and SR Associates, both based in Chennai, were the structural consultants and the mechanical, electrical, and plumbing systems consultants, respectively, according to Archidust.com, an Indian architectural and design website.
This article first appeared in the December 2020 issue of Civil Engineering as "Cantilevers Create Sculptural Office on Difficult Site."