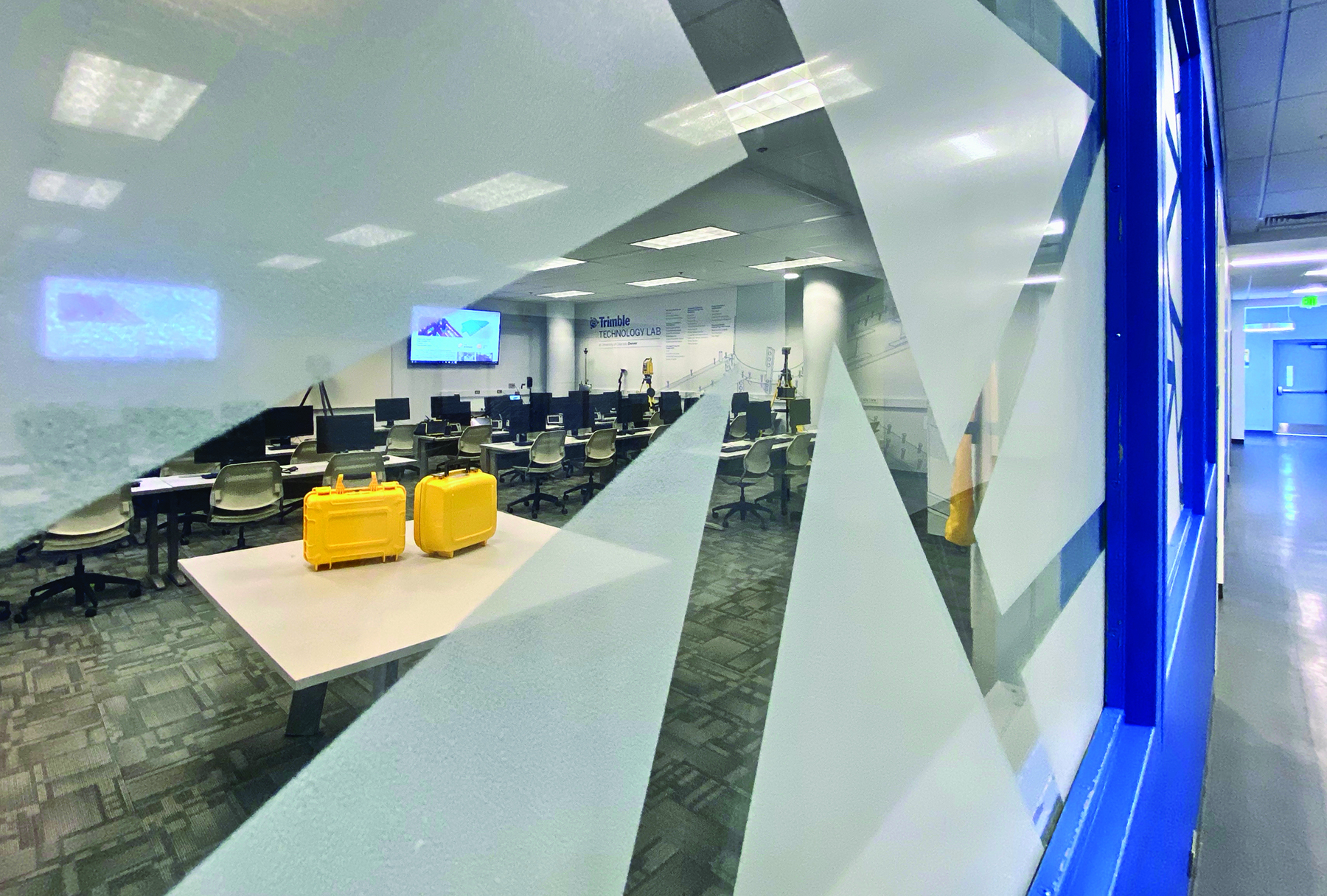 As part of its effort to provide the next generation of engineering and construction industry leaders with the technical knowledge necessary to be successful in their careers, global technology company Trimble has dedicated itself to bringing technology labs to universities and learning institutions worldwide. In November 2020, the company announced the opening of its three newest labs that were gifted to the University of Colorado Denver, the Illinois Institute of Technology in Chicago, and the University of São Paulo in Brazil.
This brings the total number of Trimble Technology Labs to 19 in 11 countries; 19 more are in the works. The program is relatively new. The first Trimble Tech Lab was established at the University of Massachusetts Amherst in 2016.
That lab came to be because of Alexander C. Schreyer, the director of UMass Amherst's Building and Construction Technology program, who approached Trimble about adding a larger portfolio of Trimble products to the university's program, according to Allyson McDuffie, the director of education and outreach at Trimble. Schreyer was interested in this expansion "to help provide students with a deeper, more well-rounded exposure to construction technologies in general but especially in the connection between office and field technologies," explains McDuffie. "He thought it would provide a great advantage as students were graduating into their careers."
"I thought, 'Well, that's a great idea. I think I can form a program out of that actually,'" McDuffie says. "And so we did."
Schreyer's efforts not only helped create the first Trimble Technology Lab, but his ideas were also integral to the development of a framework for how that process would look for other institutions interested in partnering with Trimble. Having a faculty champion within an institution who will spearhead the proposal and drive the process is key to it ultimately being successful, according to McDuffie. In some instances, universities approach Trimble first; in others Trimble approaches universities first. In both scenarios, a faculty advocate who navigates the process on the university side is key. "This is a legal gift agreement that we sign. It has to go through a lot of processes and people," McDuffie says. The university advocate "really manages the chaos behind the curtain, as I like to say it."
The tech labs provide educators and students with access to the most up-to-date hardware and software tools that Trimble makes as well as the training necessary to fully employ them. The tech labs are required to seat a minimum of 25 students — although most are larger than that — and are established with in-kind donations from Trimble.
Each institution receives a core selection of Trimble hardware and software, with additional supplementary products granted, depending on what students will be specializing in at a particular institution, according to McDuffie.
"Every portfolio that is gifted is customized," she says. "I don't think there's been one list of products that has been exactly the same school to school, but most labs do include a core set of solutions." That core software typically includes Trimble's SketchUp Pro, Tekla Structures, Tekla Structural Designer, Tekla Tedds, Trimble Connect, Trimble RealWorks, Trimble Business Center, Trimble SysQue, and Accubid. Typically, the core hardware includes robotic and mechanical total stations used for surveying in construction, 3D laser scanners, Trimble Rapid Positioning System, Trimble Field Link, global navigation satellite system technology, and Trimble XR10 with Hololens 2.
McDuffie and her colleagues work with each university to determine the specialized products the lab will offer. "We work with the university to build that list together," McDuffie says. "They may initially ask for a list of things in their proposal, but when we read through and really understand their program and their areas of research and how they want (students) to get onboarded, we can better help them identify things they might not even know exist."
The University of Colorado Denver's lab will be located in its College of Engineering, Design and Computing. It will support departments and programs in construction engineering and construction management, geography and environmental sciences, physics, and urban and regional planning. The gift is expected to "accelerate our strategic vision to educate diverse graduates who will not only make an immediate impact in the architecture, engineering, and construction industry but will (also) emerge as its future leaders," says Martin Dunn, Ph.D., the dean of the university's College of Engineering, Design and Computing, who was quoted in a press release about the new tech lab. Dunn expects that the impact of the gift will extend across the university's campus and allow interdisciplinary collaboration among engineers, architects, construction managers, and scientists as they create and implement technological innovations in the built environment.
The Illinois Tech lab was gifted to the Department of Civil, Architectural, and Environmental Engineering's Construction Engineering and Management Program. The university expects that the lab will enable the expansion of its expertise in civil and environmental infrastructure, building construction field systems, project controls, and collaboration. The hands-on learning that the tech lab will make possible aligns closely with the university's focus on hands-on pedagogy, according to Ernie Iseminger, the vice president for advancement at Illinois Tech, who was quoted in a press release announcing the lab.
At the University of São Paulo, the new lab will expand the university's capabilities in 3D building design, building information modeling, surveying and georeferencing, scanning, and the sustainable built environment. This is the first time Trimble will open a tech lab in South America, according to the company.
The lab is part of the university's Polytechnic School of Engineering and will provide engineering students — as well as those in the Civil Construction Department and the Transportation Department — with the equipment to scan buildings or construction sites, design architectural building models, and perform digital construction cost estimates and scheduling to improve productivity and reduce costs. "For the University of São Paulo, receiving a gift from Trimble provides not just a financial advantage to improve a lab or support research," says Vahan Agopyan, Ph.D., the president of the university. "First, it speaks to the trust invested in what we are doing; second, it is an endorsement of our activities; and third, the lab collaboration provides an ongoing dialogue with Trimble, which we believe will become even stronger as we continue to build our relationship with a construction technology leader."
As with most learning institutions, there have been changes due to COVID-19. "It varies, by school and sometimes even by department, whether students are in-person, remote, or some hybrid of the two. Although, this late in the term, most everyone has gone completely remote," says Amy Northcutt, the senior education program manager at Trimble. "Luckily, some of the solutions that Trimble has provided could already be remotely accessed by students or faculty, regardless of COVID-19. Even in some cases where that wasn't initially the intent, we've been able to increase the number of licenses so that students can now access the additional tools from their remote locations," Northcutt explains.
When it comes to partnering with institutions to create these labs, Trimble's goal is quality rather than quantity: "The objective is not how many; it's how many good relationships we can have and maintain," McDuffie says.
"These labs are really a considerable long-term investment on our part," McDuffie explains. "They include ongoing support and training, (and) we have regular check-ins with the faculty. We require regular reporting from them on how they have implemented things that we have provided and areas of research where they might be using our solutions," she says. "We try and communicate with each campus as often as possible, (and) in many cases we end up granting new technologies that we identify and think they can use as they become available."
Trimble has also funded grants for research and student clubs at universities where tech labs have been gifted, although those are separate opportunities that typically evolve organically, according to McDuffie.
This year, Trimble is focusing on developing labs and partnerships with historically black colleges and universities, minority-serving institutions, Hispanic-serving institutions, and tribal colleges. But any university or institution interested in partnering with Trimble to develop a tech lab is invited to contact the company.
More information about applying to Trimble to establish a tech lab at a university or institution can be found at its website, education.trimble.com/programs/trimble-technology-labs. The process of having a Trimble tech lab gifted to a university typically takes between four and eight months.
This article first appeared in the January/February 2021 issue of Civil Engineering as "Trimble Donates In-Kind Tech Labs across the Globe."