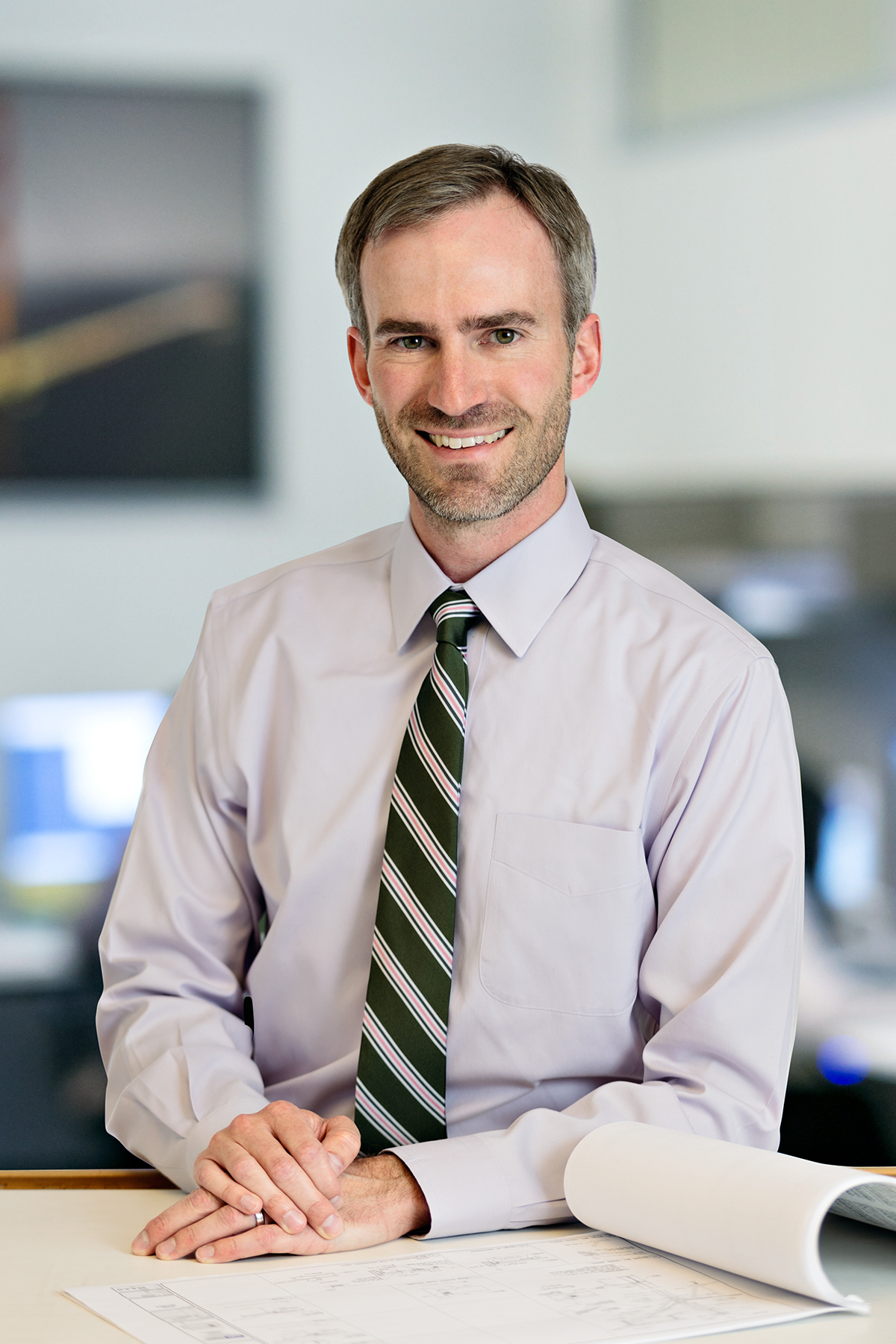 Cale Ash, P.E., S.E., is a principal of Degenkolb Engineers, an employee-owned structural engineering practice with six offices on the West Coast. Ash is the group director of the firm's Seattle office. He joined Degenkolb in 2003 after graduating from the University of Illinois at Urbana-Champaign. He chatted with Civil Engineering about Degenkolb's efforts to maintain the company culture during the pandemic's enforced period of remote work as well as how the positive solutions developed during the pandemic will inform the company's post-pandemic operations.
1. How would you define Degenkolb's company culture?
We are always trying to understand what our clients' goals are for their projects and then understand what our role is in achieving those goals. We try to take a fresh look at each project because we are always looking for ways to improve our processes or the work that we're delivering to our clients.
2. What did the company do to foster this culture pre-pandemic?
We're organized into practice areas, and each group focuses on a different market sector such as health care, education, and so on. We have a variety of ways that we share knowledge across the company at the staff engineer level. We have six offices now, and before the pandemic we had an annual Degenkolb conference, where everyone gets together, typically in the Bay Area. It is a technical engineering conference like ASCE's Structures Congress, for instance, and we would share information on projects, committee work, or new skills as a way to get that information out to all the engineers in the company.
The annual conference was one way that we learned from each other and from our past projects to improve our performance on future ones. Usually, each office had its own engineer forums too, oftentimes as a lunch meeting. These were a way to share information with each other on a smaller scale about projects, committee work, or even a useful seminar that someone attended.
When it came to activities outside the workday, each office would often have a social chair who organized happy hours or, in the larger offices, soccer and softball teams. Each office also traditionally had a summer picnic for the staff and their families. And then typically in January each office had a holiday party for employees and their partners to celebrate the past year. So, those are some of the ways that we tried to build a network across the individual offices pre-pandemic.
The fact that we are employee-owned with pretty broad ownership means that there are a lot of owners in the company, so we like to think that these events promote "ownership thinking" of how to meet our clients' needs while building a successful business.
3. What practical changes has your office implemented in response to COVID-19 to make sure that your staff members remain safe as they work remotely?
We transitioned to fully remote work in late March of last year. In the fall of 2019, we had, fortuitously it turns out, transitioned to using Microsoft Teams for a lot of our communication and videoconferencing. So, we had a nice technology tool already set up that helped us work remotely — within my office and among all the Degenkolb offices.
4. What practical changes did you make to ensure staff safety for those who still need to conduct site visits?
The first thing that we did was to determine employees' comfort levels when it came to visiting a site. If there is a need for a site visit, we ask the site manager about the COVID protocols in place. Early on there were more questions. I'd say probably in the last six months or so we've reached a point where just about everyone knows what the protocols are. But we want to make sure that the site managers are taking COVID safety seriously, just like they take safety seriously on an active construction site.
5. Taking it beyond just safety: What have you implemented to maintain your company culture during the pandemic and widespread remote work?
This is one that we've really thought a lot about. Right away, after we transitioned to remote, we thought about how we could make sure that we were connecting with all our employees on a regular basis. In the Seattle office, we make sure that we check in with our staff regularly, particularly our younger staff.
As a company, we try to do one-on-one check-ins every three to four weeks. In the Seattle office, we are also doing weekly group check-ins. Every Monday morning at 9, we have a Teams video staff meeting. We usually start with conversations about what people did over the weekend, current events, or what have you.
We are continuing to hold every week or so our market sector meetings, which are usually focused on project pursuits. And we also have committees that continue to meet regularly, though remotely.
On the social side, when we realized last summer that we weren't going to be able to do our normal summer picnic, we encouraged engineers to organize little get-togethers for smaller groups of people in parks that might be near their houses. Just for a chance to — in a safe way — see each other for that personal connection that they're missing when they're stuck looking at their computer screens all the time. We didn't do any catering and we didn't want to do anything potluck style, so we told people that they could expense it if they wanted to buy some snacks and drinks for the gathering.
6. Have there been any "misses" that you needed to subsequently tweak?
Well, yes, in regard to the same topic: the summer picnic. As it turns out, there ended up being only a few people who were interested in helping organize the gatherings. But I think that's probably a natural dynamic in an office. Some people are more interested in building social networks, and some people are more proactive and willing to volunteer for a responsibility like that. We had hoped that there would be more interest in these little get-togethers.
On the work side of it, typically our model is to hire engineers coming out of college and then train and mentor them through project work. That is one thing that has been more challenging: checking in with people to see if they are getting the support they need. If they were in the office, it would be easier for them to just turn to the person sitting near them to ask some questions. Or they might even overhear a conversation and learn from it or add to it. So, it was hard to figure out a good way to do that type of mentoring.
To solve that mentoring issue, my colleague, who is the engineering manager in our office, organized what he calls coffee breaks. He has a 15-minute check-in once a week with a random grouping of people from the office as a way to somewhat replicate that in-office experience; it's like a virtual watercooler conversation.
As I think of my role as a project manager, it has been challenging during remote work to stay on top of project progress. Whereas before the pandemic, I could walk around and quickly chat with a couple of people on a project team to check where they were, now I'm either trying to schedule a meeting or talking to people one-on-one. I think it ends up taking a little bit more communication to make sure that people are exchanging the information they need to within the project teams.
To help with this, one thing I have found successful is to hold a short standing meeting at the beginning of a workday, like they do on a job site to talk about what each trade is going to do. So instead of having just one larger meeting every week, we might have several 30-minute check-ins to see the progress people have made so far, where the pain points might be, and what needs some attention in order to just keep the project moving forward.
7. Have there been any changes that have been so successful you'd like to see them continued after the pandemic?
A few come to mind. With the pandemic, there have been opportunities to trim out some unnecessary travel as people are getting more comfortable using videoconference calling platforms, either for meetings within or between offices or with clients.
Another success relates to flexibility. Some employees — myself included — have taken the opportunity that telecommuting has made possible to get out of town and spend more time with family or even do a longer vacation somewhere with good internet access. You can stay engaged and productive on your projects while keeping some flexibility for personal or family reasons. And I think that's something that we're still trying to finalize: how to take advantage of the technology tools that we've come to rely on in the last year to improve our flexibility as a workplace.
This article first appeared in the May/June 2021 issue of Civil Engineering as "Maintaining the Company Culture When Working Remotely: Now and Post-Pandemic."