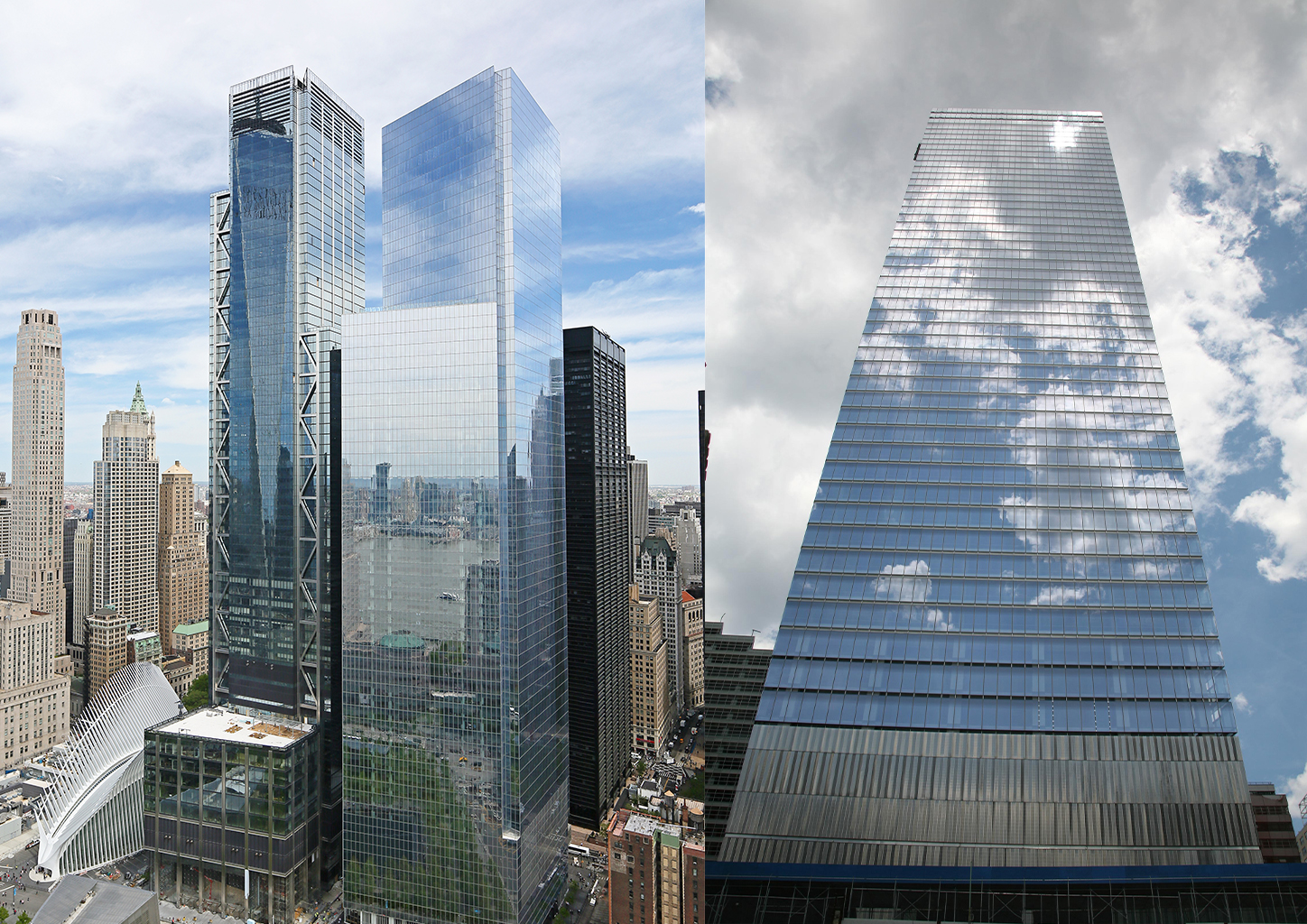 By Laurie A. Shuster
Along with the twin towers, known as 1 WTC and 2 WTC, all the skyscrapers at the World Trade Center complex were destroyed or badly damaged, including 3 through 7 WTC, as was the Port Authority Trans-Hudson, known as PATH, rail terminal.
The master plan of architect Daniel Libeskind, AIA, for the redevelopment of the site called for half of the 16-acre site to be devoted to public space, including a memorial and memorial museum (see pages 48-49), and the other half to be devoted to rebuilding sustainable office towers.
About 3 WTC
Architect: Rogers Stirk Harbour + Partners.
Structural engineering firm: WSP.
Most recently completed tower, June 2018.
1,079 ft in height (80 stories).
Clad in stainless steel, the exterior frame connects to load-sharing K-shaped bracing at the corners. This K bracing enables all corners of the tower to be free from columns, maximizing views.
Ground-level podium houses retail space while tower above hosts office space.
About 4 WTC
Architect: Maki and Associates.
Structural engineering firm: LERA Consulting Structural Engineers.
Completed in November 2013.
977 ft in height (72 stories).
Steel frame, including perimeter columns, erected before concrete core. Steel frame encapsulated in reinforced concrete.
Floors plans are parallelograms from levels 15 to 54 and trapezoids from levels 57 to 72.
About 7 WTC
Structural engineering firm: WSP.
First of the World Trade Center towers to be completed, in May 2006.
741 ft in height (52 stories).
Uses ultraclear, low-iron glass and stainless steel spandrels behind the glass to help reflect sunlight.
First New York City commercial office building to be certified in LEED; received a gold level rating. Made with recycled steel and insulation and uses captured rainwater to help cool the building.
Although some foundation work for a planned 2 WTC tower has been completed, the final design of the tower, as well as an anticipated 5 WTC, is still in planning. The eight-story 6 WTC was damaged in the terrorist attacks and was demolished to make room for the new 1 WTC. At present, there are no plans to replace 6 WTC.
Laurie A. Shuster is the editor in chief of Civil Engineering.
This article first appeared in the September/October 2021 issue of Civil Engineering.
Read the next article in the collection: "From the ashes: The World Trade Center PATH Station."