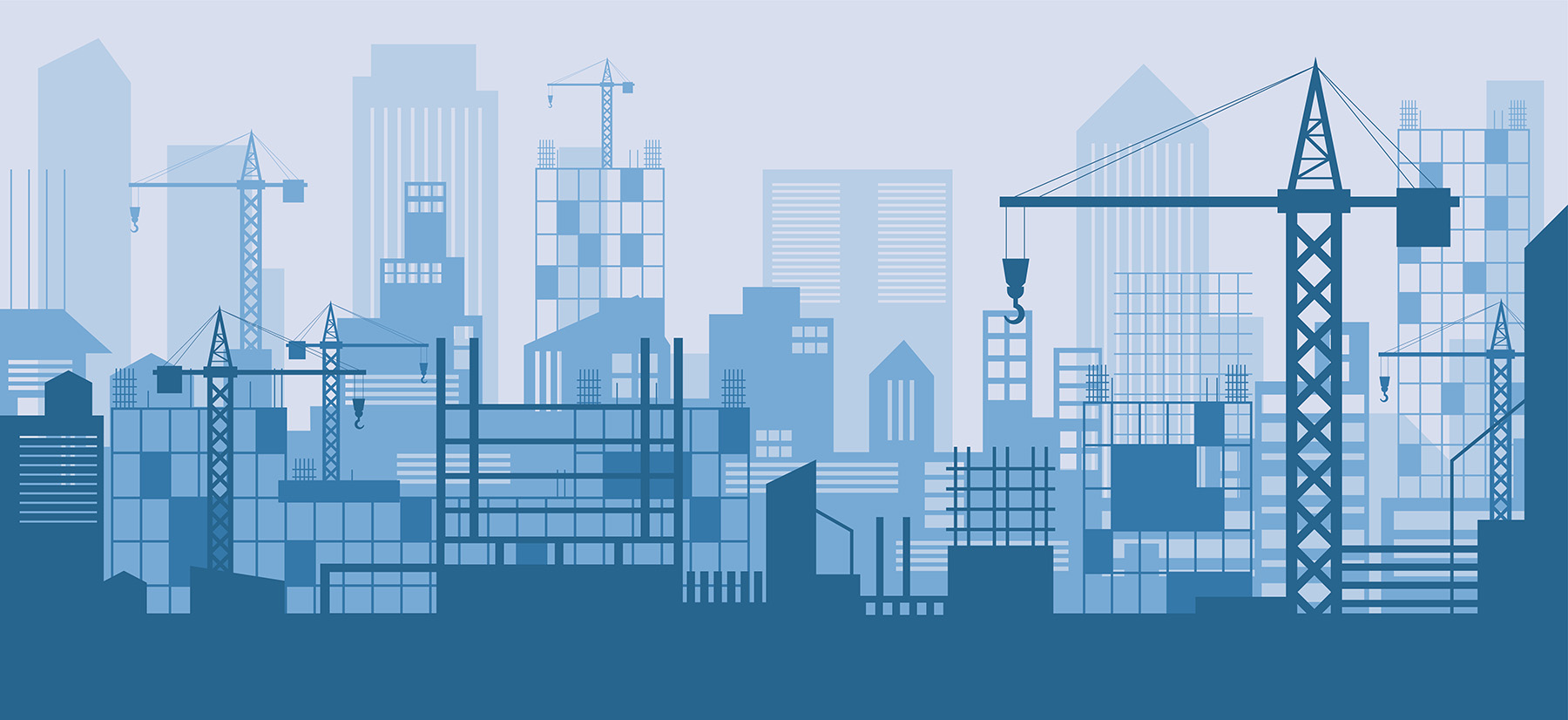 By Jay Landers
The U.S. architecture, engineering, and construction industry is on track to grow in 2022, thanks in large part to the massive new federal infrastructure spending recently signed into law. However, pressure from labor shortages, supply chain disruptions, and high materials prices could moderate growth.
For the U.S. architecture, engineering, and construction industry, 2022 is suddenly looking up. In mid-November President Joe Biden signed into law the Infrastructure Investment and Jobs Act (H.R. 3684), a five-year, $1.2 trillion package providing historic levels of infrastructure funding. With this, many industry observers expect an overall strong performance for much of the AEC sector in 2022. Indeed, 2022 may mark the start of several banner years, as much of the massive new federal infrastructure spending is not expected to reach markets until later this year at the earliest.
Amid the onset of a global pandemic and subsequent lockdowns in countries around the world, many sectors within the AEC industry either languished or suffered serious setbacks in 2020. Throughout 2021, labor shortages, supply chain disruptions, and high prices for many construction materials affected the entire AEC sector.
Despite these hurdles, residential construction remained strong in 2021, far outpacing all other industry subsectors as it continued the torrid growth that began in 2020. Meanwhile, the nonresidential building sector remained stable, though a handful of subsectors hit hard by COVID-19 — notably lodging, offices, public safety, and amusement and recreation — continued their downward trajectories. Finally, the nonbuilding sector, which includes traditional infrastructure categories, showed mixed results during 2021, led by modest growth in the drinking water and wastewater treatment subsectors.
Even before the IIJA was signed into law, some economists noted the degree to which the AEC industry appeared on track to grow in 2022. For example, proposal activity for AEC firms remained strong in the third quarter of 2021, says David Burstein, P.E., a director and senior consultant for PSMJ Resources Inc., which provides consulting services to AEC firms.
To assess such activity, PSMJ surveys industry participants on a quarterly basis to determine whether they have had more or fewer opportunities to submit project bid proposals compared to the previous quarter. The company then tallies the results in the form of what it calls the net plus/minus index, which expresses the difference between the percentage of firms reporting an increase in proposal activity and those reporting a decrease.
These findings serve as a leading indicator of future business activity in the AEC industry, Burstein says. "If proposal opportunities are increasing, then (project) backlog is going to increase, revenues are going to increase, and cash flow is going to increase down the road," he explains. On the other hand, a decline in proposal opportunities likely signals a decrease in backlogs, revenues, and cash flow in the future.
For the third quarter of 2021, the overall NPMI for proposal opportunities was 38%, according to an Oct. 7 news release from PSMJ. Although it represented a decline from the 52% NPMI set during the second quarter of 2021, the 38% figure "still marked the third-highest (third quarter) NPMI in the 18-year history" of the company's quarterly market forecasts, according to the release.
In addition to tallying an overall NPMI for the AEC sector, the company also reports individual NPMIs for 12 major markets: housing, commercial users, commercial developers, light industrial, heavy industrial, energy and utilities, health care, environmental, education, transportation, water/wastewater, and other government buildings. A comparison of the third-quarter NPMIs for these categories in 2020 and 2021 revealed additional good news, Burstein says. "Every major market improved since last year," he says.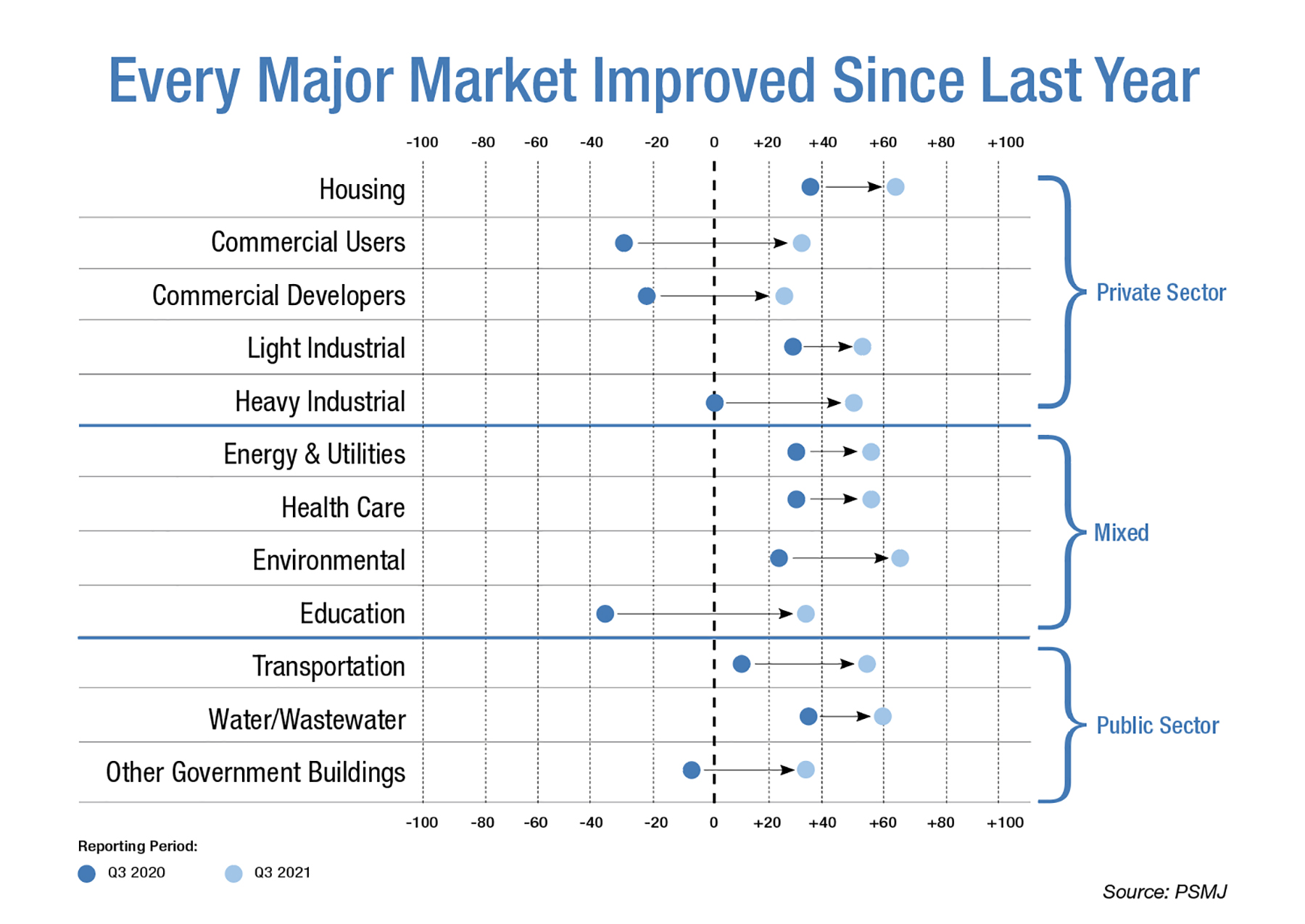 Burstein attributes much of the economic improvement in the past year to reduced uncertainty regarding COVID-19. "When there's uncertainty, people hold back on capital expenditures," he says. "They're not going to make long-term capital expenditures when they don't have a good idea of what the future is."
Another factor is the record sums of money that the federal government and the states have spent since the onset of the pandemic. "There have already been trillions of dollars of stimulus that have gone into a lot of these markets," Burstein says.
A much better year
Although the pandemic and the resulting economic uncertainty remain concerns, 2022 is widely expected to be a much better year for the AEC industry. "Our overall outlook for the industry is very, very strong" for 2022, says Rebecca Zofnass, a managing partner for the Environmental Financial Consulting Group, which advises AEC firms on financial and strategic matters. "That's based on what all the individual firms we gather data from are projecting for next year," Zofnass says. "Both in terms of growth and profit margins, we are seeing a very, very quick recovery out of 2020 — certainly not the same lasting impacts that we saw in previous downturns."
In part, the AEC industry can expect to ride the coattails of a broader economy that is improving nationwide. "At the 30,000 foot level, our outlook for the economy remains quite optimistic," says Cris deRitis, Ph.D., the deputy chief economist for Moody's Analytics. "We've had some slowdowns recently due to the delta variant, but now things are looking up as the COVID case counts come down," deRitis says.
"Our expectation is that the economy will get back in gear" in 2022 and beyond, deRitis says. For 2022, he projects an overall growth rate for the U.S. economy of around 4% to 4.5%. Although hardly record setting, such a rate of growth is "more than double the long-run average for (gross domestic product)," deRitis notes.
A gradual return to some semblance of economic normality is expected to boost growth into the future, says Brian Strawberry, a senior economist for the FMI Corp., a management consulting and investment banking firm that specializes in the engineering and construction industries. "Overall, our outlook for the next several years is very positive, in that we're seeing increased activity and investment in public and private businesses," Strawberry says.
Five years, nearly $550 billion
The recent enactment of the massive IIJA is expected to further boost the prospects for many in the AEC sector. Approved by the Senate in August 2021 and the House in early November, the $1.2 trillion legislation, also referred to as the Bipartisan Infrastructure Deal, includes nearly $550 billion in new federal funding over five years for multiple infrastructure categories.
In other good news for those operating in the infrastructure sector, the Bipartisan Infrastructure Deal also reauthorized the federal surface transportation program. In doing so, Congress allocated $383.4 billion over five years to surface transportation, an increase of 22% from current spending levels.
"This Bipartisan Infrastructure Deal will rebuild America's roads, bridges, and rails, expand access to clean drinking water, ensure every American has access to high-speed internet, tackle the climate crisis, advance environmental justice, and invest in communities that have too often been left behind," states a Nov. 6 fact sheet from the White House regarding the legislation.
Although no one doubts that the new federal funding from the legislation will provide a boon for the AEC industry, exactly when that boon will begin remains a matter of speculation. "We are talking about the government," Burstein says. "This is going to happen at government speed," rather than private-sector speed, he says. On the bright side, the funding will "be handled mostly by existing public agencies," Burstein notes. "It's not like they have to create new agencies to handle this money. That should help some."
The initial funding allocated by the infrastructure bill is "going to start hitting the public works agencies in mid- to late-2022 and (will) probably start hitting civil engineering firms in late 2022," Burstein says. "The good news for civil engineering firms is that their portion of it, the study and design portion, is going to be the first part out of the box," he notes.
For those in construction, the effects of the new funding will take longer to be felt, says Kermit Baker, Ph.D., Hon.AIA, the chief economist for the American Institute of Architects. "The money needs to get allocated, and plans need to get developed," Baker says. "I would say we're at a minimum of a year after passage (before the funding) shows up as construction spending. And I would say it's most likely two years before that kicks in to any significant degree."
At the same time, the effects of the funding boost may differ regionally, especially in cities that "were particularly hit hard" by COVID-19, Zofnass says. "How much of (the new funding) is just plugging the gap left by COVID and the impacts that had on budgets?" she asks. "Are we just getting back to where (funding levels) should have been had there not been a global pandemic? Or is this actually going to bring us above and beyond?"
Beyond 2022
That said, the significant infusion of federal funding certainly will boost infrastructure-related construction activity beyond 2022, Strawberry says. From 2023 to 2025, "we're looking at annual double-digit growth or nearly double-digit growth in a lot of these nonbuilding segments as a result of that additional funding," he notes. Such rates of growth are "very significant for those segments, which are traditionally very stable," Strawberry says.
In fact, the positively bullish long-term economic outlook for construction work associated with infrastructure depends almost entirely on the infusion of new funding from the Bipartisan Infrastructure Deal, said Richard Branch, the chief economist for Dodge Data & Analytics, who spoke during the organization's Construction Industry Outlook 2022, which was held online on Nov. 3.
"Our models are suggesting that, thanks to that $550 billion in new infrastructure spending, total nonbuilding (construction) starts will increase by 33% by the time we get to the end of 2026," Branch said at the Nov. 3 session. This growth rate is more than double what would be expected to occur in the absence of the dramatic boost in federal funding, Branch said. Under an alternate scenario with no such funding increase, the nonbuilding construction sector would be expected to achieve a "pretty weak growth rate" of just 15% overall between 2022 and 2026, he noted.
Supply chain problems
Unfortunately, the outlook for the AEC sector is not all smooth sailing in 2022. Supply chain disruptions will continue to interfere with project schedules and contribute to price inflation of various construction materials during 2022 and likely into 2023.
The supply chain disruptions resulted squarely from the pandemic and the ensuing shutdown, says Anirban Basu, Ph.D., the chief economist for the Associated Builders and Contractors. Initially during the shutdown that began in early 2020, "a lot of producers felt that the downturn was going to be very severe and quite protracted," Basu says. "They began slashing costs and capacity. They laid off millions of workers. They shuttered sawmills. They closed steel mills. They mothballed ships."
In the United States, the resulting recession was "extraordinarily short-lived" and ended by May 2020, Basu says. "Indeed, not only did the recession end, it was followed by a very rapid expansion in economic activity," Basu notes. "But a lot of the supply capacity that would sustain that demand had been shut down. It has been difficult to bring that supply capacity back to life."
Supplies of many critical materials, including many needed for construction, have been subject to shortages. "What we have seen is spiking prices in many instances, whether of softwood lumber, oil, natural gas, or other inputs in production," Basu says.
Trucking shortages and logistical bottlenecks at ports are only contributing to the supply chain problems and the resulting price inflation for construction materials, Branch said. Higher prices are "now pretty widespread across most materials that play into the construction space," he noted.
Although price inflation is expected to last for some time, markets should begin to sort out supply and demand relatively soon, deRitis notes. "Our expectation is that over the next couple of quarters, these high prices are going to attract even more businesses," he says. "And those businesses will be motivated to resolve these supply chain issues and try to gain market share to take advantage of these higher prices. That should actually then lead to lower price growth."
For his part, Branch sees materials prices moderating, rather than declining, in the future. "I think that the inflation that we're seeing in the construction sector as it relates to materials and prices is probably going to last into mid-(2022) before we start to see prices pull back," he said. "Even as the inflation slows in the back half of 2022, that level of prices should remain fairly high, at least through the end of next year."
Calling skilled labor
Another, more chronic problem facing the AEC sector is a critical shortage of skilled labor. "There are currently just under 350,000 unfilled positions" in the construction industry, Branch said. "This is not a temporary phenomenon. It is systemic and could certainly mute construction starts in 2022."
Zofnass also points to the labor shortage as a potential stumbling block for the industry. In fact, construction is "facing one of the biggest talent constraints in a long time," Zofnass says. "That is inherently a head wind to the future growth of our industry."
The problem is also hitting the engineering profession, Burstein says. "The labor shortage is probably more acute in engineering than it is in construction," he notes.
The current dearth of engineers results from a combination of factors, Burstein says. Chief among them is the "large number of baby boomers retiring," he says. As these older, more experienced workers depart from the labor force, engineering firms and others looking to replace them find themselves in a bind. "Those people have to be replaced," Burstein says. However, "midlevel and senior-level civil engineers are just not out there," he says, pointing to "big dips" in the number of students who graduated with civil engineering degrees in the late 1980s as well as in the late 1990s to early 2000s.
As a result, companies are struggling to find adequate replacements for their retiring senior staff members. "You can't replace a 65-year-old engineer with 40 years of experience with a junior engineer right out of school, one for one," Burstein says. "Most firms say that they can reasonably hire brand-new graduates." But the same is not true for more experienced engineers. "They're just not available," he says.
The labor shortage is such a problem for the AEC sector that it potentially could even blunt some of the positive effects that are expected to result from the Bipartisan Infrastructure Deal, Zofnass says. "Given these talent constraints, will firms even be able to (perform) the work?" she asks.
Rising wages
Not surprisingly, the labor shortage has led to rising wages in the AEC industry. "What we're seeing with wages is that they are escalating faster than they have in years," Burstein says. Even the pandemic failed to slow such increases among the architecture and engineering sectors.
"From the beginning of 2019 to the middle of 2021, there was no cut in wages in the A&E industry," he says. "Prior to COVID, we were running (wage increases of) about 1.3% per year. It's now accelerated to 4.5% per year, and it's actually accelerating even more. We have not had 4.5% per year wage increases in a long, long time. Now that's becoming the norm."
ASCE's most recent salary survey revealed that salaries for civil engineers specifically have continued to climb despite the pandemic. The median pretax annual salary from all sources in 2020 was $119,000 — a $10,000 increase over 2018 numbers.
Against this backdrop, engineering firms find themselves in a quandary. "If they don't increase pricing, that's going to put a huge crunch on profits," Burstein says. "You can't just absorb those kinds of wage increases without increasing pricing."
Fortunately, Burstein says, engineering firms are now in a good position to charge more for their services. "The good news is that prices have been artificially low for years in our industry," he says. "I think there's a lot of headroom to increase pricing."
At the same time that they need to increase wages, many consulting firms find themselves in a position to reduce certain nonlabor costs, at least temporarily, as a consequence of the pandemic and the effects it has had on business operations, Burstein says. "I don't think we're going to see as much business travel as we used to see," he notes. "That's going to save some money."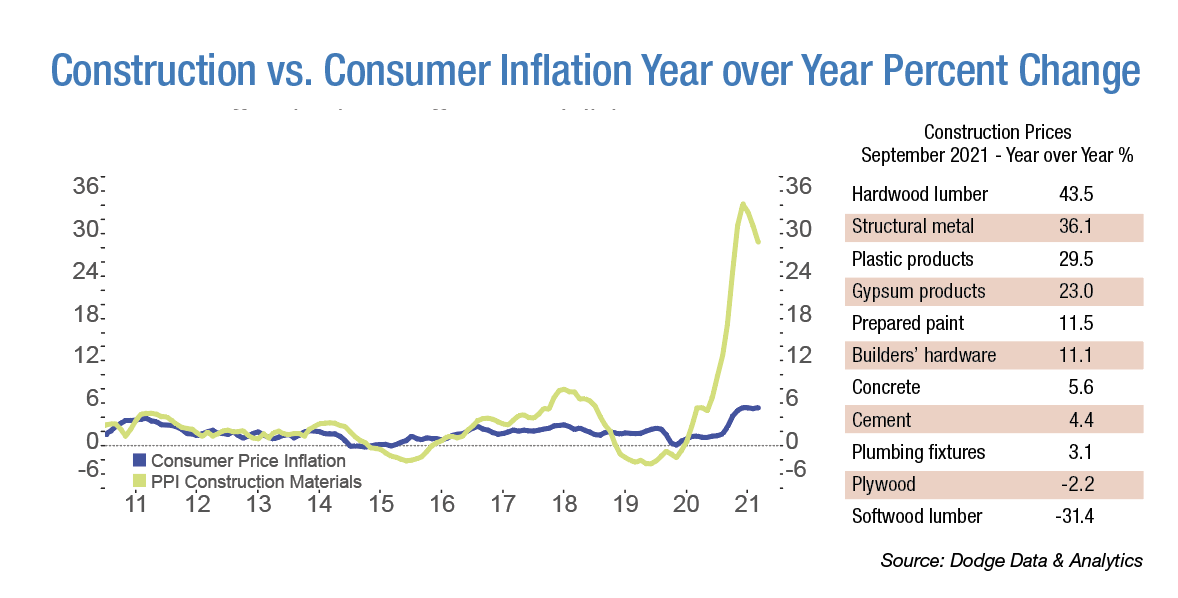 In the short term, engineering firms would do well to ensure that they have the staffing levels necessary to keep pace with the growth in job prospects. "The next year or two is going to be less about finding work and more about finding people to do the work," Burstein says.
Modest to moderate growth
Assuming no major market disruptions, "We're looking at a fairly modest to moderate pace of (total) construction starts in 2022," Branch said. "We're expecting a 6% gain in 2022. If not for the challenges and for the shortages and prices that we're currently facing, the construction activity would be much stronger than it currently is."
Branch predicted a similar outlook for the nonbuilding construction sector, which Dodge defines as highways and bridges, environmental, power and gas plants, and other nonbuilding construction. After an essentially flat year in 2021, the sector will experience a 6% gain in construction starts in 2022, Branch said.
Power and gas plants are expected to lead the way, achieving a 10% increase in starts in 2022, Branch said. Meanwhile, the category known as other nonbuilding will see its construction starts grow by an estimated 9% in the coming year. By comparison, highways and bridges will increase construction starts by 6%, while the environmental category will remain relatively flat with 2% more starts in 2022 relative to 2021.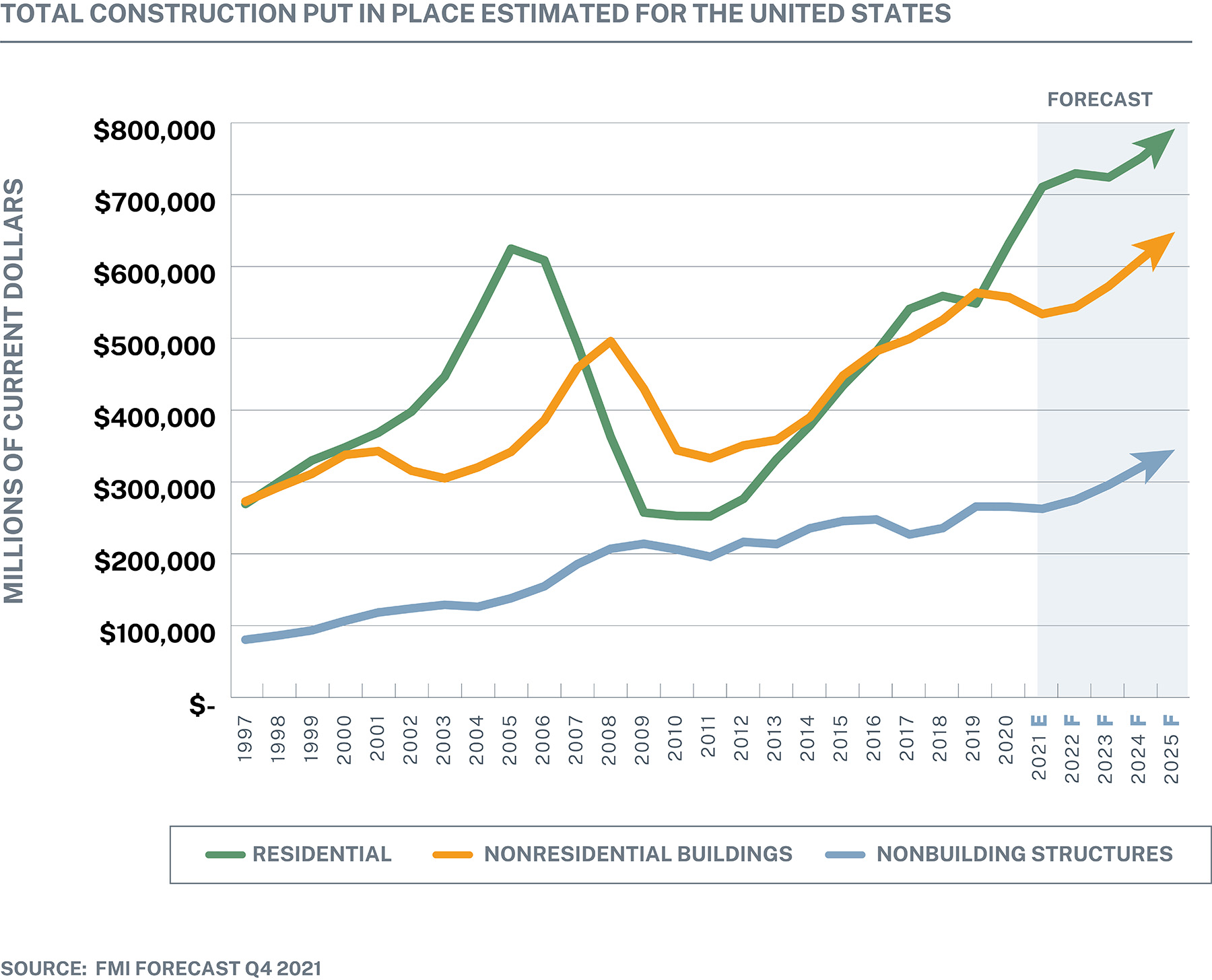 For 2021, the highways and bridges category was expected to decline by 1% in terms of construction starts. This "pretty tepid" performance is attributable to the failure of Congress to reauthorize the surface transportation program before its expiration at the end of fiscal year 2020, Branch said. Instead, Congress extended the existing program at flat funding levels for more than a year before eventually reauthorizing it as part of the Bipartisan Infrastructure Deal.
A boon for water
When it comes to the outlook for the drinking water and wastewater industries in 2022, Reese Tisdale, the president and CEO of the water infrastructure analysis firm Bluefield Research, says he is "super optimistic for a number of reasons." Tisdale cites the newly enacted federal funding for the sector as well as a recent increase in mergers and acquisitions in the water sector. "I'd say there are definite tail winds," Tisdale says.
In fact, the water sector can expect to benefit somewhat even from the new federal funding for other infrastructure categories, Tisdale says. "We're also optimistic about any dollars that go to things like transportation because every time you install roads, you also have to put in catchment basins and other water-related infrastructure," he notes. "That's an added benefit that's not explicit in water-dollar spending."
More broadly, water is becoming a greater focus among corporations seeking to improve the sustainability of their operations, Tisdale notes. "It seems that water is taking on a bigger role in those discussions," he says. "Ultimately, it will be interesting to see how the talk is going to manifest itself in real projects and activities. Will we see more industrial reuse? Will we see more digital water management in the industrial sector over the next couple of years? I feel pretty good about that."
Meanwhile, the ongoing drought in California and across much of the American West can be expected to lead to additional economic activity in the water sector, Tisdale says. "It definitely drives new project activity, where there are greater considerations for alternative water supplies," he notes. "That could be everything from desalination to water reuse and also just basic conservation. There's a whole ecosystem around all of that, including smart-home or more efficient household water management."
Residential and nonresidential construction
After two red-hot years of growth, the single-family residential construction sector will cool off in 2022, Branch predicted. The sector is expected to achieve a "more sustainable" 3% increase in construction starts during 2022, he noted. The multifamily residential construction market will perform similarly, he said.
Looking ahead, the residential construction market can expect to enjoy continued growth for the next several years, thanks largely to demographics, deRitis says. Currently in the United States, "We have the most 30-year-olds that we've had in decades." Noting that 30 is the most common age for people to buy their first homes, deRitis says that he expects a "very strong tail wind on the residential construction side" for the next three to five years.
For its part, nonresidential construction had a subpar performance in 2021, Baker says. When all is said and done, the segment will likely have declined by "midsingle digits," he notes. Fortunately, the sector — which Baker defines to include commercial, industrial, and institutional construction — can expect a "pretty healthy rebound" in the range of 5% to 10% growth in 2022, Baker says.
Within the nonresidential construction arena, warehouses and data centers have been a key focus in recent years. "Because of the move into the online economy, there's a lot of demand for distribution centers to support online shopping," deRitis notes. Meanwhile, data centers are needed to support the ever-increasing levels of computer activity. "Our expectation is we will continue to see strong demand and strong construction activity in those sectors," deRitis says.
Health care facilities will likely see "more investment" in 2022, Basu says. "This pandemic made it clear that many inpatient centers have slashed capacity too aggressively," he notes. "We don't have enough (intensive care unit) beds and ventilators as a country. We need some additional capacity to deal with these issues." For these reasons, health care will be "one of the winners coming out of this period, in terms of capacity augmentation," Basu says.
Meanwhile, other segments of the nonresidential construction sector that were hard hit by the pandemic will continue to struggle. For example, hotel construction likely will remain depressed in 2022, Branch said, particularly if business travel continues to fall far short of pre-pandemic levels.
Similarly, construction starts in the office sector continue to underwhelm, Branch noted, as vacancy rates increase in urban and suburban markets. Although many expected that office construction would begin to rebound in the third quarter of 2021, the delta variant threw the sector "for an absolute loop," Branch said. Assuming COVID-19 remains under control, occupancy rates should begin to improve in the second half of 2022, he said.
In some cases, efforts to repurpose retail space that retailers abandoned during the pandemic are driving new design and construction work. "There is an incredible amount of underutilized retail space out there, and that has to be adaptively reused," Basu says. "One of the things that we're seeing is (vacant retail space is) being converted in some cases into affordable housing. These are good locations. They're very visible and close to job centers."
In other cases, unused retail space might be converted to data centers or outpatient medical facilities. "This adaptive reuse will be another source of work for the AEC industry," Basu says.
Possible wild cards
Although many indicators point to a good year for the AEC industry in 2022, there are some wild cards looming. Chief among them is the extent to which COVID-19 continues to sicken people and interfere with routine activities. "It's not out of the cards that we could see another major surge in coronavirus activity," Strawberry says. "That's the biggest wild card."
Although increased vaccination levels have helped reduce the spread of COVID-19 and enabled a return to many activities that had been curtailed during the early days of the pandemic, the virus still could overcome humanity's best attempts to control it, Burstein says. Indeed, modeling of the coronavirus genome by various universities has indicated that "certain mutations of that genome could lead to complete immunity from all current COVID vaccines," he notes. "If that happens, that could shut things down big time."
A more prosaic concern involves the cost of borrowing. "Our baseline view is that interest rates will rise at a moderate pace going forward," deRitis says. "But if they spike, investors (may) get nervous. That certainly would be a downside risk for the forecast."
Some economists question whether the U.S. Federal Reserve will be able to keep interest rates relatively low in the face of growing inflation. After all, the Fed has been "increasing the money supply at very high rates with few interludes of restraint for 25 years," says Mark Thornton, Ph.D., a senior fellow with the Mises Institute, a nonprofit libertarian organization, and the author of The Skyscraper Curse, a 2018 book examining the historical relationship between government monetary policy and boom-bust cycles in the construction industry.
Such increases in the money supply have led to a booming stock market and other economic distortions and now are resulting in inflation, Thornton says. "It's not that I'm surprised that the Fed is causing price inflation now," he says. "It's that it's taken this long for the money to get out of the stock market and into people's pockets."
Should it seek to raise interest rates as a means to combat price inflation, the Fed could hurt stock prices, perhaps to the point of causing a recession, Thornton says. On the other hand, a failure to raise interest rates could allow price inflation to increase unchecked. In either case, the AEC industry would be harmed, given its capital-intensive nature, Thornton notes.
"As the economic environment changes from either low interest rates to high interest rates or from the low interest rates that we have right now to high inflation, that's going to hurt construction because it drives up the cost of production, and so fewer projects would be viable," Thornton says.
Another potential source of economic distress for the AEC industry could be rearing its head in China, where multiple property developers are facing potential defaults on debt payments. "China has become such a big part of the economy; if that really blows up, then that could have a similar effect on the global economy as what the U.S. housing crisis had in 2008," Burstein says.
Profitable outlook
Absent these less predictable scenarios, the overall AEC industry can expect to enjoy significant gains in 2022 and beyond. The profitability of businesses in the sector is expected to remain on its upward trajectory, Zofnass says. In fact, profitability "has been on an upward trend on the whole for the last 20 years," she says. Even so, current projections regarding profit margins indicate that "2022 is going to be the strongest year" since 1996, when the Environmental Financial Consulting Group began tracking this data, Zofnass says.
For civil engineering firms in particular, 2022 looks to be a banner year, Burstein says. "I really don't see any weak markets for civil engineers," he says. "The civil infrastructure markets are all really good."
Jay Landers is a contributing editor to Civil Engineering.
This article first appeared in the January/February 2022 issue of Civil Engineering as "A Boost for Infrastructure."