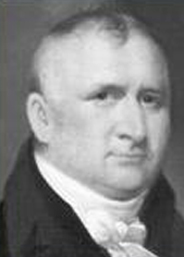 1770 –1842
Benjamin Wright, a surveyor by training and education, while also a judge and civic leader, came to be regarded as the "Father of American Engineering." Wright, along with notable early American engineers such as James Geddes, John Sullivan, and John Jervis, was of the so-called "Erie Canal School of Engineering."
Wright was instrumental in mentoring a generation of engineers who created a system that opened the West and helped to unify the burgeoning country. Born just prior to the American Revolution to a Lieutenant in George Washington's Army, Benjamin Wright received much of his training while living with an uncle where he learned law and the basics of surveying.
Upon moving to the vicinity of Rome, New York in 1789, Wright began his surveying career in the frontier areas of Oneida and Oswego counties. Much of the first part of his career was spent as a surveyor, county judge and state assemblyman of New York. At the age of 41 Wright was hired by the New York State Canal Commission to determine a potential route for a proposed canal between Lake Erie and the Hudson River. Wright determined that 363 miles of canal were needed to connect Buffalo to Albany. The waterway he recommended was 40 feet across with a standard depth of 4 feet and would allow for two-way traffic. Elevation fluctuations were compensated for by a system of 83 locks, 27 of them in the first 15 miles between Albany and Schenectady around the Cohoes Falls.
When canal construction began, Wright was engineer in charge of the middle section. With time New York Governor De Witt Clinton appointed Wright chief engineer. One of Wright's assistants, Canvass White traveled to England to investigate canal systems. During most of 1818 White traveled over 2000 miles and inspected a variety of aqueducts, tunnels, locks throughout the British Isles. With White's acquired knowledge and a lot of "Yankee innovation," Wright and his engineer corps set out to construct the largest public works project of its day.
What crested challenges for the canal construction were the multiple elevation changes along the route. Hence, the supply of water to the canal and the drainage of excess water were far trickier than single sloped canals. To keep water flowing, an elaborate system of feeders and waste weirs was created. Furthermore, the east-west canal had to transverse multiple north-south running rivers, which called for numerous aqueducts, the largest employing 11 Roman-style arches to span 802 feet across the Genesee River Valley. The engineers also came up with a variety of innovations out of necessity, including efficient stump pullers, the use of black blasting powder to forge through rock, temporary retaining walls to dig in swamps, and even a locally obtained hydraulic cement to avoid the expense of importing.
On October 22, 1819, the first 96-mile section between Rome and Utica was opened as a political maneuver by Governor Clinton to secure further funding. The canal boat that travelled down the section was named "Chief Engineer," in honor of the resourceful Wright. By 1825 the Erie Canal was open for business and besides an extraordinary feat of engineering, the canal unlocked an enormous series of economic changes in the young nation. Trade was funneled from the frontier down the Hudson to New York City at a fraction of land-based transportation costs. Prior to construction, New York City was the nation's fifth largest seaport. Fifteen years after the canal's opening, the city moved more tonnage than the leading ports of Boston, Baltimore, and New Orleans combined. The extraordinary financial success of the Erie Canal commenced a competitive era of canal-building from 1825 to 1845. It also launched the engineering career of Wright and others who worked on the Erie project.
Wright served as chief engineer of the Chesapeake and Ohio Canal from 1828 to 1831 and was consultant for the St. Lawrence Canal project in 1833. He also conducted surveys, provided cost estimates, and offered advise on a myriad of other projects, including the Delaware and Hudson, Chesapeake and Delaware, and the Welland projects.
During his career Wright became involved in railroads, and conducted route location surveys for tracks in New York, Virginia, and even Cuba. During his career, Benjamin Wright played a key role in the development of the transportation infrastructure in the young nation — setting the stage for westward expansion and America's "manifest destiny."