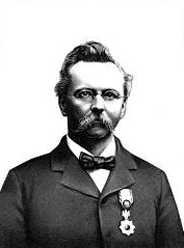 1854
–
1938
John A. L. Waddell was born in Port Hope, Ontario, Canada, on January 14, 1854 to a Canadian father and American mother. For health reasons, at age 16 he took a 10-month tour of the Far East on a clipper ship. Upon returning he studied in a business school in Toronto before beginning his engineering education at Rensselaer Polytechnic Institute in Troy, New York, graduating in 1875. For the next three years, he worked for the Marine Department of Ottawa and did surveying on the Canadian Pacific railroad. He returned to Rensselaer as a teaching assistant to the Professor of Rational and Technical Mechanics, William H. Burr, who would also become one of the most prominent engineers of his time.
Leaving Rensselaer in 1881 he began his career as a bridge builder with Raymond and Campbell of Council Bluffs, Iowa. After a year and a half, he took a position as chair of the Imperial University in Tokyo, Japan. At Rensselaer, Waddell had taught the first two Japanese students to attend an American engineering school. They most likely had recommended him for the Imperial University post. While there he began a lifelong career of publishing books on civil engineering topics. When he returned to the United States in 1886, he worked for the Phoenix Bridge Company in the Phoenixville shops and later as its agent in the west at Kansas City, Missouri while continuing to act as a private consultant. While at Phoenix Bridge, he designed several major bridges including the Red Rock Cantilever Bridge over the Colorado River, the longest single span cantilever in the country at that time. [South Halsted Bridge]
In late 1891 he went into private practice in Kansas City, Missouri and began his long career as a designer of bridges including vertical lift bridges. His first proposal for a vertical lift bridge was at Duluth, Minnesota. The selection committee was firmly in favor of the vertical lift design, but the cash prize was not awarded to Waddell as his bridge "pulled up and not back." Waddell then made a proposal to build a similar but smaller lift span over the south branch of the Chicago River at South Halsted Street. A swing bridge existed at this location but was destroyed by a passing ship on June 30, 1892. Waddell reported, "Chicago engineers as a body were opposed to this type of bridge; and the then highest authority on bridges in America, the late George S. Morison , stated flatly that it could not possibly operate and that it would be impracticable to raise the span off the piers." Before he began construction of the bridge he submitted a patent application for a Lift-Bridge on November 16, 1892. The patent was granted on October 10, 1893 as No. 506,571. It was the first of many lift bridge patents he received.
The bridge opened in 1893 but from that year to 1907 "no progress worth mentioning was made in the building of vertical-lift bridges, mainly for the reason that the Author's patents prevented other engineers from entering the field, and because of his personal discouragement previously mentioned." Between 1910 and 1917, however, he designed 34 lift bridges and many after that period. In addition to lift bridges, he designed many fixed bridges including the 1929 cantilever bridge across the Mississippi River at Cairo, Illinois and swing bridges at Omaha (1893) and Jefferson City, Missouri (1896). Two of his later bridges were two cantilevers, the Goethals Bridge (1928) and the Outerbridge Crossing (1928) from New Jersey to Staten Island, New York. He also built many concrete bridges including the Twelfth Street Bridge in Kansas City, Missouri. It is a double-deck, reinforced-concrete structure completed in 1915. The structure still stands after a life of over 90 years. Another was the Arroyo Seco Bridge in Pasadena, California built in 1913 and still another the Detroit-Superior Bridge in Cleveland, Ohio. It was a 3,500 foot long double deck concrete bridge with a 591 foot arch of nickel steel. Waddell had studied the use of nickel steel in bridges for the International Nickel Company in 1903–1906 and recommended its use.
Over his career he claimed to have designed over 1,000 bridges in the United States, Japan, Russia, Cuba, Mexico and New Zealand. During his career from 1887 to his death in 1938, he was associated with the following firms: J. A. L. Waddell 1887–1899, Waddell and Herrick 1899–1907, Waddell and Harrington 1908–1915, Waddell and Son 1915–1920, J. A. L. Waddell 1921–1926, Waddell and Hardesty 1927–1938. He won the prestigious Norman Medal from the American Society of Civil Engineers (ASCE) in 1909, 1916 and 1920 as well as international awards around the world. He was made an Honorary Member of the Society in 1937 just prior to his death.
He was a prolific writer with his main work being Bridge Engineering in two volumes published in 1916. He wrote, "The life of the bridge specialist is by no means easy. His governing motto should be integrity, thoroughness and progress." He was in the eyes of his peers a "genius in the art of bridge building; one of the outstanding international engineers in his field."