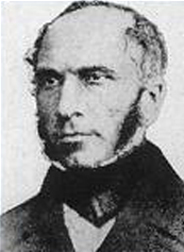 1803
–
1858
If ever there was a civil engineer who embodied the concept of public service, it was Henri Darcy. The favorite son of Dijon, France developed a clean water system for the city 20 years before Paris had a similar service. He also engineered a solution to overcome geographical obstacles that permitted the Paris-Lyon railway to pass via Dijon. He remained a civil servant throughout the French political upheavals of 1831 and 1848 and dutifully worked for the betterment of France regardless of the government in place.
Henri Darcy was born 10 June, 1803 in Dijon, France. His father was a tax administrator who was a model of public service and encouraged young Henri in his studies. In 1823 Darcy entered L'Ecole Polytechnique in Paris, and in 1823 he matriculated at Ecole Nationale Des Ponts et Chaussees. Upon graduating in 1826 with a degree in civil engineering, Darcy was assigned by the Corps to a position in Dijon where he studied the feasibility of a public water supply to the city.
In 1834 the young engineer published a detailed plan for a 13-kilometer underground aqueduct, which provided water to the city's hospitals, main buildings, and 128 fountains, each spaced 100 meters apart. The project was completed in September 1840 and substantially raised the living standard of Dijon's citizens. Darcy was showered with recognition, including the Legion of Merit. That same year Darcy was appointed Chief Engineer for the Department of Cote d'Or. His engineering acumen was called upon again when Dijon was bypassed in the proposed railway line between Paris and Lyon because of the geographical obstacles presented by the mountains separating the Seine and Rhone valleys. After months of surveying, Darcy proposed that the mountains be penetrated with an unprecedented 4-kilometer tunnel. Darcy had worked with a geologist to determine the feasibility of the tunnel, and construction began in 1845.
Darcy's peaceful existence in his home province came to an end with the revolution of 1848. In March of that year he was suspended from his civil-servant duties by the new government. By June the political situation had shifted, and Darcy was named Engineer, Chief Director, and Head of the Municipal Service of Paris. In 1850 he ventured to London to inspect and report on the roadway system based on the design of John McAdam. Failing health forced Darcy to retire from the civil service and return to Dijon in 1855. That same year he began his celebrated sand column experiments. The results were included in Appendix D in his 1856 publication Les Fontaines Publiques de la Ville de Dijon which described Darcy's Law. The law defines the generalized relationship for flow in a porous media. His 1857 publication Recherches Experimentales Relatives au Mouvement de l'eau Dans les Tuyaux explored the movement of water in pipes and was the first work to discuss the existence of boundary layers in fluid flow, captured in the Darcy-Weinbach equation.
On January 2, 1858 Henri Darcy died of pneumonia at the premature age of 54. His body was taken by rail to Dijon where he was given a state funeral. The square Chateau d'Eau was renamed Place Darcy in his honor.