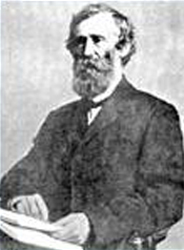 1813
–
1886
Born in Baltimore, Maryland, Ellis Sylvester Chesbrough was taken out of school at the age of 13 when his father's business suffered losses. He was sent to work as a chainman on a surveying party for the Baltimore & Ohio Railroad, where he began learning engineering. He rose to greater levels of responsibility as he continued to work for various railways, including the Allegheny Portage and the Paterson & Hudson River railroads. In 1837 he was named senior assistant engineer on the building of the Louisville, Cincinnati & Charleston Railroad.

In 1846, he left railroading and moved into the field where he would achieve his ultimate success — he was appointed Chief Engineer for the Boston Water Works. While there, he designed and built the most important structures needed for the works, including the Brookline Reservoir. In 1850, he became the sole commissioner on the Boston water department and the following year added City Engineer to his title, which placed him in charge of surveying for streets and harbor improvements. He left Boston for Chicago in 1855, accepting a challenge that might well have daunted others — the position of Engineer for the Chicago Board of Sewerage Commissioners.

In the 1850s, the bustling new metropolis of Chicago had the highest death rate of any American city; epidemics of cholera and dysentery repeatedly swept through the population, with devastating results. Sewage was dumped into the Chicago River, where it flowed into the city's main source of drinking water, Lake Michigan. And the water system had other problems. Residents reported that small fish sometimes came spurting out when they opened water faucets. The early Chicagoans reportedly joked, "When you turned on the water, you got chowder! " It had already been demonstrated in Europe that cleaner water could be acquired by drawing it from farther out into a lake, away from the flow of the sewage. Chesbrough designed and constructed a tunnel extending two miles out into Lake Michigan, beyond the point where the water had been fouled. A water intake crib was constructed on shore, then floated out two miles and sunk into the lakebed by loading bricks into its bottom. There the crib was attached to the end of the tunnel. (See Chesbrough's Chicago Water Supply.) Then Chesbrough set about literally raising Chicago out of its own muck. He believed that the streets were too low to adequately drain the new sewers he intended to construct. Under his supervision, the entire downtown area was raised by about 10 feet, the buildings lifted by jackscrews so that new foundations could be built under them. Chesbrough endured complaints and legal actions from business owners on whom the cost of raising the buildings was placed. In 1879, Chesbrough resigned as Chicago's commissioner of public works with a national reputation as an authority on urban water and sewer issues. Throughout retirement, he continued to work as a consultant on water systems for major metropolitan cities such as New York, Toronto, and Memphis.