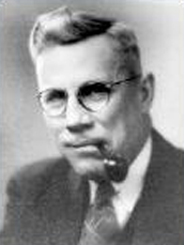 1887
–
1946
Conde Balcom McCullough was born in Redfield, South Dakota, but his family soon moved to Fort Dodge, Iowa where he attended school and graduated from Iowa State University with a degree in civil engineering in 1910. His first job was as an assistant engineer in the Iowa Highway Commission, where he soon rose to the position of design engineer. While there, he researched bridges and their design for a lawsuit filed in connection with some bridges that had not been accepted under the existing building codes. He left Iowa in 1916 to take a position as an assistant professor in the engineering department at Oregon State University, soon becoming head of the department. Then in 1919, he was offered a job as the head of the new bridge division of the Oregon Department of Transportation.
With World War I recently ended, the department was just beginning to construct the Roosevelt Military Highway along the state's Pacific coastline (now known as the Oregon Coast Highway 101). A great number of bridges were needed to span the many rivers and streams that empty into the ocean along the highway's route. McCullough recruited five former Oregon State University students and began work, eventually designing and supervising construction of more than 160 bridges — a project that would occupy him until 1935. Among them is the Rogue River Bridge, where prestressing was introduced and became an accepted bridge construction technique.
The bridges are well known for their beauty and their functionality. Many feature Egyptian obelisks and art deco styling that became a trademark of McCullough's bridges. Over the years, the salt air along the Oregon coastline has taken a toll, and some of his bridges have been replaced. They are so admired though, that the state is attempting to save them by applying cathodic protection to the reinforcing steel. In a 2001 press release, from the Department of Transportation, spokesman Marty Laylor, stated "Replacement structures would not have possessed the rich architectural detail of the original bridges. Oregon would have lost irreplaceable landmarks."
After finishing the coastal highway in Oregon, McCullough traveled to San Jose, Costa Rica to build several bridges along the Inter-American Highway. He returned to the U.S. in 1937 and turned his attention to consulting work and textbook writing. After McCullough's death from a stroke in 1946, Oregon changed the name of the Coos Bay Bridge to the Conde McCullough Memorial Bridge in his memory.