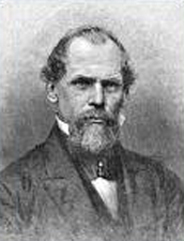 1806
–
1869
"It will no longer suit the spirit of the present age to pronounce an undertaking impracticable. Nothing is impracticable which is within the scope of natural laws."
John Augustus Roebling showed early promise in the construction of public works, earning a certificate as a government surveyor in his native Germany at the age of 18. Born Johann August Roebling in Muehlhausen, Germany he traveled to Berlin in 1824 to study architecture and engineering for two semesters at the Bauakademie where he received instruction in subjects such as hydraulics and bridge construction.
Hoping to obtain credentials as a government engineer, he worked four years at Arnsberg, surveying and building military roads. During this period he devised several plans for suspension bridges but his ideas were not adopted. In 1829, he returned to Muehlhausen to prepare for his final examination but there he came into contact with Johann Etzler, a visionary who convinced him to go to America instead. In 1831, together with his older brother Carl, he joined a party of immigrants and boarded a ship for America. They settled in western Pennsylvania and established a small farming colony named Saxonburg. He married in 1836, and his first son, Washington was born the following year. When his brother died unexpectedly that same year, he applied for citizenship, using the name John A. Roebling.
Meanwhile, Roebling realized he was ill-suited to farm work. He began taking part-time surveying and construction jobs at nearby canal projects. In 1839 he helped survey a railroad route in central Pennsylvania. At that time he became aware of the high cost and short service life of hemp rope used on the inclined planes of the Allegheny Portage Railroad. He experimented with the idea of a parallel-wire suspension bridge cable as a substitute. After an initial failure, he achieved success in 1843 using European methods to make braided wire ropes by hand on his farm. Working outdoors in warm, dry weather with the help of neighbors, he manufactured several dozen iron wire ropes which he sold at a profit, mostly to coal mining companies in the anthracite region. Having achieved financial prosperity, he moved his family and the entire wire rope enterprise to Trenton, New Jersey in 1849. Still fascinated by suspension bridges, he contracted to rebuild an aqueduct and a fire-damaged highway bridge in Pittsburgh from 1844 to 1846, implementing parallel-wire cables to suspend the wooden structures. For the aqueduct over the Allegheny River he made continuous cables from shore to shore. The Monongahela River highway bridge had separate cables for each individual span.
Although these first two structures were successful, his proposals for other major suspension bridges were not adopted. In 1848, one of his wire rope customers, the Delaware & Hudson canal company, gave him contracts to build four smaller aqueducts, much like the Pittsburgh aqueduct, which he executed with equal success. As soon as they were finished in 1851, he was invited to replace a highway suspension bridge across the gorge of the Niagara River, to establish a railroad connection between Canada and the USA. Roebling devised the unique concept of a box truss, constructed of wooden members and a lattice of iron rods further stiffened by inclined cable stays. The structure carried railroad trains on the top level, while carriages and pedestrians used the lower roadway. When his Niagara bridge opened in 1855, Roebling attained international fame. He was called to Kentucky where he designed two suspension bridges with the longest main spans in the world. Shortly after construction began, both projects were interrupted by the financial crisis of 1857. Although each of the bridges he conceived was slightly different than all the others, he devised and adhered to a scheme whereby the load of a long span was shared between main cables and a system of overfloor, incline cable stays. This system resulted in an exceptional degree of stiffness and it became his signature.
In the years immediately prior to the Civil War, Roebling expanded the scale of his thriving wire rope factory at Trenton. He brought two of his sons, Washington and Ferdinand, into his business with him. While rebuilding a multi-span bridge over the Allegheny River in Pittsburgh he also dabbled with investments in railroad cars, synthetic fuel, and land developments in Iowa. Not long after the start of the Civil War, the logistics of severe fighting in Tennessee and further south made it obvious there was a need for his two unfinished long span bridges in Kentucky. His railroad bridge over the Kentucky River was never completed as a suspension structure, but work on the Ohio River highway bridge connecting Covington with Cincinnati (now known as the John A. Roebling Bridge) was resumed in 1863 and completed in the summer of 1867. He entrusted the final completion of his Ohio Bridge to Washington Roebling because he was called to Brooklyn to prepare plans for a long span bridge over the East River. His concept of an epic suspension structure with monumental stone towers and a self-contained cablecar system was adopted. Unfortunately, he would not live to see it completed.
Washington was at his side in the summer of 1869, assisting him with a final survey, when an accidental ferry boat collision crushed his right toes. He contracted tetanus as a result of the injury and died two weeks later. Shortly after his funeral, the editor of the Brooklyn Eagle newspaper called Roebling a great hero of science, commenting, "One such life as Roebling's was worth more than those of a whole convention full of jabbering and wrangling politicians."
Resources: Guentheroth, N. (2006) "Roebling's Development to being an Engineer " Proceedings John A. Roebling Symposium, ASCE, Reston VA. Roebling, W., (2008) Washington Roebling's Father, a memoir of John A. Roebling, ASCE, Reston VA, 2008