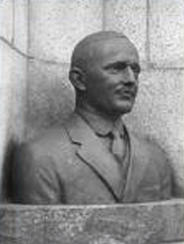 1883
–
1924
Clifford Milburn Holland devoted his life to the construction of tunnels under waterways in and around New York City. He is best remembered for his work on the Holland Tunnel, thus named in his memory, under the Hudson River.
Holland's first engineering job was as tunnel engineer for New York City's Public Service Commission, which was then constructing the First New York Subway. In 1919, at the age of 36, he was appointed chief engineer on the project to connect New York and New Jersey through a tunnel under the Hudson River. He was a natural choice for the job, having successfully overseen several tunnels under New York's East River, including the Old Slip-Clark Street tunnel and the Whitehall-Montague Street tunnel. Holland spent so much time directly overseeing the work on the Holland Tunnel that newspaper reporters began to refer to him as "the Head Mole." Despite having had a weak heart since childhood, he endured compression and decompression several times a day as he descended into the tunnel and returned to the surface.
By October 1924, he was suffering from what was termed "nervous exhaustion " and retreated to a sanitarium for a rest cure. Two weeks later, his heart failed and he died one or two days before the two headings of the tunnel met. His wife later said, "If I had known it was sapping his strength so much, I would have urged him to be more careful, but he was so completely wrapped up in his work that I really do not know if my pleadings would have had any effect." Holland died at the age of 41.
In February 1920 the Brooklyn Daily Eagle wrote of his passion for his work, "When Clifford M. Holland talks tunnels, his listener is in danger of being convinced that tunnels are the only refuge for mankind; by the time he has finished his hearer sees in a tunnel all the allurement which a mole finds in a nicely constructed burrow."