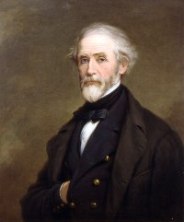 1802
–
1871
Dennis Hart Mahan was born on April 2, 1802 in New York City and raised in Norfolk, Virginia. He entered the United States Military Academy at West Point, New York as a cadet in 1820 and would spend nearly his entire career there until his death in 1871. Prof. Mahan was a renowned educator of military and civil engineering and the author of several widely-used engineering textbooks. He was one of the original fifty founding members of the National Academy of Sciences.
After 41 years on the faculty at West Point, facing the prospect of forced retirement, and suffering from declining health and depression, Prof. Mahan took his own life on September 16, 1871 by jumping into the Hudson River from a steamboat en route from New York City to West Point. D. H. Mahan's fifty-one years at West Point—from student to professor—were marked by exceptional achievement. While still a cadet in his third year, Mahan also served as an acting assistant professor of mathematics. In 1824 Mahan graduated first in his class of thirty-one. Upon graduation he remained at West Point for two years as an instructor. He then was sent to Europe to study civil and military engineering works, primarily in France.
In 1830 he returned to West Point as an acting professor and in 1832 was promoted to professor of civil and military engineering. While a professor at West Point, Mahan became an enormously influential figure in military and civil engineering education and practice in the 19th century United States. Mahan's former students were instrumental in the construction of roads, railways, bridges, canals and other public works as members of the Corps of Engineers. Mahan is said to have taught military science to nearly all of the commanders on both the Union and Confederate sides of the Civil War.
As a professor Mahan was known for discipline, hard work and sternness. He demonstrated total dedication to his work and complete mastery of the subjects he taught. Although not openly displayed in the classroom, many graduates came to appreciate his warm and genial personality. He was known to intervene on behalf of struggling cadets and was intensely proud of the professional achievements of his former students. In the course of his career at West Point, Mahan published seven books on military and civil engineering works, including several influential textbooks that were widely adopted by other technical colleges and universities in the United States.
Mahan's An Elementary Course of Civil Engineering was first published in 1837 and revised by him seven times prior to his death in 1871. After Mahan's death, his textbook was continued as A Treatise of Civil Engineering revised and expanded by DeVolson Wood with contributions from Mahan's son Frederick. A Treatise of Civil Engineering remained in print through 1902. A number of Mahan's earlier publications on military engineering were revised and combined into the textbook An Elementary Course of Military Engineering , first published in 1865.
Resource: Abbot, Henry. "Memoir of Dennis Hart Mahan " read before the National Academy Nov. 7, 1878.
Image courtesy of the West Point Museum Art Collection, U.S. Military Academy, West Point, New York State Dennis Hart Mahan (1802-1871)