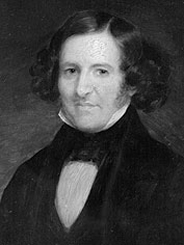 1800
–
1849
George Washington Whistler was born in Fort Wayne, Indiana on May 19, 1800 and died in St Petersburg, Russia, Apr. 7, 1849. Within that time period, Whistler graduated from the United States Military Academy at West Point, New York, surveyed boundaries, and designed several railroads and canals. Whistler's parents were John Whistler, an officer in the United States Army, and Ann Bishop. After his first wife, Mary Roberdeau Swift, died at a young age in 1827, he married the sister of his close friend William Gibbs McNeill, Anna Mathilda McNeill. Whistler and McNeill became friends when they both attended West Point. McNeill graduated in 1817 while Whistler graduated two years later in 1819. Upon graduation, Whistler was commissioned a Second Lieutenant in the Corps of Artillery. He served as a topographer at Fort Columbus from 1819 to 1821. When the army was reorganized in 1821, he became a Second Lieutenant in the First Artillery.
From 1821 to 1822, Whistler was an Assistant Professor of Drawing at West Point. His next assignment, from 1822 to 1828, had him attached to the Commission tracing the international boundary between Lake Superior and Lake of the Woods. He worked under John James Abert, the head of the Corps of Topographical Engineers for the Army. In 1828 Whistler worked for the Baltimore & Ohio Railroad, which sent him to England, with Jonathan Knight, William McNeill and Ross Winans, to study railroads and steam locomotive construction. There he met and recruited fellow civil engineers, James Pugh Kirkwood and James Laurie of Glasgow and Edinburgh, Scotland, respectively, to come to the United States. In 1829, Whistler was promoted to First Lieutenant and was detailed to work with private companies on topological studies. Working with McNeill, he co-surveyed the construction of the Baltimore & Susquehanna Railroad in 1830. In 1831 they supervised the construction of the Stonington Railroad. Whistler resigned from the army in 1833. Then, in 1834, he went to Lowell, Massachusetts to be the engineer for the Middlesex Canal. He also worked on the Boston & Lowell Railroad. Whistler was the superintendent of the Locks and Canals machine shop from 1834 to 1837. There Whistler was engaged in the design of the earliest locomotive built in New England. He copied Stephenson 's Planet locomotives for various railroads during this time period; however, he didn't appear to introduce any original concepts to the design of railway engines. Whistler was also construction engineer for the Western Railroad of Massachusetts (later Boston & Albany Railroad) from 1836 to 1840. He served as chief engineer of the Western Railroad in Springfield, Massachusetts and located the section between Springfield and Pittsfield in the Berkshires between 1840 and 1842.
Whistler, along with William McNeill, was engaged by the Imperial Russian government as a construction engineer for the projected 420 mile railroad between St. Petersburg and Moscow. Whistler urged the adoption of five foot gauge and used locomotives manufactured in United States between 1842 and 1849 by Ross Winans. He supervised the construction of the fortifications, the naval arsenal and docks at Cronstadt, the plans for improving the Dvina at Archangel, and the iron bridge over the Neva. The railroad was completed in 1850. Whistler was decorated with order of St. Anne by the Emperor of Russia. His nephew was Julius W. Adams, who was one of the co-founders of the American Society of Civil Engineers and Architects (ASCEA). In 1868 the official name of the society became the American Society of Civil Engineers and Adams helped to write the society's constitution. Adams later served as ASCE President from 1874 to 1875.
Whistler had two children by his first wife: Deborah Delano and George William. He had five sons by his second wife including James Abbot McNeill (famous American painter). Although he died in Russia, his body was returned to the United States and interred in Stonington, Connecticut.
Resources: Committee on History and Heritage of American Civil Engineering. Biographical Dictionary of American Civil Engineers, Volume 1, New York: ASCE, 1972, 126. Rogers, Jerry. "Celebrating the 200th Anniversary of the Birth (1807-2007) of James Pugh Kirkwood: Environmental/Civil Engineer and ASCE Leader", Paper presented at ASCE-EWRI-2007 meeting in Tampa, Florida, 2007. Rogers, Jerry and Michael Ports. "Legacy of Leadership: ASCE is Born," Civil Engineering, November–December 2002 (Special 150th Anniversary issue), p 188–191. Schodeck, Daniel L. (1987). Landmarks in American Civil Engineering , Cambridge, Massachusetts: Massachusetts Institute of Technology. Whistler, James McNeill . The Correspondence of James McNeill Whistler: George Washington Whistler, 1800–1849 http://www.whistler.arts.gla.ac.uk/biog/Whis_Gwa.htm (January 30, 2009). Wisely, William H. American Civil Engineer, 1852–1974: the history, traditions and development of the American Society of Civil Engineers, New York: ASCE, 1974.