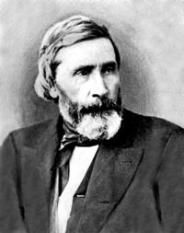 1807
–
1877
James Pugh Kirkwood was born in Edinburgh, Scotland on March 27, 1807. He attended the Academy at Galashiels, Scotland and later spent time in Rotterdam, Holland from 1818–19. From 1819 to 1821, he worked in his father's store. He then apprenticed to Thomas Grainger (later firm of Grainger and Miller), land surveyor and worked as an assistant from 1821–32.
In 1832, Kirkwood began his own business in Glasgow. And that same year, he decided to immigrate to the United States with letters of introduction to William McNeill, railroad and bridge engineer who had designed the 1829 [Carrolton Viaduct] — an American Society of Civil Engineers (ASCE) National Historic Civil Engineering Landmark (NHCEL) — and who participated in the 1839 Baltimore meeting of 40 attendees who rejected the formation of a U.S. civil engineering society. He worked with McNeill on the location of the Norwich & Worcester Railroad; transferred to the Boston & Providence Railroad; then became resident engineer for the Stonington & Providence Railroad. Afterwards, he became resident engineer for the Long Island Railroad in 1837.
In 1839, Kirkwood was engaged to work on the preliminary works of Flynn's Knoll Lighthouse in New York harbor. From 1840 to 1843, he was resident engineer, mountain division of the Western railroad of Massachusetts. Kirkwood was then charged with construction of the Springfield & Northampton railroad. In 1847, he temporarily went from railroad engineering to being the engineer in charge of construction of the docks, hospitals, and workshop for the naval depot at Pensacola, Florida. After his work on the naval depot, he became Construction Superintendent of the stone arch [Starrucca viaduct] (an NHCEL) which was designed by Julius W. Adams from 1847–1848 for the New York & Erie (later just the Erie) Railroad. He then became General Superintendent of the New York & Erie Railroad and introduced the running of trains by using telegraph signals. In 1850, he moved to Missouri to become the Chief Engineer for the Missouri Pacific Railroad from 1850–1855. He perfected the surveys, studied the possible routes, and managed the construction of the railroad. Kirkwood decided to use the broad 5 foot 6 inch gauge rather than the narrower gauge to allow for more powerful locomotives rather than a narrow gauge.
With Kirkwood's return to New York in 1855, he became involved with the water quality and resources of many different cities. He became the construction engineer for the Croton Aqueduct and was charged with lowering and moving horizontally the greater water main in 8th Avenue into a rock cut without cutting off or interrupting the supply of water to city through the main. From 1856–1860, Kirkwood served as chief engineer for the Nassau Water Works, Brooklyn, New York. Later, he became the construction engineer for the Nassau Water Works where he investigated and reported on lead poison in water pipes. He was a member of a committee to locate a terminal depot at Hunter's Point, Long Island railroad in 1860. As a consultant he worked with the Murray Hill distribution of the Croton Water Works ; examined and reported on a railroad line from Fishkill to Boston for the Boston, Hartford & Fishkill Railroad; consulted on the location of high service reservoirs and pumping engines at High Bridge, Croton Water Works; and made extensive examinations of the water works of Cincinnati, St. Louis and cities in Europe — all between 1864 and 1865. His experiences with water works took him next to St. Louis, where as construction engineer, he designed the location of pumping stations for St. Louis. Kirkwood also held meetings in his water office for the St. Louis Engineers Club while there.
Then, as a consultant, he worked on the designs of the 3rd Ridgewood engine for the Brooklyn Water Works in 1867. Following these assignments, he became a consultant on water works for many cities including Brooklyn, Pittsburgh, Albany, Boston, Lowell, Poughkeepsie from the years 1868–1876. In 1869, his Report on the Filtration of River Waters, for the Supply of Cities, as Practiced in Europe made to the Board of Water Commissioners of the City of St. Louis, which became a widely used textbook on water filtration, was published by Van Nostrand. Because of this book, the water filters he constructed for Poughkeepsie, New York, and his recommendations for St. Louis water filtration, he became known as the "Father of Slow Sand Filtration."
In 1876, the Massachusetts State Board of Health asked him to examine and report on river pollution. Upon receipt of Kirkwood's report, Massachusetts decided to adopt all his recommendations. He also introduced the coating of cast-iron water pipes with coal tar in order to prevent corrosion. Kirkwood signed the letter inviting civil engineers to the first ASCE meeting in New York City in 1852; however, he was not present at the first ASCE meeting. Kirkwood served as Director of the American Society of Civil Engineers from 1853–66 and then as the Society's 2nd President from 1867–68 (following his fellow Scot and first ASCE President: James Laurie). He died in Brooklyn, New York on April 22, 1877.
Resources: Cleary, Robert 1985. James Pugh Kirkwood: Versatile Engineer of the Nineteenth Century, City of Kirkwood, NY, 41 pp. Kirkwood, James P. (1876). A Special Report on the Pollution of River Waters, reprinted in 1970, Arno Press, 408 pp.