Student Steel Bridge Competition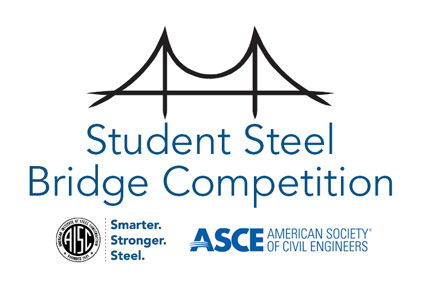 About the Competition
ASCE and the American Institute of Steel Construction (AISC) are partnering to offer the Student Steel Bridge Competition (SSBC) at ASCE Student Symposia.
The Student Steel Bridge Competition challenges students to extend their classroom knowledge to a practical and hands-on steel-design project that grows their interpersonal and professional skills, encourages innovation, and fosters impactful relationships between students and industry professionals.
Each student team develops a concept for a scale-model steel bridge to span approximately 20 feet and to carry 2,500 pounds according to the competition rules. The team must determine how to fabricate their bridge and then plan for an efficient assembly under timed construction conditions at the competition. Bridges are also load-tested, weighed, and judged on aesthetics.
Please note: teams must fill out both the team participation form AND submit the letter of intent to receive their stipend.
Student Steel Bridge Forms and Submission Links
Join the Student Steel Bridge Team!
Eligibility for Student Symposia Competitions and Society-wide Competition Finals
Review the qualifications required of all ASCE Student Chapters to compete at the Student Symposia Competitions and in order to advance to ASCE Society-wide Competition Finals.
Learn more
© 2019 Tom Fuldner LLC
ASCE Student Symposia
Enjoy networking events, competitions, technical presentations, business meetings, and social activities at one of our 22 annual symposia.
Explore