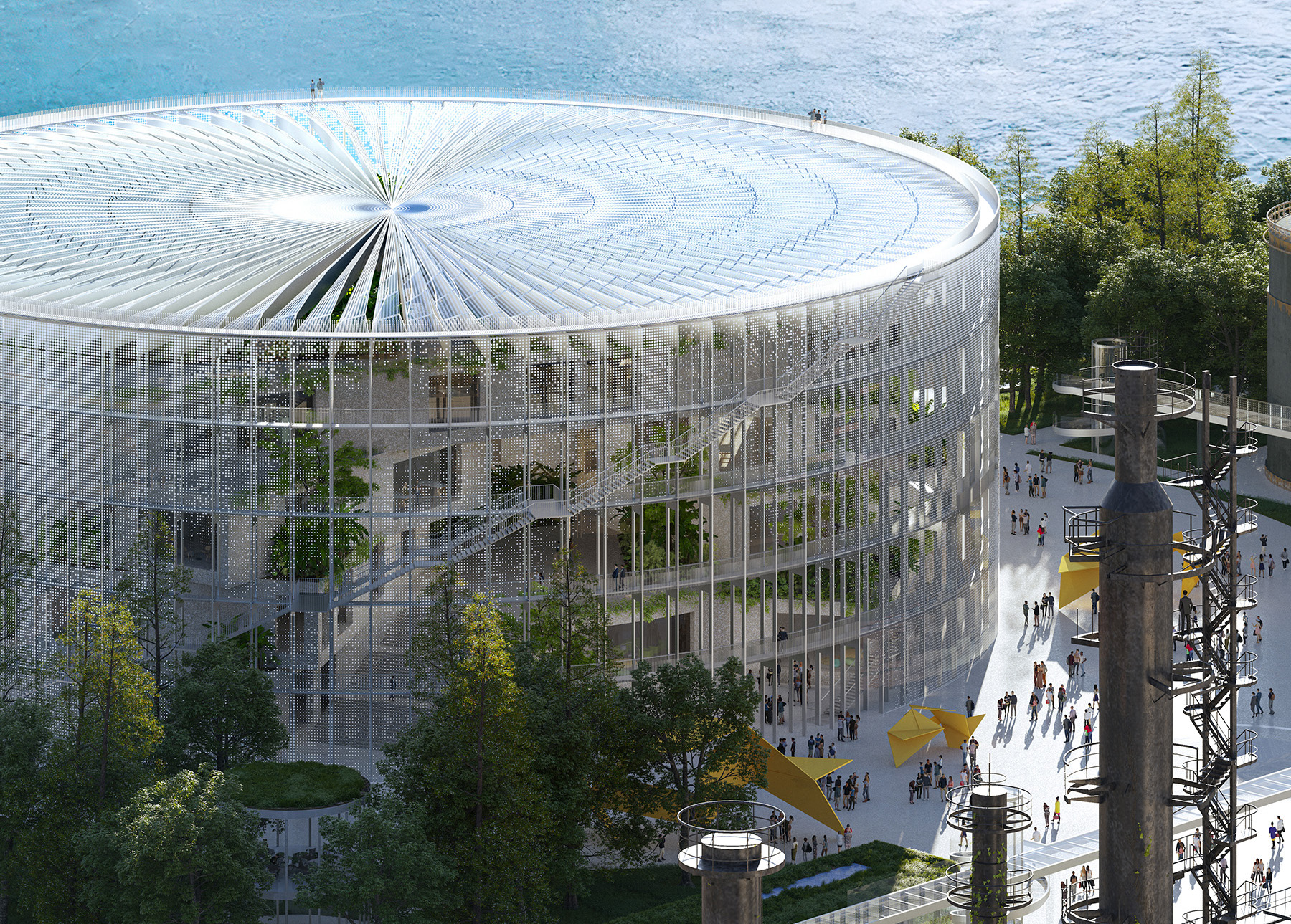 By David Jen
Reminders of fossil-fuel usage will take center stage in a park in Hangzhou, China, a project that will transform a former oil refinery into a multiuse complex.
Designed by Rotterdam, Netherlands-based firm MVRDV, the Hangzhou Oil Refinery Factory Park features, at its heart, a 12,000 sq m art and science-tech center that evokes, through its cylindrical design, the oil silos that once stood on the site. Construction is expected to begin this year.
"As a planet, we know we need to move on from oil on a massive scale," explains Winy Maas, a founding partner of MVRDV, in materials about the project. "But that raises the question: What should we do with all this infrastructure that was created? It is somehow, at the same time, tempting to make a clean break with history and romantic to imagine a future where we build upon the ruins of the past. With this project we do both."
The glass-and-steel structure will house a partially buried circular exhibition hall topped with a playful stack of rectangular boxes that have space for offices, art, and commercial endeavors.
Embedded in the exterior glass, thousands of small photovoltaic cells — arranged to maximize sun exposure and exceptional views — will form a "solar painting" across the building's exterior, alongside a host of LEDs that can light up at night to create a "media facade," according to press materials on the project.
The permeable facade design also allows canal breezes into the structure, providing a thermal buffer to reduce the heating and cooling loads of the interior boxes.
"The aim is to generate all the power needed through the solar facades and roofs on all the buildings of the master plan," says Cosimo Scotucci, the senior project leader at MVRDV.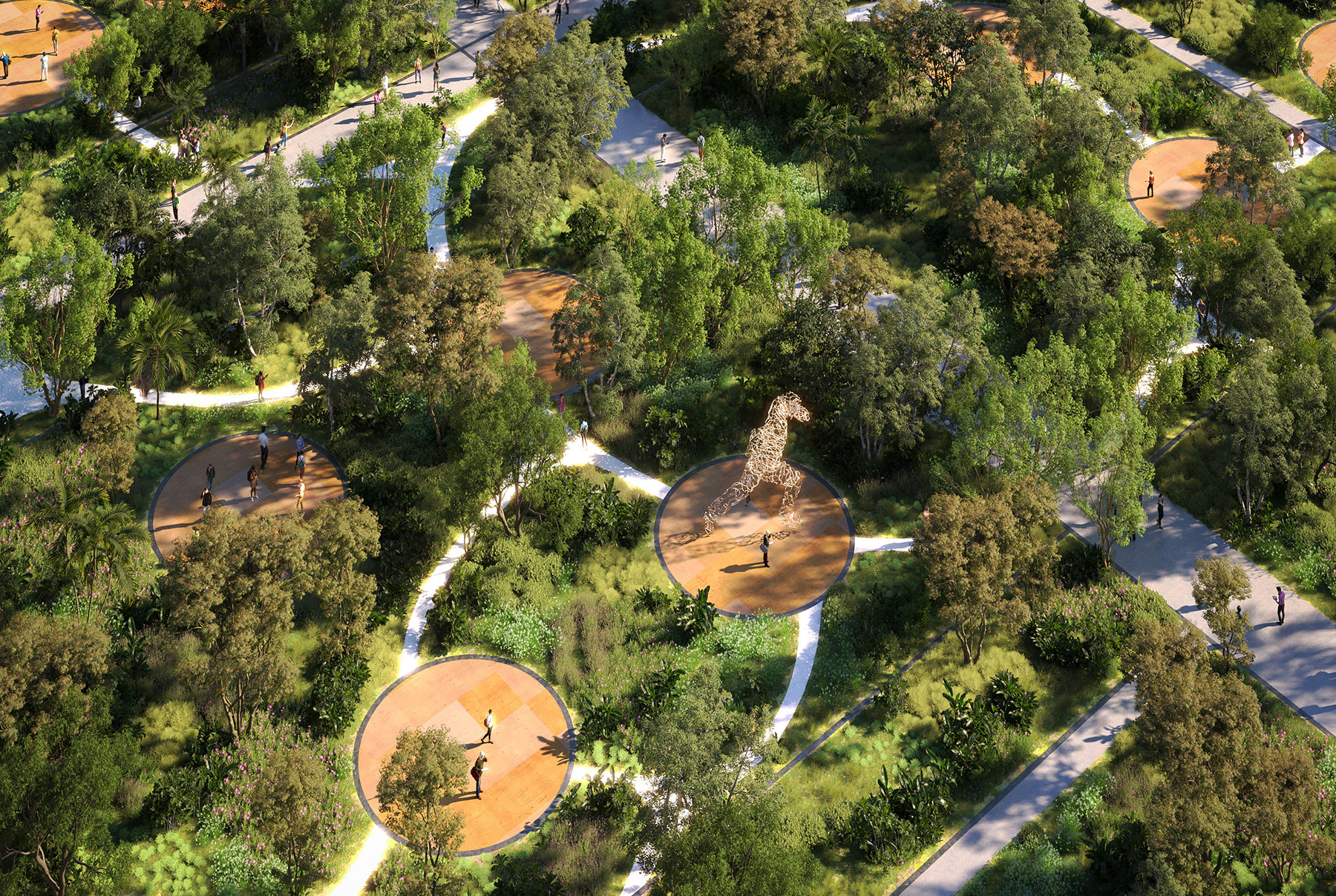 The 170,000 sq m park — designed for the Hangzhou Grand Canal Protection Development and Construction Group and the Hangzhou Chenxiang Industrial Heritage Comprehensive Protection and Development Co. Ltd. — sits at the southern terminus of China's Grand Canal, the world's oldest and longest canal, according to UNESCO. Begun in the fifth century B.C., the roughly 1,700 km waterway connects Hangzhou with Beijing and showcases early examples of hydraulic engineering.
The oil refinery's transformation is part of a national effort to rejuvenate the canal and turn it into a social amenity, according to MVRDV. About 40 other structures will dot the park to provide additional office and retail spaces, says Scotucci.
While the project will demolish many existing refinery structures and preserve them only through the dimensions of new, modern structures, some original towers will be preserved as viewing platforms. Still other silos will be "merely suggested by circles of paving where they originally stood," writes MVRDV.
David Jen is a freelance science journalist based in the San Francisco Bay Area.
This article originally appeared in Civil Engineering Online as "Energy-neutral park embraces oil refinery heritage." It appeared in the September/October 2023 print issue of Civil Engineering as "A Fossil-Fuel-Free Future."