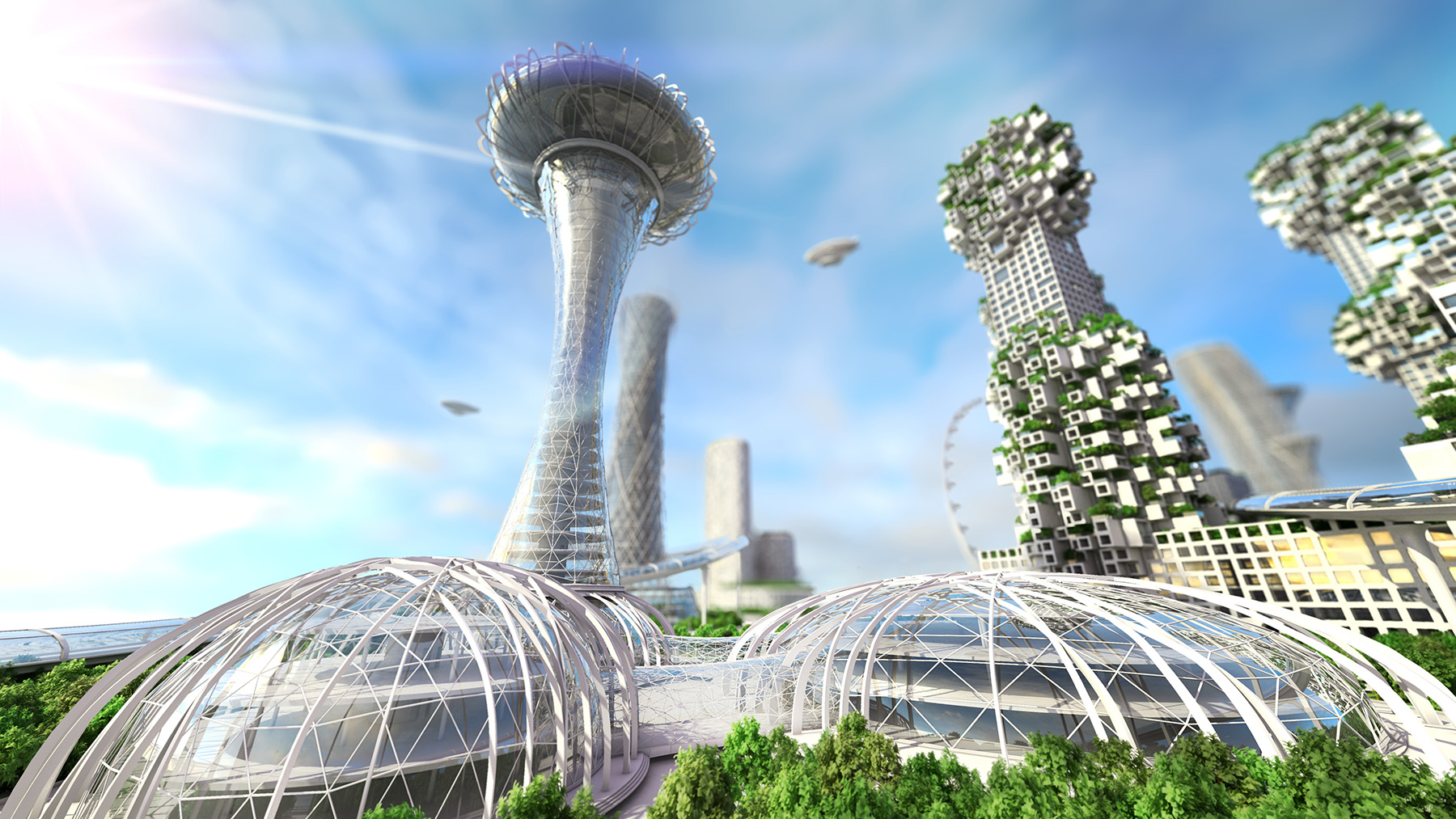 By Celeste C.B. Bennett
Real-world engineering innovations come to life in ASCE's second IMAX film, Cities of the Future.
Following ASCE's IMAX hit, Dream Big: Engineering Our World, comes a futuristic, but not-so-far-out-there second film called Cities of the Future: Reimagining Our World. The IMAX movie by MacGillivray Freeman Films examines "how we'll engineer (future cities) using trends and technologies that are here today but haven't reached full maturity," says ASCE Chief Communications Officer Jane Howell. "We want people to really understand and envision what a city of the future might look like."
The movie was born out of ASCE's Future World Vision initiative. Similar to the film, Future World Vision "brings together civil engineers' best ideas to imagine what the future might look like beyond what we might have experienced in the past," says David Odeh, P.E., S.E., F.SEI, F.ASCE, in an interview that appeared in the March/April 2022 issue of Civil Engineering print magazine.
Odeh, who has been involved with the initiative since its start in 2019, explains, "We want to help people think out of the box about how to design safe and resilient infrastructure for today that will also be functional and effective for society in the future despite all this uncertainty."
Just how far into the future does the film look? Nearly five decades from now, to 2070.
A main character
The film has multiple plotlines. One centers around a group of middle school students competing in DiscoverE's yearly Future City competition, which encourages students to research and create tabletop-scale models that envision cities of tomorrow. In the film, the theme is the future impact of climate change on the world's cities.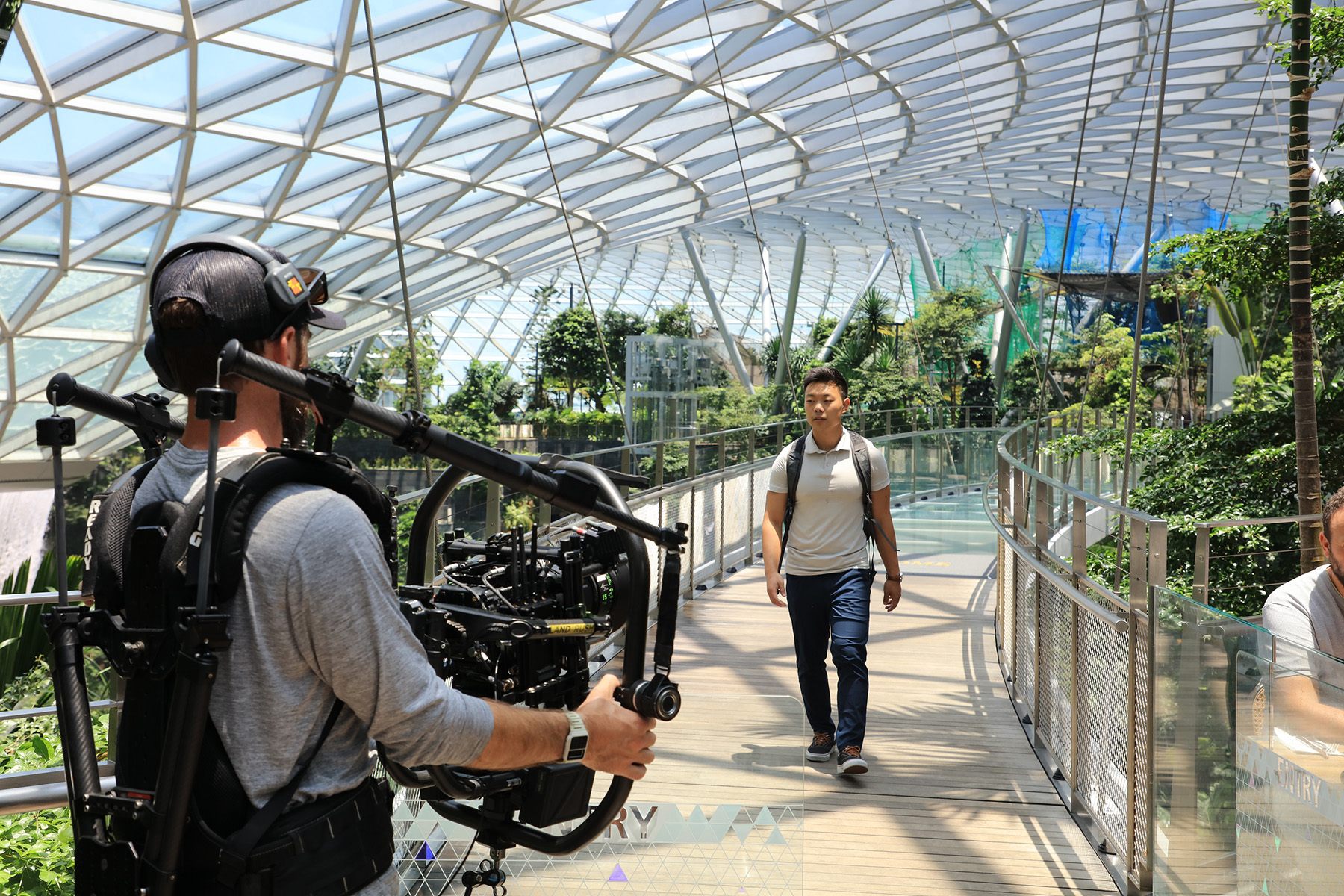 Paul Lee, P.E., ENV SP, M.ASCE, a 2019 New Faces of Civil Engineering-Professional, is an on-screen energy engineer and mentor to the students in the film competition, and his role in the movie is not far from his real life. Until recently, Lee was an energy engineer for the city of Los Angeles, working to help the city reach its sustainability goal of carbon neutrality by 2030.
As for how he got involved in the movie, Lee explains: "ASCE approached me, and then the director of the film interviewed me. I had an interesting story because I'm an engineer working on clean energy and also dipping my toes into the political space. My story ... my background just seemed to resonate with him and with ASCE."
Lee said he was initially hesitant when asked to star in the movie because, "in my line of work, I'm most effective when I'm under the radar." But he says the two things that persuaded him to join the project were the travel opportunities and the film's likely impact on the civil engineering field.
"I want to inspire kids to pursue engineering," Lee says. "They could have a meaningful career, and they can help fight climate change, which they're freaking out about."
Sustainable future
Interwoven with the storyline are real-time efforts to build more sustainably amid a changing climate, exhibiting engineering advancements from around the world.
Filming took place in Monterey, California; Washington, D.C.; Amsterdam; and Singapore, featuring sustainable developments unfolding in each place. "We want to showcase the work today of engineers in different parts of the world so people can see and realize this is real. We want to make sure we're building a shared vision so that the cities of the future (are) the cities we all want," says Howell, who worked closely with a team comprising ASCE experts and an MFF production crew, ensuring the film aligns with Future World Vision goals and accurately tells the engineering side of the story.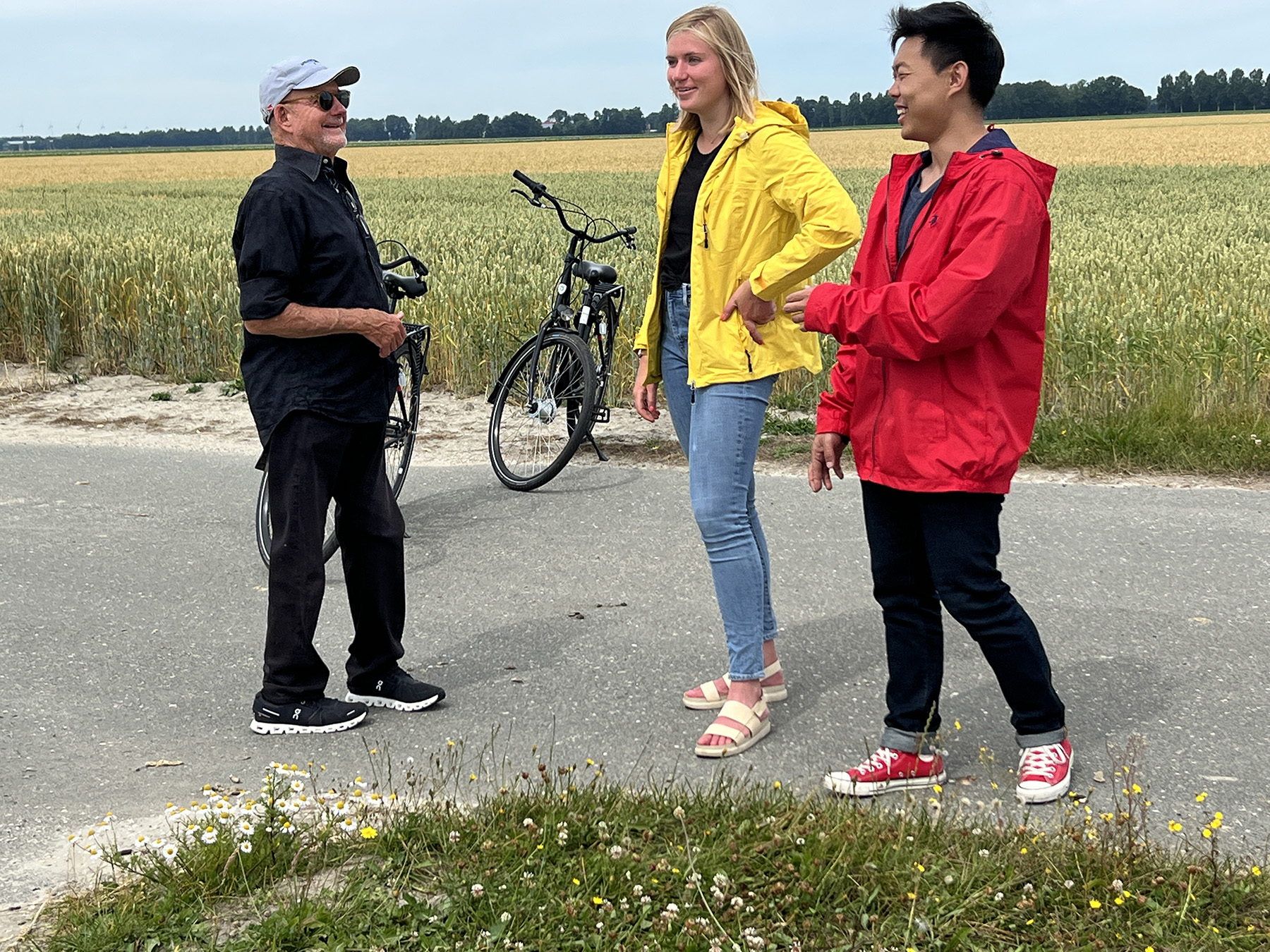 "Engineers are already thinking about these things. They're already actually building the cities of the future, even though we won't see them come to fruition for 40 years," Howell says.
Lee's role in the movie — aside from mentoring the group of competing students — is "exploring things that will influence the future ... a little bit of a preview of what the future can be," Howell continues.
Lee offers a couple examples. "It's so cool to see how different countries approach their way of life — the way that they move around and the way that they work and how (those aspects manifest) into physical infrastructure," Lee explains. "Singapore integrates nature directly (into) its infrastructure. Because of the tropical climate, it gets extremely hot, so green spaces help cool the city and also absorb carbon dioxide.
"Amsterdam prioritizes bike infrastructure, and it felt like the ideal way to get around the city. They have dedicated bike lanes that are safe and accessible, meaning the city was designed with biking in mind. In the Netherlands, there are more bicycles than people!" according to Lee. "As an LA person, it would be insane to think about life without a car; that sounds crazy to me. But if you go to these different countries, it's actually the opposite approach," Lee says.
Transportation decades in the making
Greg MacGillivray, director and founding partner of MFF, highlights one of the film's most forward-thinking projects: an electric vertical takeoff and landing aircraft or basically, a flying car.
While several companies around the world are building their own flying cars to bring to market, the film focuses on a U.S.-based company's efforts: a piloted electric air taxi built by Joby Aviation in Monterey. MacGillivray says the eVTOL is in constant development and has completed more than 1,000 test flights; full-scale prototypes have flown more than 30,000 miles.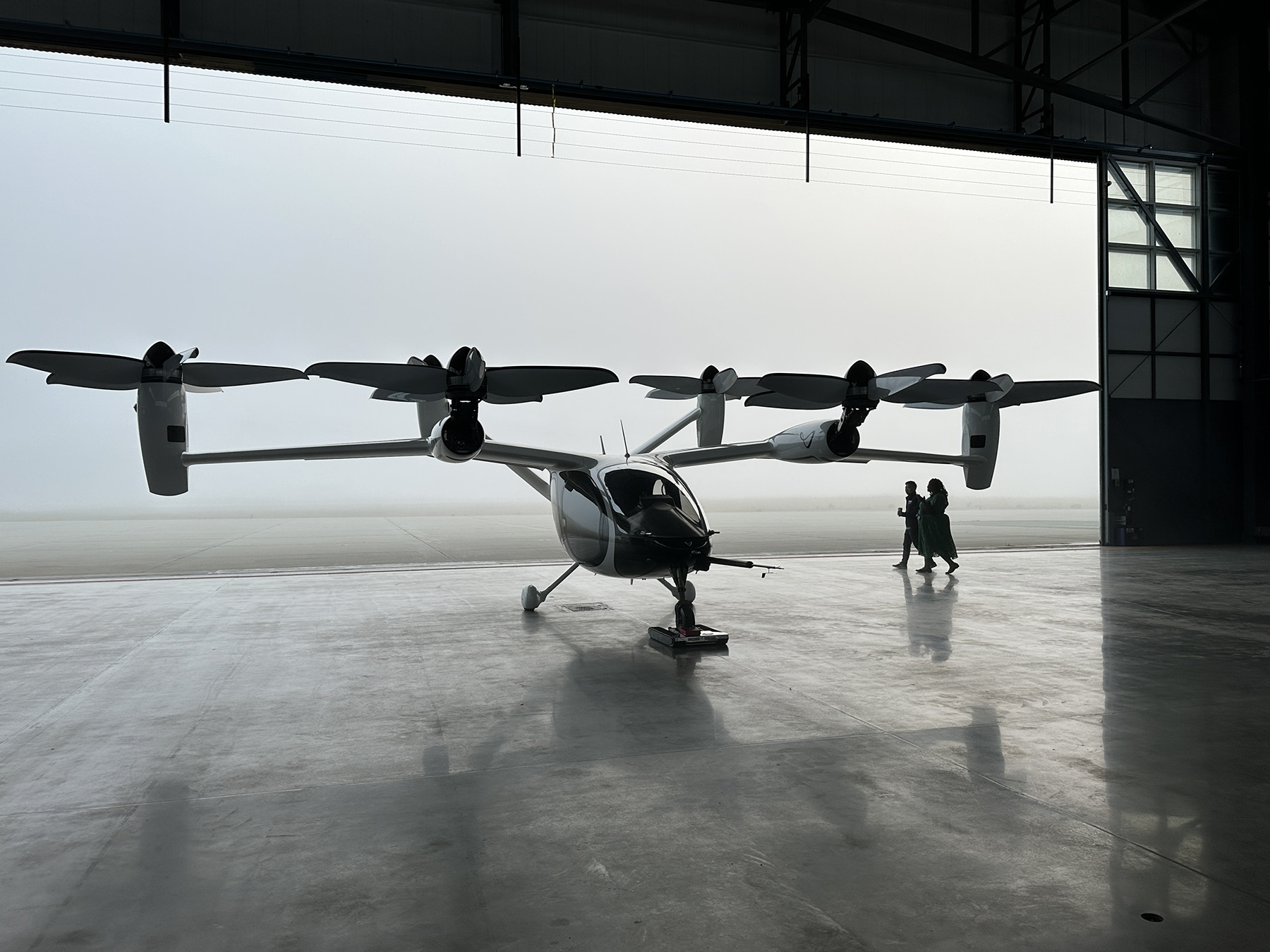 MacGillivray chose to include this project in the film because out of about 100 global competitors, Joby is the furthest along toward receiving certification from the Federal Aviation Administration that would enable commercial use of an electric air taxi. As of press time, Joby has completed the first two of five stages in the FAA certification process and submitted its plans for the third. The company expects to start its commercial air taxi service in 2025.
The air taxi has six electric motors, is powered by batteries, and can be recharged about as quickly as it takes to deplane and board new passengers, enabling back-to-back flights. The aircraft will be flown by a licensed pilot. When Joby begins operations, the air taxis will use vertiports (areas for takeoffs and landings), some of which may be at airports or on the tops of parking structures. "Imagine having one service where you open your Uber app and with one click a car picks you up at your house (and) drops you off at a vertiport. (Then you fly) across town in an air taxi to the airport or a business meeting," says MacGillivray.
The film will also show how flying cars will be autonomous and fly on a 3D highway in the sky — in lanes just like you would see on any normal highway. Aided by GPS, visual displays, and grids, the air taxis will navigate what MacGillivray calls a specific "corridor." Technology also ensures that all flying vehicles — from drones to cars — will fly at proper altitudes to avoid collisions with each other.
MacGillivray says the decision to research and include flying cars in the movie came out of a brainstorming session with ASCE and MFF staff. During the meeting, someone mentioned the animated sitcom The Jetsons, which began airing in the 1960s and featured a family living in a high-tech future, complete with flying cars, 3D printing, computers, video calls, and more. Then, the team realized the idea of flying cars wasn't so far-fetched after all.
The ASCE portion of the team included experts from various civil engineering disciplines who visited and contributed to each filming site. They made sure the film crew accurately explained their respective projects.
A legacy for civil engineering
There are four other characters who appear in the film at various times along with Lee. Monica Morales, P.E., ENV SP, M.ASCE, acts as a mentor for the Future City kids competition. Peyton Gibson, EIT, appears with Lee during the Amsterdam portion of the film, and Vignarajh Kanesathurai Kurukkal, M.ASCE, and Diniece Mendes, EIT, A.M.ASCE, make their appearances during the segment on Joby's electric air taxi.
Lee sums up ASCE's main goal in creating Cities of the Future: "I hope existing professional practitioners and young people see (the film) as a motivation to do more and do better, to think differently, to want to strive for something that's not more of the same and (for) things that are better for our planet."
Cities of the Future is of special interest to groups like science museums, similar to Dream Big. This is because Dream Big was a huge success for them, not only from a content perspective but in getting kids — especially girls — excited for careers in science, technology, engineering, and mathematics.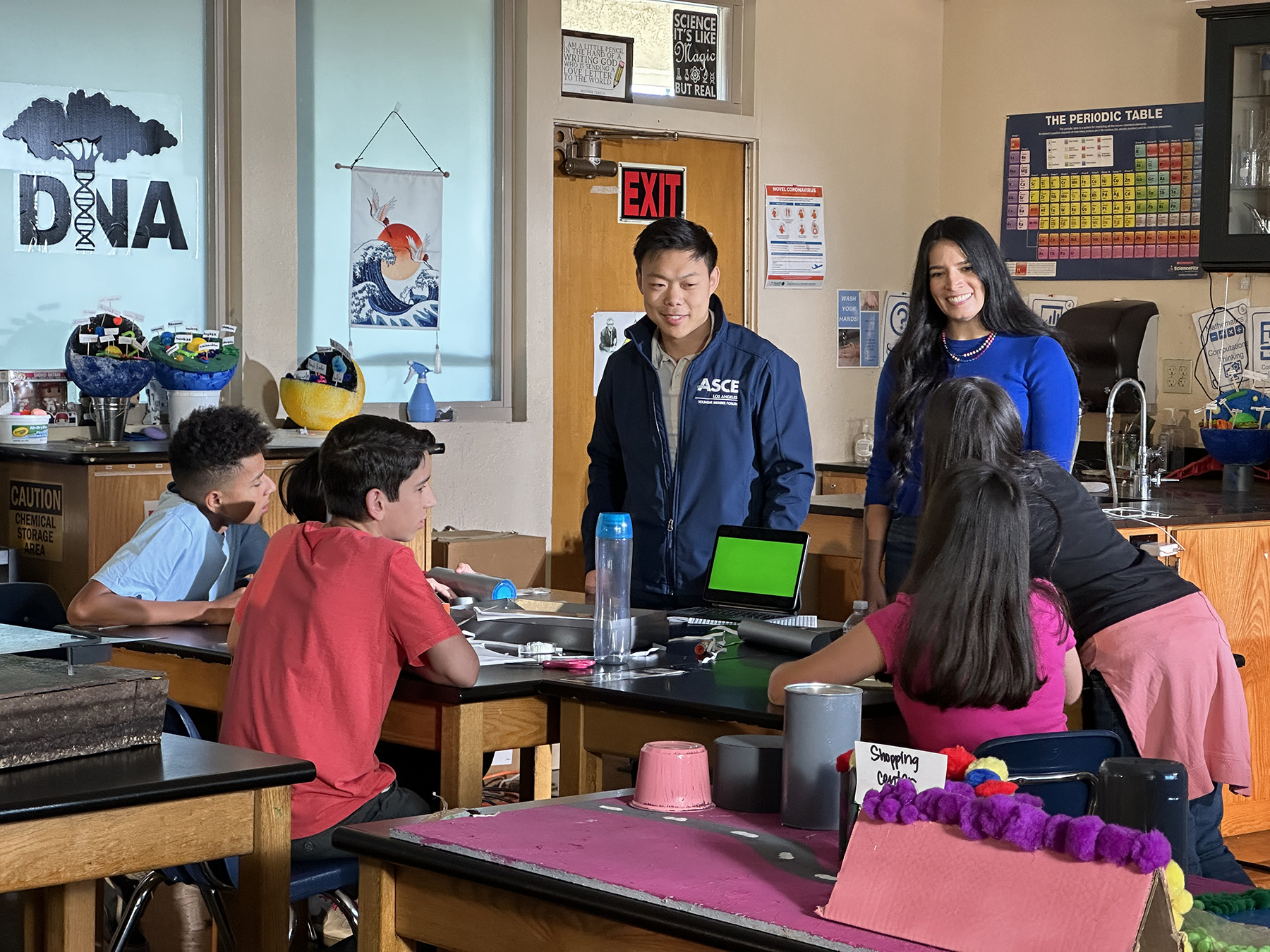 Museum officials expect Cities of the Future to have the same impact as Dream Big. Howell says museum leaders are also excited because their institutions were shuttered for so long during the COVID-19 pandemic, but films like this are attracting new groups of visitors. IMAX films, in particular, help ignite interactive museum experiences, says Howell.
Aside from showing the film in IMAX theaters and museums around the world, ASCE is compiling numerous resources for educators, the civil engineering community, and students from kindergarten through college as part of its Future World Vision initiative. In addition to the IMAX film, among these resources are curricula for university students, virtual reality experiences, and a digital platform for engineers to research a city of the future.
Other resources, according to MacGillivray, include an educator's guide with hands-on activities, over 50 projects and lesson plans for school-aged kids, events for kids to encourage them to pursue engineering, and in-person meet-ups at museums with engineers featured in the movie.
Additionally, MFF will offer virtual field trips for schools on the film's website. Local engineers in some communities may also attend showings to tell the story of Cities of the Future and answer kids' questions too. Finally, public forums will be held at select museums screening the film. These will be daylong forums that will bring together local city engineers and officials to discuss future plans for their cities.
ASCE is a main sponsor of this initiative and is looking to partner with other donors as the film moves into the editing stage. Its intention is to follow the same funding pattern as Dream Big, where ASCE funds some movie costs and fundraises for others. Dream Big was a success programmatically and financially, and ASCE hopes to achieve similar success with Cities of the Future.
Celeste C.B. Bennett is the writer/editor for Civil Engineering print magazine.
This article first appeared in the September/October 2023 print issue of Civil Engineering as "Cities of the Future."