Elected Region 2 Director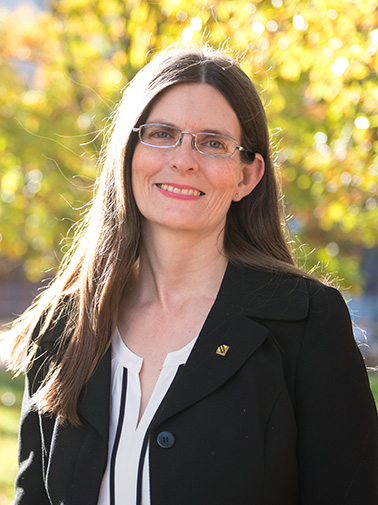 Vision statement
"Only a life lived in service is worth living," is one of my favorite quotes, by Albert Einstein. In my 25-plus years of serving ASCE, this has truly been my motto, for advancing ASCE's internal and external goals and mission. ASCE is the world's leading authority in civil engineering, and there are both internal and external components that have contributed to our success: help the public understand what we do in our role as public stewards (external); and help advance, motivate, develop, and inspire our members and provide exceptional member value (internal). All the while, doing this in a way that supports equitable infrastructure and inclusion in the profession. One of my missions in life has been to help people in the civil engineering industry grow, succeed, and feel valued in ASCE. ASCE plays such an active role in retaining and advancing so many engineers in the Society and in our industry. ASCE offers professional development, networking opportunities, mentoring, and so much more. But we have a greater role to play - especially in diversity, equity, and inclusion. How can we ensure that the public knows what we do so we can inspire the next generation of engineers and increase resources and funding for infrastructure?
My vision for ASCE is to strengthen both those internal and external functions of our organization, and to do so in a way that fully supports diversity, equity, inclusion and justice.
The future of our industry is not just about diverse talent, but also about meeting the needs of tomorrow. My vision is to help harness the efforts in the following areas, using my experience in learning and development, as well as experience as an engineer. "Future World Vision" and "Engineer Tomorrow" are two incredible programs launched by ASCE and are currently being promoted at every level. The Civil Engineering Body of Knowledge (CEBOK) and the Future World Vision are both intertwined in helping to shape a safe future for us all. The CEBOK ensures that we as civil engineers have the abilities and skills to meet the future needs, and Future World Vision helps us to understand how that future may be shaped in terms of infrastructure.
The six years that I have served as Governor - and in many years in Members of Society Advancing an Inclusive Culture (MOSAIC), for which I am now Chair - I have spoken with members in our industry, both professional and student members. Through my discussions, I have found there is a greater need to feel connected and included, especially during the past 18 months in the COVID pandemic. I want to strategize how to better reach people, connect with them, include them, help them grow, and extend that circle of giving back in ASCE. We must fulfill our mission of, "Helping you matter more and enable you to make a bigger difference" and support college students who are eager to learn and grow as professionals; mid-level managers who want to enhance the development of their staff; and retired professionals, to help them to share their experience and life lessons. I believe this can only lead to a more connected, equitable, and inclusive profession.
As a Director, I can help bring the Society-level resources and knowledge back to Region 2 to help the great Region 2 Governors in all of their great initiatives for the Region. As Director, I promise to lend my work ethic and energies for the betterment of our Society, for the profession, and our members.
Biographical statement
Education
Bachelor of Science, Civil Engineering, Temple University, 1992
Certification and licenses
Professional Engineer, Pennsylvania
Project Management Professional, PMI
Leadership in Energy and Environmental Design, Accredited Professional, LEED AP, USGBC
Diversity, Equity, and Inclusion Certificate, Cornell University, 2021
Work experience
Urban Engineers, Inc.

Chief Learning Officer, 2019-present
Vice President, 2010-present
Director of Training, 2010-2019
Manager of Training, 2007-2010
Project Manager, 2003-2007

Parsons Brinckerhoff

Project Engineer, 1998-2003
Engineering Graduate, 1993-1998
ASCE involvement
Society-level
Chair, Members of Society Advancing an Inclusive Culture (MOSAIC), 2021-present; Vice Chair, 2020-2021
Corresponding Member, Committee for Professional Practice, 2020-present
Corresponding Member, Governing Documents Committee, 2020-present
Member, Committee on Diversity, Equity, and Inclusion, 2019- 2020
ASCE Convention Presentations:

Leverage Your People-Power: Civil Engineers Shape Policy, 2021
Power Pairing: Engineering Innovation with Diverse Teams, 2021
Futuristic Infrastructure: The Age of Megacities, 2021
#Inclusion: Become a Change Agent to Rise

Together, 2020

How to Influence Without Positional Power, 2019
Local-level
Region 2 Board of Governors, 2015-2021

Vice Chair, 2020-2021
Chair, Nominations and Elections, 2015-2021
Secretary, 2015-2020
Webmaster, 2015-2020
Coordinator, Inaugural Social Media, 2017-2020
Chair, Inaugural Awards Program, 2017-2020

ASCE Pennsylvania Report Card for Infrastructure, 2019
Region 2 Assembly Presentations:

MOSAIC Best Practices Guide, 2021
DEI in Student Chapter Leadership, 2020

Philadelphia Section

President, 2006-2007
Past President, 2007-2009
Vice President, 2005-2006
Secretary, 2003-2005
Member, Awards Committee, 1998-present
President, Younger Member Forum, 2000-2001
Vice President, Younger Member Forum, 1999-2000
Secretary, Younger Member Forum, 1998-1999
Other volunteer activities
Councilperson-Elect, Lansdowne Borough Council, 2021
Member, WTS International, Inclusion Committee, 2020-present
Chair, Lansdowne Borough Environmental Advisory Council, 2019-present
Board of Trustees, Lansdowne Friends School, 2015-present
Chair, Lansdowne Friends School, Property Committee, 2015-present
Member, Delaware County Sustainability Council, 2020-2022
Chair of the Council on Standards Development for the International Accreditors for Continuing Education and Training, 2018-2021
Vice President of the Philadelphia Engineering Foundation, awarding scholarships to students in need in the Delaware Valley of PA, 2010-present
Co-chair, Urban Women's Professionals Network, 2007-present
25 years as a volunteer and leader in Women's Transportation Seminar; President, 2007-2009
Awards
WTS Philadelphia Diversity Award, 2021
Delaware County Engineer of the Year, 2020
Temple University League of Entrepreneurial Women, 2014
Temple University, College of Engineering, Gallery of Success, 2009
ASCE National Edmund Friedman Award for Professional Achievement, 2006
WTS Philadelphia Member of the Year, 2006
ASCE Zone 2 Citizen Engineer Award, 2005
Delaware Valley Young Engineer of the Year, 2002
ASCE Philadelphia Member of the Year, 1999
Publications