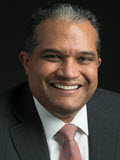 Prof. Feniosky Peña-Mora is the Edwin Howard Armstrong Professor of Civil Engineering and Engineering Mechanics, Professor of Earth and Environmental Engineering, and Professor of Computer Science at Columbia University. He also directs the Center for Buildings, Infrastructure and Public Space at Columbia.
He served as Commissioner of New York City's Department of Design and Construction (DDC) in Mayor Bill de Blasio's administration from 2014 to 2017. Under his leadership, over 860 construction projects, valued at more than $9 billion, were either started or completed. The agency committed more than $5.4 billion in new contracts by improving the capital project design and procurement processes and received over 80 design and professional awards.
Before his public service leave at DDC, Prof. Peña-Mora was the Dean of the Fu Foundation School of Engineering and Applied Sciences and Morris A. and Alma Schapiro Professor of Engineering at Columbia University. He was responsible for setting the school's strategic direction and managing its operation and growth to over $400 million in endowments, a $200 million annual operating budget, 4,500 students, and 400 staff and faculty members.
Prof. Peña-Mora also served as Associate Provost and the Edward William and Jane Marr Gutgsell Endowed Professor at the University of Illinois at Urbana-Champaign, where he led the university's Interdisciplinary, Diversity, and Entrepreneurial Initiatives.
Prof. Peña-Mora started his career at the Massachusetts Institute of Technology, where he was co-director of the MIT Intelligent Engineering Systems Laboratory, and the Gilbert W. Winslow Career Development Professor. He has been a Visiting Professor at Tsinghua and Nankai Universities in China, Loughborough University in Great Britain, and the École Polytechnique Fédérale de Lausanne in Switzerland; Distinguished Visiting Fellow of the UK Royal Academy of Engineering at the University of Cambridge, the University of Salford, and the University of Manchester; as well as Visitor at the University of Sydney in Australia.
He has earned an international reputation for his scholarship, teaching, research, and engineering innovations. His research interests include information technology support for collaboration in preparedness, response, and recovery during disasters involving critical physical infrastructures, change management, conflict resolution, sustainable construction, as well as visualization and process integration during the design and development of large-scale civil engineering systems.
Prof. Peña-Mora is the author or co-author of more than 225 scholarly publications. He holds six patents, one provisional patent, and is the recipient of numerous awards.
He is on the Board of the New York City Health and Hospitals, where he Chairs the Capital, Information Technology, Strategic Plan, Equity, Diversity, and Inclusion Committees. He is also on the ASCE Board of Direction, Chairs the Industry Leaders Council and the Board Strategic Advisory Committee, and serves on the Technical Advancement and Younger Members Committees. Prof. Peña-Mora is also on the Executive Committee of the Board of ACE Mentorship Program, where he is Chair of the Alumni Committee.
Prof. Peña-Mora earned his Master of Science and Doctor of Science degrees in Civil Engineering from the Massachusetts Institute of Technology.