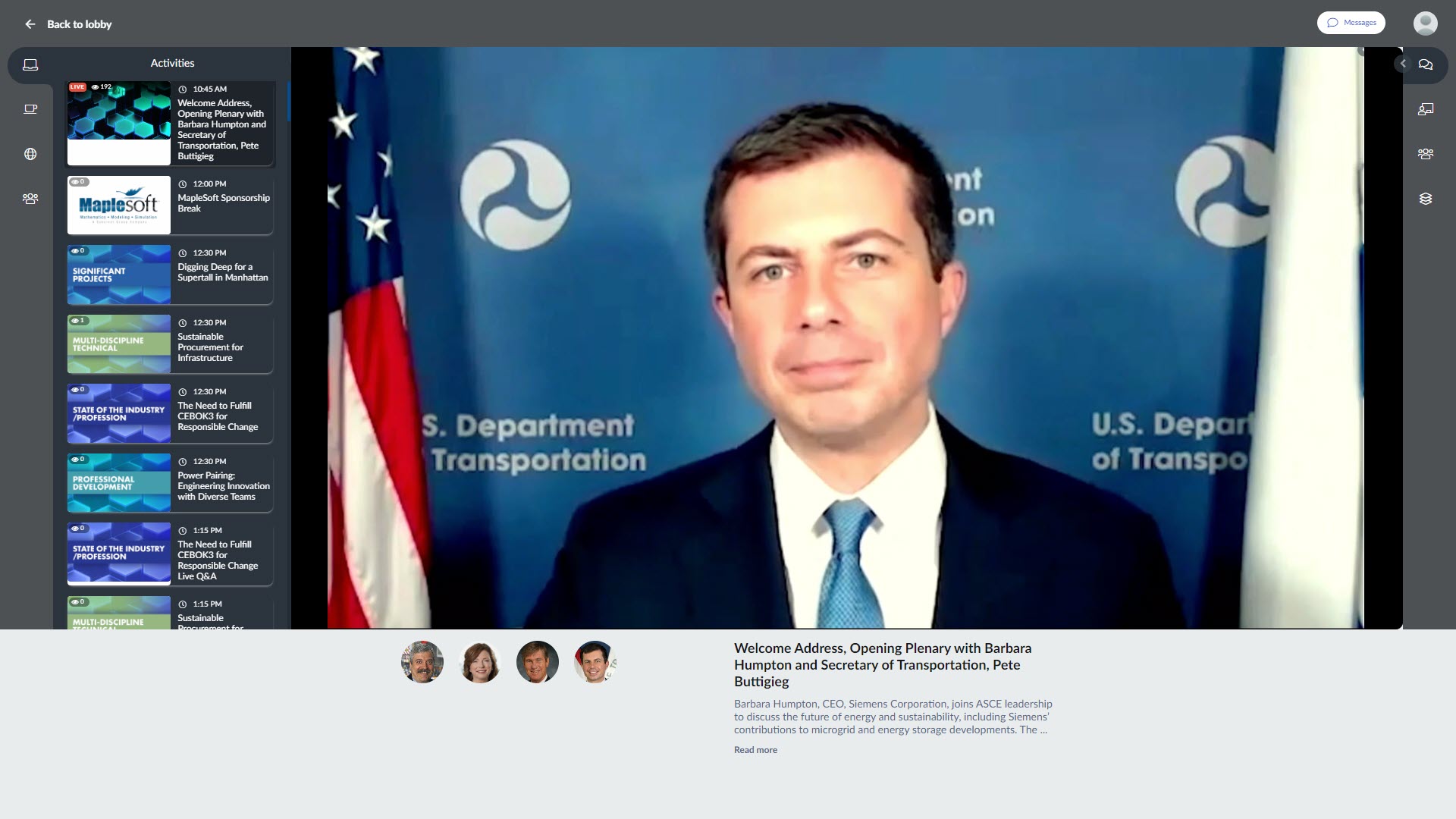 Infrastructure took center stage as the ASCE 2021 Convention kicked off Wednesday, Oct. 6.
U.S. Secretary of Transportation Pete Buttigieg spoke (via previously recorded video) during the welcome session of the virtual event, highlighting the Infrastructure Investment and Jobs Act awaiting a vote in the House of Representatives.
"As our nation's oldest engineering society, ASCE has played a role in historic transformations of our infrastructure – from the creation of the Transcontinental Railroad to the advent of the interstate highway system; a trajectory that we are proud to build on with the opportunity before us now," Buttigieg said.
"And that's what we have – a chance to reimagine our transportation system, to make it cleaner, safer, and more equitable for everyone. We simply can't do it without the ingenuity, the passion, and the partnership of our nation's civil engineering professionals."
Barbara Humpton, president and CEO of Siemens, led off the opening plenary with a discussion on the future of energy infrastructure with ASCE President Jean-Louis Briaud, Ph.D., P.E., D.GE, Dist.M.ASCE. She too spoke of the unique opportunity civil engineers in 2021 have to reshape infrastructure.
"Be aware that in helping to transform our infrastructure you'll be part of a once-in-a-generation moment that positively impacts millions of lives," Humpton said.
Day one of the convention also featured the annual Celebration of Leaders event, honoring winners of 2021 Society awards and the 2021 class of distinguished members.
The 2021 honorees:
(Click on each name to learn more about the Distinguished Member's career)
Lilia A. Abron, Ph.D., P.E., BCEE, NAE, Dist.M.ASCE, for advanced environmental engineering and sustainable design through work in both academia and the private sector.
Gregory B. Baecher, Ph.D., Dist.M.ASCE, for developing and implementing probabilistic and risk-based approaches to geotechnical and water resources engineering.
Roberto Ballarini, Ph.D., P.E., F.EMI, Dist.M.ASCE, for advancing fracture mechanics-based design of concrete structures and pioneering structural and material testing at micrometer and nanometer scales.
Glenn R. Bell, P.E., S.E., F.SEI, Dist.M.ASCE, for technical excellence in structural design, building envelope systems, and earthquake engineering, as well as building the practice of forensic engineering.
John D. Hooper, P.E., S.E., NAC, F.SEI, Dist.M.ASCE, for his eminence in advancing the seismic design provisions of building codes as well as furthering performance-based seismic design.
Joe D. Manous Jr., Ph.D., P.E., D.WRE, F.EWRI, Dist.M.ASCE, for leadership in water resources management, engineering ethics and scholarship.
Satish Nagarajaiah, Ph.D., F.SEI, Dist.M.ASCE, for seminal contributions to seismic isolation, structural control, and structural sensing/monitoring and system identification.
Julio A. Ramirez, Ph.D., P.E., Dist.M.ASCE, for leadership in worldwide data collection, research, and education to enhance resilience of civil infrastructure and communities against natural hazards.
Lucio Soibelman, Ph.D., P.Eng, NAC, Dist.M.ASCE, for outstanding contributions to the construction industry through pioneering data analytics research that enhances capital project construction and operations performance.
Kelvin C.P. Wang, Ph.D., P.E., Dist.M.ASCE, for outstanding contributions to transportation engineering education and research, including innovative research on automated pavement survey and data analysis methods.
In its second consecutive year as a virtual event, the ASCE 2021 Convention continued to thrive as hundreds of attendees were able to network with their fellow civil engineers through the online chat function and click to enter the assortment of concurrent sessions.
"The machine learning presentation is extremely interesting," said Alvin Cook, P.E., M.ASCE, convention attendee and civil engineer based in Chattanooga, Tennessee. "New technologies are the key to future improvements."
Watch the entire Celebration of Leaders event.