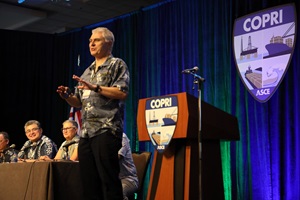 R. David Curfman, P.E., M.ASCE gives PORTS '22 Keynote
NAVFAC Chief Engineer and Assistant Commander for Capital Improvements R. David Curfman, P.E., M.ASCE joined more than 700 attendees at the PORTS '22 conference in Honolulu, HI as the keynote speaker September 19, 2022.
Mr. Curfman's address, "
180 Years Strong: Building for Our Warfighters to Win
," outlined the legacy and current state of U.S. Navy waterfront infrastructure, discussed the risks and vulnerabilities to them, and laid out several priorities underway to mitigate the issues so that Naval facilities can 'Get Real, Get Better.' He focused on the history of U.S. Navy shipyards and dry docks like NNSY Dry dock No. 1 (1833) at Portsmouth Naval Shipyard (1800). He also discussed the Navy's programs to optimize and update these facilities along with new investments needed at all shipyards. These programs will improve on the poorly configured, inefficient facilities that are in deteriorated condition today.

NNSY Dry dock No. 1
Mr. Curfman spoke on how NAVFAC engagement with COPRI's Ports & Harbors committee is pivotal to addressing the modernization challenge ahead. He shared how important to Navy engineers the guidance in ASCE 61 Seismic Design of Piers and Wharves, and MOP 130 Waterfront Facilities Inspection and Assessment continues to be. He stressed the importance of continuing to update these publications as well as the work going into new design standards for piers and wharves and dry docks. Mr. Curfman recognized that modern Naval facilities will need to be designed to withstand sea level change and be resilient to other changing climate threats. Modern resilient facilities will need to better understanding of seismic, tsunami, and climate change hazards. He shared that NAVFAC will continue to look to industry partners to be prepared to address these risks, including COPRI's Sea Level Change task committee and ASCE's sustainability initiatives.
Mr. Curfman closed his address with a call to action to attendees. Design and build so our warfighters will win. The U.S. Navy needs continued partnership with industry organizations like ASCE. Be innovative, cost conscious, design to win! 'Get Real, Get Better!'